Monday December 3 2018
By reading this you either share a true love for snow some call an obsession, or just a morbid curiosity. Let's face it: In the Mid Atlantic, snow is a big deal. Even the kind that falls and doesn't stick. But it is also December, so flakes do add to the ambiance of the holiday season.  So please indulge me for a moment as I briefly explain the two events this week.  The first will be small, but can give up the secrets to a potential larger storm at the end of the weekend.
What I am looking for: Model error too far south. If we more flurries or snow showers in central Maryland on Wednesday, this may indicate that the weekend storm may not be showing far enough north on the main computer models.
Wednesday December 5th
This is what I endearing call FITF Day as it was the first date of snow almost every year last decade. So to have Faith in the Flake on this special spot on the calendar may get some support this year.
Vort Max
Last week it looked like we might get snow, then it faded. What I see now is an upper air disturbance that can be seen at roughly 18,000 Ft above the ground. This is the 500 mb level, where we mark the mid level jet stream, and the surface feature does not reflect it.
The quick hint at vorticity: This is a spin aloft that can help lift the air column to produce clouds and showers.  There can be multiple spin ups along the fast moving jet. When there pass overhead or to our south in Virginia or North Carolina, they can support snow showers in central Maryland. Here is the timeline for Wednesday:
Vorticity –> slider
[metaslider id=69181]
Notes: 
This is very subtle, but the kink in the isoheights (lines at 500mb) shows a weakness in the atmosphere and it is in a good spot Wednesday afternoon for convective activity. That means showers may develop in the afternoon from daily heating.
Wednesday Morning
This is the morning video from the NAM 3 Km Model, showing snow showers west and south of Washington DC.  I expect we will spread the wealth into central Maryland during the afternoon. If this verifies, then check out the notes below…
Weekend Snow or No?
The danger in showing a potential storm more than 1 week away is that often there are too many variables. Sometimes they don't line up and the expectation shown on models falls apart.  In fact, the event that looked like a Saturday night and Sunday event, shifted to Sunday and maybe Monday morning only because of the long range plots timing the energy differently.
The Low (red circle):
GFS Model has it on the coast Sunday afternoon.
European ECMWF has it in Tennessee 6 hour later on Sunday night.
I look for trends, not each model run
I showed a storm for the weekend 8-9 days away… Only because it looked like there was enough consistency to support it. AS of this morning, the famed European and GFS Models have it shifted south. But is this a model error?
I recall many times a storm appeared to be too far south, only to start edging north and end up hitting us.
Enter, The Canadian GEM to the rescue…
This model in the morning run has the coastal storm going strong with the snow still on target for us.  THIS IS JUST ONE MODEL AND NOT AN OFFICIAL FORECAST…
Have you been reading my forecasts online for a few years?  It was 2014 when I paid heavy attention to the Canadian Model and it outperformed the GFS and European… I hit almost every storm forecast and I blatantly gave credit to this model.
It is far from perfect, but it perfumes best in a cold dominated pattern. It is Canadian after all…
So here is the test:
First, will we get more flurries and snow showers on Wednesday than models suggest now?
If so, the energy aloft is not being analyzed properly AND the trend of prior storms may prove again to shift north and support the sweet spot over Maryland.
I am not saying I am on the Tony Pann Snow Train, but I have been saying for a few weeks that we would have a pattern. In this time frame, we would see multiple chances for snow. The atmosphere and climatology supports it.  I still think it is on the table.
Stay tuned…
ALSO- I will be debuting something in the next two days that I have been working on for a few years. It is something for the those truly obsessed with snow days. I hope you love it
FITF and SnowStix Stores are now OPEN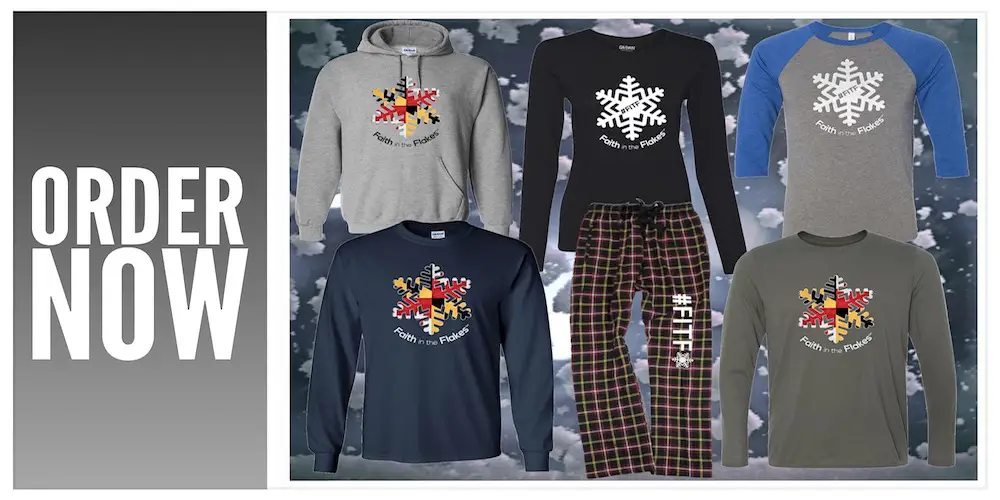 Keep In Touch Every Day
Click here to sign up for email alerts…. Be the first to hear the big news over the weekend
Also- Just in case you don't get the post on your social media feed
Please share your thoughts, best weather pics/video, or just keep in touch via social media
Related Links:
Winter Outlook
My Winter Outlook 2018-19: Multiple Nor'Easters and more snow
Interactive Snow Report
November 15 Snow Reports- Interactive Map Compared To My Forecast
Winter Snow And Top 5 Wet Years 
Snowfall Seasons at Beginning and End of Top 5 Wet Years In Baltimore
Related Winter Outlooks
Solar Cycle: When Sun Spots Are Low We Get More Snow
El Nino Modoki May Enhance Snow Chances
Sweet Spot: Hitting 70ºF on Halloween is followed by more winter snow
Will A Wet Summer Bring A Snowy Winter?
NOAA Winter 2018-2019 Outlook Explained: This Actually Supports Snow
Winter Outlook From Two Different Farmers Almanacs
Maryland Winters: Snowfall Maps and Baltimore Snow History 
Snowstix- We Need You To Measure Snow Too
We are giving 10% of each sale to Just In Power Kids: Providing FREE holistic care for pediatric oncology patients.