Wednesday December 5 2018
The cold air is here and we have some light snow to add into the mix. While most will just have frost this morning, there is light snow on radar. This is mainly in Virginia west and south of Washington. What is important is that it is not seen by the models, proving the limitation and why there may be more flakes to be seen both today and this weekend.
The storm this weekend still has a lot to sort out. The main energy is still off of the California coast in the Pacific, but it needs to team up with cold air and energy from western Canada.  The models have shifted a little north and most agree that southern Maryland will get some of this. I think there is more to adjust, so see the latest below.
December 5th- FITF Day
Gather your friends and co-workers: Wear your #FITF gear to honor and celebrate this unique calendar holiday. This is the date almost every year last decade marked the first snow of each winter season.
Let's make this TREND: Add #FITF as a reply to the most you saw this on social media and everything else weather related today.
Also See: December 5 Snow History In Baltimore
Snow Day Kit Debut 
Our ritual the night before a storm is finally in one kit.
This includes a very soft raglan Tee printed inside out with #FITF ANF the check list,  #FITF spoon for under your pillow, ice cube tray with snowflake shapes, chalk, a #FITF wrist-band, a mini SnowStix, and a bag to carry it all in.
This debut price is $40 off of the retail cost. Order by December 10 and it should arrive for the holiday.
This will also help us give a free Snow Day Kit to each of the Just In Power Kids.
Local Weather Stats For December 5 in Baltimore
Average High:  49ºF
Record High: 75ºF in 2001
Average  Low: 31ºF
Record Low:  16ºF in 1966
                         *Record Snow:  7.4″ in 2002
Sunrise: 7:10 AM
Sunset 4:43 PM 
*Daylight = 1:01 shorter than yesterday 
*Bay Water Temperature = 43ºF at Thomas Pt. Light House 
Record Rain Year Update:
Morning SnapShot
Widespread cold air and thick frost around the region in all directions
Doppler Radar
There is a band of light snow in central Virginia and flurries in the mountains NOT on the models this morning. Compare to the slideshow below…
Snow Timeline Today? —> slider
I added the question mark since the 6 AM HRRR Model plot did not show the snow that was actually falling. There are limitations on the models which mean we could see flakes fly in more areas than shown.
Most can only expect flurries, but there will be a Vort Max and more potent band to the west this afternoon worth watching for squalls
[metaslider id=69259]
Noon: NAM 3 Km
The NAM Model has a different depiction… Also showing that coastal system bringing snow into Southern NJ and may creep into northern DE and Cecil Co MD
Afternoon Temperatures 
Looking Ahead
The Weekend Storm will happen. The bulk of the energy is still over the Pacific Ocean and in western Canada. That is out of the grid for our higher resolution analysis. So if some pieces are off now (consider the local light snow missing on the models this morning), then the entire solution can be off. That is why I play weight to Atmospheric Memory in the possibly shift for this event from where it is shown now.
It is still 4 days away and many models have the northern edge into southern Maryland. But there is more wiggle room for location and timing. This display proves it:
FV3 Vs GFS
The operational GFS will be replaced by the FV3 in January. While there was a big difference earlier, there is more agreement now:
BOTH now have the northern edge of the snow up to the Maryland/Pennsylvania line
European Model
This model has been slower with the storm, so the timing here is Monday morning. It did bump north just a little. Still plenty of time for the models to adjust
Canadian Model
This took a shift to the south, but has the northern edge across Rt 50 from Washington to Annapolis.
FITF and SnowStix Stores are now OPEN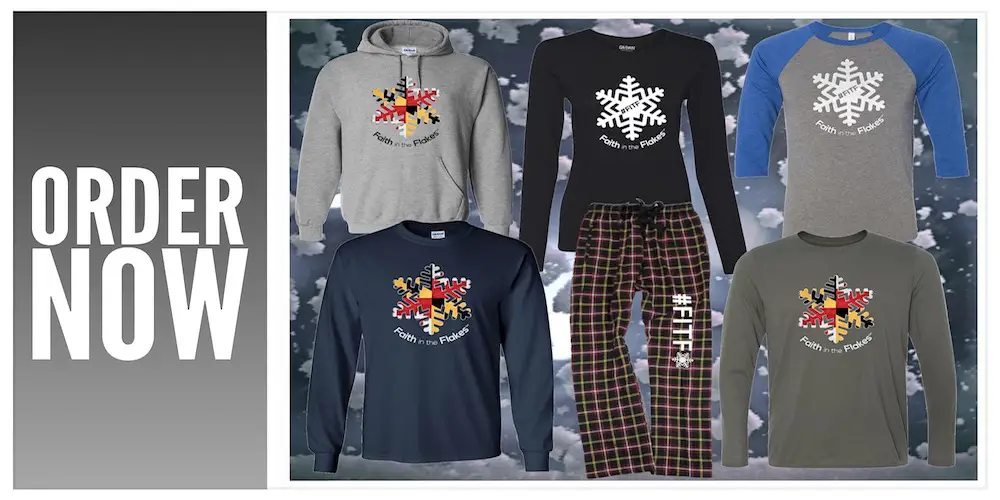 Keep In Touch Every Day
Click here to sign up for email alerts…. Be the first to hear the big news over the weekend
Also- Just in case you don't get the post on your social media feed
Please share your thoughts, best weather pics/video, or just keep in touch via social media
Related Links:
Winter Outlook
My Winter Outlook 2018-19: Multiple Nor'Easters and more snow
Interactive Snow Report
November 15 Snow Reports- Interactive Map Compared To My Forecast
Winter Snow And Top 5 Wet Years 
Snowfall Seasons at Beginning and End of Top 5 Wet Years In Baltimore
Related Winter Outlooks
Solar Cycle: When Sun Spots Are Low We Get More Snow
El Nino Modoki May Enhance Snow Chances
Sweet Spot: Hitting 70ºF on Halloween is followed by more winter snow
Will A Wet Summer Bring A Snowy Winter?
NOAA Winter 2018-2019 Outlook Explained: This Actually Supports Snow
Winter Outlook From Two Different Farmers Almanacs
Maryland Winters: Snowfall Maps and Baltimore Snow History 
Snowstix- We Need You To Measure Snow Too
We are giving 10% of each sale to Just In Power Kids: Providing FREE holistic care for pediatric oncology patients.