Friday December 7 2018
While you were sleeping we had flurries move by. Now we set up a quiet and cold day as the same High Pressure trying to bring us a cold weekend is playing a role to help suppress the next storm to the south. Considering recent storms, I still see some wiggle room on the north side as computer modeling is not perfect. That is only to suggest that some parts of our area should still watch for some impact on the edge of that storm. If you are traveling through southern Virginia or North Carolina, what until you see what they are expecting!!!
Morning Snap Shot
The reason the computer models have shifted the expected weekend storm to our south is that Strong High Pressure. It was stronger that first though and farther south.
This will battle the force of the Subtropical Jet across northern Mexico AND the Low joining it from Southern California.
This storm is going to be a big deal for those that get it!
Local Weather Stats For December 7 in Baltimore
Average High:  48ºF
Record High: 77ºF in 1998
Average  Low: 30ºF
Record Low:  6ºF in 2002
                         *Record Snow:  0.8″ in 1969
Sunrise: 7:12 AM
Sunset 4:43 PM 
*Daylight = 0:54 shorter than yesterday 
*Bay Water Temperature = 42ºF at Thomas Pt. Light House 
Snow Day Kit Debut 
Our ritual the night before a storm is finally in one kit.
This includes a very soft raglan Tee printed inside out with #FITF ANF the check list,  #FITF spoon for under your pillow, ice cube tray with snowflake shapes, chalk, a #FITF wrist-band, a mini SnowStix, and a bag to carry it all in.
This debut price is $40 off of the retail cost. Order by December 10 and it should arrive for the holiday.
This will also help us give a free Snow Day Kit to each of the Just In Power Kids.
Morning Temperatures
Afternoon
It will feel like the 20s and 30s but the actually temperatures this weekend will be in that range.
Storm Track
The Canadian Model shows the Low near the same region of Florida that I have shown half a dozen times since Hurricane Michael. The others made it to the southern Delmarva coast. This one is suppressed to Cape Hatteras 100 miles south… Here we are the northern edge of flurries just south of Washington DC
Atmospheric Memory Track I showed all Fall and in my Winter Outlook.
IF that was the case, this would have been an epic storm for us…
BUT That High Pressure is the reason models are keeping it south…
Closer Look- Southern Maryland Should Still Watch This
Sunday Night shows the closest approach from this storm. I still think there will be some jog to the north… but at this time that may just bring flurries to central Maryland.
Southern Maryland still has at least a 30% chance for some light snow… Which could impact roads if it verifies.
Compare Three Models Projections
If there is any impact in Southern Maryland, it would be Sunday afternoon and night.  That is IF we get a shift north…
The European Model is the farthest south, but still close enough within the margin of error to have Southern Maryland on stand by…
How Much Snow?
This is why this storm is such a big deal….
The modeling shows between 1 and 2 Feet of snow in the southern North Carolina bullseye. The mountains will get the heaviest. But cities like Charlotte and Raleigh (if they don't mix to sleet and rain) could get in on the 1 Ft plus snow!!!! This would halt traffic for days with little snow removal equipment.
The GFS Model also shows heavy snow in the same region
I will have more updates later today and continue to watch for any shift north. Please note that I am not wishing for the storm, but applying my theory and experience that the models still are not perfect. Those on the northern edge of the storm can easily go from nearly nothing to having an impact to be prepared for…
Looking Ahead
Another storm is expected next weekend. 

At this time the modeling shows us on the warm and rainy side…

But if the same error is applied as we compare to last week… Then we could shift this storm to the south and end up in the cold and snow zone.  

*I do NOT like to show storms more than 1 week away for the reason that there is too much to adjust. But the pattern is worth monitoring.
FITF and SnowStix Stores are now OPEN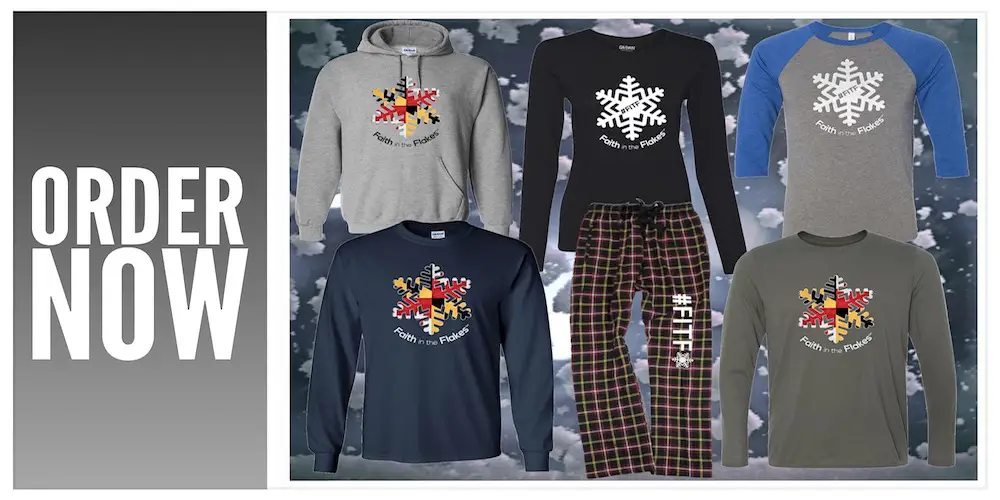 Keep In Touch Every Day
Click here to sign up for email alerts…. Be the first to hear the big news over the weekend
Also- Just in case you don't get the post on your social media feed
Please share your thoughts, best weather pics/video, or just keep in touch via social media
Related Links:
Winter Outlook
My Winter Outlook 2018-19: Multiple Nor'Easters and more snow
Interactive Snow Report
November 15 Snow Reports- Interactive Map Compared To My Forecast
Winter Snow And Top 5 Wet Years 
Snowfall Seasons at Beginning and End of Top 5 Wet Years In Baltimore
Related Winter Outlooks
Solar Cycle: When Sun Spots Are Low We Get More Snow
El Nino Modoki May Enhance Snow Chances
Sweet Spot: Hitting 70ºF on Halloween is followed by more winter snow
Will A Wet Summer Bring A Snowy Winter?
NOAA Winter 2018-2019 Outlook Explained: This Actually Supports Snow
Winter Outlook From Two Different Farmers Almanacs
Maryland Winters: Snowfall Maps and Baltimore Snow History 
Snowstix- We Need You To Measure Snow Too
We are giving 10% of each sale to Just In Power Kids: Providing FREE holistic care for pediatric oncology patients.