12 PM Sunday December 9 2018
The historic snow storm in the southern US has brought a rare double digit accumulation to parts of North Carolina. We have been watching Charlotte for the snow/rain line to give a hint on how the storm is behaving. The city has turned to rain and sleet, hinting at a slight northern push from most modeling support. That is important because the northern edge of the storm will reach Maryland and any push can increase the amount of snow in some areas.
In central Virginia, snowfall rates between Roanoke and Richmond are 1 to 2 inches per hour.  The far northern edge is the tough part because some of that is virga. The cold air is dry and causing flakes to sublimate (go from solid to gas) and not reach the ground.  But that should change…
Snow Day Kit
Our ritual the night before a storm is finally in one kit. Maybe if more Maryland kids had this, the storm would reach us 🙂
This includes a very soft raglan Tee printed inside out with #FITF AND the check list,  #FITF spoon for under your pillow, ice cube tray with snowflake shapes, chalk, a #FITF wrist-band, a mini SnowStix, and a bag to carry it all in.
This debut price is $40 off of the retail cost. Order by December 10 and it should arrive for the holiday.
This will also help us give a free Snow Day Kit to each of the Just In Power Kids.
Surface Map
The surface map shows the Low Pressure across Florida and High Pressure in Pennsylvania working to prevent this storm from wanted to turn up the coast. But I am interested in what is happening aloft… So the circled region of Tennessee and Kentucky needs a closer look below.
Water Vapor Satellite (aloft) 
An animation of these features is found below. The larger circle is where the upper level trough is located. But the smaller circles are the circulations that are helming to influence the energy and direction of the low level moisture. The one in southern Kentucky appears to be the stronger 'spin' you will see below. Both are working to pull a lot of moisture farther north. This will be battling the cold dry air in Maryland…
Water Vapor Satellite Loop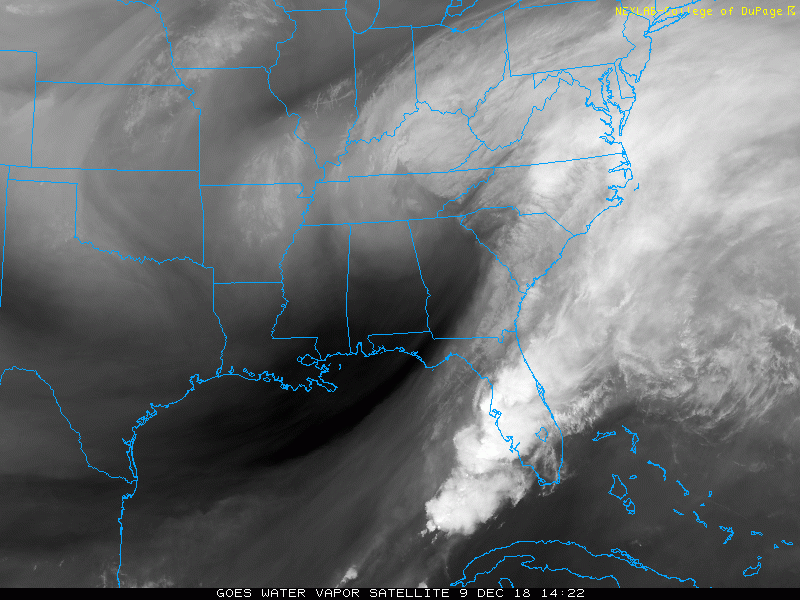 Local Radar Update at 12:50 PM
This is already ahead of the model suggestion shown here…
Radar Simulation —> slider
This HRRR Model has increased the snow intensity for southern Maryland and pushed the northern edge farther north than the earlier run I showed this morning. The biggest impact time will be 4 PM to 8 PM.
The confluence at the edge of the storm is why I expect this moisture to break through the dry air and perhaps:
Overachieve in Southern Maryland
Push some impact snow east to Salisbury
[metaslider id=69403]
Snow Total From HRRR
This pushes 3″+ into Charles and St. Mary's Counties. but the 5″+ snow is not far away.
This also now shows Salisbury with 2″ of snow. A marked increase all due to the band of heavy snow for a few hours later this afternoon and evening.
My Updated Snow Expectation
*The orange circle is an area that should reach the high end or overachieve. This is depending on the heavy snow intensity that could resulting in colder temps and more stickage.
*Moderate snow getting to Salisbury would bring them a better chance of stickage over 1 inch… Perhaps a few inches.
*The northern edge of falling expected to reach near Washington and Annapolis. This will be in the area  and northward where dry air may lead to virga. So seeing it on radar does not promise it will reach the ground. But if it breaks through, we will get a stickage and might surprise many.
Latest NWS Winter Weather Advisory and Winter Storm Warning
I have shown a potential impact on the lower Eastern Shore. There is no advisory at this time. I would pay attention to any changes between 4 and 8 PM
FITF and SnowStix Stores are now OPEN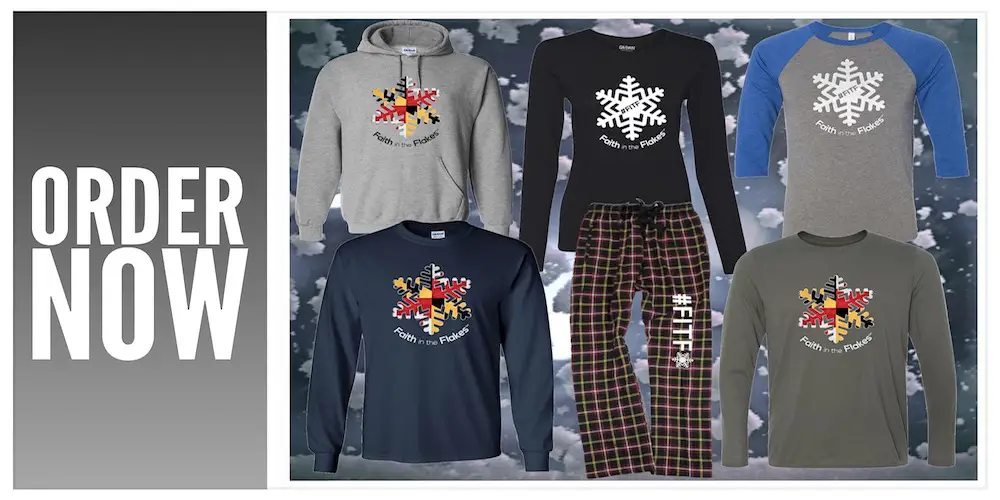 Keep In Touch Every Day
Click here to sign up for email alerts…. Be the first to hear the big news over the weekend
Also- Just in case you don't get the post on your social media feed
Please share your thoughts, best weather pics/video, or just keep in touch via social media
Related Links:
Winter Outlook
My Winter Outlook 2018-19: Multiple Nor'Easters and more snow
Interactive Snow Report
November 15 Snow Reports- Interactive Map Compared To My Forecast
Winter Snow And Top 5 Wet Years 
Snowfall Seasons at Beginning and End of Top 5 Wet Years In Baltimore
Related Winter Outlooks
Solar Cycle: When Sun Spots Are Low We Get More Snow
El Nino Modoki May Enhance Snow Chances
Sweet Spot: Hitting 70ºF on Halloween is followed by more winter snow
Will A Wet Summer Bring A Snowy Winter?
NOAA Winter 2018-2019 Outlook Explained: This Actually Supports Snow
Winter Outlook From Two Different Farmers Almanacs
Maryland Winters: Snowfall Maps and Baltimore Snow History 
Snowstix- We Need You To Measure Snow Too
We are giving 10% of each sale to Just In Power Kids: Providing FREE holistic care for pediatric oncology patients.