Sunday December 9 2018
The northern push of the storm this afternoon is verifying what I expected, but doing a little more in the process. The heavy snow band reaching southern Maryland brings in the potential for up to 6 inches of snow in St. Mary's County. That is the overachiever zone I circled in my last report and now they are under a Winter Storm Warning.
The expanded snow zones I showed include the lower Eastern Shore and now the Winter Weather Advisory includes Dorchester, Wicomico, and Somerset. Cities include Cambridge, Salisbury, and Crisfield where up to 3 inches of snow is now expected. But we are on the up side of this storm now…
I do hope my updates yesterday prepared you for snow in these areas.
Atmospheric Physics For The Win
I hope you saw my updates on Saturday. But if you missed it, I showed this Baroclinic Leaf as an indication on the satellite where the northern event of the snow would reach. That line was very close to Washington and Annapolis. Compare that to the 4 PM radar today and it was nearly perfect.
| | |
| --- | --- |
| Saturday Dec 8: Baroclinic Leaf | Sunday Dec 9 Northern Edge Of Snow |
| | |
Northern Edge Of The Snow
This line of snow has slowly be crawling north. But like Navy or The Ravens, the late push was not enough to get to the winning goal line… If you are in central Maryland and snow is your goal line. There is one surge of heavy snow in Virginia and southern Maryland moving north that may push that line to Washington and Annapolis.  The High Pressure is losing a little grip, but the coastal Low does appear to have done the best it can to move north, which is what Delmarva is getting in on the snow.
Surface Analysis
If this storm was 12 hours later, we would have been in the middle of it! That Low wanted to be off of the Delmarva Coast like all the others this Fall and it tried hard.
That little bubble High is starting to retreat.  The enhanced East wind is what helped the northern edge of snow fill in while keeping the cold on the Eastern Shore. But the storm is running out of room and should skip off of the coast.
Radar Simulation —> slider
This is the new HRRR Model update and it takes the moderate snow back down south tonight… In the meantime this model has increased the snow totals to match the Warning and Advisory areas.
[metaslider id=69436]
Snow Totals
A sharp cut-off stays south of the cities, but I think there may be some wiggle room for a coating up close to Rt 50
 My Updated Forecast
Snow Day Kit
Our ritual the night before a storm is finally in one kit. Maybe if more Maryland kids had this, the storm would reach us 🙂
This includes a very soft raglan Tee printed inside out with #FITF AND the check list,  #FITF spoon for under your pillow, ice cube tray with snowflake shapes, chalk, a #FITF wrist-band, a mini SnowStix, and a bag to carry it all in.
This debut price is $40 off of the retail cost. Order by December 10 and it should arrive for the holiday.
This will also help us give a free Snow Day Kit to each of the Just In Power Kids.
FITF and SnowStix Stores are now OPEN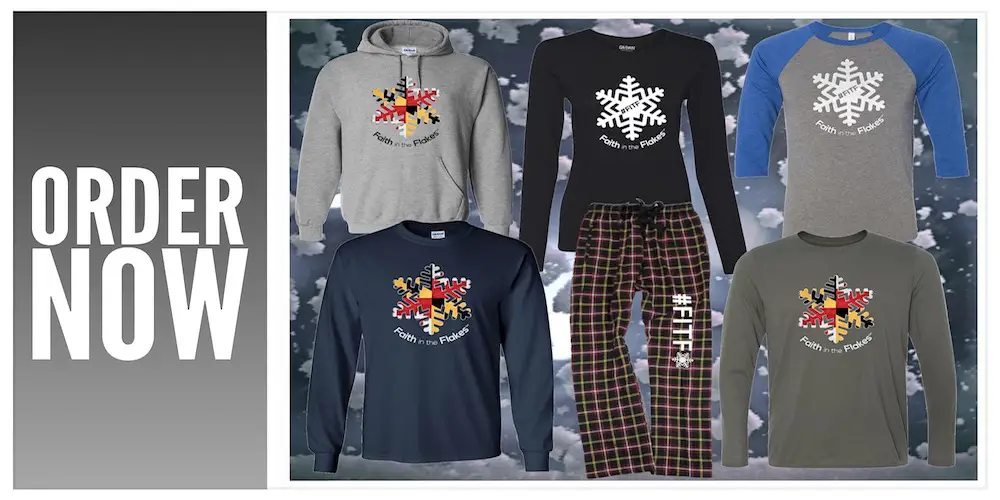 Keep In Touch Every Day
Click here to sign up for email alerts…. Be the first to hear the big news over the weekend
Also- Just in case you don't get the post on your social media feed
Please share your thoughts, best weather pics/video, or just keep in touch via social media
Related Links:
Winter Outlook
My Winter Outlook 2018-19: Multiple Nor'Easters and more snow
Interactive Snow Report
November 15 Snow Reports- Interactive Map Compared To My Forecast
Winter Snow And Top 5 Wet Years 
Snowfall Seasons at Beginning and End of Top 5 Wet Years In Baltimore
Related Winter Outlooks
Solar Cycle: When Sun Spots Are Low We Get More Snow
El Nino Modoki May Enhance Snow Chances
Sweet Spot: Hitting 70ºF on Halloween is followed by more winter snow
Will A Wet Summer Bring A Snowy Winter?
NOAA Winter 2018-2019 Outlook Explained: This Actually Supports Snow
Winter Outlook From Two Different Farmers Almanacs
Maryland Winters: Snowfall Maps and Baltimore Snow History 
Snowstix- We Need You To Measure Snow Too
We are giving 10% of each sale to Just In Power Kids: Providing FREE holistic care for pediatric oncology patients.