Sunday December 9 2018
The snow storm is knocking on our doorstep and will be let in to parts of Maryland. I have been consistently posting that I think the storm will track a little farther north that computer model forecasts and now we get to see if that verifies. There has been enough support for NWS to post a Winter Weather Advisory for southern Maryland. This includes Charles and St. Mary's County. This region falls in line with my early call for 1 to 3 inches of snow. A large portion of Virginia is under a Winter Storm Warning as there will be a sharp gradient from light to heavy snow in this storm. Some places in this region could get over 6 inches.
Below you will find my forecast, multiple model forecasts, and The National Weather Service Snow Maps. But first, I want to show the set up for the storm. There are many factors at play and there is still a chance for the storm to shift a little farther north. There are two issues in Maryland however:
Will snow falling from the sky on the north edge dry up or reach the ground?
Will snow stick where it falls in southern Maryland? The air will be above freezing, but the moderate snow might be enough to make roads slick.
Much of Delmarva is expected to be too warm to have much of a problem, but it is worth watching west of Salisbury.
*Did you know we set out record snow for this date just last year?
Local Weather Stats For December 9 in Baltimore
Average High:  47ºF
Record High: 73ºF in 1966
Average  Low: 30ºF
Record Low:  4ºF in 1876
                         *Record Snow:  2.8″ in 2017
Sunrise: 7:14 AM
Sunset 4:43 PM 
*Daylight = 0:47 shorter than yesterday 
*Bay Water Temperature = 41ºF at Thomas Pt. Light House 
Snow Day Kit
Our ritual the night before a storm is finally in one kit. Maybe if more Maryland kids had this, the storm would reach us 🙂
This includes a very soft raglan Tee printed inside out with #FITF AND the check list,  #FITF spoon for under your pillow, ice cube tray with snowflake shapes, chalk, a #FITF wrist-band, a mini SnowStix, and a bag to carry it all in.
This debut price is $40 off of the retail cost. Order by December 10 and it should arrive for the holiday.
This will also help us give a free Snow Day Kit to each of the Just In Power Kids.
Storm Set Up
At first glance, the Low Pressure looks just like most storms I have shown you since Hurricane Michael. In fact this location is in that same landfall region and if it acted like all of the others, my Atmospheric Memory theory would support the major snow reaching our entire area.
Here is a brief break down along with Pros and Cons working on the storm moving north.
Con: High Pressure is to our north blocking the northern progress.
Water Vapor Satellite Loop
Pros for the storm to verify farther north:
Upper Low (circulation) in Tennessee is pulling moisture north. Flow of moisture is rising north
Radar This Morning 
Watching the storm border of snow and rain… This can indicate if the track is behaving or showing signs of a shift.
Pro to shift the storm north: Charlotte is on the edge and it appears the snow line is a little north of what locals had forecasted. This is an area where 60 to 100 miles may separate rain form a foot of snow and the city was expected to possibly get in on the heavy snow…
Wider View:
Con– Against snow moving north: The northern edge of the snow this morning can be seen running into a road block. This is the boundary of the dry air from High Pressure. But this is the part I expected to shift north.  The snow will reach Maryland but how much will dry up in the process?
Local Morning Temperatures
Con- Much of southern Maryland is above freezing.
It is important to note that a storm like this can generate its own cold air. So, moderate snow can allow the temps to cool and stickage.
Storm Maps
How far north with this reach? When?
The FV- Model is the farthest north, but close to the Canadian. The NAM 3 Km Model has the most snow! All of that listed below.
I would plan on southern Maryland to get light snow beginning between Noon and 3 PM, then lasting into this evening.
FV3-GFS
Radar Simulation —> slider
This model is having trouble with the northern edge based on intensity and temperature. So it may anticipate rain or mix when there will be snow.
[metaslider id=69355]
Temperatures
Note the above freezing readings… but This is just one model. I expect southern Maryland to cool with moderate snowfall later.  Notice the coldest air where this is the heaviest snow.
Call For Snowfall
Compare the computer model forecasts and NWS to my call below.
The NAM  Km is the most aggressive with 3 to 8 inches of snow in Southern Maryland
The Canadian and European Models
These have more agreement from a dusting to 2 inch range in southern Maryland. Canadian has the higher end…
The HRRR Model slider I showed above may be too warm and thus showing less snow accumulation in southern Maryland
National Weather Service Forecasts
The big winners are west and south of Richmond, VA
NWS Sterling VA Office:
This does show light snow reaching around Rt 50 to include Washington and Annapolis.
Interpret that as light snow or flurries… but the road impact will be La Plata to Lexington Park in Maryland… then west into VA.
Stanton and Charlottesville have a good chance of reaching 6 inches of snow or more (in my opinion)
My Call For Snowfall
I see the storm moving on the northern possible track and bringing more flakes into central Maryland. But very light. The impact snow will remain in Southern Maryland and central Virginia.
A = 6″+
B = 3″ to 6″
C = 1″ to 3″
*The orange circle will be battling warmer air. If the snow is heavier, then temps will cool faster and more will stick. There is potential to get more in that case. But if the snow band is lighter, then temps will be warmer and less can accumulate. It is all about intensity. Timing will be Noon to 6 PM for the bulk of this.
D = Light snow maybe a coating
E= Flurries or light snow. Very low chance for any impact
*Lower Eastern Shore/Beaches should be too warm and mostly rain. Salisbury will be on the edge of mixing over with the colder air.
FITF and SnowStix Stores are now OPEN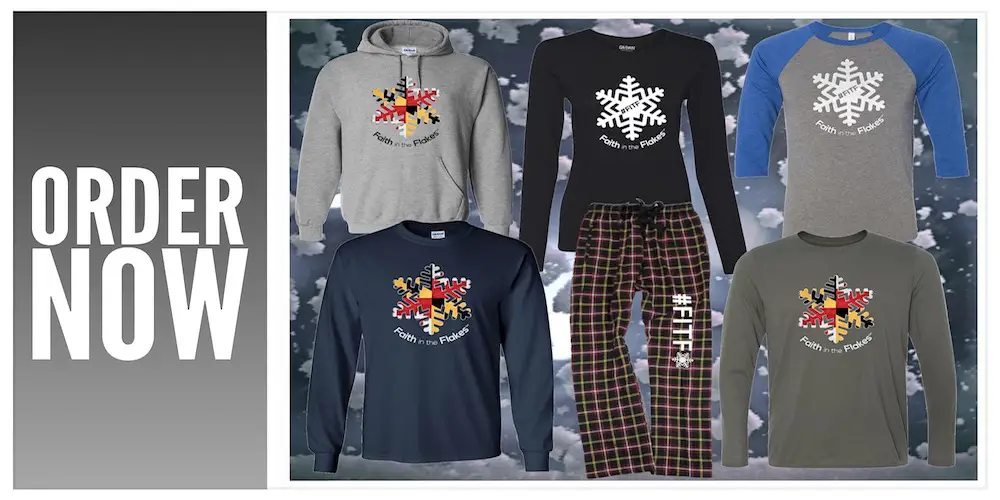 Keep In Touch Every Day
Click here to sign up for email alerts…. Be the first to hear the big news over the weekend
Also- Just in case you don't get the post on your social media feed
Please share your thoughts, best weather pics/video, or just keep in touch via social media
Related Links:
Winter Outlook
My Winter Outlook 2018-19: Multiple Nor'Easters and more snow
Interactive Snow Report
November 15 Snow Reports- Interactive Map Compared To My Forecast
Winter Snow And Top 5 Wet Years 
Snowfall Seasons at Beginning and End of Top 5 Wet Years In Baltimore
Related Winter Outlooks
Solar Cycle: When Sun Spots Are Low We Get More Snow
El Nino Modoki May Enhance Snow Chances
Sweet Spot: Hitting 70ºF on Halloween is followed by more winter snow
Will A Wet Summer Bring A Snowy Winter?
NOAA Winter 2018-2019 Outlook Explained: This Actually Supports Snow
Winter Outlook From Two Different Farmers Almanacs
Maryland Winters: Snowfall Maps and Baltimore Snow History 
Snowstix- We Need You To Measure Snow Too
We are giving 10% of each sale to Just In Power Kids: Providing FREE holistic care for pediatric oncology patients.