Monday December 17 2018
That weekend storm has moved on, but it is the gift that keeps on giving. After nearly 3 inches of rainfall and adding to our yearly record, the storm is off of the New England coast and will help contribute to strong winds this afternoon. So high temperatures will be around lunchtime, then falling during the afternoon with winds gusting to 35 mph.
The weather pattern will churn up another storm that keeps us on the warmer side at the end of the week. This one could push us over the 70 inch rain mark for the year. Despite how it looks now, the January outlook has strong signals of being colder and snowy. More on that later today.
Local Weather Stats For December 17 in Baltimore
Average High:  45ºF
Record High: 68ºF in 1984
Average  Low: 28ºF
Record Low:  5ºF in 1951
                         *Record Snow:  11.5 in 1932
Sunrise: 7:20 AM
Sunset 4:44 PM 
*Daylight = 0:18 shorter than yesterday 
*Bay Water Temperature = 42ºF at Thomas Pt. Light House 
Today's Weather
Thankfully temps dropped only into the mid 30s to near 40ºF. No freeing in the region except for the far mountains… So just a wet commute.
Departing Storm
The combination of the departing storm southeast of Cape Cod and the cold front to the west, we will see an increase in winds today. Check out this view in motion…
Water Vapor Satellite Animation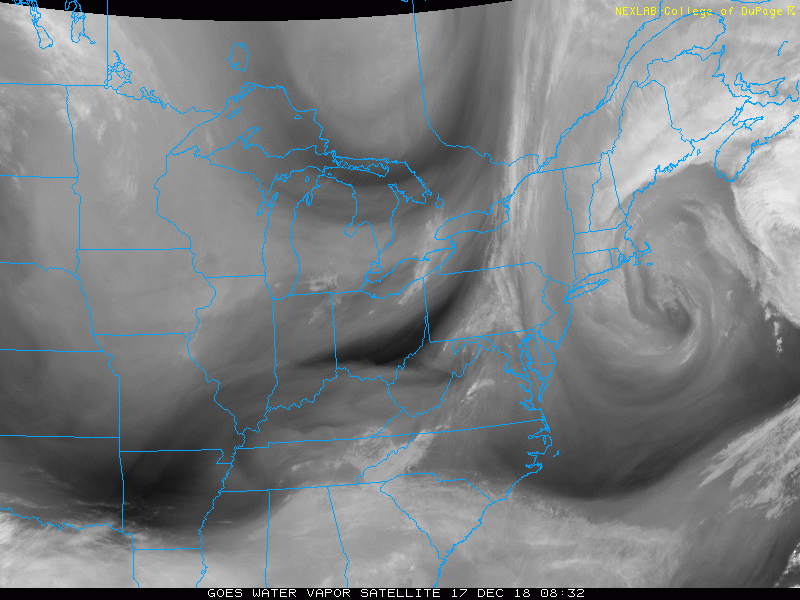 Afternoon Winds
West to Northwest winds will range from 20 to 35 mph. This will help to clear out the clouds for sun, but also bring in the colder air.
Turning Colder
Baltimore should reach a high around 50ºF, but that will be between noon and 2 PM. Then turning coder later in the afternoon…
Snow Showers Stay North
Do you remember I mentioned snow showers last week for today? That was based on the upper level pattern, which has shifted. Tracking the vorticity behind the storm shows it no longer streaking over Maryland but well to our north. That is where the energy will carry Lake Effect snow showers…
Tuesday, Wednesday, and most of Thursday will be dry….
Next Storm Just Days Away
Looking ahead to Thursday evening and Friday for the next rain event.  This will be a warmer event again, followed by colder air. This will end as snow in the mountains to our west.
Rain Potential
Rain Record
We have a good chance of breaking the 70 inch mark for this record 2018 year
Temperature Outlook
Temperatures appear to remain near or above average for the next 10 days. The long range outlook points to another push of cold air in January that should keep us below average and stormy. More on that in another report later today.
Snow Day Kit
Our ritual the night before a storm is finally in one kit. Maybe if more Maryland kids had this, the storm would reach us 🙂
This includes a very soft raglan Tee printed inside out with #FITF AND the check list,  #FITF spoon for under your pillow, ice cube tray with snowflake shapes, chalk, a #FITF wrist-band, a mini SnowStix, and a bag to carry it all in.
Order by December 14 and it should arrive for the holiday.
This will also help us give a free Snow Day Kit to each of the Just In Power Kids.
FITF and SnowStix Stores are now OPEN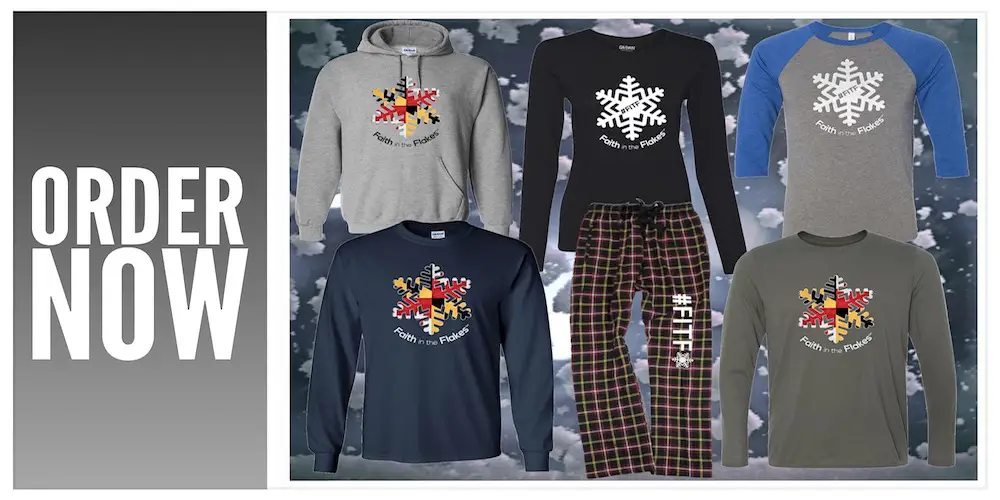 Keep In Touch Every Day
Click here to sign up for email alerts…. Be the first to hear the big news over the weekend
Also- Just in case you don't get the post on your social media feed
Please share your thoughts, best weather pics/video, or just keep in touch via social media
Related Links:
Winter Outlook
My Winter Outlook 2018-19: Multiple Nor'Easters and more snow
Interactive Snow Report
November 15 Snow Reports- Interactive Map Compared To My Forecast
Winter Snow And Top 5 Wet Years 
Snowfall Seasons at Beginning and End of Top 5 Wet Years In Baltimore
Related Winter Outlooks
Solar Cycle: When Sun Spots Are Low We Get More Snow
El Nino Modoki May Enhance Snow Chances
Sweet Spot: Hitting 70ºF on Halloween is followed by more winter snow
Will A Wet Summer Bring A Snowy Winter?
NOAA Winter 2018-2019 Outlook Explained: This Actually Supports Snow
Winter Outlook From Two Different Farmers Almanacs
Maryland Winters: Snowfall Maps and Baltimore Snow History 
Snowstix- We Need You To Measure Snow Too
We are giving 10% of each sale to Just In Power Kids: Providing FREE holistic care for pediatric oncology patients.