Wednesday December 19 2018
We have another Flood Watch in place for most of our region for yet another end of work week event. This round of rain will be heavy at times and add up between 1 and 3 inches and likely bring Baltimore's epic year to over 70 inches. The rain will arrive late morning and early afternoon on Thursday. The heaviest rain will be overnight Thursday, but another round of heavy rain and possibly thunder on Friday will come with a brief surge of warm air into the lower 60s.
Flood Watch
A Flood Watch these days means more than just high water on prone streams, river, and around the Chesapeake Bay. It also applies to the soggy soil that could once again lead to some trees falling over. We have had 24 events this year over 1″. Of these, 14 events over 2″ rain. Of those, 4 events over 4″ of rain. See the break down below.
Thursday Rain Timeline —> simulation slider
Showers will develop late morning and mid day, then steady rain in the afternoon and evening. The heaviest rain will arrive overnight after midnight.
[metaslider id=69801]
Friday Rain Timeline —> simulation slider
Heavy rain will fall between midnight and sunrise, with another round in the afternoon. This may shift to Delmarva, while showers linger over central Maryland and PA.
[metaslider id=69816]
Rainfall Potential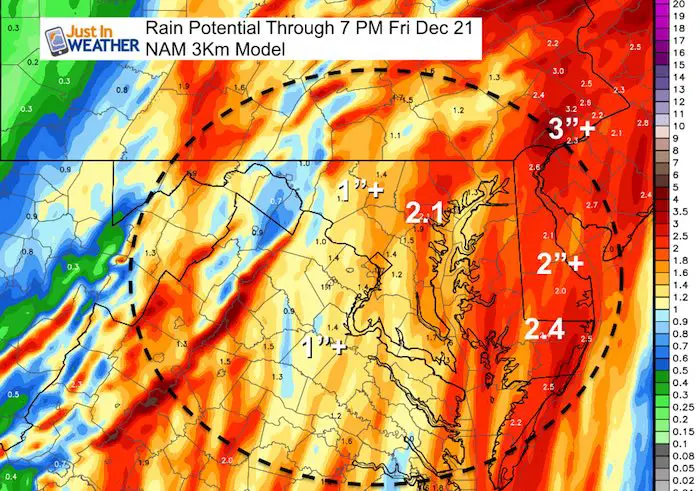 Storm Animation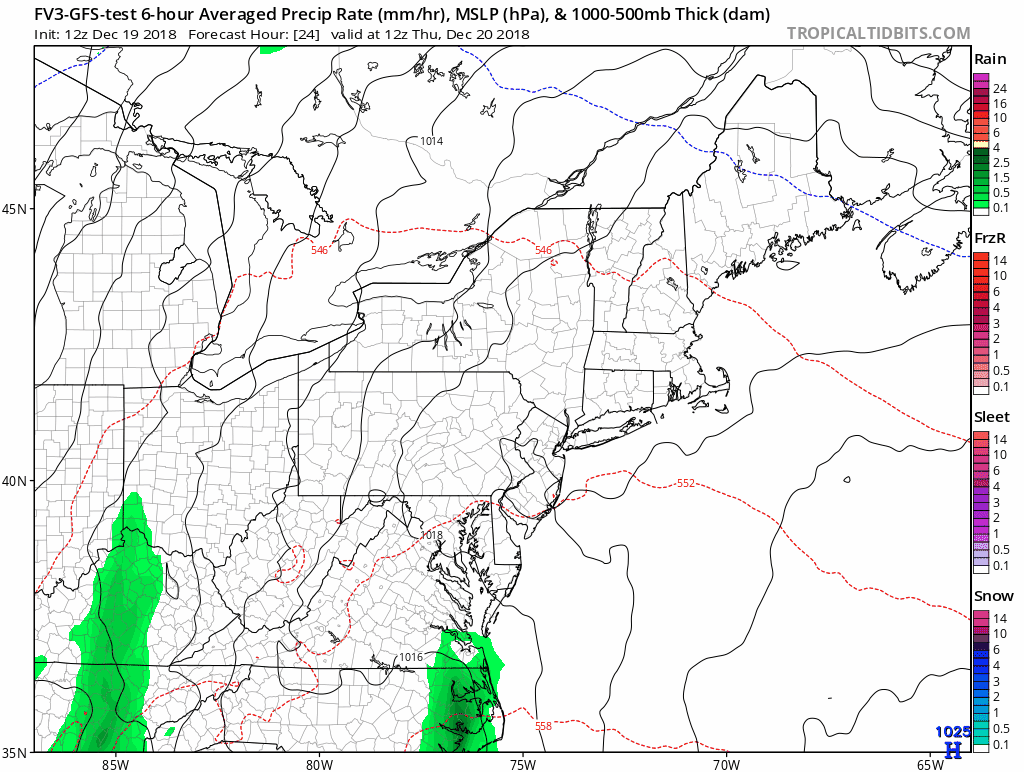 Rainfall Records
2018 Record Top Rain:
This year we have had many very wet days. Here is the brief breakdown
Events over 1″ = 10
Events over 2″ = 7
Events over 3″ = 3 (Sep 7-9);  (Sep 17-18); (Sep 23-28)
Events over 4″ = 2  (July 16-17); (July 24)
Events over 5″ = 2 (May 12 – 19); (July 21-22)
Rainy Calendar
Snow Day Kit
Our ritual the night before a storm is finally in one kit. Maybe if more Maryland kids had this, the storm would reach us 🙂
This includes a very soft raglan Tee printed inside out with #FITF AND the check list,  #FITF spoon for under your pillow, ice cube tray with snowflake shapes, chalk, a #FITF wrist-band, a mini SnowStix, and a bag to carry it all in.
New Orders are likely to be delivered after the holiday.
This will also help us give a free Snow Day Kit to each of the Just In Power Kids.
FITF and SnowStix Stores are now OPEN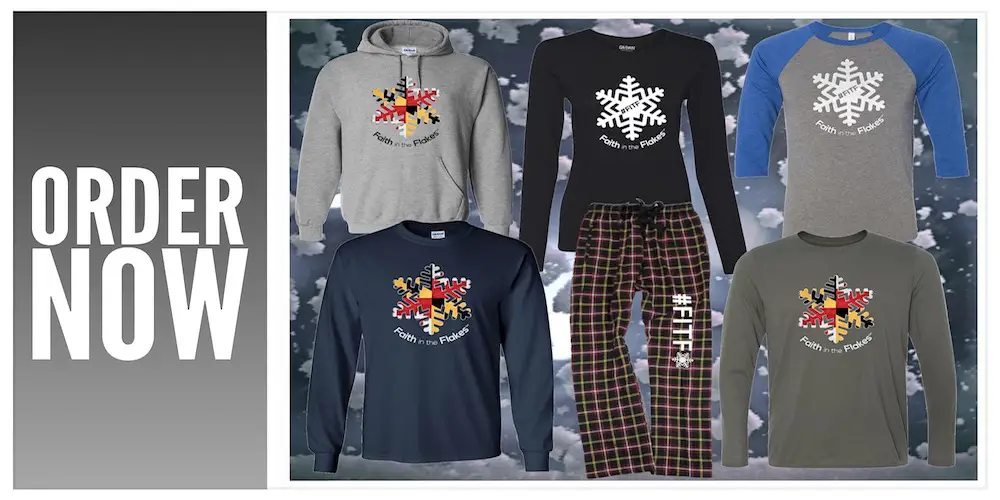 Keep In Touch Every Day
Click here to sign up for email alerts…. Be the first to hear the big news over the weekend
Also- Just in case you don't get the post on your social media feed
Please share your thoughts, best weather pics/video, or just keep in touch via social media
Related Links:
Winter Outlook
My Winter Outlook 2018-19: Multiple Nor'Easters and more snow
Interactive Snow Report
November 15 Snow Reports- Interactive Map Compared To My Forecast
Winter Snow And Top 5 Wet Years 
Snowfall Seasons at Beginning and End of Top 5 Wet Years In Baltimore
Related Winter Outlooks
Solar Cycle: When Sun Spots Are Low We Get More Snow
El Nino Modoki May Enhance Snow Chances
Sweet Spot: Hitting 70ºF on Halloween is followed by more winter snow
Will A Wet Summer Bring A Snowy Winter?
NOAA Winter 2018-2019 Outlook Explained: This Actually Supports Snow
Winter Outlook From Two Different Farmers Almanacs
Maryland Winters: Snowfall Maps and Baltimore Snow History 
Snowstix- We Need You To Measure Snow Too
We are giving 10% of each sale to Just In Power Kids: Providing FREE holistic care for pediatric oncology patients.