Monday December 24 2018
Overnight a band of light rain passed through our region, but just to our north it mixed over with snow. There is still snow on this Christmas Eve across eastern Pennsylvania, New York (just north of NYC), and southern New England. Some of these areas will get between a dusting and 2 inches of snow, which could impact travel a little.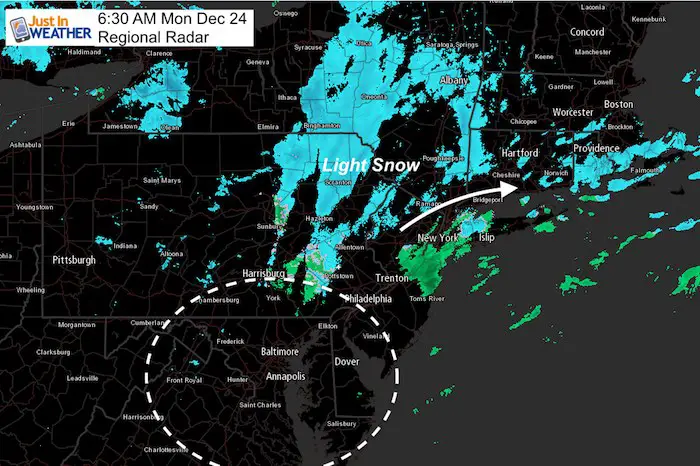 Much of the week ahead should bring us a quiet weather pattern. That is until the old pattern resurfaces, a storm on Friday. We will close the week out stormy, but warm and wet. It's the storm the follows just before New Year's Eve that could being us a chance of snow. If the latest model plot works out, it might arrive with some wintry weather for the Ravens last game of the regular season.
Local Weather Stats For December 24 in Baltimore
The Winter Solstice today!
Average High:  43ºF
Record High: 71ºF in 2015
Average  Low: 26ºF
Record Low:  4ºF in 1983
                         *Record Snow:  8.4″ in 1966
Sunrise: 7:23 AM
Sunset 4:48 PM 
*Daylight = 0:08 longer than yesterday 
*Bay Water Temperature = 44ºF at Thomas Pt. Light House 
Satellite Loop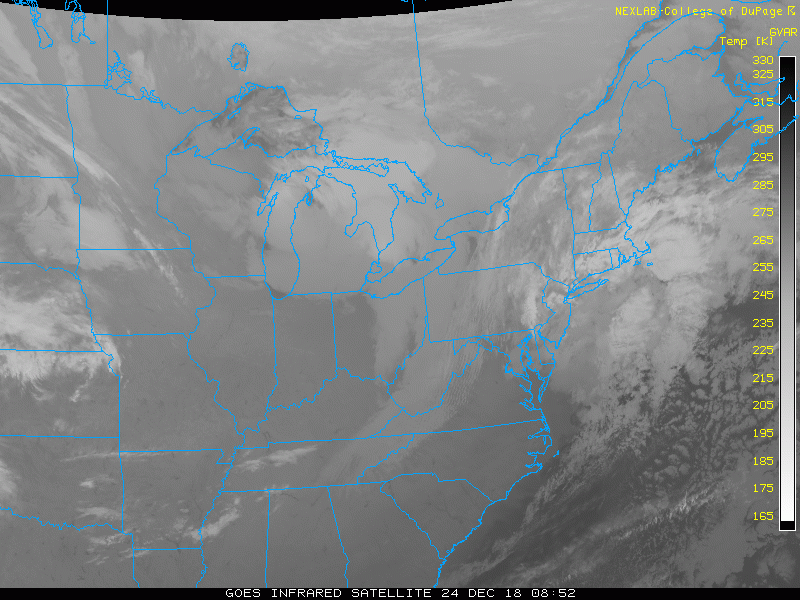 Morning Temperatures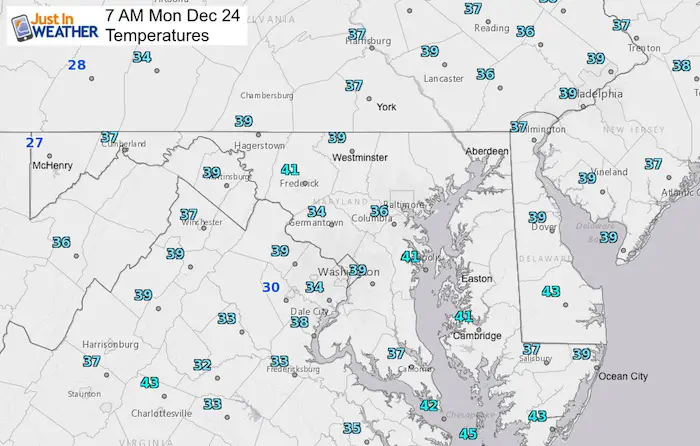 Afternoon Temperatures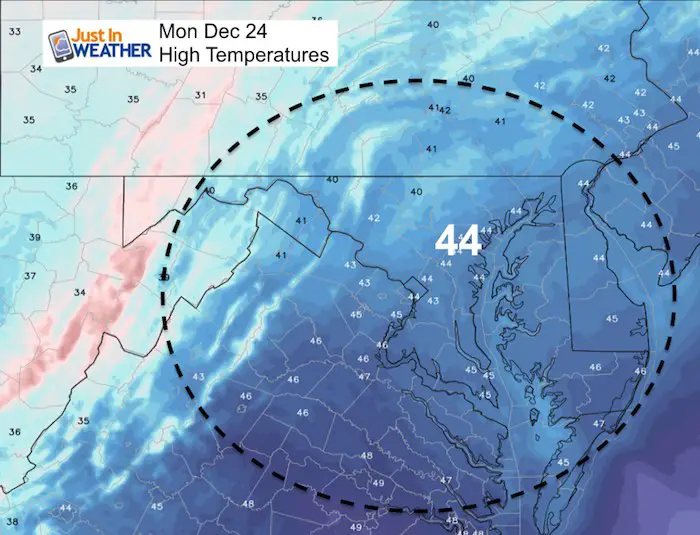 Looking Ahead…
Dry Week (until Friday)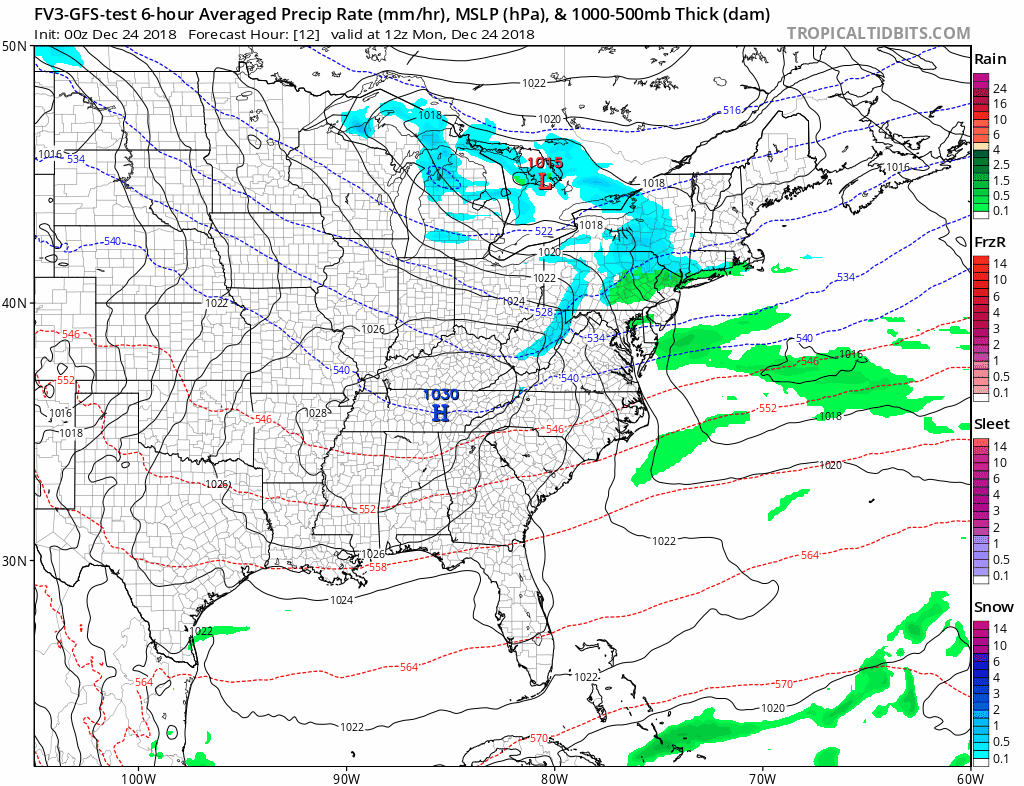 Next Rain Friday
Here we go again… The next storm appears to be yet another Friday with rain. This will also keep us on the warm side of things when it arrives, only to be followed by colder air when it moves away over the weekend.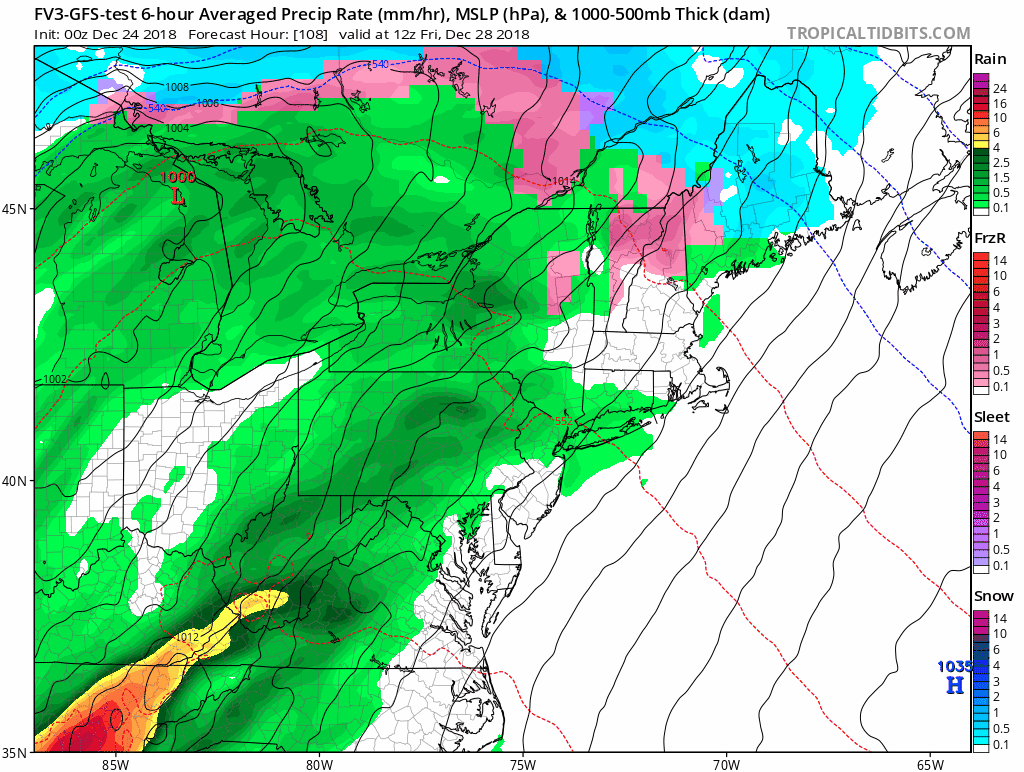 Snow/Ice Mix? December 30 to 31
I do not like to show model plots a week away, but this is holiday mode and I would like to at least show a display for trends.
I am NOT locked in on these dates…. But for much of the past week, there has been an indication that a storm will try to develop with cold air and wintry precipitation for our region around New Years. At this point I would still keep the window between Dec 30 and Jan 2 for 'something' to impact us.
Temperature Outlook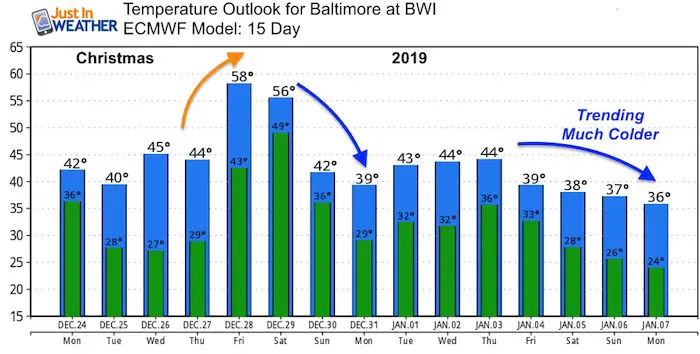 What will happen in Jan 2019?
While I see a pattern change for the next month and new year, jut two weeks away is too far in time to have widespread agreement.  Compare these three models below and you will see the North Atlantic Oscillation.
*The index of negative numbers relates to colder and more stormy weather for us. A positive index would be warmer.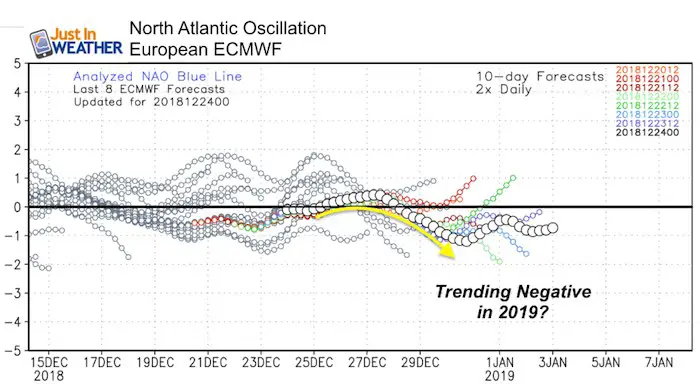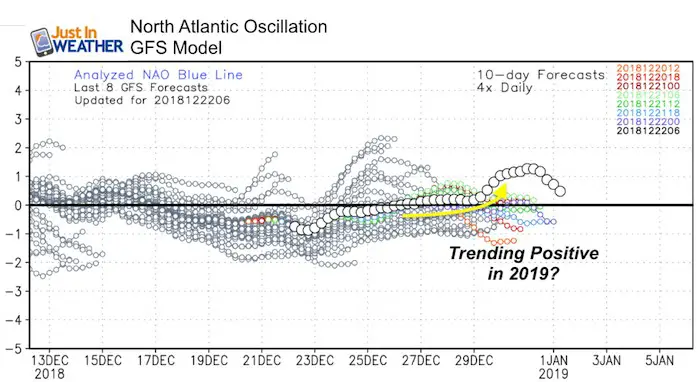 Snow Day Kit
Our ritual the night before a storm is finally in one kit. Maybe if more Maryland kids had this, the storm would reach us 🙂
This includes a very soft raglan Tee printed inside out with #FITF AND the check list,  #FITF spoon for under your pillow, ice cube tray with snowflake shapes, chalk, a #FITF wrist-band, a mini SnowStix, and a bag to carry it all in.
New Orders are likely to be delivered after the holiday.
This will also help us give a free Snow Day Kit to each of the Just In Power Kids.
FITF and SnowStix Stores are now OPEN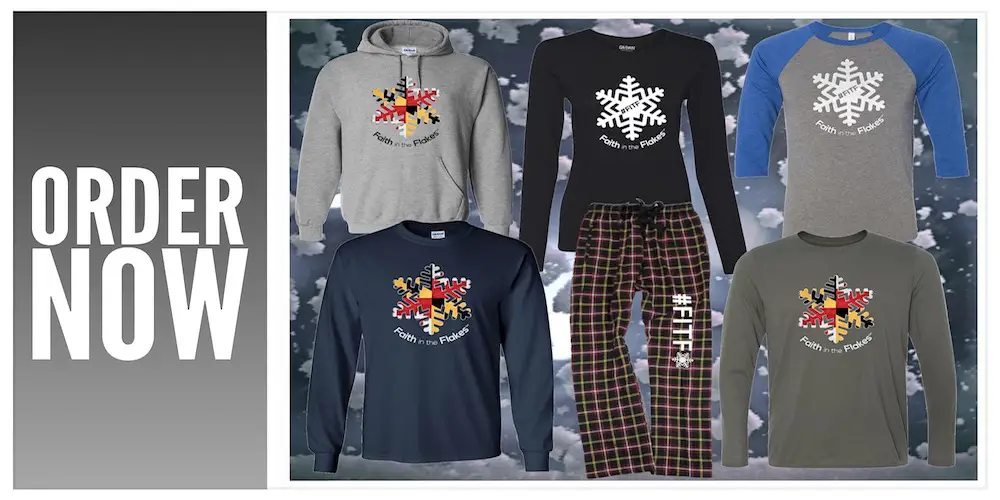 Keep In Touch Every Day
Click here to sign up for email alerts…. Be the first to hear the big news over the weekend
Also- Just in case you don't get the post on your social media feed
Please share your thoughts, best weather pics/video, or just keep in touch via social media
Related Links:
Winter Outlook
My Winter Outlook 2018-19: Multiple Nor'Easters and more snow
Interactive Snow Report
November 15 Snow Reports- Interactive Map Compared To My Forecast
Winter Snow And Top 5 Wet Years 
Snowfall Seasons at Beginning and End of Top 5 Wet Years In Baltimore
Related Winter Outlooks
Solar Cycle: When Sun Spots Are Low We Get More Snow
El Nino Modoki May Enhance Snow Chances
Sweet Spot: Hitting 70ºF on Halloween is followed by more winter snow
Will A Wet Summer Bring A Snowy Winter?
NOAA Winter 2018-2019 Outlook Explained: This Actually Supports Snow
Winter Outlook From Two Different Farmers Almanacs
Maryland Winters: Snowfall Maps and Baltimore Snow History 
Snowstix- We Need You To Measure Snow Too
We are giving 10% of each sale to Just In Power Kids: Providing FREE holistic care for pediatric oncology patients.