December 29 2018
Waking up this morning I saw a sign of the dryer air as the fog has dispersed and clouds are breaking. Today will be breezy and cooler, but no rain. However the storm that just passed is part of a frontal boundary that is stalled in the southern US and will make a return our way by Monday. The satellite loop below shows all the moisture waiting to build north again. It will make one last run for rain to end the year and affect outdoor plans on New Years Eve. How else do you think 2018 would close out?
Baltimore Has More Than Double Rain Than Seattle
In case you missed the record rain update on social media, I did a comparison of Baltimore rain to Seattle. In a normal year, we would have more total rain, but they would have more rainy days.
This year, the Baltimore total is more than double that of Seattle!
144 days with rain (40% of the days). *Seattle had 157 days with rain
20 days over 1 inch
14 events over 2 inches
4 events over 4 inches
Local Weather Stats For December 29 in Baltimore
Average High:  42ºF
Record High: 77ºF in 1984
Average  Low: 25ºF
Record Low:  2ºF in 1917
                         *Record Snow:  4.9″ in 1935
Sunrise: 7:25 AM
Sunset 4:51 PM 
*Daylight = 0:28 longer than yesterday 
*Bay Water Temperature = 42ºF at Thomas Pt. Light House 
Updated Rain Total
Morning Set Up
Temperatures
Afternoon
Wind Gusts
Temperatures
Satellite Loop
We stay on the dry side, but watching the stalled front and new storm develop to our south. We should remain dry through Sunday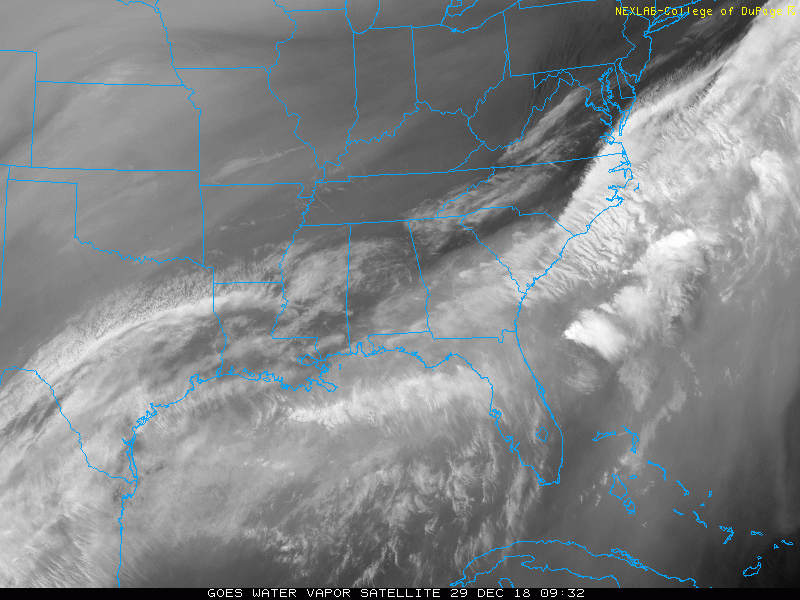 Sunday- Ravens Game Temps
Skipping To New Year's Eve
Rain will move in during the afternoon and evening. We could see some moderate bands around midnight then the storm moves away Tuesday morning, New Year's Day
Rainfall Forecast
Next Thursday Snow?
I know the mere mention of snow is met with either excitement or a groan. I need to address that two main models are showing another southern system working to bring us the cold side and snow, but for contrast the European Model is showing it being all rain.
Since this is 5 days away, I wil begin to track this system with caution. If we still see this tomorrow evening and if there are any other models that pick up on this, then we can start to take this more seriously.
Hint of light snow
Canadian GEM- Most aggressive with a coastal Low
European Model – Absence of cold air and showing just rain moving in from the south
Snow Day Kit
Our ritual the night before a storm is finally in one kit. Maybe if more Maryland kids had this, the storm would reach us 🙂
This includes a very soft raglan Tee printed inside out with #FITF AND the check list,  #FITF spoon for under your pillow, ice cube tray with snowflake shapes, chalk, a #FITF wrist-band, a mini SnowStix, and a bag to carry it all in.
New Orders are likely to be delivered after the holiday.
This will also help us give a free Snow Day Kit to each of the Just In Power Kids.
FITF and SnowStix Stores are now OPEN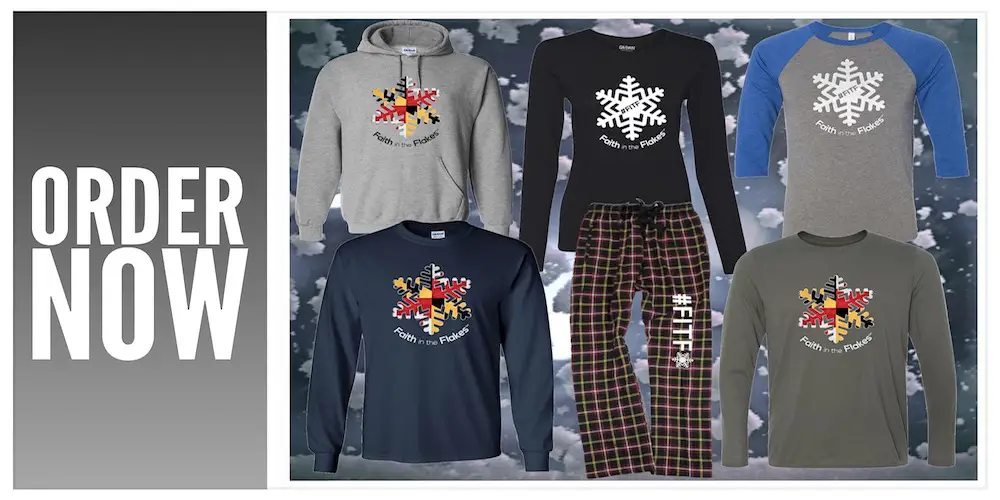 Keep In Touch Every Day
Click here to sign up for email alerts…. Be the first to hear the big news over the weekend
Also- Just in case you don't get the post on your social media feed
Please share your thoughts, best weather pics/video, or just keep in touch via social media
Related Links:
Winter Outlook
My Winter Outlook 2018-19: Multiple Nor'Easters and more snow
Interactive Snow Report
November 15 Snow Reports- Interactive Map Compared To My Forecast
Winter Snow And Top 5 Wet Years 
Snowfall Seasons at Beginning and End of Top 5 Wet Years In Baltimore
Related Winter Outlooks
Solar Cycle: When Sun Spots Are Low We Get More Snow
El Nino Modoki May Enhance Snow Chances
Sweet Spot: Hitting 70ºF on Halloween is followed by more winter snow
Will A Wet Summer Bring A Snowy Winter?
NOAA Winter 2018-2019 Outlook Explained: This Actually Supports Snow
Winter Outlook From Two Different Farmers Almanacs
Maryland Winters: Snowfall Maps and Baltimore Snow History 
Snowstix- We Need You To Measure Snow Too
We are giving 10% of each sale to Just In Power Kids: Providing FREE holistic care for pediatric oncology patients.