Wednesday January 2 2019
As we get back to the routine in this shortened work week, the main story will be the clouds. Temperatures will be seasonal, but we have a few storms to watch. This is not going to be good news for teachers and winter lovers, but perhaps if you have tickets to the Ravens home playoff game on Sunday. There is plenty of cold air, but it is still having trouble reaching the Mid Atlantic. That is the way it should remain for the next week or two, as I mentioned in my last outlook.
Morning Around The Nation
The old frontal boundary is still draped across the Southern US, but only throwing clouds our way. The next push of moisture is organizing rain and freezing rain in central Texas.
Light rain will get close to Baltimore overnight, but most of this round will be to the south.  The next push will be a stronger storm arriving Friday night and most of Saturday.
Satellite Loop
Where is the cold air?
Plenty of it across the western and northern US. The Mid Atlantic remains mild, at least for the rest of this week.
Local Weather Stats For January 2 2019 in Baltimore
Average High:  42ºF
Record High: 71ºF in 1876
Average  Low: 25ºF
Record Low:  0ºF in 1968
                         *Record Snow:  7.9″ in 1925
Sunrise: 7:26 AM
Sunset 4:54 PM 
*Daylight = 0:42 longer than yesterday 
*Bay Water Temperature = 43ºF at Thomas Pt. Light House 
Morning Temperatures 
Afternoon Temperatures
Rain Gets Close Tonight
This may get closer to Baltimore overnight, but most of this system will pass to our south.
Storm Animation: Thursday Through Sunday
The main rain event will be Saturday, then clearing out for the Ravens game.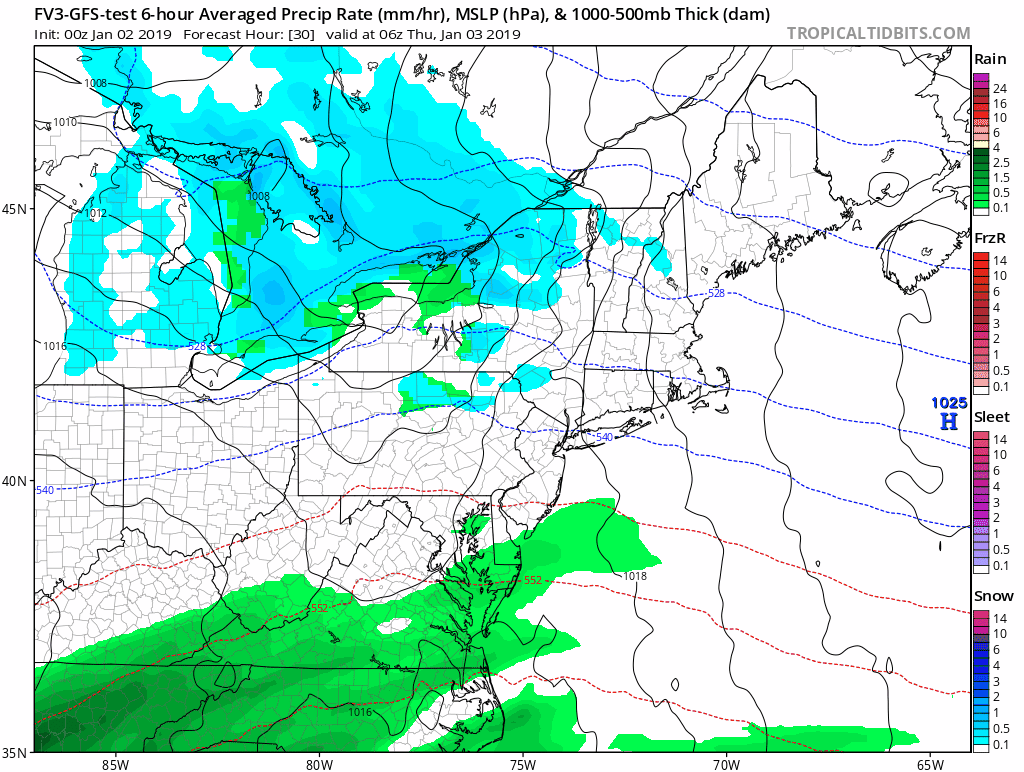 Temperature Outlook
Remaining mild through then next rain storm and the weekend. The colder air will not appear to be noting other and seasonal next week. Overall, I there is not arctic blast expected in the next one to two weeks.
Snow Day Kit
Our ritual the night before a storm is finally in one kit. Maybe if more Maryland kids had this, the storm would reach us 🙂
This includes a very soft raglan Tee printed inside out with #FITF AND the check list,  #FITF spoon for under your pillow, ice cube tray with snowflake shapes, chalk, a #FITF wrist-band, a mini SnowStix, and a bag to carry it all in.
The introduction special price will end tonight.
This will also help us give a free Snow Day Kit to each of the Just In Power Kids.
FITF and SnowStix Stores are now OPEN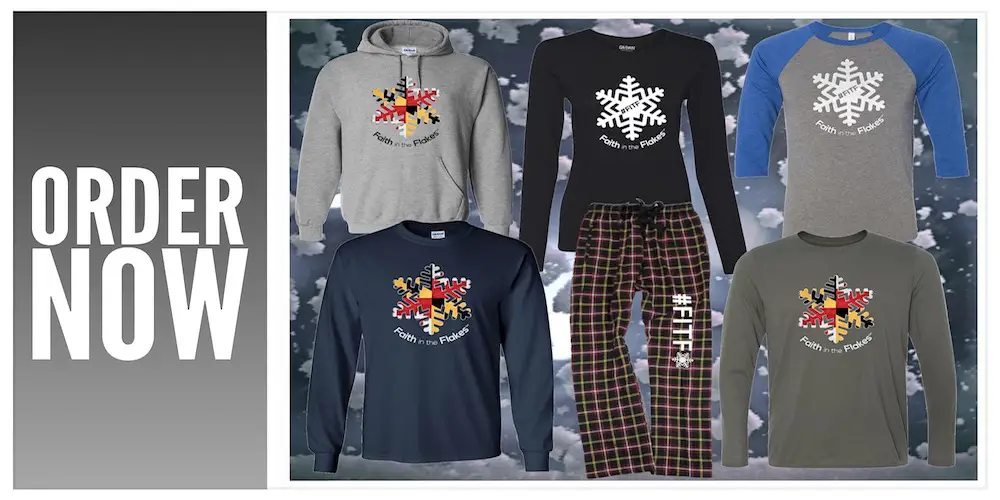 Keep In Touch Every Day
Click here to sign up for email alerts…. Be the first to hear the big news over the weekend
Also- Just in case you don't get the post on your social media feed
Please share your thoughts, best weather pics/video, or just keep in touch via social media
Related Links:
Winter Outlook
My Winter Outlook 2018-19: Multiple Nor'Easters and more snow
Interactive Snow Report
November 15 Snow Reports- Interactive Map Compared To My Forecast
Winter Snow And Top 5 Wet Years 
Snowfall Seasons at Beginning and End of Top 5 Wet Years In Baltimore
Related Winter Outlooks
Solar Cycle: When Sun Spots Are Low We Get More Snow
El Nino Modoki May Enhance Snow Chances
Sweet Spot: Hitting 70ºF on Halloween is followed by more winter snow
Will A Wet Summer Bring A Snowy Winter?
NOAA Winter 2018-2019 Outlook Explained: This Actually Supports Snow
Winter Outlook From Two Different Farmers Almanacs
Maryland Winters: Snowfall Maps and Baltimore Snow History 
Snowstix- We Need You To Measure Snow Too
We are giving 10% of each sale to Just In Power Kids: Providing FREE holistic care for pediatric oncology patients.