January 12 2019
I think it's OK to call this a snowstorm now with a broader area expecting over 6 inches of snow. Winter Storm Warnings now include much of central Maryland and most of Delmarva! I do not want to claim I knew it, but I have been hinting at the potential for this to overachieve with a stronger storm tracking a little farther north.  The NAM Model (I have been showing) tends to be very aggressive and is acting that way now. However it did this with the November storm and was leading the charge.
The snow on radar is working on the dry air. Once it breaks through, steady snow will increase in a hurry. Roads will get slick tonight and our first 1 to 2 inches may be by midnight.
I learned long ago that it is best to start low when forecasting snow, then build up. That is a lot easier that having to bring back higher numbers.  But we have higher numbers now that I will show you here.
Below you will see my updated snow notes, new forecast map, and upgrades from NWS and the models. But first,
Winter Storm Warning (pink) was just expanded to include:
Maryland – Kent, Queen Annes, Talbot
DE – Kent and Sussex
---
Keep In Touch Every Day
Just in case you don't get all posts on your social media feed, stay up to date with the latest info…
Click here to sign up for email alerts…. Be the first to hear any new weather forecasts
---
This storm is still expected to produce higher amounts in our southern area. But the expected snow amounts have increased on the north end as well.  Here is why:
Storm Set Up
This is already an overachieve event in the midwest and stretches snow 1000 miles east. We are about to get the first flakes and leading edge of snow will bring central Maryland and metro DC 1 to 2 inches by midnight.
Low Pressure (red circle) is located in central Arkansas. That is the main event that will track east and try to redevelop off of the coast.
The Upper Low (white circle) is near Kansas City and appears to be timing out to help keep the north edge of the snow in place, fighting off the Arctic high to the north. It will also help the coastal Low try to redevelop a little farther north Sunday. That is why snow will try to redevelop and hang on Sunday afternoon and evening.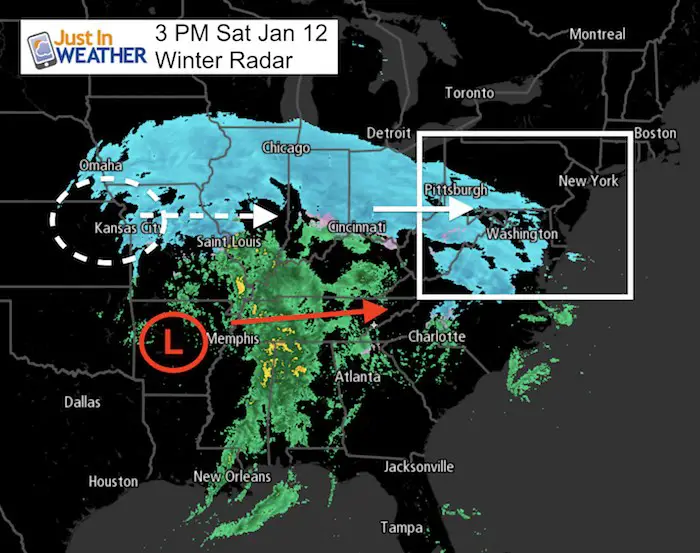 Tonight
The FV3 Model has held on to the notion of keeping the snow around on Sunday. We wil be in the thick of it overnight, but still watching the surface Low all day on Sunday into Monday morning for Delmarva.
Located below: Radar Simulation Sliders, My Notes, New Snow Forecast Maps
Storm Animation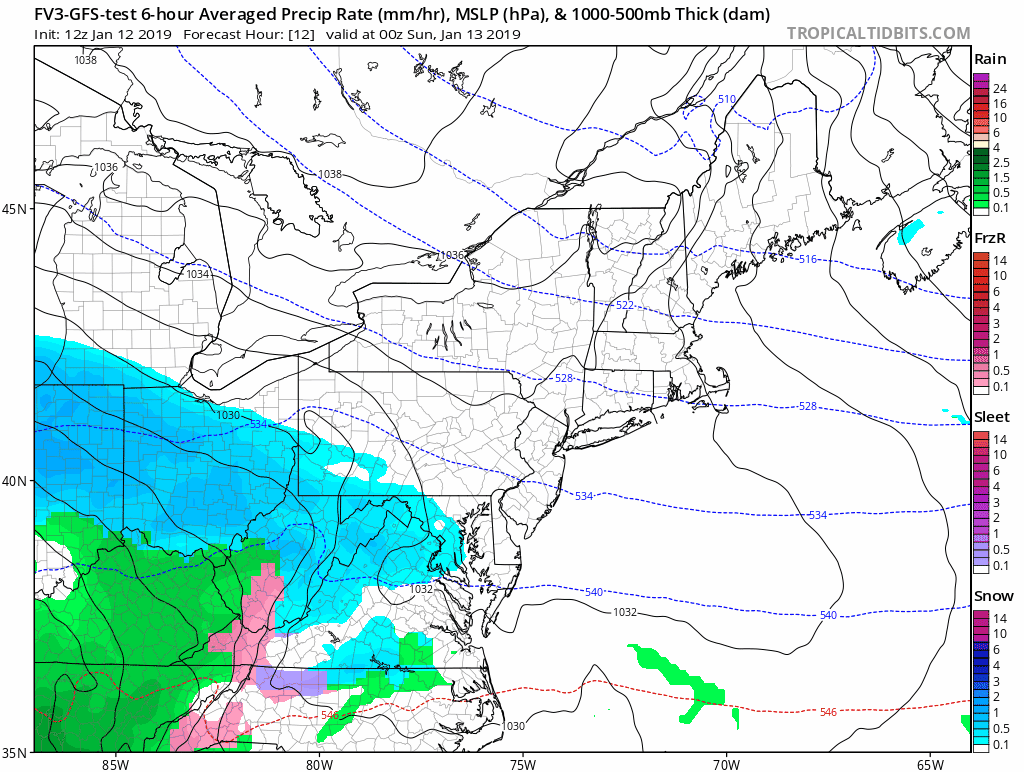 Sliders and Storm Notes
Saturday Radar Simulation —> slider
[metaslider id=70685]
Saturday Afternoon:
Flurries or light snow starting shortly. But initially plenty of virga on radar.
Once this breaks through the dry air, steady snow may pick up quickly.
Saturday Evening:
The first 1 to inches are expected on the ground between 8 PM and midnight in central Maryland. It may be delayed in southern PA and the eastern Shore.
Travel will be impacted and I expect many events will cancel. If you have plans, be careful driving.
Snow will get heavier late evening and overnight.
Sunday Radar Simulation —> slider
[metaslider id=70700]
Sunday
Moderate to heavy snow may linger in the morning.
Most accumulation by noon north of Baltimore
Some snow will last into the afternoon but fade from north to south.
Sunday Night
Light snow may linger near Washington and Annapolis. Snow in southern Maryland and the lower Eastern Shore could last overnight.
Monday Morning
The NAM 3 Km is most aggressive or shall I say slowest with the upper level Low. This keeps the snow around lower Delmarva into Monday morning. That may be good news for teachers and kids there.  Metro areas west of the Bay will be below freezing and still learning up.
There is a good chance many schools may be impacted with leftover cleanup and icy roads.
My Final Updated and Upgrade Snow Map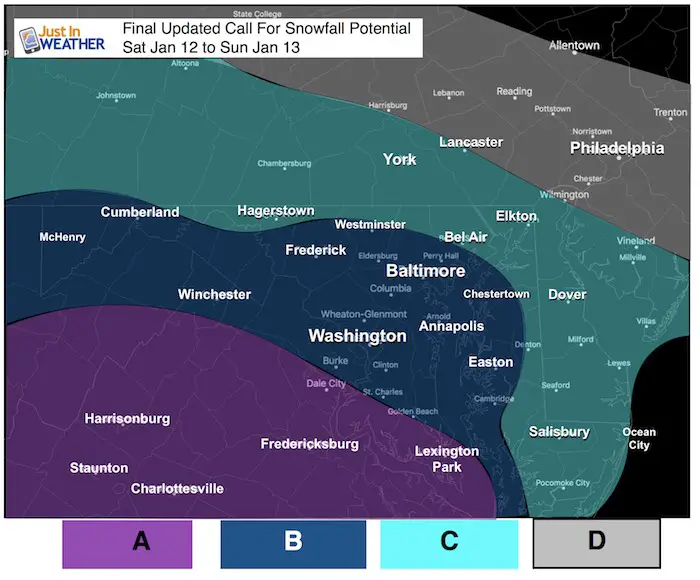 A:   6 to 12 inches
B:   5 to 8 inches
C:   3 to 6 inches
D:   1 to 3 inches
New Partner
Shannon and I will be doing a live 4 Wheel Drive in the snow Sunday Morning
I'd like to welcome Buchanan Kia of Westminster: Now a supporter of Just In Power Kids and Maryland Trek 6 in August 2019. Soon we will be showing you why we developed this relationship with a local business that my wife and I sincerely trust.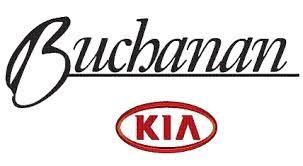 What Are The Models Showing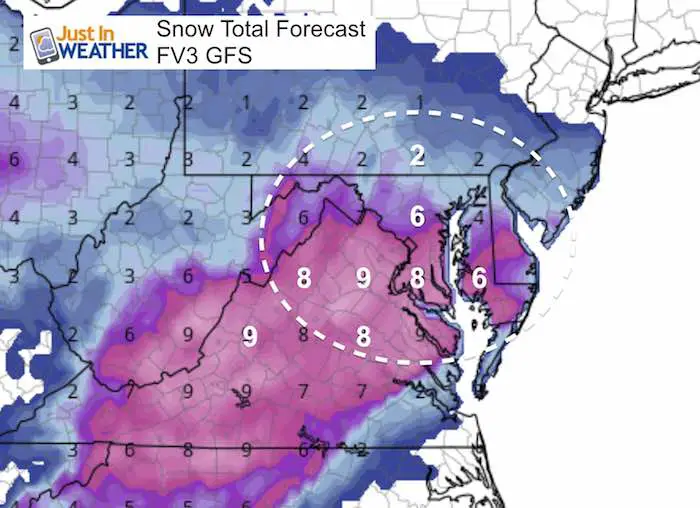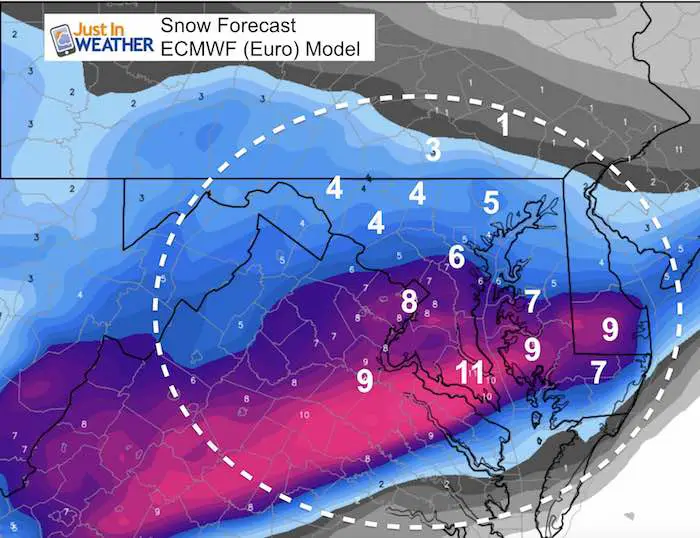 Snowstix- We Need You To Measure Snow Too
We are giving 10% of each sale to Just In Power Kids: Providing FREE holistic care for pediatric oncology patients.
What The National Weather Service Showing
[metaslider id=70727]
Snow Day Kit
NEW: Individual Items Are Now Available A La Carte.
Our ritual the night before a storm is finally in one kit. Maybe if more Maryland kids had this, the storm would reach us 🙂
This includes a very soft raglan Tee printed inside out with #FITF AND the check list,  #FITF spoon for under your pillow, ice cube tray with snowflake shapes, chalk, a #FITF wrist-band, a mini SnowStix, and a bag to carry it all in.
This will also help us give a free Snow Day Kit to each of the Just In Power Kids.
FITF and SnowStix Available NOW
Keep In Touch Every Day
Just in case you don't get all posts on your social media feed, stay up to date with the latest info…
Click here to sign up for email alerts…. Be the first to hear any new weather forecasts
Please share your thoughts, best weather pics/video, or just keep in touch via social media
Related Links:
Winter Outlook
My Winter Outlook 2018-19: Multiple Nor'Easters and more snow
Interactive Snow Report
November 15 Snow Reports- Interactive Map Compared To My Forecast
Winter Snow And Top 5 Wet Years 
Snowfall Seasons at Beginning and End of Top 5 Wet Years In Baltimore
Related Winter Outlooks
Solar Cycle: When Sun Spots Are Low We Get More Snow
El Nino Modoki May Enhance Snow Chances
Sweet Spot: Hitting 70ºF on Halloween is followed by more winter snow
Will A Wet Summer Bring A Snowy Winter?
NOAA Winter 2018-2019 Outlook Explained: This Actually Supports Snow
Winter Outlook From Two Different Farmers Almanacs
Maryland Winters: Snowfall Maps and Baltimore Snow History