Sunday January 13 2019
Good morning and happy snowy Sunday. Most of our area is waking up to already 2 to 4 inches of snow on the ground. Do you remember when I said that would be the general region-wide total? That was when most models had the system ending now. But the caveat has been that if the main storm is stronger and pulls north, then we are in for a longer event. Here we are this morning with just that and as a result, the bonus snow will add at least double that and be the overachieving event all day.
Below you will see snow simulation sliders for today and Today morning, temperatures, and additional snowfall.
Storm Warnings and Snow Advisories
Winter Storm Warnings (pink)
have been expanded. Most of central/metro areas last until 6 PM. The warning extends on the lower eastern shore and Delmarva until Monday morning. Yes, this is likely to impact schools Monday.
Winter Weather Advisories (blue) for northern Baltimore, Hartford, and Cecil in Maryland across to southern PA are where the snow is expected to end sooner today.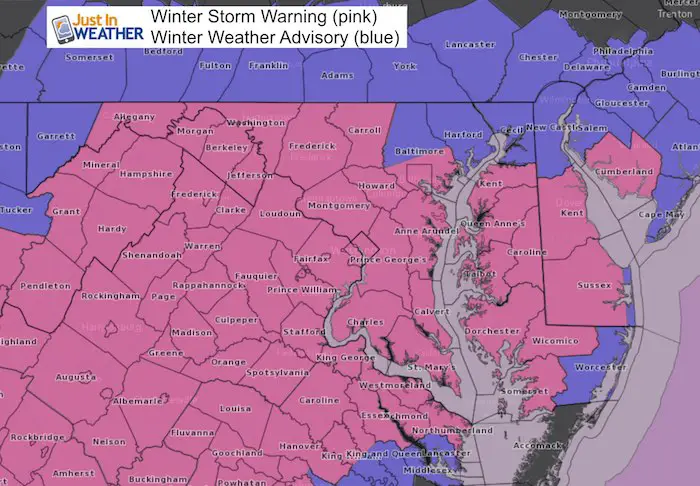 ---
Keep In Touch Every Day
Just in case you don't get all posts on your social media feed, stay up to date with the latest info…
Click here to sign up for email alerts…. Be the first to hear any new weather forecasts
---
Reason For More Snow
Morning Storm Map
The first wave of snow is what we had overnight. There may be light snow or a lull for a few hours, but the primary Low is still heading our way. Steady snow will intensify mid day and this afternoon.
Afternoon Storm Map
The NEW Coastal Low is where we expect the additional snow to come from. As the energy is transferred to the coast, snow will fill back in. The northern edge may be near York and Lancaster, but that pus most of Maryland in the snow zone.
Southern Maryland and Lower Eastern Shore: These area may mix to rain, but will turn back to snow. Even the beaches will end with snow Monday morning.
*See the snow simulation sliders below
How Much Snow So Far?
As of midnight:
BWI = 1.8″

Washington/National = 1.9″
Interactive Map
Please click on this map and keep checking on this page for updates from spotters. The overlay is on my snow forecast to compare. This is still a work in progress so expect more features soon.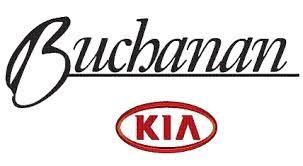 New Partner
Shannon and I will be doing a live 4 Wheel Drive in the snow Sunday Morning
Buchanan Kia of Westminster is a supporter of Just In Power Kids and Maryland Trek 6 in August 2019. My wife and I purchased new vehicles from them, and they wanted to partner with our nonprofit.  We thought it would be fun to show you how our vehicles hold up in all weather.
Local Weather Stats For January 13, 2019 in Baltimore
Average High:  41ºF
Record High: 76ºF in 1932
Average  Low: 24ºF
Record Low:  1ºF in 1981
                         *Record Snow:  7.8 in 1964
Sunrise: 7:25 AM
Sunset 5:05 PM 
*Daylight = 1:19 longer than yesterday 
*Bay Water Temperature = 39ºF at Thomas Pt. Light House 
Morning Temperatures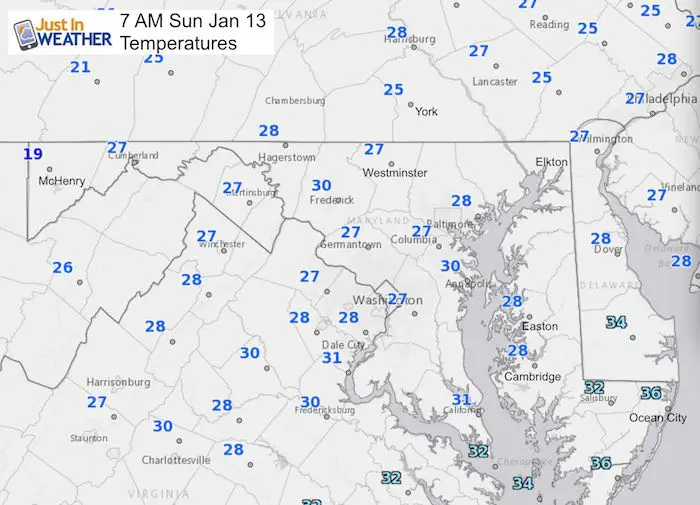 Radar Simulations
Morning Snow —> slider
Temperatures At Noon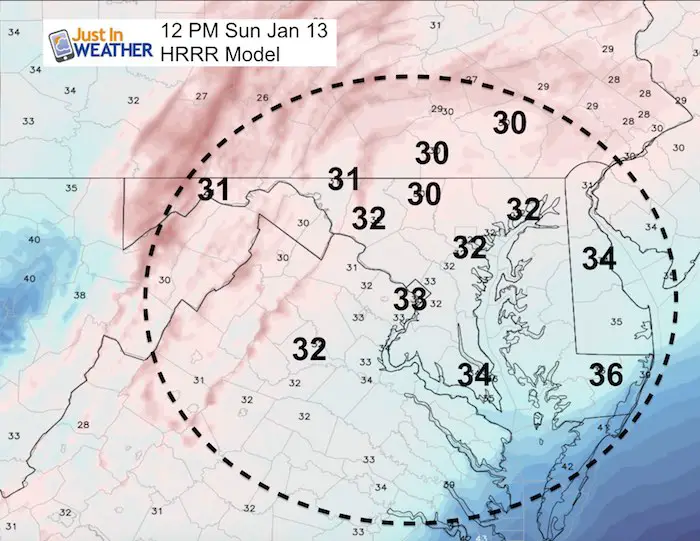 Afternoon Snow —> slider
Lower Easter Shore: Change to rain, but turns back to snow by this evening.
Temperatures Tonight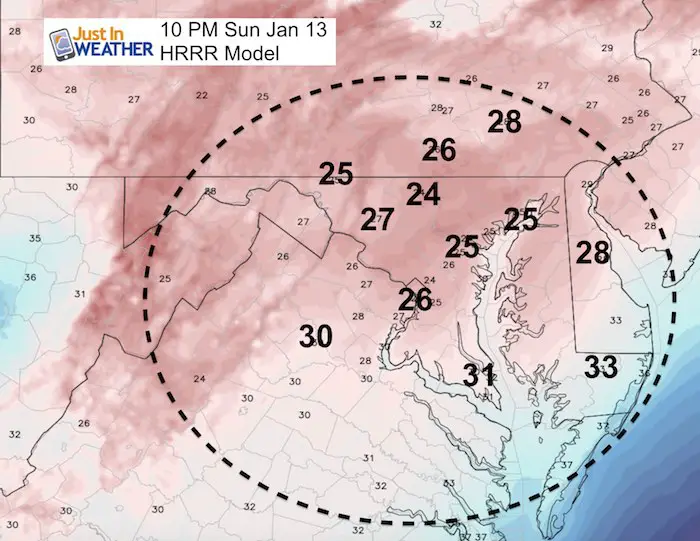 Monday Morning Snow —> slider
Temperatures Monday Morning
Additional Snowfall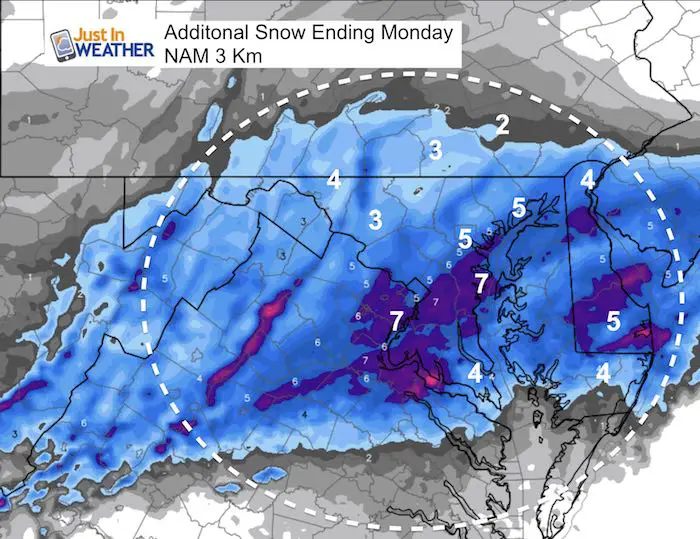 Snowstix- We Need You To Measure Snow Too
We are giving 10% of each sale to Just In Power Kids: Providing FREE holistic care for pediatric oncology patients.
School Impact Monday Morning?
It looks like there will still be clean while in the freeze. The lower Eastern Shore will have fresh snow until Monday morning to deal.
Maybe These Snow Day Kits Worked- Get in on the action
NEW: Individual Items Are Now Available A La Carte.
Another Storm Next Week?
Yes, I am aware that the rumors are already flying. I will not discuss that until this storm is done. We have snow with us right now and a weather pattern that will get even colder. The only outlook I want to mention now are temperatures. Take at look at that DIVE after next weekend. There will be a lot of talk about the Polar Vortex on the way.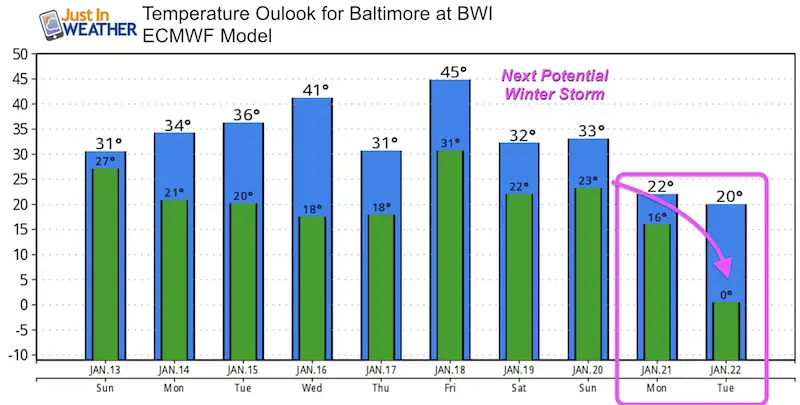 FITF and SnowStix Available NOW
Keep In Touch Every Day
Just in case you don't get all posts on your social media feed, stay up to date with the latest info…
Click here to sign up for email alerts…. Be the first to hear any new weather forecasts
Please share your thoughts, best weather pics/video, or just keep in touch via social media
Related Links:
Winter Outlook
My Winter Outlook 2018-19: Multiple Nor'Easters and more snow
Interactive Snow Report
November 15 Snow Reports- Interactive Map Compared To My Forecast
Winter Snow And Top 5 Wet Years 
Snowfall Seasons at Beginning and End of Top 5 Wet Years In Baltimore
Related Winter Outlooks
Solar Cycle: When Sun Spots Are Low We Get More Snow
El Nino Modoki May Enhance Snow Chances
Sweet Spot: Hitting 70ºF on Halloween is followed by more winter snow
Will A Wet Summer Bring A Snowy Winter?
NOAA Winter 2018-2019 Outlook Explained: This Actually Supports Snow
Winter Outlook From Two Different Farmers Almanacs
Maryland Winters: Snowfall Maps and Baltimore Snow History