Tuesday Evening: January 29 2019
The snow is moving east and already ending on the western side of the Bay. Most Winter Weather Advisories have been cancelled. The northern counties got an average of 1 to 3 inches and justified the early school closings. Central Maryland has been in the transition zone, but I hope my reports helped prepare you for the change over that many had between 3 and 5 PM.  I will have a final snow report tomorrow.  But we are not done yet. The second front is the arctic boundary that brings us the air from the infamous and over blamed Polar Vortex. There is more work to do on this larger weather event.
Getting Colder!
The post tracks the snow across the Eastern Shore tonight, and the cold air to follow. The flash freeze I mentioned still applies as many areas will be down into the 20s or teens overnight. Whatever is wet and not treated will turn to ice. Many schools are calling delays for tomorrow morning, just to allow more work on the roads.
On Wednesday we also have the arctic front, that will arrive mid day. It could bring a quick burst of snow around lunchtime, then temps really tank! The cold air and dangerous wind chills may be another school factor Wednesday night and Thursday morning.
This Evening Snow
Did you read my post earlier stating the models were having trouble with this storm? Here we can see the snow is advancing about 1 hour faster than the HRRR Model forecast. I am showing that slider to compare but all images will verify an hour earlier.
Doppler Radar at 7 PM
The back edge of the snow was moving across I-95. There has been a moderate burst and some stickage on roads that were wet all day. There is a transition to snow along the front that will catch up on the Eastern Shore.
Snow Timeline—> slider
The first image here is the 8 PM forecast, but it matches the radar (above) at 7 PM
Each image here will verify an hour earlier than listed
[metaslider id=72225]
The Big Freeze
Temperatures: The quick drop overnight will allow anything that is wet and untreated to freeze. This applies across the state
Midnight
Wednesday Morning
Metro Baltimore will be in the lower 20s. All places that got snow to stick during this afternoon will likely drop into the teens.
Wednesday: Arctic Front
This will cross the area around lunchtime. A brief burst of snow is possible, but the real story will be the drop in temperatures and wind chill.
—> slider 
[metaslider id=72236]
Temperatures
Mid Day As The Front Passes
Late Afternoon After The Front Passes
Yes, we will be in the mid to lower teens across central Maryland before sunset.
Wind Chills:  Drop below zero north and west of Baltimore
---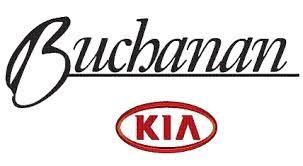 New Partner
Buchanan Kia of Westminster is a supporter of Just In Power Kids and Maryland Trek 6 in August 2019.
---
Wednesday Morning
This is be dangerously cold! Especially for those not accustomed to it.
Close to the record
January 31 (Thur):
42ºF = Normal High;  25ºF = Normal Low
22ºF in 1948 = Record Cold Max Temperature *(Chance to break this)
+4ºF in 1966 = Record Min Temperature *(Chance to break this)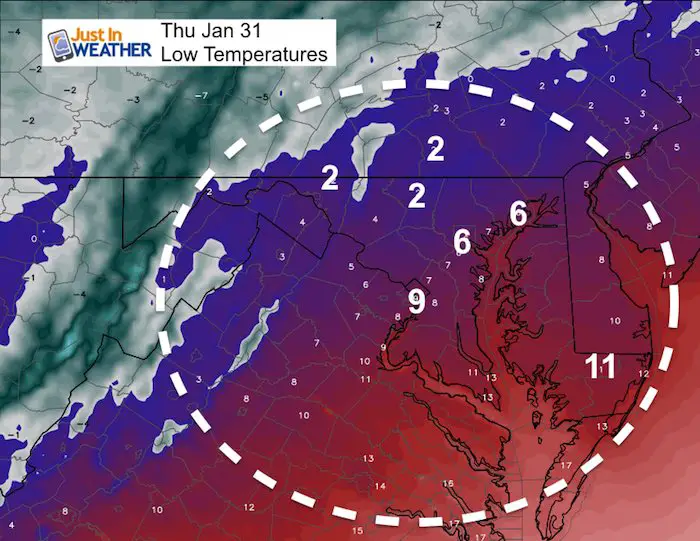 Wind Chills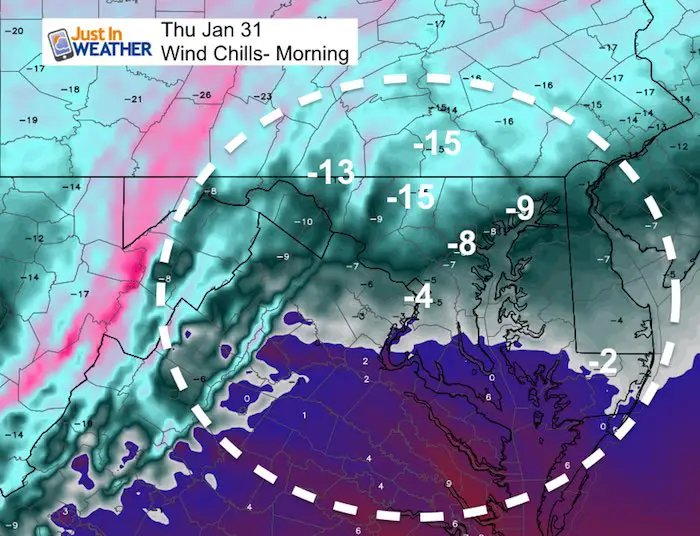 Temperature Outlook
This arctic blast will be short lived AND replaced by a very warm surge next week. While this model shows mid 50s, we could actually reach the 60s. By the end of next week, we should be back colder than average again.
Please share your thoughts, best weather pics/video, or just keep in touch via social media
Keep In Touch Every Day
Just in case you don't get all posts on your social media feed, stay up to date with the latest info…
Click here to sign up for email alerts…. Be the first to hear any new weather.
Related Links:
Winter Outlook
My Winter Outlook 2018-19: Multiple Nor'Easters and more snow
Interactive Snow Report
November 15 Snow Reports- Interactive Map Compared To My Forecast
Winter Snow And Top 5 Wet Years 
Snowfall Seasons at Beginning and End of Top 5 Wet Years In Baltimore
Related Winter Outlooks
Solar Cycle: When Sun Spots Are Low We Get More Snow
El Nino Modoki May Enhance Snow Chances
Sweet Spot: Hitting 70ºF on Halloween is followed by more winter snow
Will A Wet Summer Bring A Snowy Winter?
NOAA Winter 2018-2019 Outlook Explained: This Actually Supports Snow
Winter Outlook From Two Different Farmers Almanacs
Maryland Winters: Snowfall Maps and Baltimore Snow History