Saturday February 9 2019
This brief update is for the winter weather event we are expecting to arrive late Sunday, but mostly impact our area Monday morning into Tuesday. This will be a two part event and there will be a freezing line across central Maryland. Half of the region to the south will just be wet. The northern half will be impacted more, but still in the transition zone as the freezing line will be wondering north and south a few times.
UPDATE:
Winter Weather Advisory Issued Sunday morning. Click here for my thoughts trying to simplify this complex event
My goal this evening is to show you the latest info. The good news is there is not much change. But the part of tracking the freezing line Monday morning might be the most complicated.
This evening, the storm still has not even formed yet. Low Pressure exiting Colorado will be linking up with the rain in Texas. Tomorrow morning it might have more identity. It's important to note that the storm will be developing right on top of our area Monday, with a second part on Tuesday.
Satellite Loop
The water vapor this evening shows the flow of moisture heading our way. There will be enough cold air in place to make for an snow and ice mix.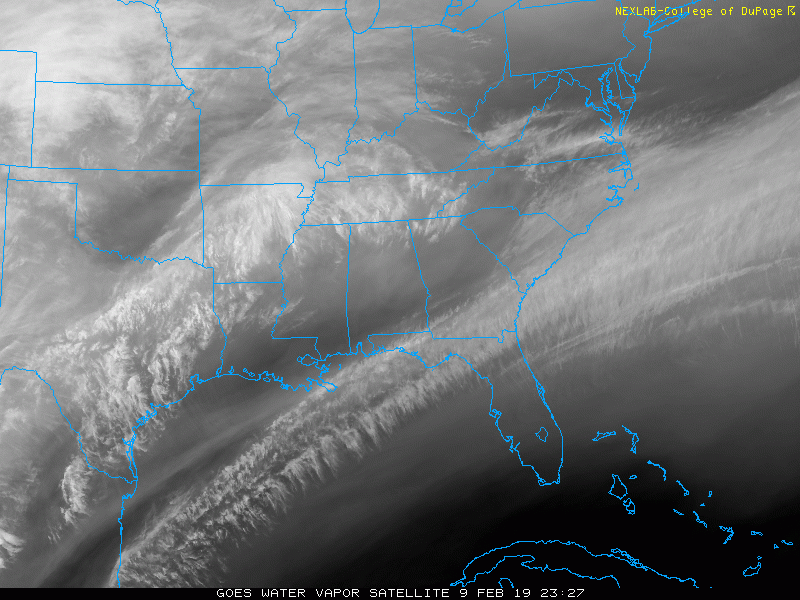 Storm Part 1- Sunday Night/Monday
NAM 3 Km —> slider
The intensity is not shown here. Most of this round will be light, but there will be a jet streak pulsing the snow early in the morning. As of now this is timing out to benefit the northern Delmarva with more snow.
[metaslider id=72789]
Snow By Monday Morning?
The NAM does indicate a pulse of moderate snow as this crosses northern Delmarva. But it's also important to note that there will be a mix with snow falling south of I-95 where temps might be above freezing on the ground.
Monday Morning Temperatures
The ground will be cold enough, but where will the freezing line in the air mass be?  This may make or break rage stickage and impact.
The NAM and European (ECMWF) are compared here. Notice the Euro is a little colder. That can extend the impact region from near I-70 (NAM) to Rt 50 at daybreak Monday.
NAM 3 KM suggest the freezing line will be near and north of Baltimore.
European: This suggests the freezing line will be around BWI. So impact on the roads would include more of Baltimore City, Howard, Montgomery, and Anne Arundel Counties west of the Bay. Also Cecil and Kent on the E Shore.
Storm Part 2 Monday and Tuesday
ECWMF —> slider
I've overlapped the Monday morning part here so you can contrast it with the NAM above.
Monday Evening – Notice the redevelopment of moderate snow in the mountains.
Monday Night/Tuesday Morning: This is when the coastal Low develops. Cold air gets pulled down south, but warm air invades the clouds. The result will be more freezing rain.
Tuesday: A gradual push of warmer air to the north. The ice will linger in the northern suburbs into the afternoon or evening.
[metaslider id=72814]
Storm Animation
Canadian GEM Model
This is also in pretty much the same agreement of the full event. The tricky part again will be where the freezing line sets up Monday morning, then again Tuesday morning.
Final Snow Totals? Ice Potential?
This is the hardest part to lock in on. I am NOT showing any computer model final snow maps because I do not trust they are accurate.
I think it is safe to say that the colder areas north and Baltimore will get 3 or more inches. I will have a potential map shortly
Storm Notes:
The snow will be a minor impact on Monday morning.
The transition zone will be between Washington and Baltimore. This region will be within one to two degrees of freezing. That will make or break if there is impact on the roads.
The biggest impact will be snow and icing Monday night into Tuesday morning!
Faster change to rain along and south of I-95
Longer snow and ice impact northwest of the big cities. This is where 3 + inches of snow is expected
In Maryland: Northern Harford, northern Baltimore, Carroll, western Howard, Frederick, and Washington Counties
Southern Pennsylvania: including Adams, York, and Lancaster Counties.
Keep In Touch Every Day
Just in case you don't get all posts on your social media feed, stay up to date with the latest info…
Click here to sign up for email alerts…. Be the first to hear any new weather.
---
New Partner
Buchanan Kia of Westminster is a supporter of Just In Power Kids and Maryland Trek 6 in August 2019.
---
FITF and SnowStix 
Temperature Outlook
The high temps might be deceiving for Monday and Tuesday. The impact times below freezing will be Monday morning and night, and Tuesday morning.
A warm up next weekend, then another push of winter next week.
Please share your thoughts, best weather pics/video, or just keep in touch via social media

New Colors
We are giving 10% of each sale to Just In Power Kids: Providing FREE holistic care for pediatric oncology patients.
Related Links:
Winter Outlook
My Winter Outlook 2018-19: Multiple Nor'Easters and more snow
Interactive Snow Report
November 15 Snow Reports- Interactive Map Compared To My Forecast
Winter Snow And Top 5 Wet Years 
Snowfall Seasons at Beginning and End of Top 5 Wet Years In Baltimore
Related Winter Outlooks
Solar Cycle: When Sun Spots Are Low We Get More Snow
El Nino Modoki May Enhance Snow Chances
Sweet Spot: Hitting 70ºF on Halloween is followed by more winter snow
Will A Wet Summer Bring A Snowy Winter?
NOAA Winter 2018-2019 Outlook Explained: This Actually Supports Snow
Winter Outlook From Two Different Farmers Almanacs
Maryland Winters: Snowfall Maps and Baltimore Snow History