Monday February 18 2019
This update has a slight adjustment on my snowfall totals. I think it is safe to account for the high intensity snow Wednesday morning, and perhaps a little daly in the change to sleet and freezing rain. That will allow for a few added inches to my original call.  The arrival across the area varies from south to north, but we all should be in the snow by morning.
The Winter Storm Watch is the first phase of alerts. Next will be issued during the day on Tuesday. A Winter Storm Warning will be where the highest snow and ice is expected. The qualifier is 5 snow or more.  Other areas will be converted to a Winter Weather Advisory for less snow. These are often within 24 hours of the event, so we may get them as soon as Tuesday morning, for Wednesday morning.
Snow will be heavy at times Wednesday morning and mid day. Those northern zones will stay colder longer with more icing on top of the snow.  There will be sleet and freezing rain to follow. Timing that change is the hardest part to certify snow totals. In simplest terms, this will be a mess on Wednesday and most area schools and businesses will be affected.
Also below is a look at the snow totals from various models and regional NWS Offices to compare. All regional offices have increase their snow potential maps a little as well. But there is a wide range of expectations.
Winter Storm Watch
Maryland and VA begins Tuesday night and ends Wednesday night
PA begins Wednesday morning and ends Thursday morning
Is Your County Not Included?
Either you may be too warm or your NWS Office has not posted yet. Click this map for more on the regional forecast zones
Storm Notes:
Wednesday morning most of the area will see snow.  This includes Southern MD and Delmarva.
A burst of moderate to heavy snow could bring 1″/Hr at times.
Wednesday Afternoon: Snow will change to sleet and freezing rain from south to north. That change over will be around lunchtime between Washington and Baltimore.
Wednesday afternoon and evening: There will be icing across central Maryland
Wednesday night: The normally colder zones will have heavy icing
Thursday morning: It is possible that leftover ice has not fully melted or fallen off of trees in some areas even with warming and rain.
Storm Animation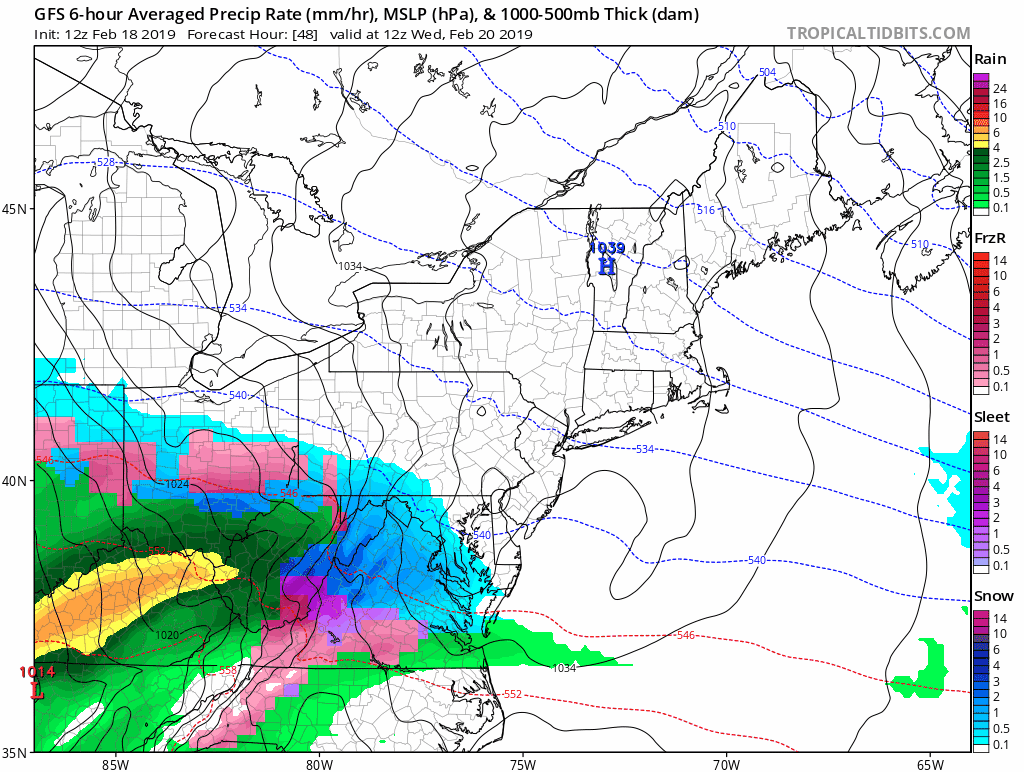 More Below
My call for snowfall has increased a little to allow for more snow. Once we change to sleet and freezing rain, that will be an additional problem to content with.
Two sliders below are for you to compare the models and NWS Office snow forecasts
I am still staying lower that possible due to the sleet. The bust potential would lean towards overachieving. Note that the initial snow intensity can reach rates over 1 inch per hour.
Zone A:
5″ to 8″ of snow. The white circled region can get up to 12″.
This Zone will have the most snow and heaviest icing Wednesday night
Zone B:
3″ to 6″ of snow. It will fall heavy at times in the morning.
Change over will be around lunchtime (between 11 AM and 3 PM).
I expanded this zone to include Kent, Queen Annes, and Caroline Countes.
Moderate icing in sleet and freeing rain
Should change to rain from south to north between 3 PM and 8 PM Wednesday.
Zone C
1″ to 3″ of snow.
Faster change over to icing and then rain during the day.
Radar Simulation —> slider
[metaslider id=73502]
Thursday Morning Conditions
The is a chance some cold air lingers in pockets northwest of Baltimore.
Ice will be slow to thaw and also could be falling off of trees and power lines for a few hours after the change to all rain. This is what happened during last week's storm.
How Much Snow?
Use the two sliders below to compare various models and NWS Zone Forecast Maps
Computer Models — > slider
The ECMWF an NAM 3 Km seem most reasonable.
The Canadian is low and the GFS is VERY HIGH. I think this is overblown and not accounting for the icing properly.
[metaslider id=73493]
Snow From NWS Offices For Their Zones —> slider
Notice northern Maryland is higher than adjacent PA Counties. That shows NWS Sterling VA and State College did not coordinate and have different views on the storm.
I think NWS Sterling VA put a lot of emphasis on the GFS Model above and is among the highest totals.
[metaslider id=73528]
Notes:
The potential to beat here might be on the higher side of snow. This all depends on the timing of the change over from snow to sleet, and freeing rain.  Just plan for an icy mess. Morning snow rates will be high and able to stick on the pavement. The sets the stage for stickage for the middle of the day and afternoon.
Also remembering the ice storm last week. It is possible to change to plain rain, but have the effects of ice linger.  This is due to longer time for it to melt and also fall off of trees and power lines.  There is potential for 0.1″ to 0.25″ of icing on top of whatever snow falls.
ALL FITF  Apparel 
Please share your thoughts, best weather pics/video, or just keep in touch via social media
Keep In Touch Every Day
Just in case you don't get all posts on your social media feed, stay up to date with the latest info…
Click here to sign up for email alerts…. Be the first to hear any new weather.
---
New Partner
Buchanan Kia of Westminster is a supporter of Just In Power Kids and Maryland Trek 6 in August 2019.
---
Related Links:
Winter Outlook
My Winter Outlook 2018-19: Multiple Nor'Easters and more snow
Interactive Snow Report
November 15 Snow Reports- Interactive Map Compared To My Forecast
Winter Snow And Top 5 Wet Years 
Snowfall Seasons at Beginning and End of Top 5 Wet Years In Baltimore
Related Winter Outlooks
Solar Cycle: When Sun Spots Are Low We Get More Snow
El Nino Modoki May Enhance Snow Chances
Sweet Spot: Hitting 70ºF on Halloween is followed by more winter snow
Will A Wet Summer Bring A Snowy Winter?
NOAA Winter 2018-2019 Outlook Explained: This Actually Supports Snow
Winter Outlook From Two Different Farmers Almanacs
Maryland Winters: Snowfall Maps and Baltimore Snow History