Wednesday Evening March 6 2019
Snow is in the forecast again. It is nice that multiple models agree in this occurring. This Friday we will have another event bring snow to much of the region. There has been legitimate concern considering this will arrive after a few days of our late season deep freeze. But we must consider that this snow will mostly fall during the day, and it is March. The higher solar energy will usually win out and keep most roads wet. We just saw this play out last Sunday. If this was earlier in winter, it would be a noteworthy event. But it's almost spring.
There is also the factor that the freezing line will be north of the cities, so this should not be a concern for metro areas. The places that did get snow to stick last Sunday are more likely to get snow to stick Friday… But most will be on the grass or snow already on the ground. There is a small chance it may at the start, and then again in the evening. But after 10 AM. the sun angle through the clouds tends to be enough to warm the pavement.
Here is a look at the snow timeline form the NAM 3 Km. This was the best performing with last weekend's storm.  Also see the comparison to other models for the evening.
Snow Timeline —> slider
Blue = snow
Purple line = freezing line with colder air to the north
[metaslider id=74506]
How Much Snow?
This is the model prediction for how much will fall. But this is NOT what will be on the ground. Definitely NOT on the roads.
The roads may start to get covered in the cold zone (below freezing) after the sun gets lower in the sky… Similar to last Sunday, this should be after 5 PM… Again… in similar areas to where it stuck last weekend.
Friday Evening Model Comparison 
Weekend Outlook
We are still on for a warm up and rain event on Sunday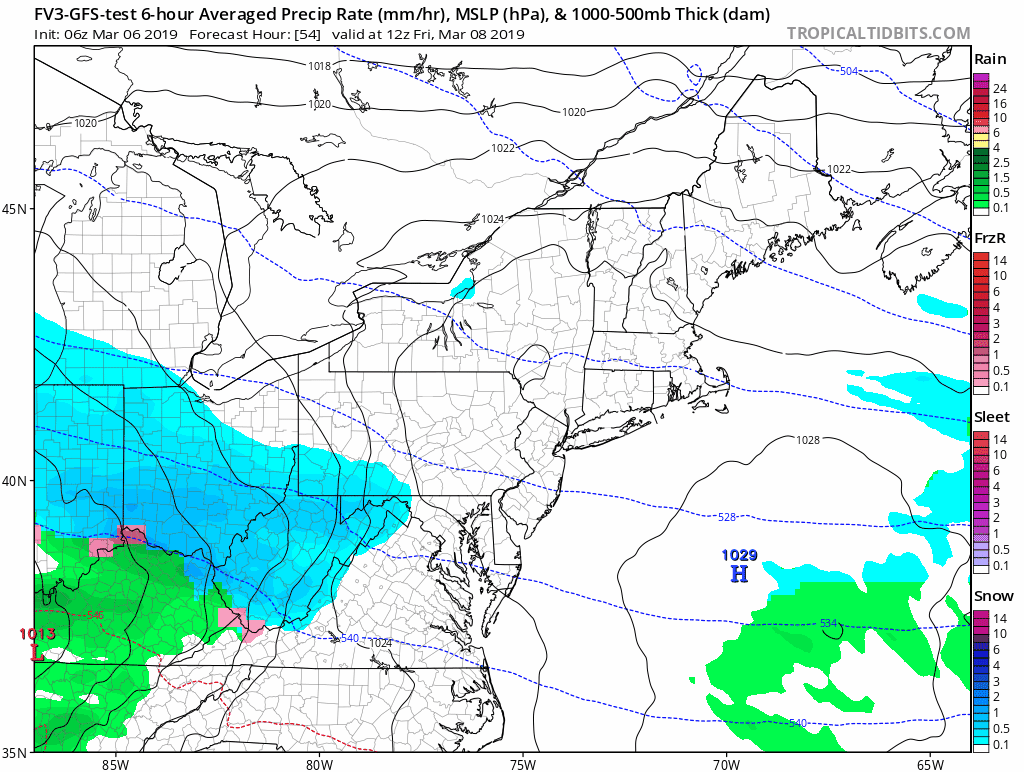 ALL FITF  Apparel 
Please share your thoughts, best weather pics/video, or just keep in touch via social media
Related Links:
Winter Outlook
My Winter Outlook 2018-19: Multiple Nor'Easters and more snow
Was Your County Not Included?
Click this map for more on the regional forecast zones
Interactive Snow Report
November 15 Snow Reports- Interactive Map Compared To My Forecast
Winter Snow And Top 5 Wet Years 
Snowfall Seasons at Beginning and End of Top 5 Wet Years In Baltimore
Related Winter Outlooks
Solar Cycle: When Sun Spots Are Low We Get More Snow
El Nino Modoki May Enhance Snow Chances
Sweet Spot: Hitting 70ºF on Halloween is followed by more winter snow
Will A Wet Summer Bring A Snowy Winter?
NOAA Winter 2018-2019 Outlook Explained: This Actually Supports Snow
Winter Outlook From Two Different Farmers Almanacs
Maryland Winters: Snowfall Maps and Baltimore Snow History