Wednesday April 17 2019
We are in the middle of severe storm season and the next three days will bring another outbreak across the country that may make news headlines. This is quite a contrast to last year that was one of the least active severe weather years on record. The system that will be responsible for the severe storms is coupling heat and a defined line of humid air and a dry line at the surface with cold air aloft.
This will travel across the southern US today and tomorrow, but reach the Mid Atlantic (our region) on Friday. That is the start of the holiday weekend with the first night of Passover and Good Friday. If you are traveling, please consider the maps below.
Wednesday Severe Storm Risk
Today we watch the primary cluster across east Texas and between Oklahoma and Kansas. These storms are likely to produce numerous supercell with baseball size hail and tornadoes. The latest modeling suggest the development of the storms will erupt tonight.
Risk Color Legend
Orange: Enhanced
Yellow: Slight
Green: Marginal
Thursday Severe Storm Risk
Tomorrow the focus will be along the Gulf Coast with the most intense storms between New Orleans and Birmingham. But the slight risk will include Memphis and Nashville in Tennessee. Some storms may survive to reach Atlanta overnight.
Friday Severe Storm Risk
This is the Day 3 map and is rare to show this type if likelihood that far away.  But there is time to adjust. If the pattern repeats, then we may include more.
Also See: EF-2 Tornado Confirmed in Laurel, DE on Monday Morning
Closer Look At Friday
Our last event was seen this far away, but the enhanced zone kept expanding to eventually include our region on the final day. This will be evolving as the storm develops, so there is a chance this expands to include more as well.
While Baltimore and Dover are on the northern edge of 'marginal', I think this may be include in a greater chance. See the forecast maps below and plan ahead just in case.
Forecast Maps
Upper Level Support Jet Stream at 18,000 Ft (500mb)
Here is a look at the vorticity or spin in the atmosphere around 18,000 Ft elevation. The darker red coloring shows where the most energy at cloud level is present to allow for taller storm structure and even rotation. This does not guarantee tornadoes, but it supports supercell development and long lived lines of severe storms.
Note: This loop goes through Sunday. The prime influence of the vorticity to support severe storms will be with the warm air at the surface… For us that will be Friday. Over the weekend it will be cooler. This will keep the clouds around with risk of regular rain showers.
Rain/Surface Animation
Tonight Through Saturday Morning
Closer Look For Friday
The best timing will be late afternoon through midnight.
The broken line of most intense storms (yellow and orange) is low resolution. This is just a hint, but suggest the spread of severe potential farther north than the outlook map above. I believe this risk will expend through central Maryland into southern Pennsylvania.
If you or family are driving for the holiday weekend, plan it earlier to arrive before 4 PM or wait until Saturday morning to depart.
Saturday will bring showers, but cooler with diminished severe risk.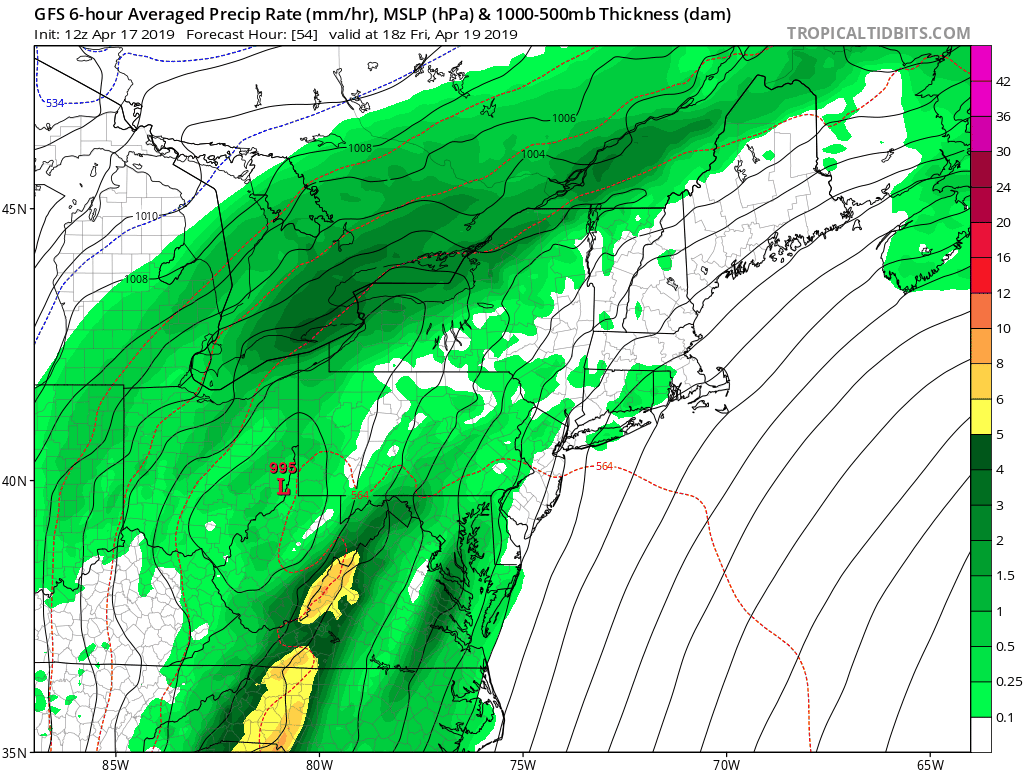 Keep In Touch With Updates Every Day
Just in case you don't get all posts on your social media feed, stay up to date with the latest info…
Click here to sign up for email alerts…. Be the first to hear any new weather.
Please share your thoughts, best weather pics/video, or just keep in touch via social media
Maryland Trek 6
Our look got an upgrade, but we have the same purpose. Please click the logo take a look at our new page.
Consider joining our team for the week, a single day, or even as a sponsor.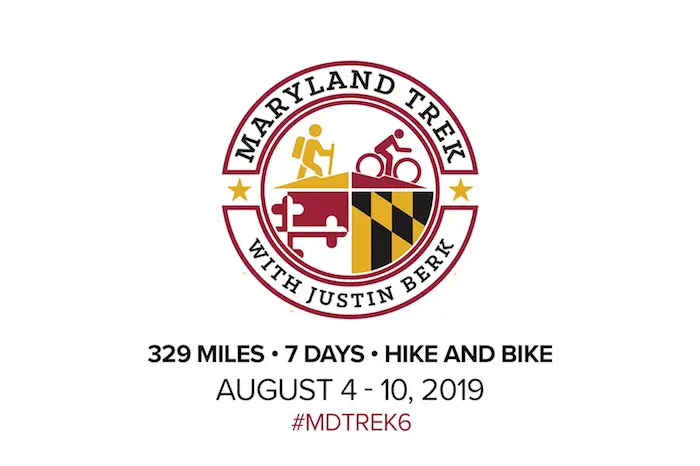 ---
New Partner
Buchanan Kia of Westminster is a supporter of Just In Power Kids and Maryland Trek 6 in August 2019.
---
Related Links:
Was Your County Not Included?
Click this map for more on the regional forecast zones