4 PM Sunday May 19 2019
We definitely got the heat this afternoon and we have a few boundaries to watch for where storms may develop and travel. Here is a look as it appears at 4 PM as I wanted to compared the observations to the short term forecasts. The high resolution computer modeling is NOT perfect. Below we can see how both the HRRR and NAM 3 KM models were off in different ways, so we must extrapolated the difference where storms may fire. Be on the lookout through this evening near and especially north/west of metro Baltimore.
Severe Storm Watch Until 9 PM
This includes Carroll, Frederick, Washington, and Allegeny Counties in Maryland
This also includes locally Lancaster, York, and Adams Counties in PA.
There is enough energy to produce storms that may contain:
Winds over 58 mph
Large hail over 1 inch diameter (size of a quarter)
Isolated tornados
Frequent dangerous lightning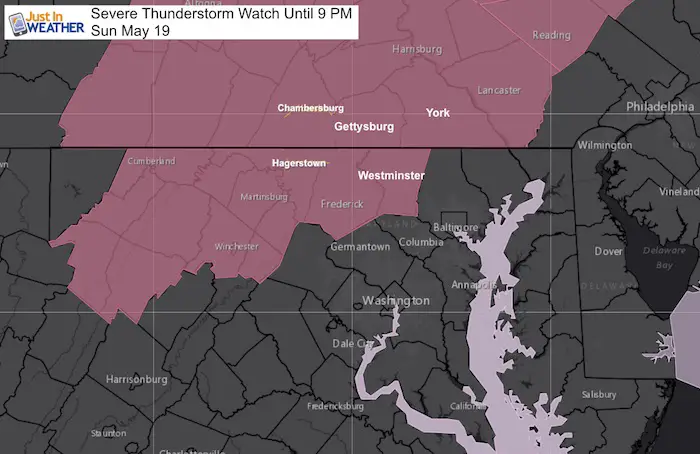 Afternoon Heat
Some areas did reach the 90s. Westminster is still above that mark, while just to the east in northern Baltimore County and Harford County is is roughly 5 to 10 degrees cooler. That is thanks to a breeze from the Bay. The temperatures at 4 PM tell the subtle story of some hidden boundaries
There is rain cooled air in the mountains.
There is also slightly cooler air around metro Baltimore thanks to a shift of a southeast wind near the beltway and across the Chesapeake Bay
This may enhance storms that are not present yet.
Compare this to the radar snapshot below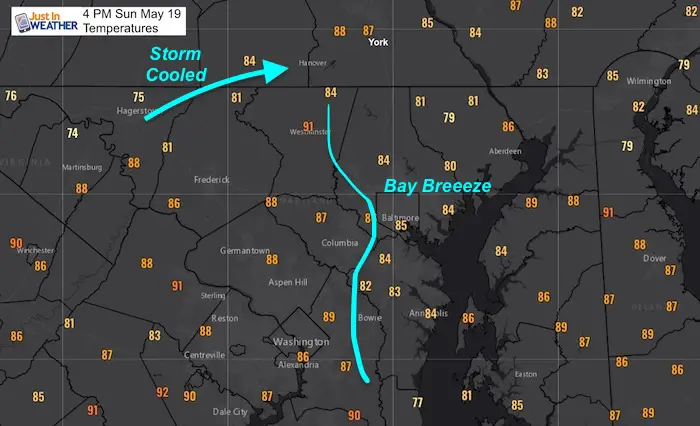 Doppler Radar Snapshot at 4 PM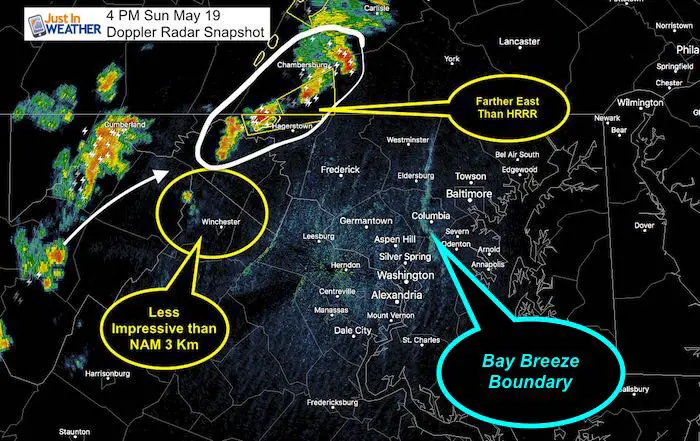 Radar Simulations (Short Range Models NOT Perfect)
HRRR Model —> slider 
The 4 PM forecast did not verify. The leading edge of storm was about 40 miles farther east around Hagerstown. So the rest should be considered off as well.
But, this is missing the Bay Breeze Boundary.
[metaslider id=76722]
NAM 3 Km Model —> slider 
This model did a better job with the Hagerstown area storm, but overplayed the shower near Winchester VA
This miss means the cluster for metro Baltimore was overplayed. But we can't ignore it fully as I think there will be storms that spark along that Bay Breeze Boundary shown on Doppler at 4 PM. I think metro Baltimore could get a a line of storms, but it might need to form first and would be a little later than shown here. Plan for 6 pm to 8 pm to watch for anything near metro areas to start.
[metaslider id=76705]
Storm Risk Posted This Morning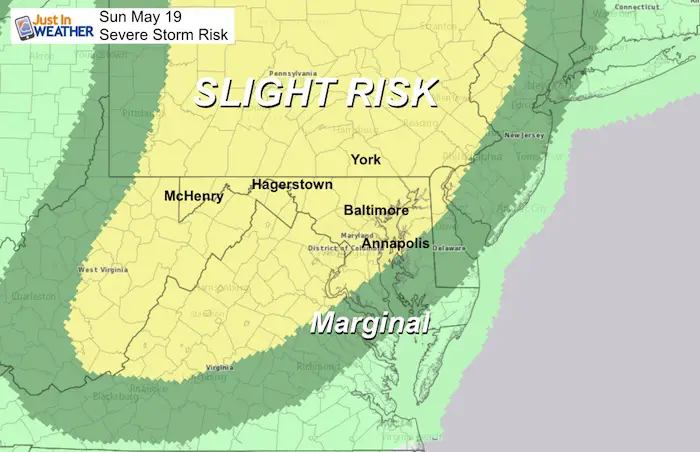 Keep In Touch Every Day
Just in case you don't get all posts on your social media feed, stay up to date with the latest info…
Click here to sign up for email alerts…. Be the first to hear any new weather.
Maryland Trek 6
Our look got an upgrade, but we have the same purpose. Please click the logo take a look at our new page.
Consider joining our team for the week, a single day, or even as a sponsor.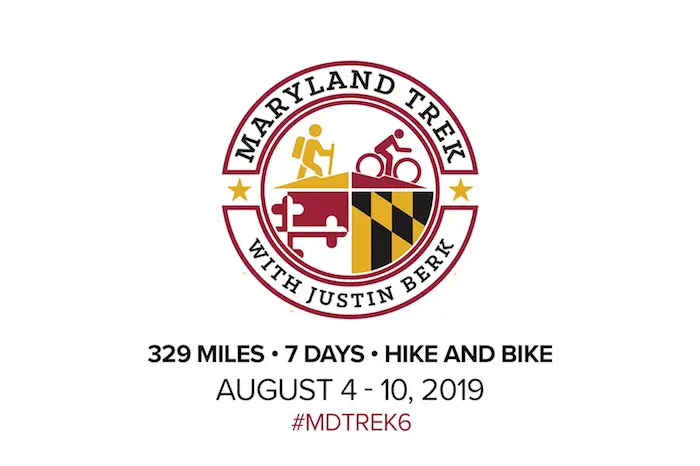 Support Our Nonprofit:
Proceeds go to our programs Providing FREE holistic care for kids in cancer treatment and up to 5 years post treatment and caregivers.
Shine On
Proceeds from all sales go to Just In Power Kids. Click the image to shop and show your support.
Love Maryland Shirts and Hoodies
This shirt was designed by my 'bonus' daughter Jaiden. The hoodie has been the biggest hit, so our promotion has been extended until the end of this week. 
Show your love for Maryland and make this 14 year old artist and her mom extra proud
Please share your thoughts, best weather pics/video, or just keep in touch via social media