Thursday Evening September 5 2019
Hurricane Dorian is still looking impressive on satellite tonight with it's closet approach to the US coast. The eye has 100 mph winds and is passing within 30 miles of Cape Fear, SC. The eye is expected to make landfall in North Carolina early Friday morning, then head back out into the Atlantic.
Hurricane Dorian IR Satellite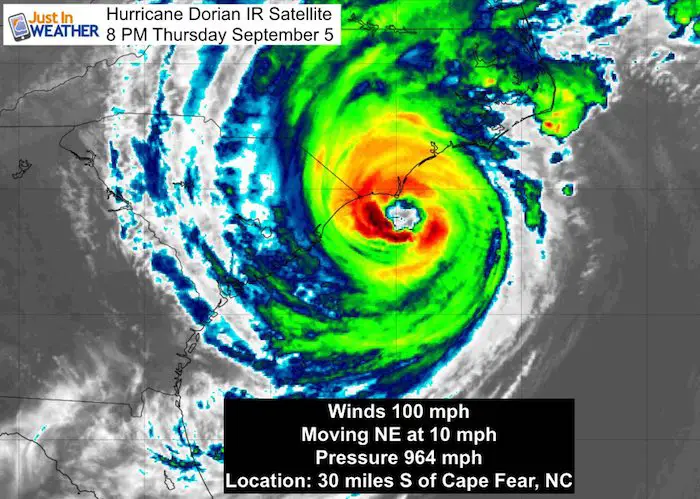 Tropical Storm Warnings have been issued for southern Maryland. Tornado Watches have been issued just south in Virginia. But how far north will the rain reach? That is what is shown in the first slider below, and it could get to Baltimore. It may feel like a Nor'easter in central Maryland with gusty winds, but on the edge of light rain showers. The real feel of the storm will be in St. Mary's to Salisbury and Ocean City.
See the wind and waves forecast maps below as well.
Hurricane Dorian IR Satellite Loop
Forecast Maps
European ECMWF Model
Morning– The edge of the rain on the north ends will try to reach Baltimore and I-95 up to Philadelphia. The heaviest rain will be south of Ocean City around Virginia Beach to OBX.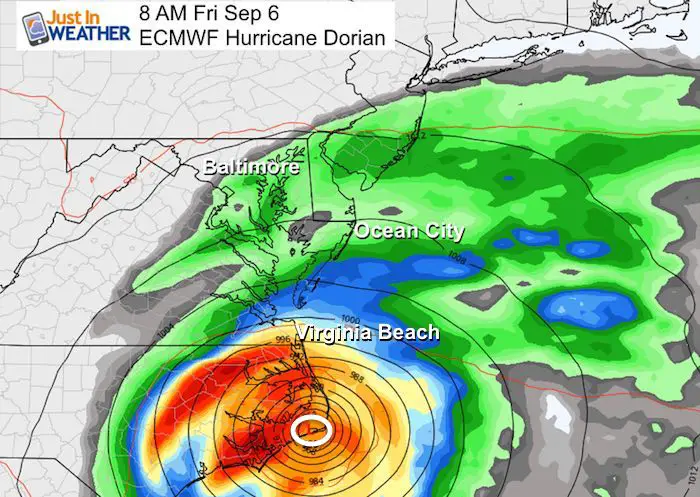 Afternoon – The interaction of our old front and the edge of Dorian will try to keep a band of rain around I-95. The bulk of the rain (according to this model) will be just offshore of Ocean City.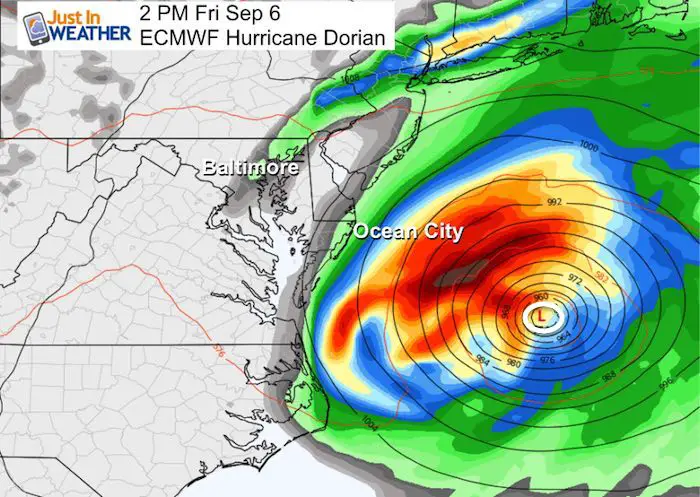 NAM 3 KM —> slider
Hourly forecast maps show a higher resolution. The rain around Baltimore may spotty, but should be light.
Ocean City should have its heaviest rain between 9 AM and 4 PM. This is shown to be more than the European Model above.
Tropical Storm and Hurricane Warnings
Tropical Storm Conditions expected in Maryland include:  Ocean City, Salisbury, Cambridge, and St. Mary's City.
Weather Risks:
Winds over 39 mph

Coastal flooding

Heavy rain bands

Potential tornadoes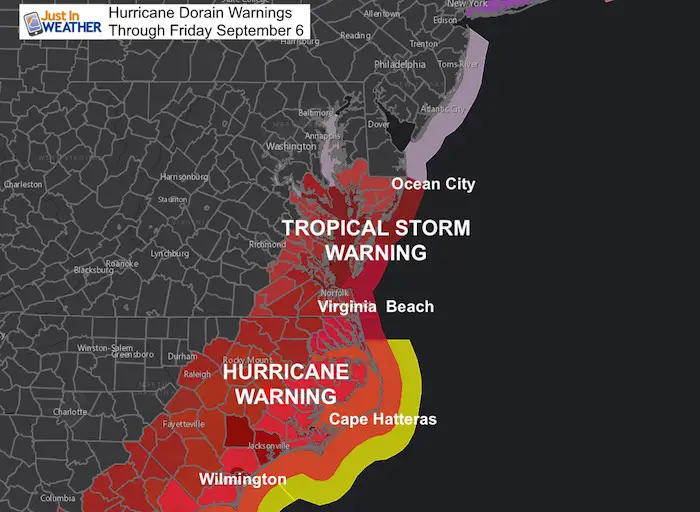 A Storm Surge Warning is in effect for...
* Cape Fear to Poquoson VA
* Pamlico and Albemarle Sounds
* Neuse and Pamlico Rivers
* Hampton Roads

A Hurricane Warning is in effect for...
* South Santee River to the North Carolina/Virginia border
* Pamlico and Albemarle Sounds

A Tropical Storm Warning is in effect for...
* North Carolina/Virginia border to Fenwick Island DE
* Chesapeake Bay from Drum Point southward
* Tidal Potomac south of Cobb Island
* Woods Hole to Sagamore Beach MA
* Nantucket and Martha's Vineyard MA
Wind Forecast Maps
Tracking Hurricane Dorian with the strongest local winds on Friday. Watch the direction change as it passes by.
Coastal Wind Forecast –> slider
Local Wind Forecast –> slider
Chesapeake Bay Wind Forecast
Friday morning: The wind direction from the Northeast. This what will slosh wate