Wednesday October 30 2019
The Halloween storm may blow your mind, or your decorations away.  I have a matching costume with my son that might be appropriate in some way, but the weather still will be a challenge.  He put the pressure on me for this, so I have added a LOT of information here just in case you feel the same responsibility to your kids.
Rain is developing this evening and will last into the morning. Halloween day will have periods of rain AND dry hours as well. It will not be a complete washout. Temps will pump into the 70s for the evening thanks to strong winds that could gust 40 to 50 mph.  Then add the squall line, which will be a band of heavy rain and potential lightning.  That is expected later on, but I caution it may come in sooner. My concern is the trend for events to arrive sooner and may catch trick or treaters.  I know the few evening hours are of most importance and I am paying attention closely to that.
Lighting Forecast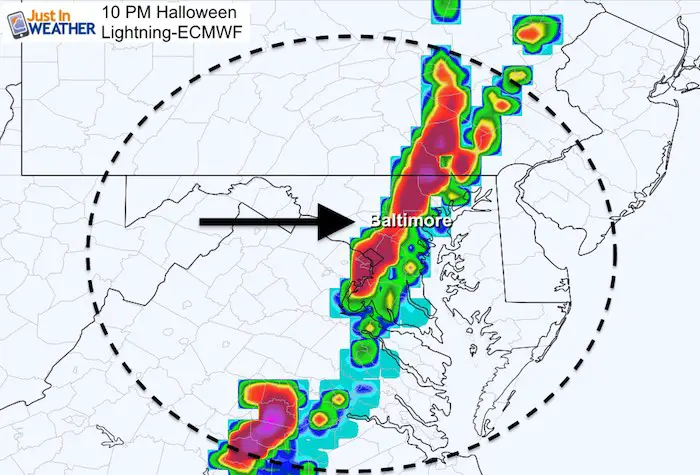 I have done my best to highlight the weather we can see all the way through, but the worst weather is expected Thursday night. This could include a squall line with lightning, but please consider that trying to time out specific hours still needs a buffer. I have pointed out the bias of models with recent events arriving a little sooner. Consider that with the 10 PM time shown here.  It may verify an hour or two earlier.
*I would hedge my bets with an earlier time to start and finish trick or treating to play it safe!
*Eastern Shore and Southern Maryland may just have the wind issue for the evening as the squall line reaches those places later.
Storm Headlines
Rain Arrives This Evening Through Thursday Morning
Halloween Day: Rainy Periods But Breaks For A Few Hours (see the timelines below)
Halloween Evening: Warming to the 70s, Strong Winds, Then The Squall Line
The Squall Line Timeline Is Below. This May Bring Winds 20 to 50 mph, Lighting, and Heavy Rain
Friday Morning: Colder 30s With Wind Chill In The 20s, Snow In Western Maryland.
Storm Animation
This GFS Model is one version of how this will play out. I am showing this for the general idea of the bands of heavy rain and snow in the mountains to follow. The sliders below will give more detail.
Wednesday Evening Rain
Showers arriving this evening and will spread steady rain through Thursday morning.
Radar Simulation —> slider

Halloween Day
Notice the band of rain arriving mid day. Timing this will help see if we need to adjust the timing (sooner) for the evening squall line.
Also note the better chance for more rain in the mountains and north in PA during the day.
Radar Simulation —> slider
Halloween Evening Wind
A few dry hours late afternoon and early evening will come with strong winds over 20 mph gusting 40 to 50 mph
6 PM Thursday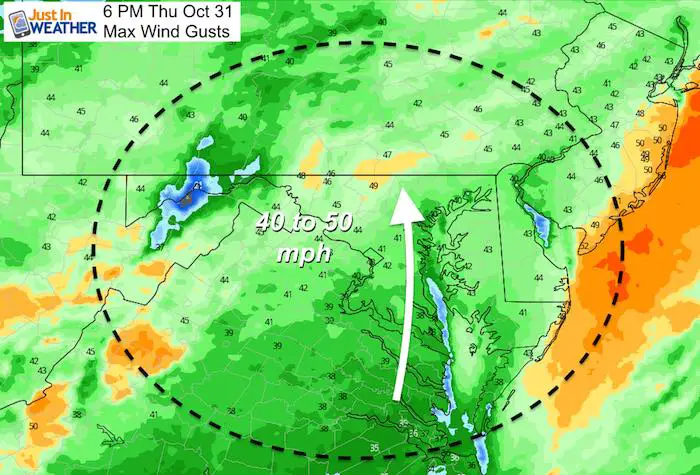 8 PM Thursday
These winds will push warm temps into the 70s for most of our region. Behind the squall line temps tank into the 40s and 30s.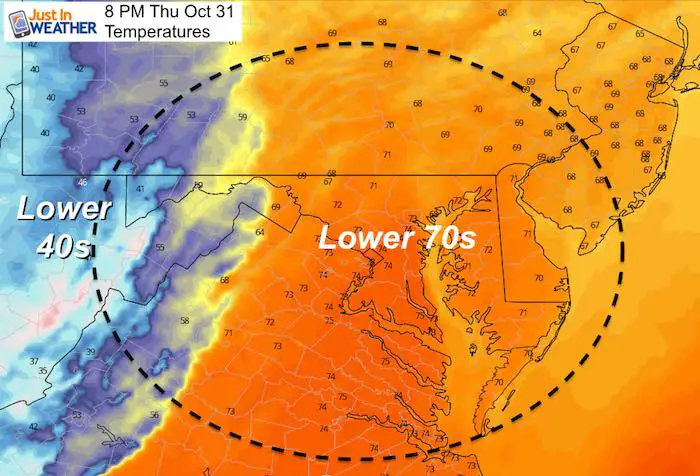 Winds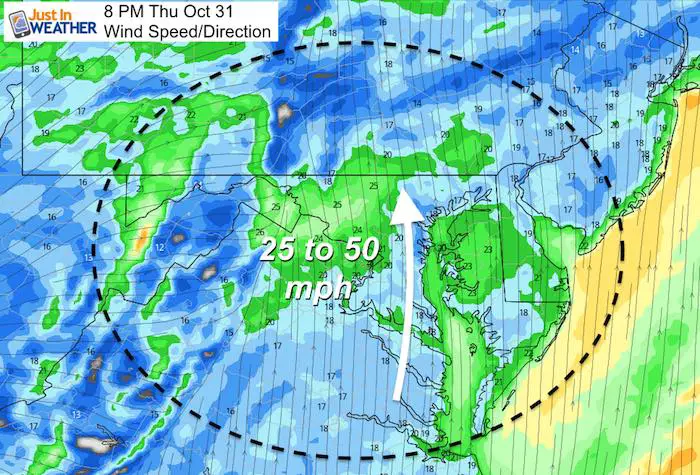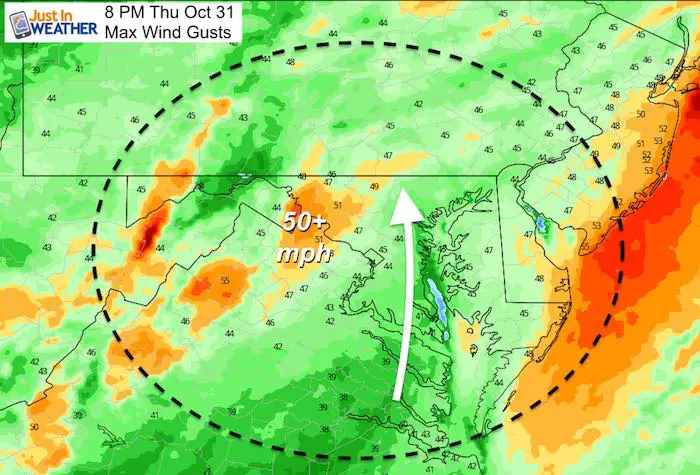 Lightning 
This model depiction shows the most likely lightning locations colored in orange and red. But stray bolts are possible in areas colored blue and green.   This is close to many metro areas, and if the trend of faster systems continues, then that 10 PM image up top could be swapped with this time frame and might catch the tail end of trick or treating.
I would hedge my bets with an earlier time to start and finish trick or treating to play it safe!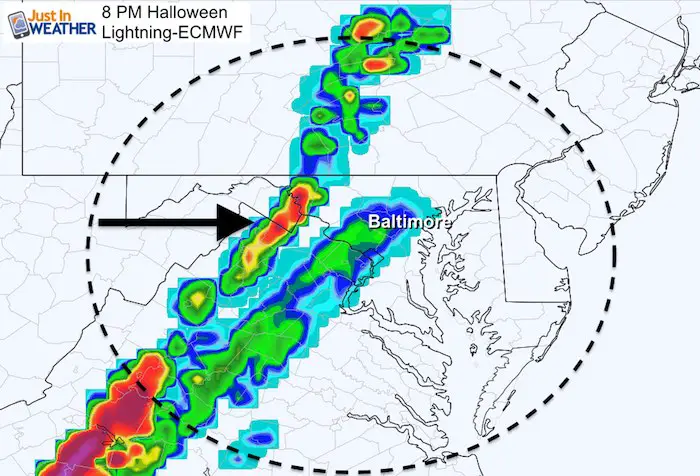 Halloween Evening – Friday Morning
Tracking the timing of the squall line is going to make or break the events outside.  I still caution that we have had a trend for system to arrive sooner. Here the NAM model shows the worst in metro Baltimore at 10 PM, but that might be off by an hour or two.
Eastern Shore and Southern Maryland may just have the wind issue for the evening as the squall line reaches those places later.
Yes, snow will fly and fall on Garrett County, Maryland. At this point a dusting to 1 inch is expected.
Radar Simulation —> slider

Friday Morning
The shock may come AFTER Halloween when you wake up and it feels like winter.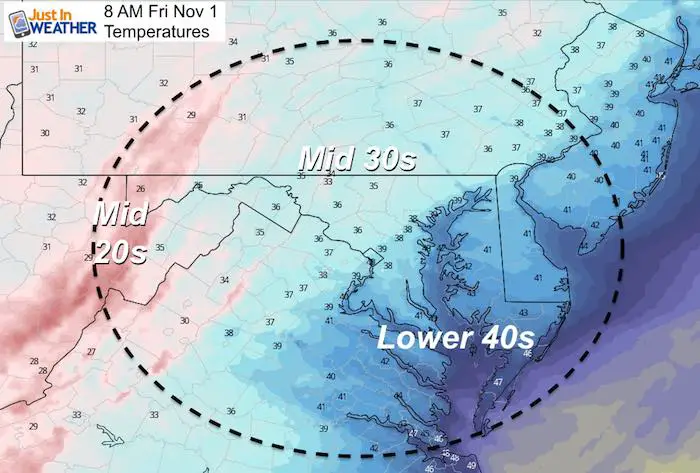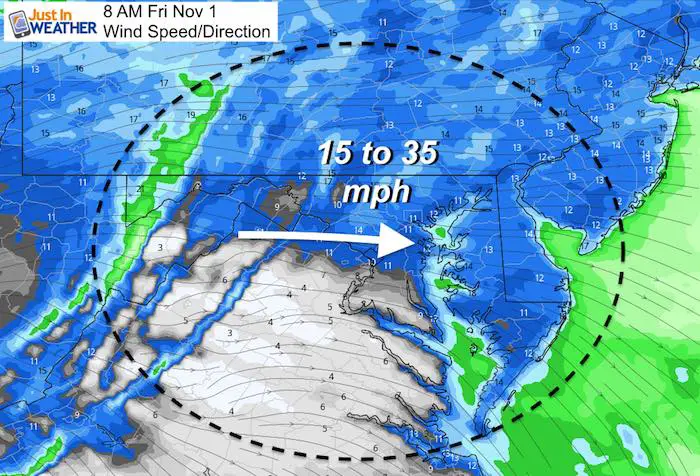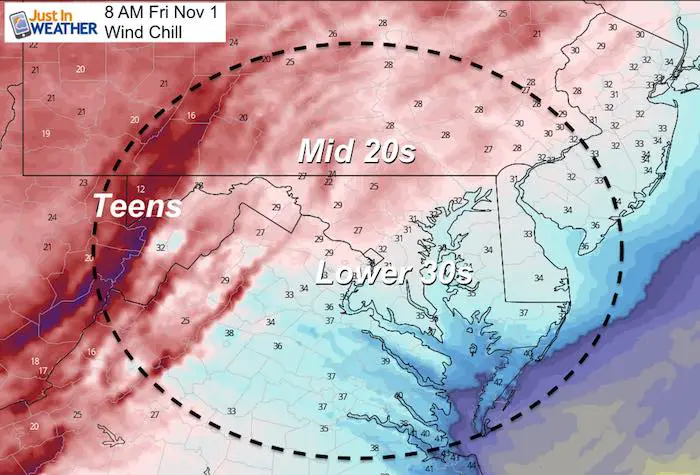 Get Forecasts By Email
Just in case you don't get all posts on your social media feed, stay up to date with the latest info…
Click here to sign up for email alerts…. Be the first to hear any new weather
Thank you to our Title Sponsor for Maryland Trek 6
Shining on with Smyth and their contribution, our team has raised over $95,000 for Just In Power Kids to provide free programs for kids in and post cancer treatment.

Please share your thoughts, best weather pics/video, or just keep in touch via social media
ALL FITF  Apparel Available

New Colors
We are giving 10% of each sale to Just In Power Kids: Providing FREE holistic care to pediatric oncology patients and FREE healthy meals to local hospitals.
October is Breast Cancer Awareness Month
Love Maryland Shirts and Hoodies
This shirt was designed by my 'bonus' daughter Jaiden. The hoodie has been the biggest hit, so our promotion is back this year. Join us to support the cause and show off your Love of Maryland
Show your love for Maryland and make this 15 year old artist and her mom extra proud
Also See:
NOAA Winter Outlook Leaves Room For More Snow With Mild 'Seasonal Average' Temperatures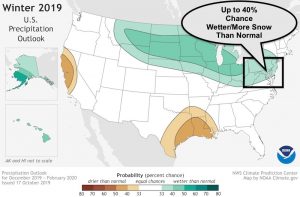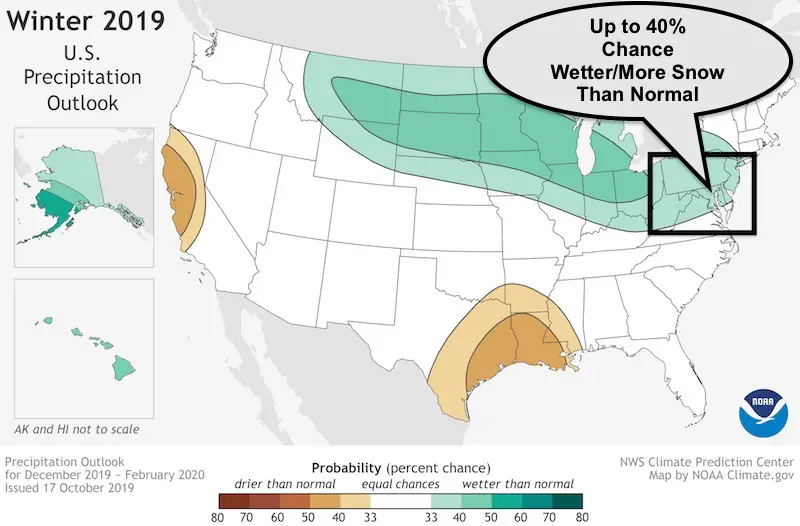 Many areas inland from the cities should drop into the 30s by tomorrow morning. This could do it.
See the maps for when we normally expect the first frost in this link.
Snowy Winters Following A Hot and Dry September
Baltimore Weather At BWI May Not Be As Hot As Reported
Construction at the airport close to the weather station may be added artificial heat. Click here or the image for the details.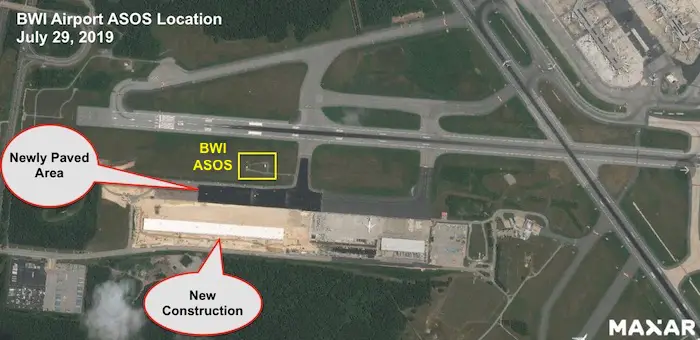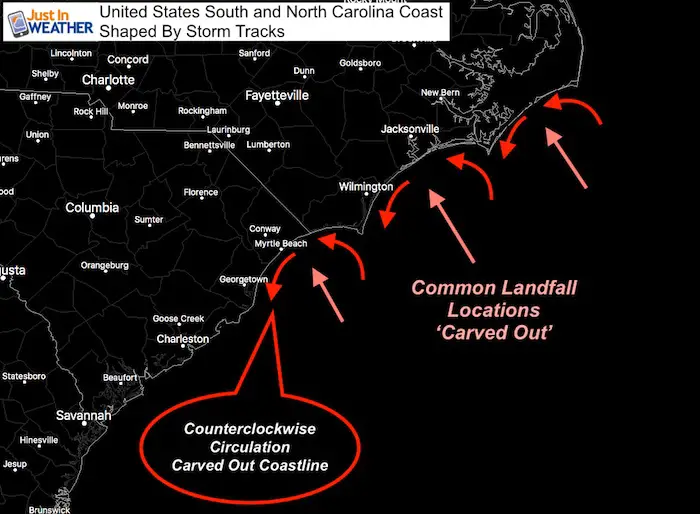 Maryland Trek Cycle Jerseys From Hill Killer
All proceeds will go to the Maryland Trek 6 total and Just In Power Kids programs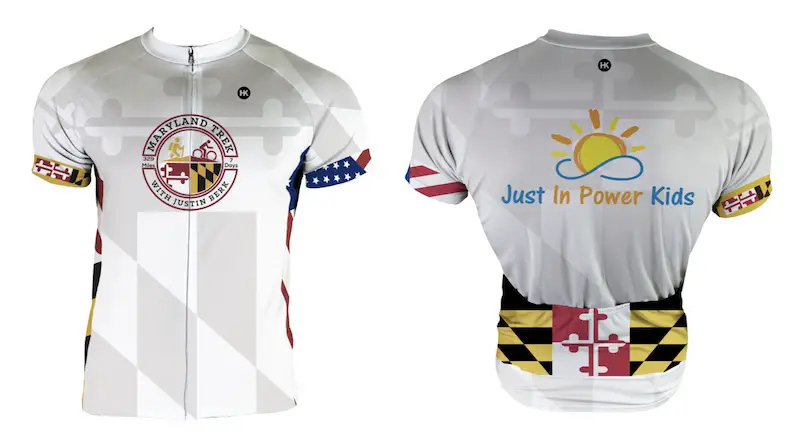 Just In Power Kids:
Proceeds go to our programs Providing FREE holistic care for kids in cancer treatment and up to 5 years post treatment and caregivers.
Shine On
Proceeds from all sales go to Just In Power Kids. Click the image to shop and show your support.