Tuesday December 3 2019
There is a disturbance in the force.  This one is a short wave or 'vort max' in the jet stream heading our way after midnight.  It will bring a brief period of snow that will be done before sunrise.  But it may drop a coating to one inch of snow in the normally colder northern part of our area where it will be cold enough for stickage.
I know I mentioned Sunday night an event for the next morningthat did not fully develop. So I explored all options here first. I still feel this is worth a mention so no one is surprised. Just about every model agrees on something happening.
Here is a sample of the European ECMWF, Canadian, and GFs (American). Two timeline simulation sliders and my call for snowfall are below. #FITF
—> slider
Stickage Possible: If you between Hagerstown, Frederick, Mt. Airy to Westminster, in the Hereford Zone or York PA this could be enough to make it look like winter on the grass… possibly some roads. These ares did have some light snow the past two mornings.
There is a chance for some to reach into parts of northern Harford and Cecil County (away from the Bay) as well.
If you live in Baltimore, Washington, Annapolis, or by the Chesapeake, this is not for you. The 'Bay is 4 degrees warmer today that it was this time last year. That itself will warm places nearby until we can chill it down more.
Consider This:
The morning event will only last a couple of hours and be done before sunrise. There will be more showers in the afternoon.
Freezing temps will be west and north of the cities. This is where even a coating can be an issues. Especially when it's the first of the season.
Systems like this tend  to move across the mountains and break up to the east. This is evident in the timeline sliders below.
The Set Up
The upper level energy swinging in from the Great Lakes will first arrive early in the morning. Then develop a band of showers mid day into the afternoon.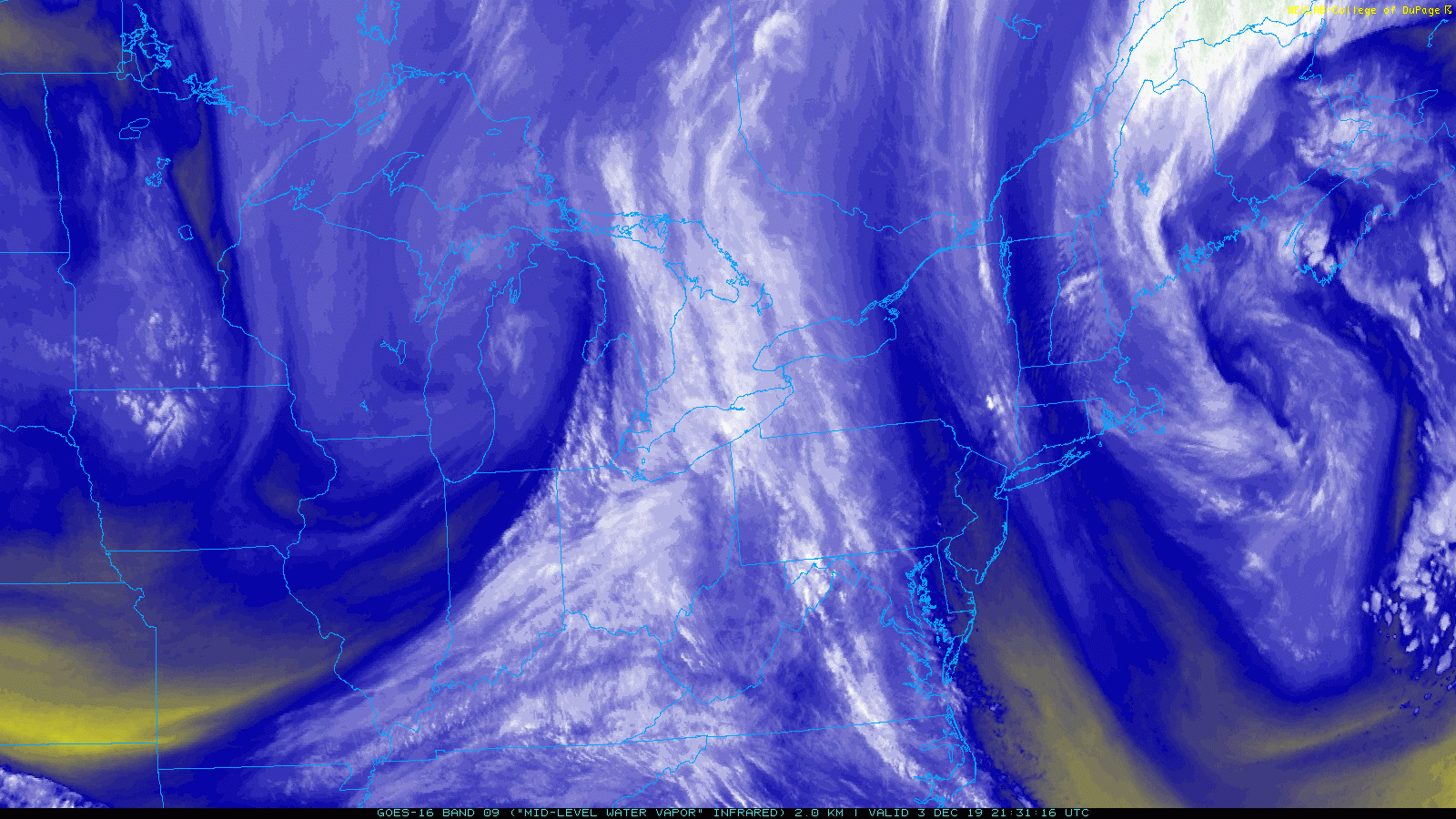 Weather Map
The disturbance is highlighted with the red X. This is what has developed snow in Ohio that will spill our way overnight. It will shift the winds and bring in slightly colder air, which will encourage the second round of showers Wednesday afternoon.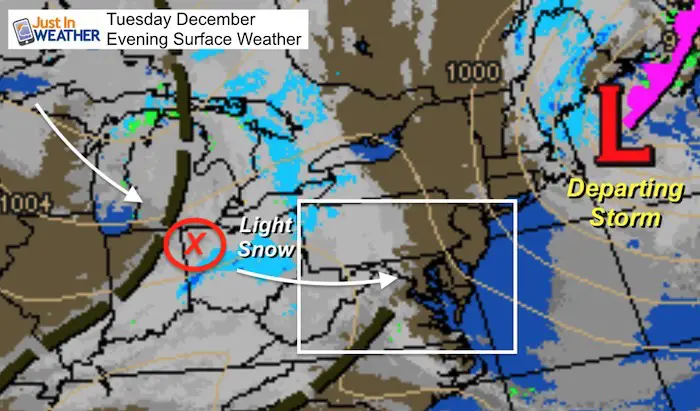 Timeline Simulations
The short range high resolution models HRRR and NAM 3 Km both show this snow band passing through after midnight and before 6 AM.  The timing is off, and as I noted many times I expect this to arrive on the faster side and possibly shift a little north.
HRRR Model —> slider
This is the most aggressive output and is the one that overdid the snow potential for Monday morning
NAM 3 Km —> slider
This model is a little less aggressive and more realistic with the spread.
If it snows, can it stick?
The forecast temps at 7 AM are 30ºF for Frederick, Westminster, York, and Lancaster.  Even if it ends up warmer, there are two degrees of wiggle room for stickage. That is enough for initial wet pavement to get a little slippery.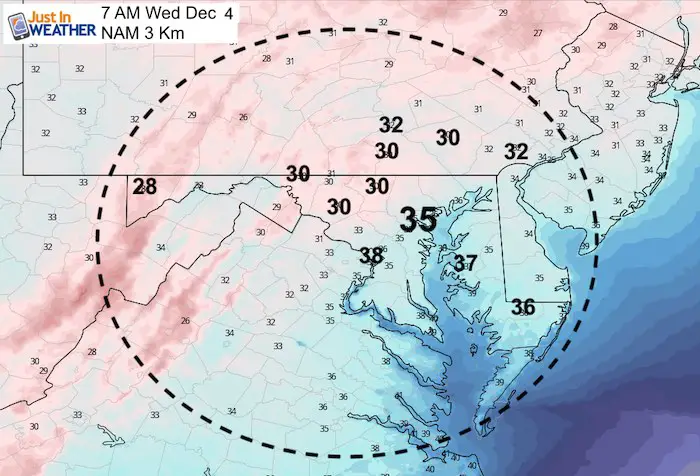 My Call For Snowfall 
I almost cringed at doing this because it's such a minor event. But I don't want people in the stickage zone to be surprised.
This appears to be the most likely 'best case' scenario with the time frame between 2 AM and 6 AM to cross the region
The light blue area is the most likely to have stickage. This could amount between a dusting to a lucky 1 inch on the hills and mountains.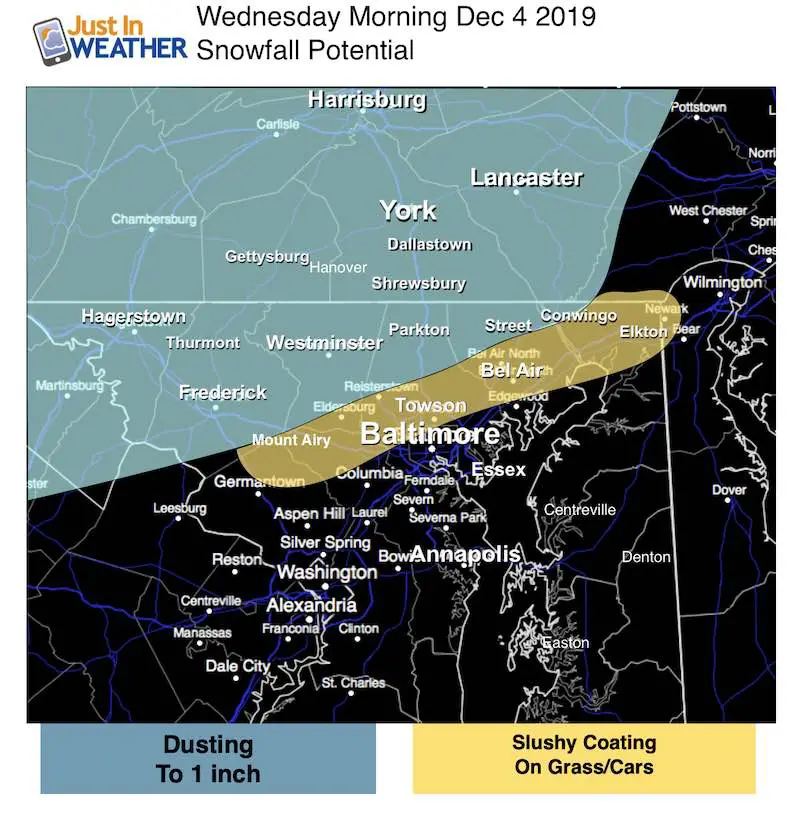 Get Forecasts By Email
Just in case you don't get all posts on your social media feed, stay up to date with the latest info…
Click here to sign up for email alerts…. Be the first to hear any new weather
NEW FITF GEAR THIS YEAR
Thanks to Shannon (weather wife) who wanted to bring these hats to life.  *Mustard is her favorite color
The Maryland Hoodie is high quality and a new way to show off our love of Snow and State.
The T-shirt… Something you may find familiar. Why just a T? Because many schools I visit have the heat on high for faculty and staff. But you can put a long sleeve underneath for cool look.  I will have wifey model these soon 🙂
FITF Store
Please share your thoughts, best weather pics/video, or just keep in touch via social media
Winter Outlook Series:
My Call For Snowfall Winter 2019-2020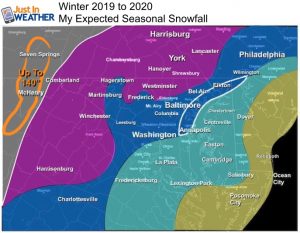 Snowy Winters Following A Hot and Dry September
NOAA Winter Outlook Leaves Room For More Snow With Mild 'Seasonal Average' Temperatures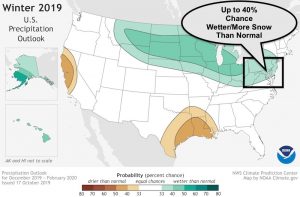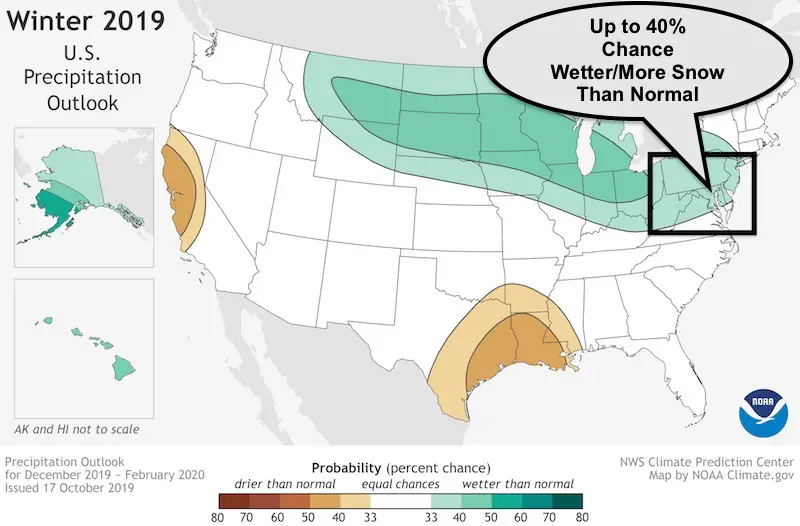 Other  Links:
See the maps for when we normally expect the first frost in this link.
Baltimore Weather At BWI May Not Be As Hot As Reported
Construction at the airport close to the weather station may be added artificial heat. Click here or the image for the details.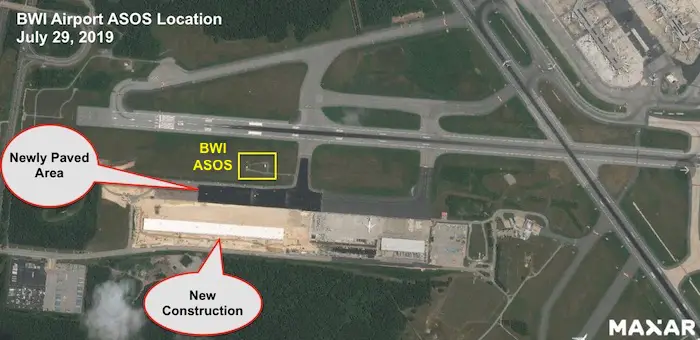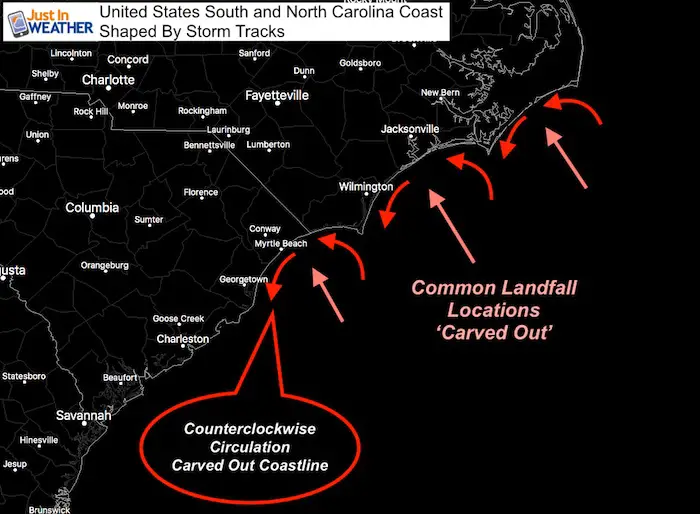 Maryland Trek Cycle Jerseys From Hill Killer
All proceeds will go to the Maryland Trek 6 total and Just In Power Kids programs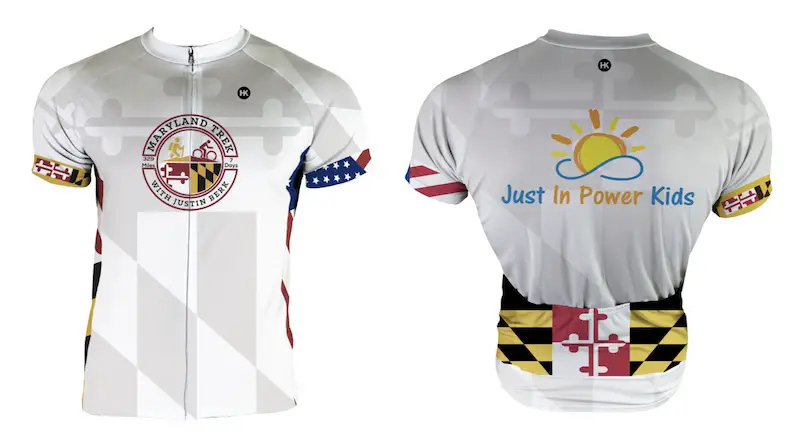 Just In Power Kids:
Proceeds go to our programs Providing FREE holistic care for kids in cancer treatment and up to 5 years post treatment and caregivers.
Shine On
Proceeds from all sales go to Just In Power Kids. Click the image to shop and show your support.