Monday December 9 2019
Today's rain is moving out this tonight, but the storm has a few more parts to it.  Tuesday will bring mid 50s to nearly 60ºF to our area.  We are still on for the arctic air to arrive Tuesday night and transition an impulse to snow through Wednesday morning. There will be a few hours of a snow burst, but overall this is not a heavy event. Just enough at the time to possibly ice up some roads.
The modeling is bringing this in a little earlier than prior runs, as expected.
I know it is hard to imagine the snow stickage after such a mild day, but it has happened before. The timing overnight and intensity of the snow will impact some of the region.
This is a quick post with my thoughts on what areas are likely to have some slick roads and where it is still worth paying close attention to:
Monday Evening Surface Weather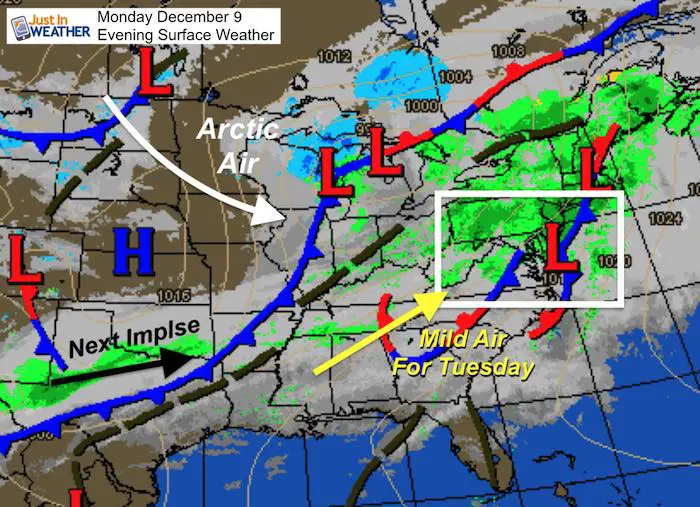 Monday Evening Temperatures 
There is plenty of arctic air in the Northern Plains that will spill in at the back edge of the cold front.  This will catch up to the rain and develop a burst of snow late Tuesday night and Wednesday morning.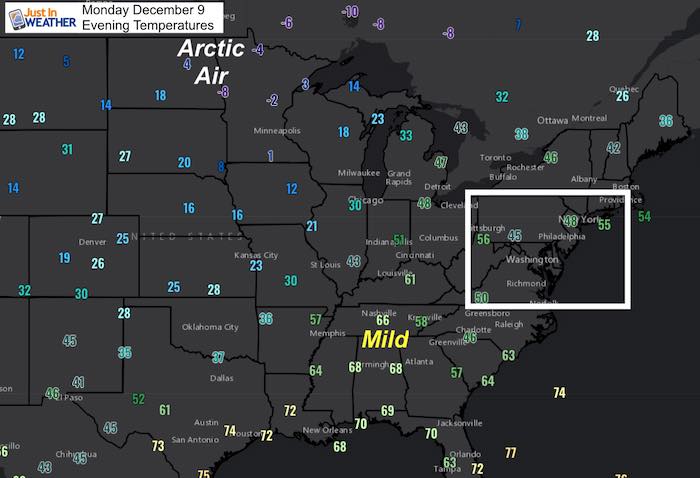 Snow Thoughts
Tuesday temps warm to the mid 50s or near 60ºF

Tuesday Evening: Rain will fall as temps drop into the 40s. This will help chill the ground.

Tuesday Night: Rain will change to snow as temps drop into the 30s. This will further help chill the ground.  Some road crews are suggesting 'pre'treating' but it will wash away.

Snow Changeover: The timing is speeding up. Look between 10 PM in the far western suburbs to 2 AM in metro areas.

Snow Burst: Midnight to 3 AM a period of heavy snow could help overtake the warmer ground and enable stickage.

Freezing Line will reach the western suburbs. See my map below. The cities are likely to stay above 32ºF, but the snow burst could still allow stickage.

If there is a road problem in your area, we should see it long before any schools need to make a call. 

Light snow and snow showers should last into the morning, but in the daylight there should not be any additional issues.
Snow Timeline —> slider
Morning Temperatures: Potential Freezing Line
Mostly Likely Impact Wednesday Morning
I will not post model snow maps as they are misleading. NOT all snow that falls will stick!
This is not a standard snow map. What is more important to consider is what can stick on the roads versus how much could accumulate on the grass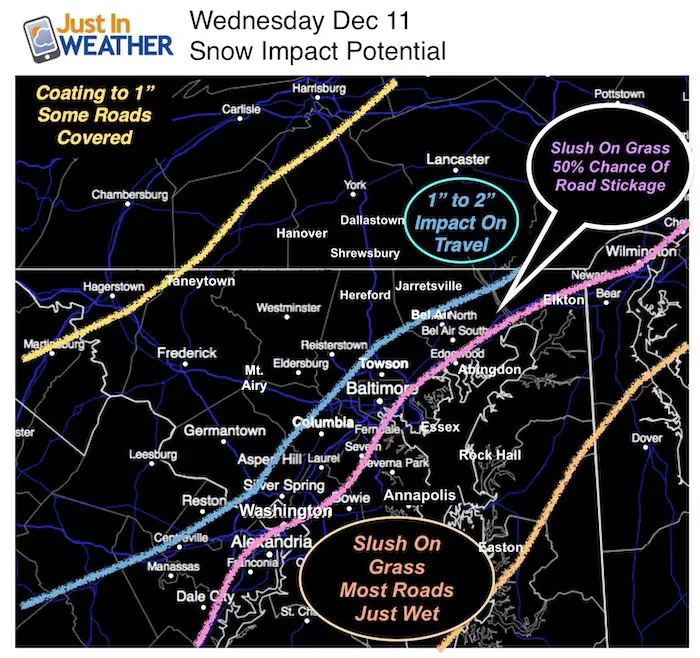 Get Forecasts By Email
Just in case you don't get all posts on your social media feed, stay up to date with the latest info…
Click here to sign up for email alerts…. Be the first to hear any new weather
Please share your thoughts, best weather pics/video, or just keep in touch via social media
WEATHER WIFE COLLECTION
Thanks to Shannon (weather wife) for hand picking items 'she' wants to wear
The Yoga Pants have side leg pocket for your phone
The Hoodie is extra soft and has the important 'thumb holes'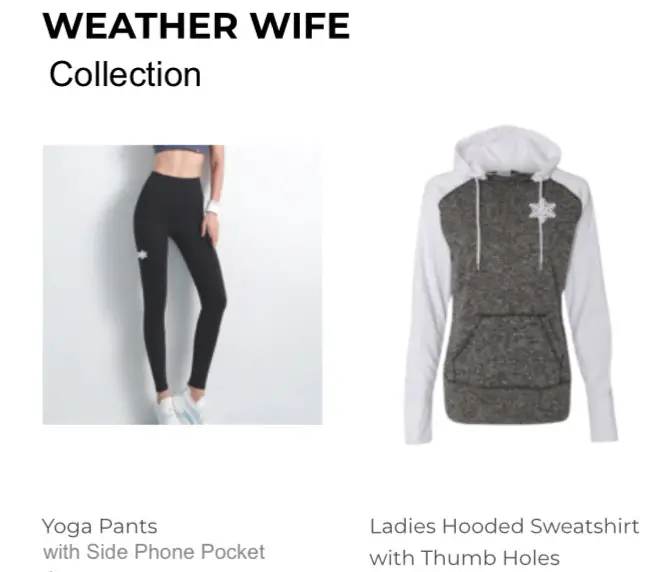 Winter Outlook Series:
My Call For Snowfall Winter 2019-2020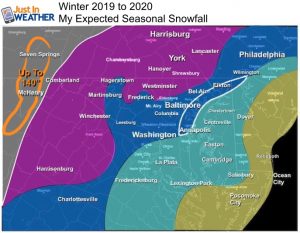 Snowy Winters Following A Hot and Dry September
NOAA Winter Outlook Leaves Room For More Snow With Mild 'Seasonal Average' Temperatures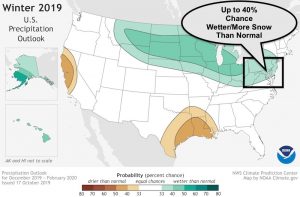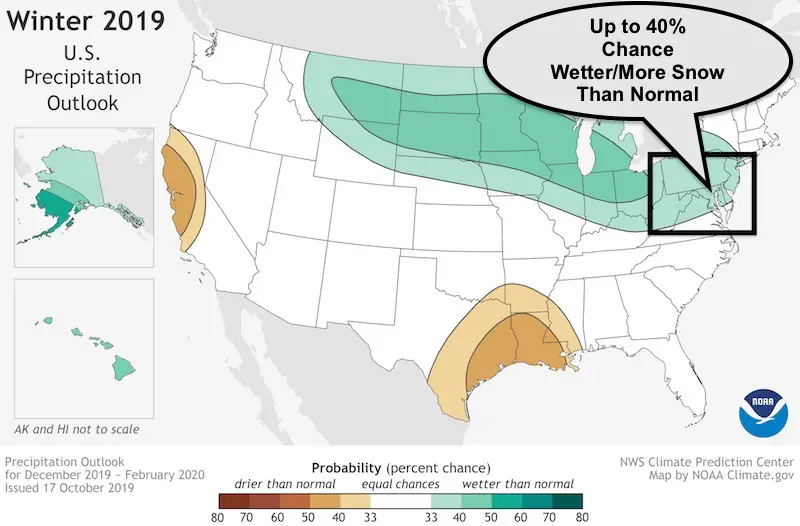 Other  Links:
See the maps for when we normally expect the first frost in this link.
Baltimore Weather At BWI May Not Be As Hot As Reported
Construction at the airport close to the weather station may be added artificial heat. Click here or the image for the details.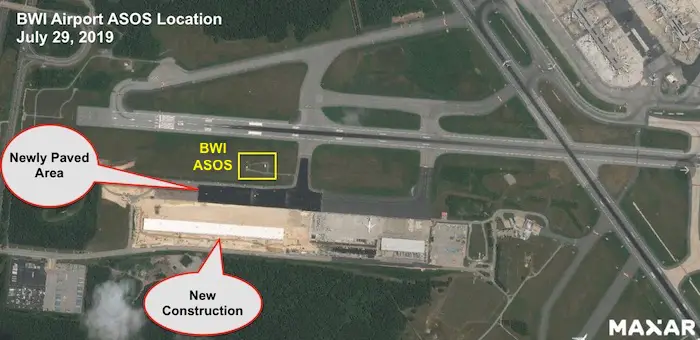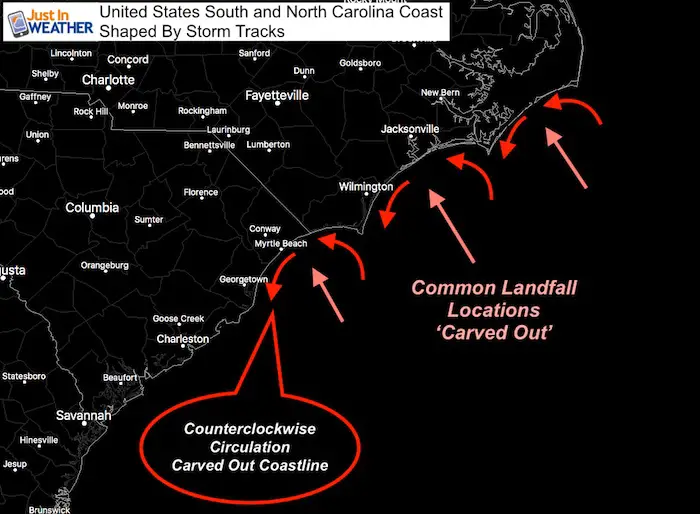 Maryland Trek Cycle Jerseys From Hill Killer
All proceeds will go to the Maryland Trek 6 total and Just In Power Kids programs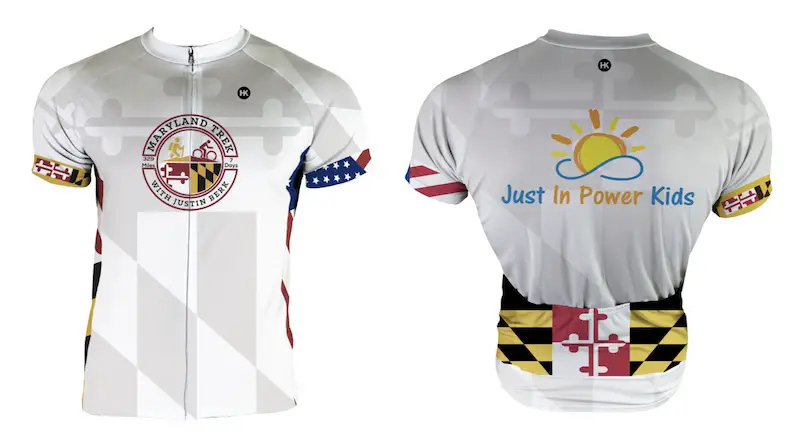 Thank you to our Title Sponsor for Maryland Trek 6
Shining on with Smyth and their contribution, our team has raised over $95,000 for Just In Power Kids to provide free programs for kids in and post cancer treatment.

Just In Power Kids:
Proceeds go to our programs Providing FREE holistic care for kids in cancer treatment and up to 5 years post treatment and caregivers.
Shine On
Proceeds from all sales go to Just In Power Kids. Click the image to shop and show your support.