Monday Afternoon Update: December 16 2019
After the little bout of morning snow that closed many central Maryland schools, the weather concern now is freezing rain. Temperatures have been hovering around freezing, but as is often the case during daylight, the roads have remained wet.
If we are to get icing, it will start to be noticed near and after dark, when ground temperatures can cool just  enough. That would be starting 4 PM. Some warning this evening should gradually thaw most of our immediate area by midnight.
The irony is that where there was less snow farther north this morning, will be the more likely areas to get icy this evening.
Temperatures
This is the most important thing we can watch now.
Patchy drizzle and the radar will show rain. But this helps identity where the freezing potential lies.
These reports are form the regional weather stations.
It is possible have colder pockets in between as just one or two degrees can make the difference for ice.
The Winter Weather Advisory is in place for:
Maryland for Frederick County westward.
Ice is possible even without an advisory in parts of western Howard, Carroll, and northern Baltimore and Harford Counties
Pennsylvania- All counties on the Maryland border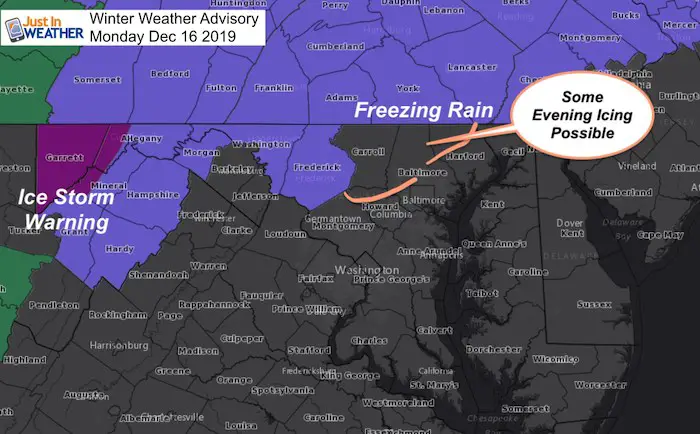 Rain is coming from the Southwest, but Winds are from the colder Northeast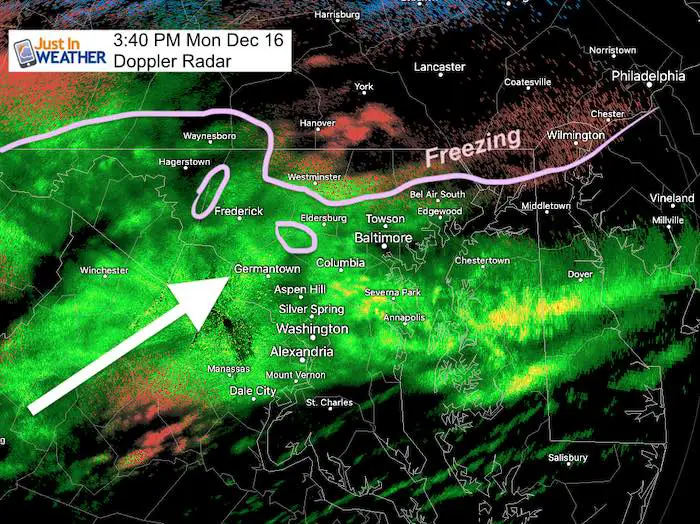 Signs To Look For Develop Ice
Touch the door on your car, or a car that has been parked for a few hours. The metal will freeze first. Then check the windows. If these feel like droplets are freezing, then next could be the pavement.
Check metal rails or your mailbox for icing.
Car Thermometers are not totally accurate, but when it is wet outside it displays more realistic numbers. You should be driving for a few minutes to make sure the heat from your engine is not falsely warming the display number.
Caution: When ice is 'patchy' the places that are more likely to freeze are
In the shade:
North side of hills or buildings
Elevated surfaces like ramps or bridges
Concrete sidewalks before dark road pavement
Radar Simulation —> slider
Temperatures: The Slow Thaw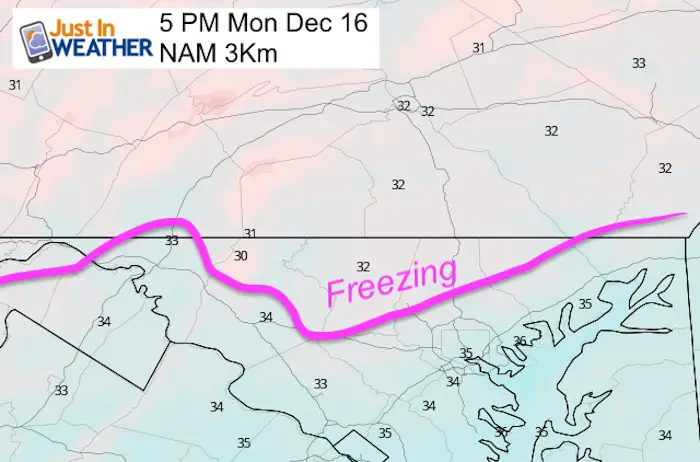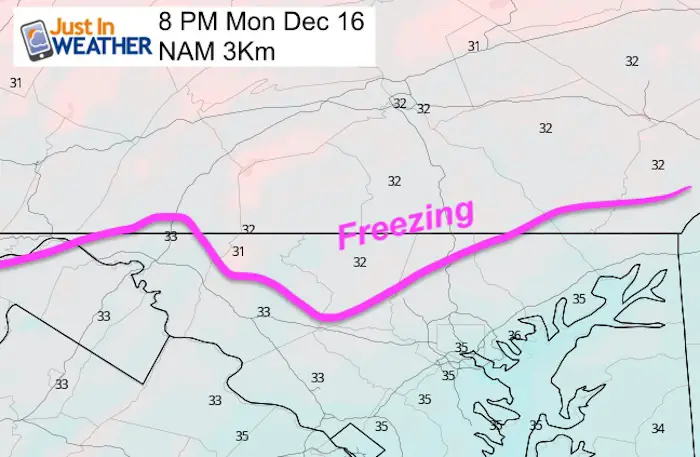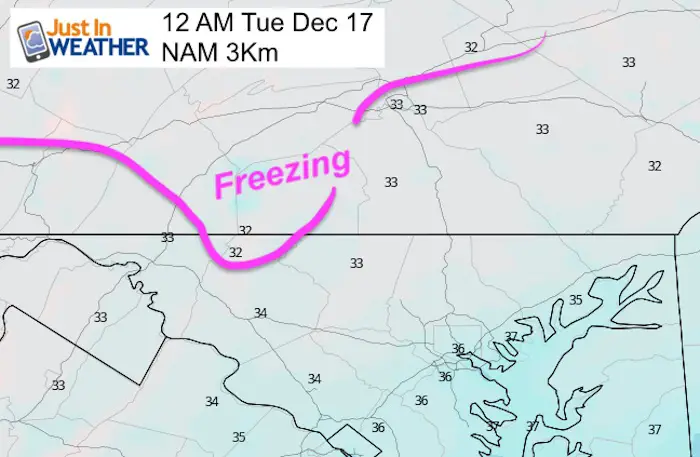 Tuesday Morning
Most of the region should be above freezing with just a chilly rain
Last Minute Gift:  SNOWSTIX
20% OFF Through Tuesday Night
Use Code:      SNOW20
Orders Will Ship This Week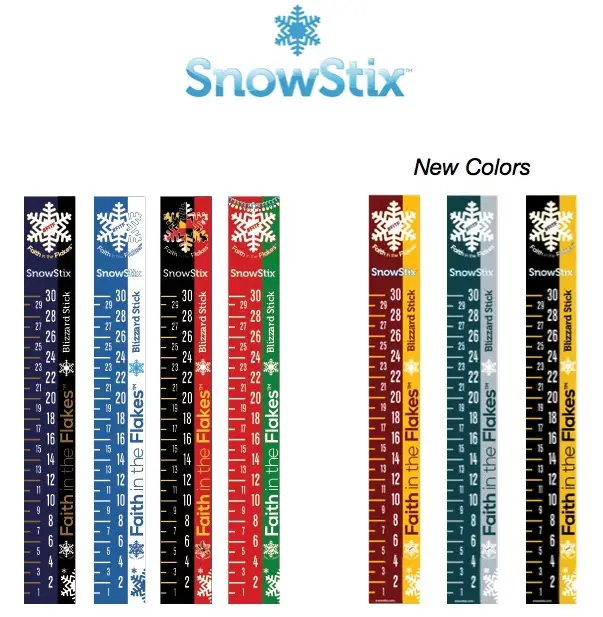 Get Forecasts By Email
Just in case you don't get all posts on your social media feed, stay up to date with the latest info…
Click here to sign up for email alerts…. Be the first to hear any new weather
Please share your thoughts, best weather pics/video, or just keep in touch via social media
WEATHER WIFE COLLECTION
Thanks to Shannon (weather wife) for hand picking items 'she' wants to wear
The Yoga Pants have side leg pocket for your phone
The Hoodie is extra soft and has the important 'thumb holes'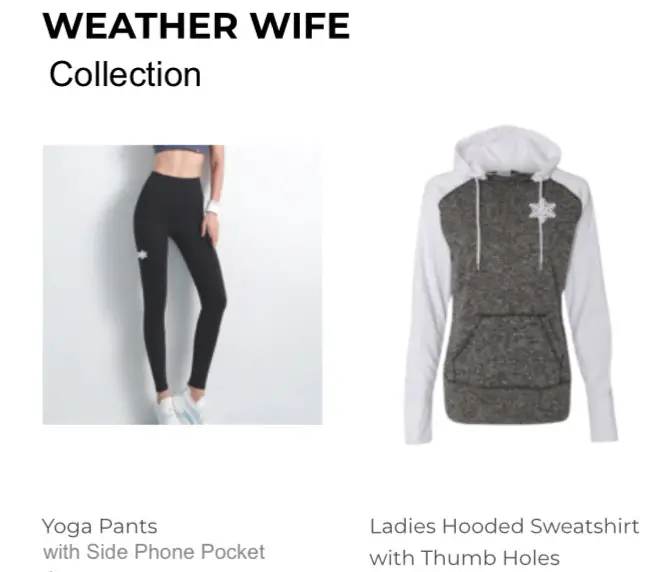 Winter Outlook Series:
My Call For Snowfall Winter 2019-2020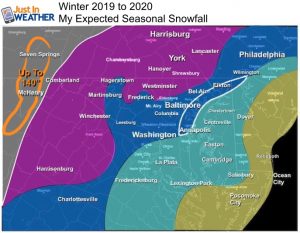 Snowy Winters Following A Hot and Dry September
NOAA Winter Outlook Leaves Room For More Snow With Mild 'Seasonal Average' Temperatures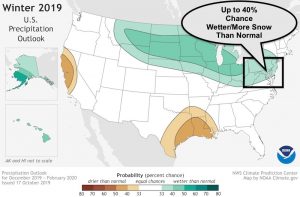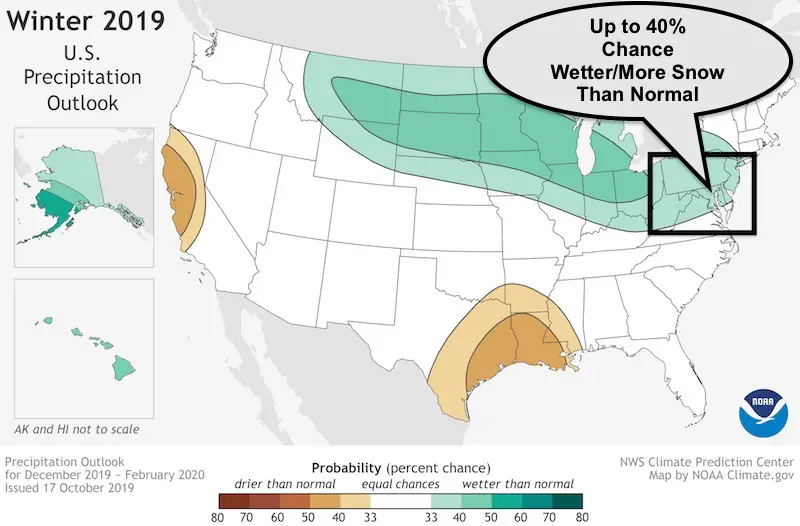 Other  Links:
See the maps for when we normally expect the first frost in this link.
Baltimore Weather At BWI May Not Be As Hot As Reported
Construction at the airport close to the weather station may be added artificial heat. Click here or the image for the details.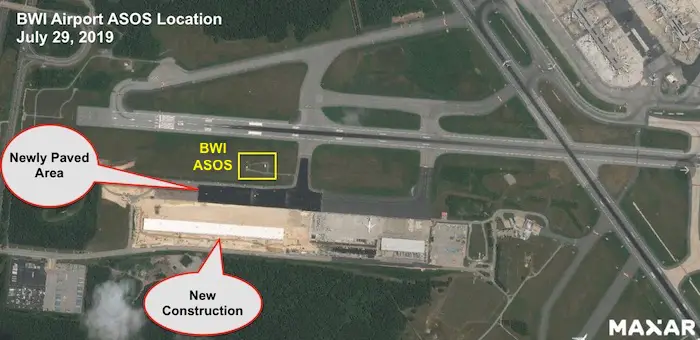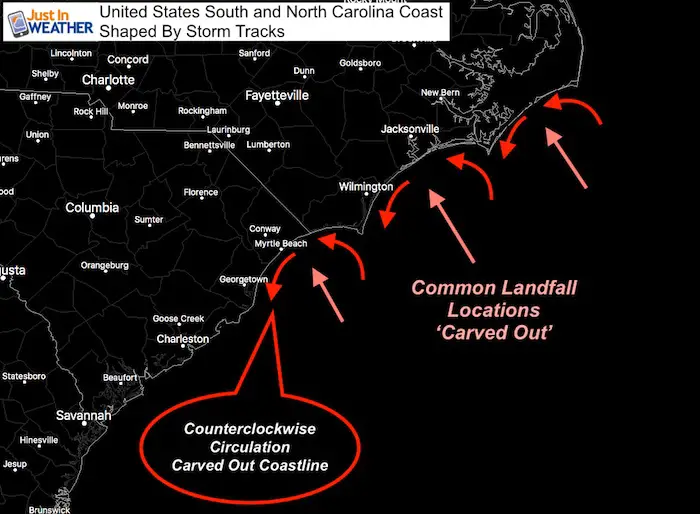 Maryland Trek Cycle Jerseys From Hill Killer
All proceeds will go to the Maryland Trek 6 total and Just In Power Kids programs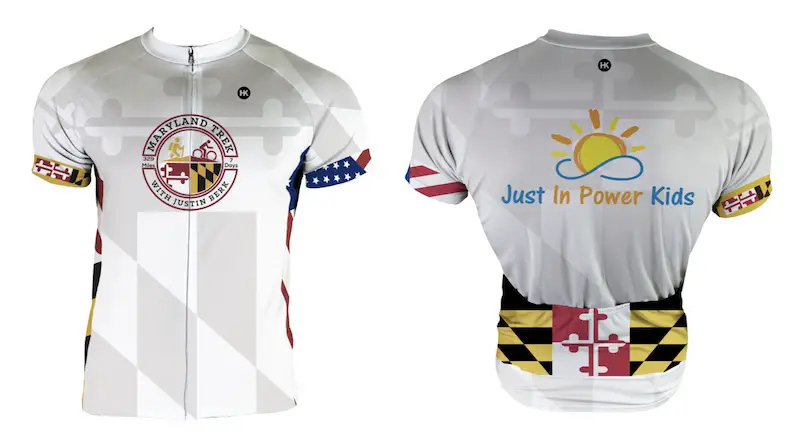 Thank you to our Title Sponsor for Maryland Trek 6
Shining on with Smyth and their contribution, our team has raised over $95,000 for Just In Power Kids to provide free programs for kids in and post cancer treatment.

Just In Power Kids:
Proceeds go to our programs Providing FREE holistic care for kids in cancer treatment and up to 5 years post treatment and caregivers.
Shine On
Proceeds from all sales go to Just In Power Kids. Click the image to shop and show your support.