Tuesday Evening January 14 2020
After waiting a few days, I am ready to push the go button for snow this weekend.  There will be some mixing and for many change over to rain, but the start will be white. If you have Faith in the Flakes, not only will we get winter weather this weekend, but the pattern looks to finally turn colder for the next two weeks.
As I had mentioned in my winter outlook and with our snow event last week, the mid and long range computer model guidance has not been very reliable. This time however, the chance for a storm to bring us snow has held long enough for me to trust the products. As much as I love snow, there is a method and order to making a winter forecast. FITF
Winter Storm Forecasting Method
Confidence that a storm will form
Timing when the storm will arrive and how long it will last
How much snow will fall and stickage (best within 48 hours of the event)
I still believe there will be some more adjusting with this event. So the storm tracks I show below may very well still shift east or southeast, and arrive a little sooner. That is important because it can change the results in snow totals. That is why I give no credit to any app or product with snow totals this far out.  Just plan for enough to have an impact on travel.
Headlines:
Friday: Cold Winter Air Returns
Saturday Morning: Snow is likely for most of our region.
Storm Track: The warm side of the storm will try to push out the cold, but it will be tough.  There will be a transition to a wintry icy mix, and then rain. But that icy mix may last longer in central Maryland and southern PA.
The warm Chesapeake Bay will limit the snow impact near the Bay and Eastern Shore, but there will be some at the start.
Outlook: A trough finally sets up in the east and the new temperature trends are below normal for the next two weeks.
The Set Up
High Pressure will shift our winds from the north and bring in arctic air from Eastern Canada.
How Cold?
The afternoon temps on Friday will be in the upper 2os in southern PA to mid 30s across central Maryland.
Timing The Snow Saturday
Here is a look at there computer models plotting the storm (over the past few days) for Saturday afternoon. I used the 1 PM time frame just for a point of comparison. The set up brings overrunning moisture into the arctic air. While the initial flakes may end up as virga, this event type often brings a surge of snow that can overachieve soon after it begins.
Each slider shows the most recent model plot first, then swipe to compare the prior models plot for the Low Pressure and snow/mix/rain line.
The European ECWMF shows the snow arriving later than the other models. But I believe there is a good chance the verification will end up farther east/southeast with the Low and sooner. That would be colder and bring more snow.
—> slider (prior models for same time frame)
The GFS and Canadian Models bring the snow in earlier in the morning, but transition the mix and ice at this afternoon time in metro areas, while snow hangs on longer in the normally colder areas.
—> slider (prior models for same time frame)
New Improved FITF Soft Fuzzy Beanies Just Arrived
Click To Get Yours Now
Storm Animation
Canadian Model
How Much Snow?
I NEVER give nor do I believe in snow numbers more than 48-72 hours ahead of a storm. Too many times I've seen the modeling be wrong and too many factors like timing and temps to consider.
I've told my clients that this is out best chance for snow they need to plow or shovel. That is 2″ PLUS. There is a lot of upside potential in this set up.
I will make my first call snow map either Wednesday night or Thursday morning. Then update along the way as need be.
Outlook
The storm will crank up in a hurry and bring heavy snow to New England. This will end up in the North Atlantic as a pattern changer. As it drags down colder air behind it, a trough in the jet stream will set up along the eastern US. This is what we need for the cold to hold and more storms along the coast.
Temperature Outlooks: NOAA Climate Prediction Center
Please share your thoughts, best weather pics/video, or just keep in touch via social media
WEATHER WIFE COLLECTION
Thanks to Shannon (weather wife) for hand picking items 'she' wants to wear
The Yoga Pants have side leg pocket for your phone
The Hoodie is extra soft and has the important 'thumb holes'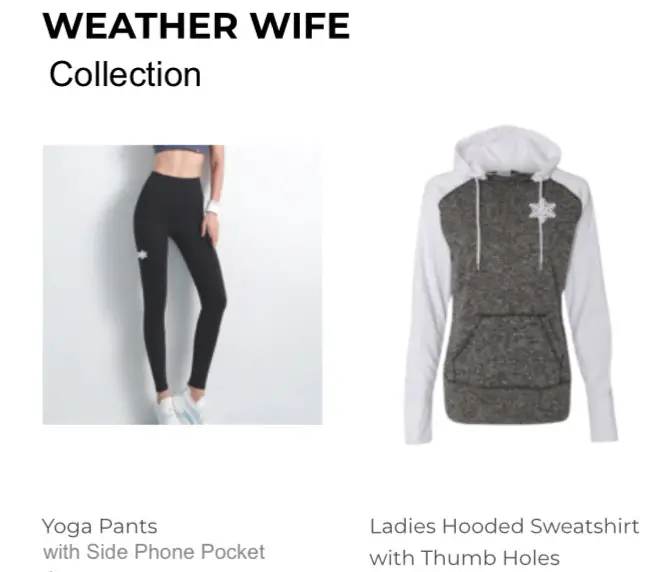 Winter Outlook Series:
My Call For Snowfall Winter 2019-2020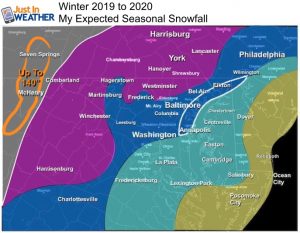 Snowy Winters Following A Hot and Dry September
NOAA Winter Outlook Leaves Room For More Snow With Mild 'Seasonal Average' Temperatures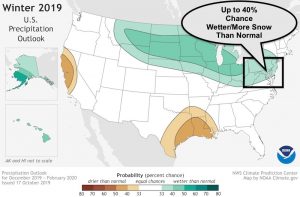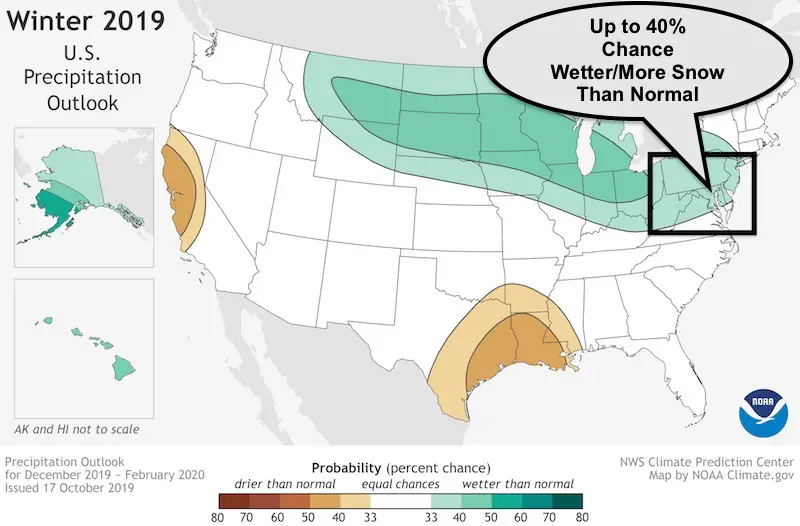 Other  Links:
See the maps for when we normally expect the first frost in this link.
Baltimore Weather At BWI May Not Be As Hot As Reported
Construction at the airport close to the weather station may be added artificial heat. Click here or the image for the details.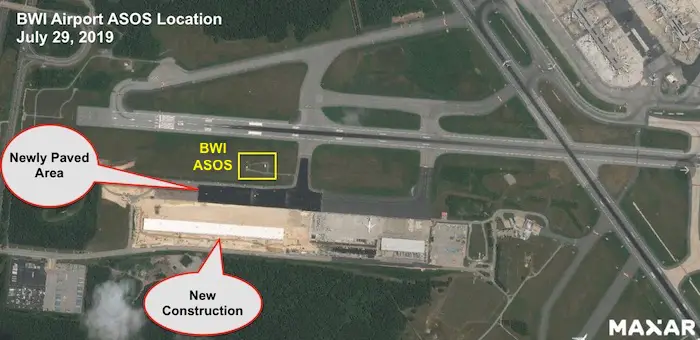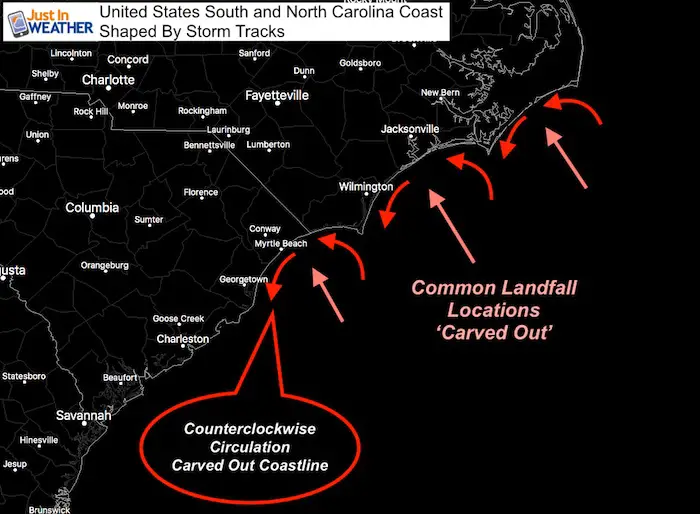 Maryland Trek Cycle Jerseys From Hill Killer
All proceeds will go to the Maryland Trek 6 total and Just In Power Kids programs