Sunday Evening Update
April 12 2020
The High Wind Warning has been expanded to include parts of central Maryland west of the Chesapeake Bay on the south side of Baltimore. In this post, I wanted to share some notes on what we expect, advice to prepare, some new maps, and the wind forecast.
The Warning (gusts likely to 60 mph) now includes: Anne Arundel, PG, Charles, Calvert, and St. Mary's Counties, along with Delmarva and the mountains in the west.
The Advisory (gusts to 50 mph) remains for most central areas and Cecil County in northeastern Maryland.
But the forecast models support stronger winds for a larger area, so all of us should take this seriously.
What does this mean?
Here are a few points I wanted share to prepare before heading to bed tonight:
I don't want to scare, just help you prepare. Please take note of these points.
⚠️ The Wind Storm Monday is the real deal! 
💨 Wind Gusts could reach 50-70 mph for a large area. (see maps below)
🌪 Tornados are possible but NOT a promise. Wide spread wind damage can occur without a twister.
⛈ Two rounds of storm expected on Monday. 
      

1st between 4 AM and 8 AM

      

2nd between Noon and 4 PM
Storms are classified as severe if they:
Winds exceed 58 mph

Hail over 1 inch diameter

Potential Flooding: Heavy rain could produce over 1 inch per hour rainfall rates.
⚡️Power Outages are possible. Plan Ahead:
Charge up all of your devices this evening. Including all battery packs you may have.

 

Take put your batteries and flashlights.

 

If we lose power in Quarantine- That might not be fun! Parents, have some plan ready for your kids.

 
🌳🏠 I hope you took some time to tie down potted plants and outdoor furniture or just bring them inside. A lot of things will be blowing around.
🏥 Popup Hospital Tents in cities all across the Northeast may become dangerous.  
🙏🏻 Pray! It's Easter and Passover. We could use all the help we can get keep people safe.
Set Up Sunday Evening
The severe storms in the Deep South will continue to rage this evening and tonight. The remnants of the storms will arrive early Monday. That will be round 1. The actual cold front will develop more storms for Round 2 in the afternoon.
We will NOT get the snow in the Upper Midwest, but the cold air could bring us snow Wednesday morning
Wind Timeline-> slider
Wind Speed is measured as an average of 1 minute up tp 10 minutes. That is what is shown here.
Wind Gusts are maximum bursts between 3 and 20 seconds long. Gusts are higher, but last less time.
Peak Wind Gusts (Forecast)
This forecast is higher than criteria for the Wind Advisory and can result in more damage. Wind gusts may not be this widespread at this intensity, but some areas could reach these destructive levels.
Severe Storm Risk Monday
Storm Animation
We need to watch the storms move our way overnight, then new storms form in the morning.
The severe storms in the south today may hold some integrity overnight and reach us with one round in the morning. We could have severe storms with damaging winds between 4 AM and 8 AM.
The second push will be with the actual cold front in the afternoon. That is when the strongest winds and large hail is possible. The expected in metro areas will be between Noon and 4 PM.
Monday Afternoon
Tuesday Morning
Wednesday Morning Snow?
This is the GFS Model plot, but it is showing up on most models… at least as wet snow or a mix into central Maryland.
Email Alerts
Please make sure you sign up (above or  click here to sign up for email alerts…. ) for my newsletter. This way you will get an email to make sure you are notified of each post.
Please share your thoughts, best weather pics/video, or just keep in touch via social media
Water Spout OR Scud Cloud on videos and photos near Middle River Maryland
Other  Links:
When is the typical last freeze or frost?
Baltimore Weather At BWI May Not Be As Hot As Reported
Construction at the airport close to the weather station may be added artificial heat. Click here or the image for the details.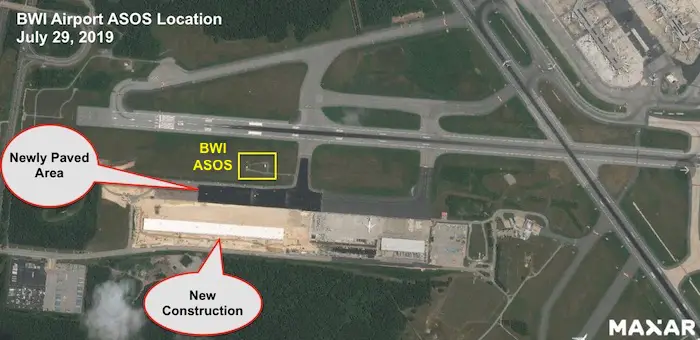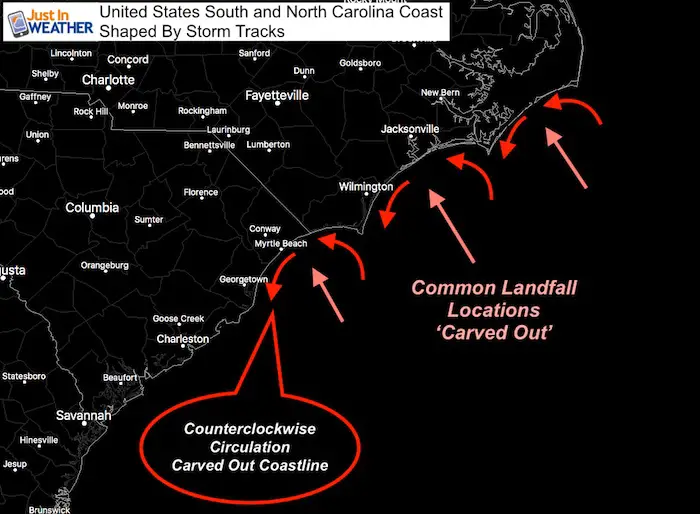 Maryland Trek Cycle Jerseys From Hill Killer
All proceeds will go to the Maryland Trek 6 total and Just In Power Kids programs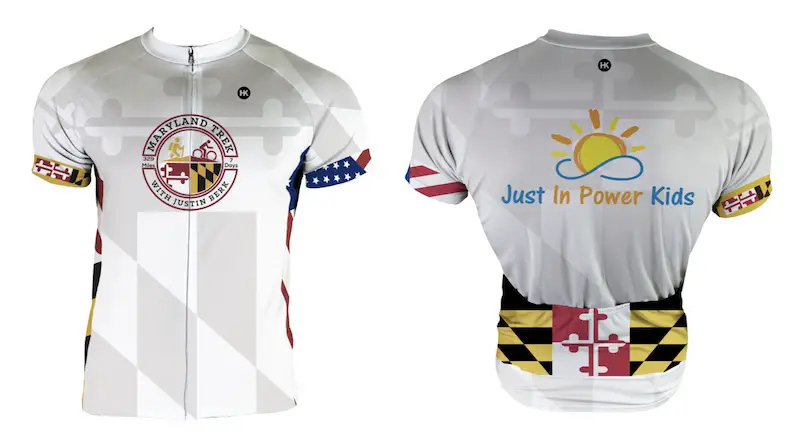 Thank you to our Title Sponsor for Maryland Trek 6
Shining on with Smyth and their contribution, our team has raised over $95,000 for Just In Power Kids to provide free programs for kids in and post cancer treatment.

Just In Power Kids:
Proceeds go to our programs Providing FREE holistic care for kids in cancer treatment and up to 5 years post treatment and caregivers.
Shine On
Proceeds from all sales go to Just In Power Kids. Click the image to shop and show your support.