Wednesday August 26 2020
This landfall of Hurricane Laura will be historic! This is the type of event that can change the coastline of Louisiana, as it will be the strongest storm on record for that area. . This is not over dramatizing things. This major hurricane will be close to Category 5 and arriving with maximum impact.
As of 11 PM, winds are 150 mph, the upper end of Category 4. Laura's forward speed is 15 mph, and it is 55 miles from Cameron, LA, 75 miles from Lake Charles.  The expected landfall will be between 2 and 3 AM local time.
The Eye Wall is 35 miles wide! Hurricane Force winds reach 60 miles from the center. Tropical Storm Force winds reach 205 miles from the center.
The National Hurricane Center has been stating the 'unbelievable storm surge' could reach 20 Ft high, equal to a two story building.  That is the height of the water level, with waves on top of that!  The salt water could reach up to 40 miles inland, and remain for several days!
Even the National Weather Service in Lake Charles, LA evacuated today. Their operations are being handled by another office.
Here is the latest info and images. You will also find a new Hurricane Laura Resource Center page to track beyond landfall.
Hurricane Laura Satellite
National Hurricane Center Stats
SUMMARY OF 1000 PM CDT...0300 UTC...INFORMATION
-----------------------------------------------
LOCATION...29.0N 93.2W
ABOUT 75 MI...120 KM S OF LAKE CHARLES LOUISIANA
ABOUT 75 MI...120 KM SE OF PORT ARTHUR TEXAS
MAXIMUM SUSTAINED WINDS...150 MPH...240 KM/H
PRESENT MOVEMENT...NNW OR 340 DEGREES AT 15 MPH...24 KM/H
MINIMUM CENTRAL PRESSURE...939 MB...27.73 INCHES

Hurricane Headlines
Warnings in place: Hurricane, Tropical Storm (less winds farther from landfall, and Storm Surge).
Tornado Watch: Tornadoes (additional local spin ups) are likely to be counted by the dozens.
Hurricane forecast winds reach 60 miles from the center. Tropical Storm force winds reach 205 miles from the center.
Storm surge of 15 to 20 feet high is forecast on the immediate right side of the eye wall.
Rainfall 8 to 12 inches up to 18 inches.
Inland track turns to Mid Atlantic Saturday, and it may regain tropical storm intensity in the Atlantic.
Tuesday Night Set Up
Radar Loop Wednesday Evening
Radar Snapshot at 11 PM
Live Interactive Radar
Timing
Landfall will be close to Cameron, LA between 2 and 3 AM local time, and will be 'unsurvivable'. The only silver lining is that this region along the coast has a relatively low population. Inland to Lake Charles will be destructive up through Kentucky.
The remains will cross our Mid Atlantic region Saturday and could regain Tropical Storm intensity each of Ocean City, Maryland.
Satellite Loop
So beautiful! So healthy! So DANGEROUS! This is arriving at its peak making for maximum impact!
Size Of Hurricane Laura
Major Hurricane Fore winds (115+ mph) are within 20 miles of the eye wall.
Hurricane Force Winds (74 mph+) reach 60 miles from the center.
Tropical Storm Force Winds reach 205 miles away from the center.
Storm Surge Forecast:
Peak surge up to 20 Feet (see below): The wall of water rise inland, not including waves.
Rain forecast: 
Louisiana westward to east Texas: 8 to 12  inches with spots of 18 inches or higher. This will be dependent on the forward speed and rain band set up of the storm.
Waves (Interactive Map)
National Hurricane Center Forecast Track/Cone
Forecast Watches and Warnings
A Storm Surge Warning is in effect for...
* Freeport Texas to the Mouth of the Mississippi River

A Hurricane Warning is in effect for...
* San Luis Pass Texas to Intracoastal City Louisiana

A Tropical Storm Warning is in effect for...
* Sargent Texas to San Luis Pass
* East of Intracoastal City Louisiana to the Mouth of the
Mississippi River

A Hurricane Watch is in effect for...
* East of Intracoastal City to west of Morgan City Louisiana


Storm Surge Forecast

 
Quote from The National Hurricane Center: "Unsurvivable storm surge with large and destructive waves will cause
catastrophic damage from Sea Rim State Park, Texas, to Intracoastal City, Louisiana, including Calcasieu and Sabine Lakes. This surge
could penetrate up to 40 miles inland from the immediate coastline, and flood waters will not fully recede for several days after the
storm".


Johnson Bayou LA to Rockefeller Wildlife Refuge including Calcasieu
Lake...15-20 ft
Sea Rim State Park TX to Johnson Bayou LA including Sabine
Lake...10-15 ft
Rockefeller Wildlife Refuge to Intracoastal City LA...10-15 ft
Intracoastal City LA to Morgan City including Vermilion Bay...8-12
ft
Port Bolivar TX to Sea Rim State Park...6-9 ft
Morgan City LA to Mouth of the Mississippi River...4-7 ft
Freeport TX to Port Bolivar including Galveston Bay...2-4 ft
Mouth of the Mississippi River to Ocean Springs MS including Lake
Borgne...1-3 ft
Lake Pontchartrain and Lake Maurepas...1-3 ft

The deepest water will occur along the immediate coast near and to the right of the landfall location, 
where the surge will be accompanied by large and destructive waves.

Hurricane Laura Resource Page


Click Here For: More Live Tools To Track The Storm
Radar, satellite, National Hurricane Center updates, and this elaborate Coastal Inundation Page for anything you may want to see.



Computer Model Forecast Tracks
Forecast Animation:
Here is the HWRF Model projection showing the Low Pressure tracking inland than linking up with a cold front to turn into the Mid Atlantic.
It could possibly redevelop into a Tropical Storm as it moves east of Ocean City.
Locally, we could get heavy rain on Saturday, then improve on Sunday. It's very hard to determine the precise amount since it's based on how Laura holds together when inland. Stay tuned…
Tropical Related Posts
2020 Tropical Storm and Hurricane Names and Naming History
Atlantic Tropical History: Maps of Origin Regions Every 10 Days
NEW INTERACTIVE WEATHER PAGES
This is still a work in progress, but please check out these interactive pages:
Maryland Weather Page
I wanted to keep it simple. Just the basics for a quick view at any time.
14 Local Maryland Pages (and York PA)
We have made a page for Maryland Weather which gives you the current conditions for 14 present area locations. Many of these match up with the spots on our route.  Please use this list below are reference. I will include them daily with my articles on the kids.
NEW
Local Hourly Forecasts and Local Radar
Central Maryland
Delmarva
Pennsylvania
Please share your thoughts, best weather pics/video, or just keep in touch via social media
---
Email Updates
Please make sure you sign up (above or  click here to sign up for email alerts…. ) for my newsletter. This way you will get an email to make sure you are notified of each post.
---
Maryland Trek Team Shirt
All proceeds will go to the Just In Power Kids programs
Maryland Trek Cycle Jerseys From Hill Killer
All proceeds will go to the Just In Power Kids programs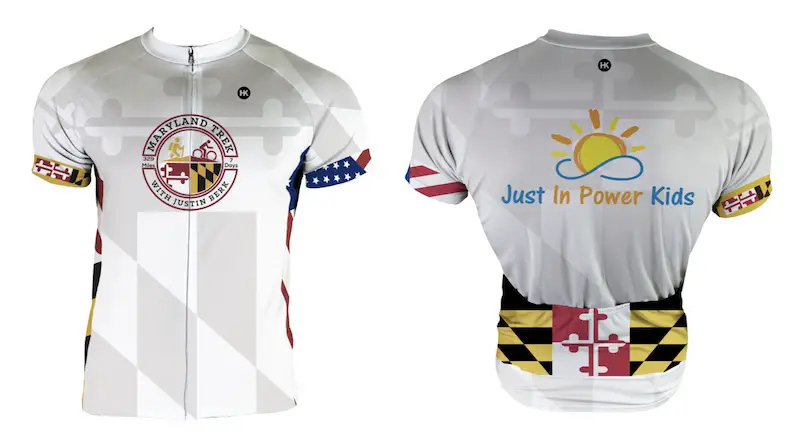 Other  Links:
Was Your County Not Included?
Click this map for more on the regional forecast zones
Baltimore Weather At BWI May Not Be As Hot As Reported
Construction at the airport close to the weather station may be added artificial heat. Click here or the image for the details.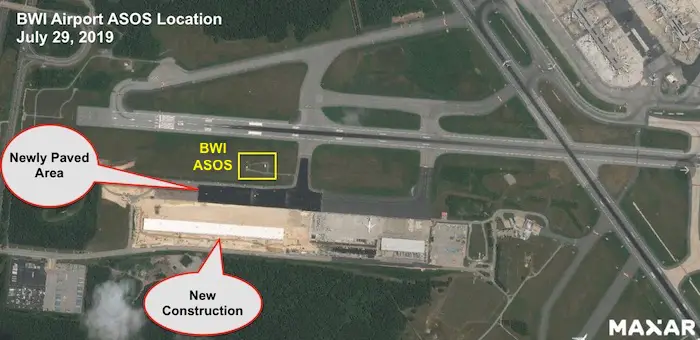 Just In Power Kids:
Proceeds go to our programs Providing FREE holistic care for kids in cancer treatment and up to 5 years post treatment and caregivers.
Shine On
Proceeds from all sales go to Just In Power Kids. Click the image to shop and show your support.