Saturday August 29 2020
As I write this, the remains of Laura have become almost unidentifiable. The circulation has faded into an open wave on the mesoscale analysis. There is still some energy to bet worked out in the atmosphere, which we are still seeing with thunderstorms now.  The risk of storms will remain through this evening then shift to the coast by midnight.
Tornado Warning
Doppler Radar Snapshot at 2 PM
As of this post time, there was a Tornado Warning in Dorchester County, Maryland: Including Bucktown.
This cell is moving to eh northeast at 30 mph, so it needs to be tracked along with the line between Eaton and Dover for more development.
The storm line moving through central Maryland/Baltimore may also beging too produce severe conditions.
Satellite Loop
The circulation seems to have broken up.
Mesoscale Analysis
Based on prior locations and the radar activity, it appears the core of what is left is riding along the Maryland and Pennsylvania boarder. Most of the energy (as expected) is to the Southeast. That is the line of storms that is moving though central Maryland now at 2 PM
The Severe Storm Risk For A Few More Hours
There is still a risk for isolated tornadoes along with storm cells that can produce flash flooding and damaging winds.
Radar Simulation —> slider
Beginning at 2 PM, the high resolution modeling from earlier still was missing some activity.
So take this with a grain of salt. Just an idea of the progress through midnight. One more line of storms, pushing to the coast.
Have you seen the Maryland Weather Page and local pages we built for you?
Maryland Weather Page
Get Your Local Maps And Forecast
I wanted to keep it simple. Just the basics for a quick view at any time.
14 Local Maryland Pages (and York PA)
We have made a page for Maryland Weather which gives you the current conditions for 14 present area locations. Many of these match up with the spots on our route.  Please use this list below are reference. I will include them daily with my articles on the kids.
NEW
Local Hourly Forecasts and Local Radar
Central Maryland
Delmarva
Pennsylvania
Climate Data And Weather Observations
Baltimore:
📋Observations yesterday
🌡 Climate data today
🗺 Weather Map
☀️ Sunrise and sunset times
🌙 Moon phase
Maryland Trek Team Shirt
All proceeds will go to the Just In Power Kids programs
Maryland Trek Cycle Jerseys From Hill Killer
All proceeds will go to the Just In Power Kids programs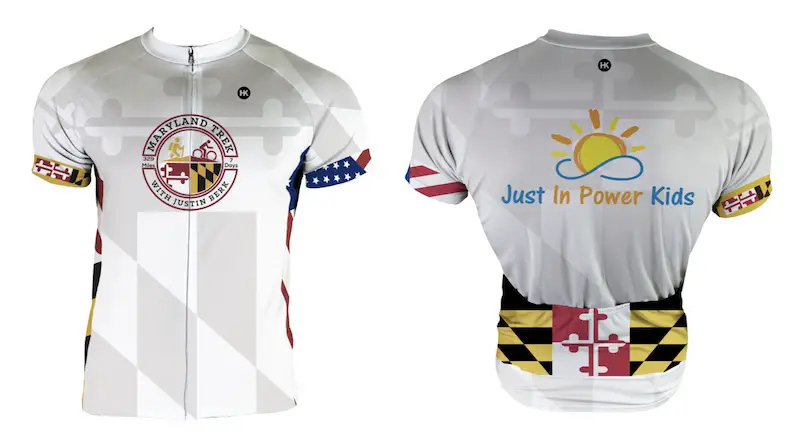 Please share your thoughts, best weather pics/video, or just keep in touch via social media
---
Email Updates
Please make sure you sign up (above or click here to sign up for email alerts…. ) for my newsletter. This way you will get an email to make sure you are notified of each post.
---
Also See:
July 2020 The hottest on record. Will it hint at snow this winter?
Comet NEOWISE Viewing All July (photos/video)
Maryland Strong Love ❤️ 
My 'bonus' daughter made this map of Maryland a few years ago. We brought it back for needed positivity. Now on her pick of tanks, and this cool Maryland T for men or women.
Click here or on the image to see more
This is all LOCAL: Made by Maryland Print House; Proceeds support my Maryland Trek 7 this August for Just In Power Kids.
Related Posts
2020 Tropical Storm and Hurricane Names and Naming History
Atlantic Tropical History: Maps of Origin Regions Every 10 Days
Other  Links:
Was Your County Not Included?
Click this map for more on the regional forecast zones
Baltimore Weather At BWI May Not Be As Hot As Reported
Construction at the airport close to the weather station may be added artificial heat. Click here or the image for the details.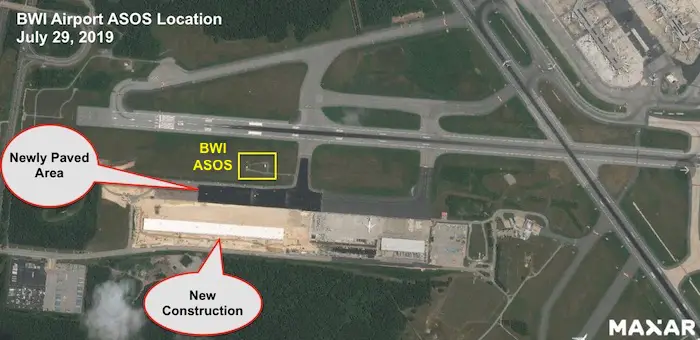 Also See:
Just In Power Kids:
Proceeds go to our programs Providing FREE holistic care for kids in cancer treatment and up to 5 years post treatment and caregivers.
Shine On
Proceeds from all sales go to Just In Power Kids. Click the image to shop and show your support.