September 3 2020
Fro what it's worth, the severe weather lived up to expectations today. I hope my reports helped you be aware and prepare ahead of time. Widespread warnings and reports were seen across central Maryland, Washington DC, and Delmarva.  There is a lot to sort through, but I wanted to give you a sample of what I have seen.
That first photo was striking, to see lightning hitting I-95 during a commute! Baltimore receive over 2 inches of rain on the day! By the way, there are more impressive images below.
I realize a flaw in the storm reporting design. I get pics and video from so many sources, it is hard to capture and put in one place. I work working on a solution. But for now, here are just a few of the things I gathered.
Storm Satellite
Visible/IR Sandwich 
This is a combination of the visible satellite and color coded cloud tops between 4 PM and 7 PM.
Visible Satellite and Lightning
Severe Storm Reports
Storms continued beyond nightfall, which expanded the damage across Delmarva.  These reports included trees down, winds (numbers indicate top speed), flash flooding, and even lighting starting a fire in Delaware.
Tornado Report
Only one was reported on the ground at Solomons Island Rd outside of Annapolis at 5:58 PM. There were multiple trees down and shingles damage on a home.
Doppler Radar
During the Tornado Warning, this is what was seen on Doppler Radar.  There was a hook signature on the velocity scan, while the standard imagery was
The Annapolis Storm
Storm Rotation Time Lapse
Thanks to Nick Wynn for capturing this. It does show the rotation aloft.
Photos
Firefighter Bobby Utz sent this image of a funnel around 6 PM
Wall Cloud Rain Shaft
Around the same time and during the Tornado Warning, I got this photo from Michell Wynn and Shelby Ervin. I wasn't sure who to give the credit to.
The Baltimore Storm
There was a Tornado Warning in Baltimore City as well, a little earlier. My first post was around 5 PM, then I captured this rotation on Doppler Radar at 5:30 PM
Funnel Cloud Trying To Drop
Jess Pfohl captured this amazing view.
Rotation On Video
My friend Konstantine Mamalis got some view of the storm
Greektown
Paul Yokemick captured this time-lapse also showing rotation.
Around The Bay
I tried to warn my friend Walter George on Kent Island what was coming his way. He was on his way home, but his wife captured this lightning strike hitting the Bay in Stevensville.
St. Michaels
Elyse DeVries saw this over the Miles River and thought it looked like Ghostbusters.
Storm Report:
I will have that in the morning.
Get Your Forecast Timeline
INTERACTIVE WEATHER PAGES
This is still a work in progress, but please check out these interactive pages:
Maryland Weather Page
Get Your Local Maps And Forecast
I wanted to keep it simple. Just the basics for a quick view at any time.
14 Local Maryland Pages (and York PA)
We have made a page for Maryland Weather which gives you the current conditions for 14 present area locations. Many of these match up with the spots on our route.  Please use this list below are reference. I will include them daily with my articles on the kids.
NEW
Local Hourly Forecasts and Local Radar
Central Maryland
Delmarva
Pennsylvania
Please share your thoughts, best weather pics/video, or just keep in touch via social media
---
Email Updates
Please make sure you sign up (above or click here to sign up for email alerts…. ) for my newsletter. This way you will get an email to make sure you are notified of each post.
---
Maryland Trek Team Shirt
All proceeds will go to the Just In Power Kids programs
Maryland Trek Cycle Jerseys From Hill Killer
All proceeds will go to the Just In Power Kids programs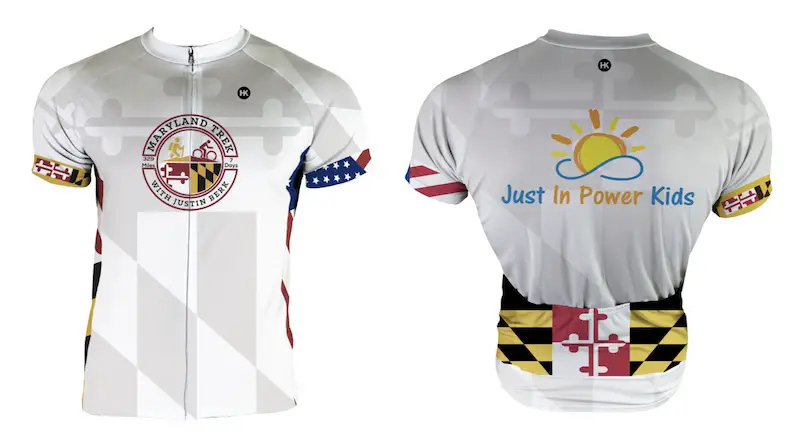 Also See:
July 2020 The hottest on record. Will it hint at snow this winter?
Comet NEOWISE Viewing All July (photos/video)
Maryland Strong Love ❤️ 
My 'bonus' daughter made this map of Maryland a few years ago. We brought it back for needed positivity. Now on her pick of tanks, and this cool Maryland T for men or women.
Click here or on the image to see more
This is all LOCAL: Made by Maryland Print House; Proceeds support my Maryland Trek 7 this August for Just In Power Kids.
Related Posts
2020 Tropical Storm and Hurricane Names and Naming History
Atlantic Tropical History: Maps of Origin Regions Every 10 Days
Other  Links:
Was Your County Not Included?
Click this map for more on the regional forecast zones
Baltimore Weather At BWI May Not Be As Hot As Reported
Construction at the airport close to the weather station may be added artificial heat. Click here or the image for the details.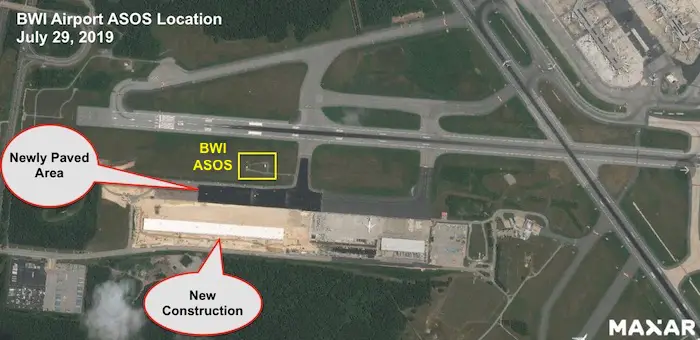 Also See:
Just In Power Kids:
Proceeds go to our programs Providing FREE holistic care for kids in cancer treatment and up to 5 years post treatment and caregivers.
Shine On
Proceeds from all sales go to Just In Power Kids. Click the image to shop and show your support.