September 25 2020
So, is it going to rain on Friday? That is a question I got form quite a few people getting married locally this weekend. There has been a large number of messages about it. Well, the clouds that have returned to the Mid Atlantic are from former Tropical Storm Beta.  But with High Pressure in control, the rain trying to arrive will be tough to track in Maryland.
The forecast models have been split as to the amount of moisture that can reach us, but we also have primary equipment failure: Our local Doppler Radar is broken!
Under normal conditions I try to quell the concerns. But in this case I think it's best to at least 'plan for some showers', not a washout. Just know, we may not be able to track them very well.
Below is a look at the Doppler Radar Out Of Service, and our forecast maps.
Surface Weather At Noon
Visible Satellite Loop Through Noon
Check out the circulation with Beta in Mississippi, at the bottom of this high resolution view.
Regional Composite Radar
Here it appears some of the light rain has reached southern Maryland.
Doppler Radar View
This view is the single site image from Wakefield, VA. The outer edge shows the light rain in southern Maryland.
Doppler Radar Locations
What is displayed in Delaware are likely false returns since it is so far from the radar site.  The DOX site over Dover was actually clear for the state.
We can use Dover, but there will be gaps of data west of Baltimore, Washington, and in the mountains.
LWX is our primary local Doppler Radar Site in Serling, VA. The National Weather Service noted a failed in data acquisition on September 20. That was when it was dry and not needed.
Technicians will not arrive until Saturday.  According to NWS:
THEY WILL DETERMINE THE FULL SCOPE OF THE FAILURE, AND WORK WITH WFO STERLING ELECTRONICS
PROGRAM STAFF IN TAKING SUBSEQUENT MAINTENANCE ACTIONS. ACTION AND
DIAGNOSIS INCLUDES REPAIRING THE GEAR BOX AND ASSESSING THE HEALTH
OF THE BULL-GEAR.


Forecast: Will it Rain?
This will depend on the strength of High Pressure.
According to the NAM 3 Km: We will have showers Friday afternoon and Saturday. But the GFS looks more sparse.
NAM 3 Km Forecast Maps
GFS Model –> slider
This model shows a smaller chance for rain. However, the initialization was missing the rain in southern Maryland and Virginia in place now. So it's hard to trust what it shows tomorrow.
My Take
The model forecast I present in this widget is from the GFS.  At this time, I have to argue 'against' it and lean a little more pessimistic.  If you have plans for Friday afternoon into Saturday, plan for some light rain or showers.
This is why getting a few opinions and NOT just one weather app on your phone can be best.
You can compare here
NEW: Interactive Rain and Wind Slider
Try this:
Use the Orange Button to slide the timeline on your own. Or hit the Play Button at the lower left.
You can also pinch to zoom or move the map.
YOUR INTERACTIVE WEATHER PAGES
14 Local Maryland Pages (and York PA)
We have made a page for Maryland Weather which gives you the current conditions for 14 present area locations. Many of these match up with the spots on our route.  Please use this list below are reference. I will include them daily with my articles on the kids.
NEW
Local Hourly Forecasts and Local Radar
Central Maryland
Delmarva
Pennsylvania
Maryland Weather Page
I wanted to keep it simple. Just the basics for a quick view at any time.
Please share your thoughts, best weather pics/video, or just keep in touch via social media
---
Email Updates
Please make sure you sign up (above or click here to sign up for email alerts…. ) for my newsletter. This way you will get an email to make sure you are notified of each post.
---
Temperature Outlook
Much Cooler Pattern Next Week, Warmer Up During October
Help Solve The Mystery
UFO, Meteor, Or Something Else Caught On Cam In Owings Mills MD This Week?
Explore More:
Autumnal Facts and Weather Stats
Record Low Tied at BWI and Frost Photos Sep 20
Typical First Frost and Freeze
Also See:
Severe Storm Report Photos And Video From Thursday
Also See:
July 2020 The hottest on record. Will it hint at snow this winter?
Comet NEOWISE Viewing All July (photos/video)
Maryland Strong Love ❤️ 
My 'bonus' daughter made this map of Maryland a few years ago. We brought it back for needed positivity. Now on her pick of tanks, and this cool Maryland T for men or women.
Click here or on the image to see more
This is all LOCAL: Made by Maryland Print House; Proceeds support my Maryland Trek 7 this August for Just In Power Kids.
Related Posts
2020 Tropical Storm and Hurricane Names and Naming History
Atlantic Tropical History: Maps of Origin Regions Every 10 Days
Other  Links:
Was Your County Not Included?
Click this map for more on the regional forecast zones
Baltimore Weather At BWI May Not Be As Hot As Reported
Construction at the airport close to the weather station may be added artificial heat. Click here or the image for the details.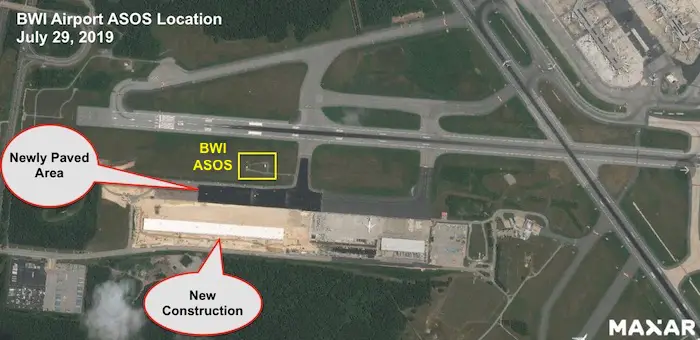 Also See:
Just In Power Kids:
Proceeds go to our programs Providing FREE holistic care for kids in cancer treatment and up to 5 years post treatment and caregivers.
Shine On
Proceeds from all sales go to Just In Power Kids. Click the image to shop and show your support.