September 29 2020
I could use your help on behalf of my friend.
Did you watch the Chiefs at Ravens game on Monday night? If you tuned in at the very start, the intro video about this epic matchup in Baltimore was great! It was by narrated by Samuel L. Jackson, and was well produced.   
I sat on my couch with my son eagerly waiting for what was supposed to be the best football game of the season.  But I was sidetracked by something familiar. It was time-lapse video of lightning over Baltimore. 
This lightning snapshot captured over Baltimore's Inner Harbor is like countless others I had shared before. Now, it was on the big screen! Well, bigger than mine.
I was pretty sure my friend Tim Shahan recorded that, and I have shared it online. I recognized the location from his old apartment, and his style of slowing the lightning just enough, then letting the storm clouds race by. It takes a lot of time for him to produced and well worth it.
You might be familiar Tim, as I have shown his weather videos and photos often over the past 7 years. They always get a big, well deserved positive response. He sends just about all of them to me, so I know I have his blessing to share online.  What an honor for him to now be on the national stage.
I texted Tim, only to confirm the problem: ESPN did not ask his permission, did not compensate him, and did not give him credit!
He commented on his personal Facebook page earlier today: 
"It appears that ESPN used some of my time-lapse footage for last evening's Monday Night Football game without asking or giving me credit!"
UPDATE: I found out after writing this that ESPN finally paid for Tim's video. Please note that. It should have happened sooner.
I am leaving this article to hopefully help protect others in the future. 
Please see his original video and compare it what was produced ESPN. 
I have more to comment on below. I just hope to use my online reach in effort help bring this to a quick easy resolution.  I also want to help anyone in the future that may have their work used on a much bigger platform. 
Tim's Original Video (on YouTube):
Night Thunderstorm Over Baltimore's Inner Harbor Time Lapse (08/14/2016)
It only had 117 views on Youtube at the time of this post. My Facebook posts of his videos often reach over 100,000, but I don't have the stats from four years ago. This required research to find.  I am sure a few million people saw it across the country last night. 
There was a third place it could have been seen, where it is availble for purchase. 
Tim added this to his YouTube post:
"This and many more time lapse clips are available at.."
https://www.pond5.com/artist/timshahanrn#1/2063
Now See The ESPN Intro Video Titled:
There is no way to stop them
I know there is broadcasting potocol to ask for permission on YouTube or Twitter before a TV station airs the footage.  I have been approached many times for my work and the work of others I share.  I've seen large media outlets ask other people for permission as well.  I appreciate being asked, and I know they do too.  
In this case, Tim made it clear he had his video and others on Pond5, which are available for sale. Check out his work. It's AMAZING!  Even if he was not looking for monetary compensation, he should have been given credit. 
Tim is VERY TALENTED with weather and also his coverage of  NAVY Hockey. See more at 
Do you think he should have been notified by ESPN? If not for credit, then the purchase his work?  If so, how much would it be worth?
I take this seriously for many reasons.  If you have followed me online, I am vigilant about giving proper credit for photos and videos. I've made lots of friends doing so, and learned how valuable that can be to professionals, or those up and coming.
Tim Shahan
Tim became one of those friends over 6 years ago, when he came out visit me during my annual Maryland Trek  He's the guy in the middle. I have shared his AMAZING work a lot! I have also used it in my school assemblies to help teach kids about storms. He has since photographed some of my important family events. Most importantly, Tim has become a member of my Maryland Trek team two years ago. He was our team photographer and team nurse. He is a RN in his day job.
Ironically, the other guy in the photo on the left is Larry Rogers, of Mid Atlantic Aerial. We became good friends after sharing his videos, and he also had some of his work used commercial without permission. He also is a member of my Maryland Trek, serving as crew chief. He is also now a member of the Advisory Board for our non profit Just In Power Kids.
Reminder: I found out after writing this that ESPN finally paid for Tim's video. Please note that. It should have happened in the first place. 
I am leaving this article to hopefully help protect others in the future. 
Please share your thoughts, best weather pics/video, or just keep in touch via social media
---
Email Updates
Please make sure you sign up (above or click here to sign up for email alerts…. ) for my newsletter. This way you will get an email to make sure you are notified of each post.
---
Also See
Sunflower Season: Millers Farm Photos And Info
Temperature Outlook
Much Cooler Pattern Next Week, Warmer Up During October
Help Solve The Mystery
UFO, Meteor, Or Something Else Caught On Cam In Owings Mills MD This Week?
Explore More:
Autumnal Facts and Weather Stats
Record Low Tied at BWI and Frost Photos Sep 20
Typical First Frost and Freeze
Severe Storm Report Photos And Video From Thursday
Also See:
July 2020 The hottest on record. Will it hint at snow this winter?
Comet NEOWISE Viewing All July (photos/video)
Maryland Strong Love ❤️ 
My 'bonus' daughter made this map of Maryland a few years ago. We brought it back for needed positivity. Now on her pick of tanks, and this cool Maryland T for men or women.
Click here or on the image to see more
This is all LOCAL: Made by Maryland Print House; Proceeds support my Maryland Trek 7 this August for Just In Power Kids.
Related Posts
2020 Tropical Storm and Hurricane Names and Naming History
Atlantic Tropical History: Maps of Origin Regions Every 10 Days
Other  Links:
Was Your County Not Included?
Click this map for more on the regional forecast zones
Baltimore Weather At BWI May Not Be As Hot As Reported
Construction at the airport close to the weather station may be added artificial heat. Click here or the image for the details.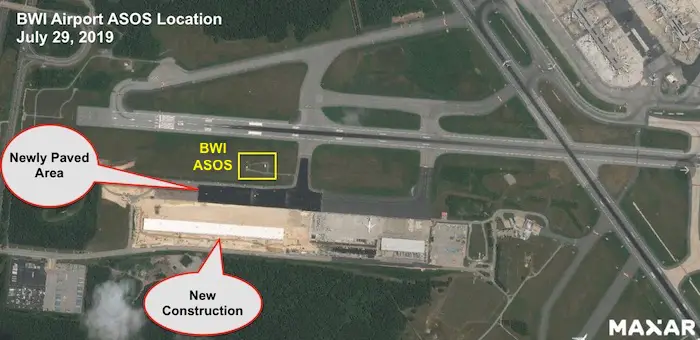 Also See:
Just In Power Kids:
Proceeds go to our programs Providing FREE holistic care for kids in cancer treatment and up to 5 years post treatment and caregivers.
Shine On
Proceeds from all sales go to Just In Power Kids. Click the image to shop and show your support.