Sunday October 25 2020
There is so much going on with the weather, and it all may play a role for us.  Today, we have a chilly northeasterly wind that will keep us in the 40s while rain arrives from the south. This will end by Monday morning, but a lot more is on the way.
The two other weather headlines include:
Snow- Record snow cover in the US with another storm about to cross Colorado into Texas.
Tropical Storm Zeta formed and forecast to be a hurricane before reaching Louisiana. That will bring us heavy rain at the end of the week ahead.
Morning Set Up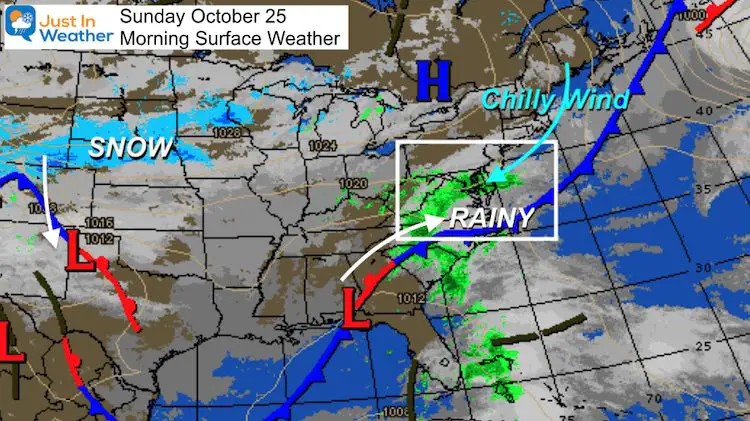 Morning Temperatures 
These numbers may not move all day. So what you have this morning is likely to be the same this afternoon.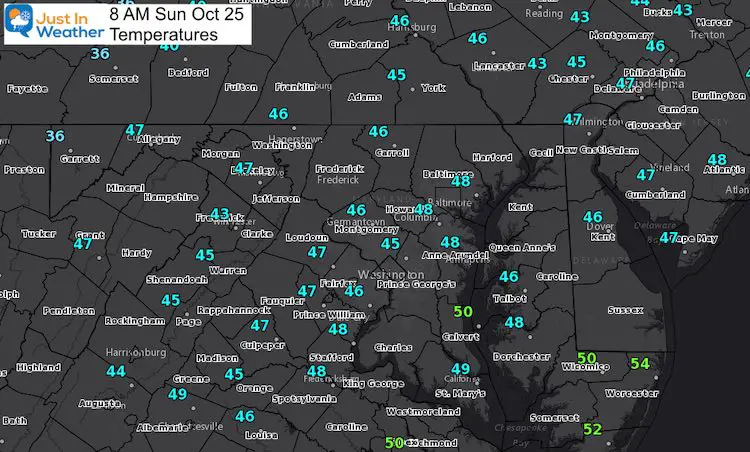 Rain Timeline — slider
Temperature Forecast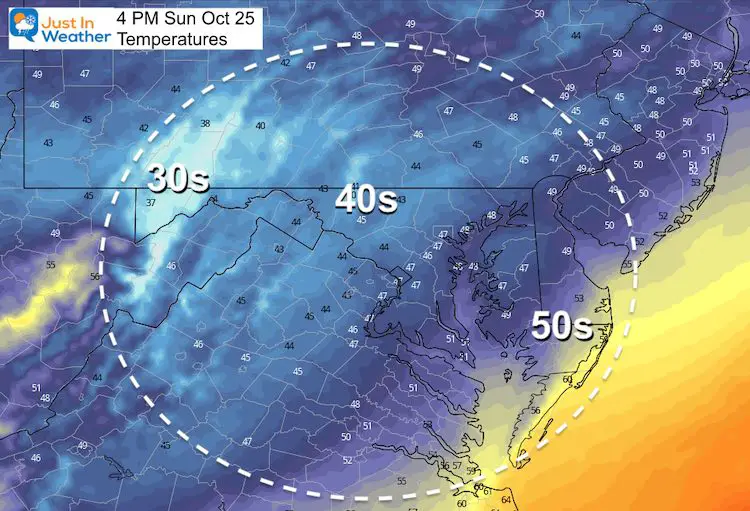 The Other Weather Headlines
Record Snow Cover
The recent stormy pattern has left 19.2% of the US covered in snow, as of  this morning. This is the most for this early in the calendar season on record!
More snow is on the way for Colorado, which will help the wildfires. That storm will dive into west Texas and play role in the next storm set up.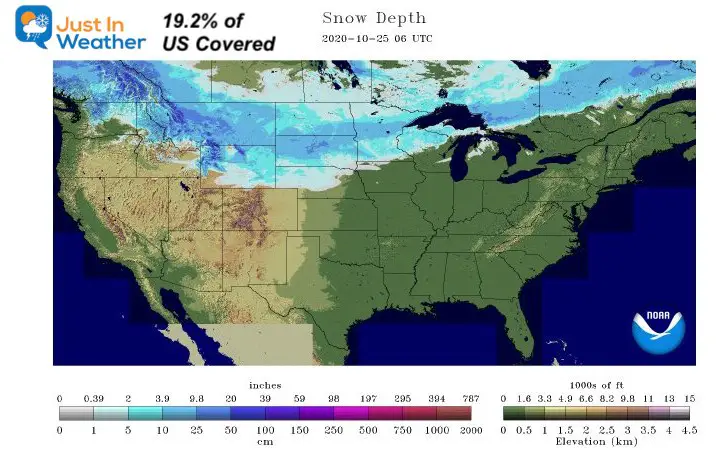 Tropical Storm Zeta
The new tropical storm is the 6th in the Greek Alphabet. Note, 'Z' is not the last letter.  But this may be the last straw.  That storm is forecast to follow a familiar path across Mexico's Yucatan and into Louisiana!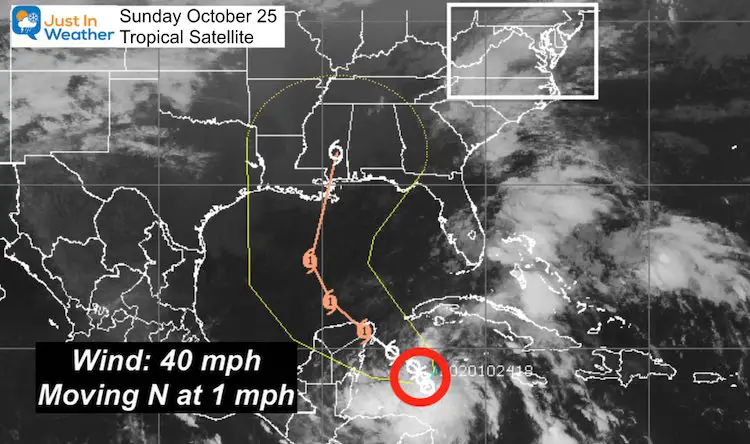 Forecast Track/Cone
The outlook for this storm is so similar to many others over the last few months.
This is forecast to be a hurricane Tuesday, and make landfall by Wednesday afternoon.
The inland path will bring heavy rain to the Mid Atlantic by the end of the week.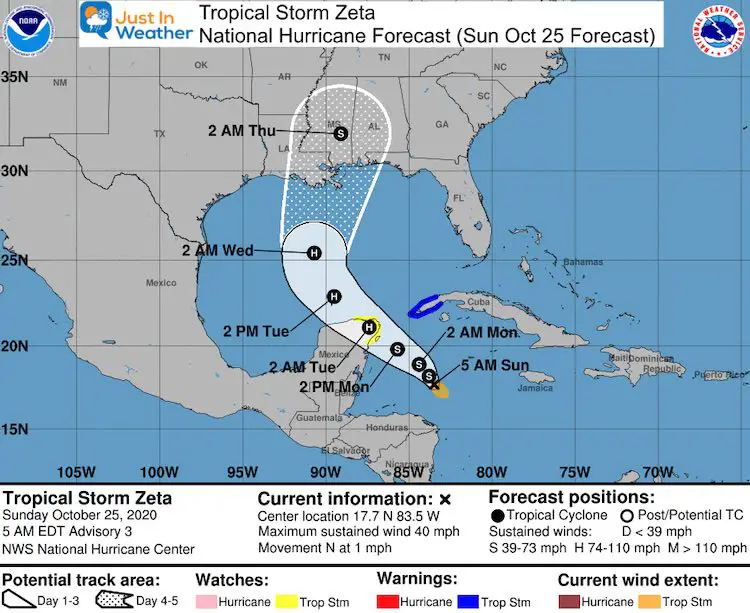 Let's Put It all Together
Starting Tuesday, we will see the snow storm reaching Texas AND Zeta as a Hurricane in the same map.  The energy will merge, helping to feed and funnel the rain into a strong storm for our region. See the animation below.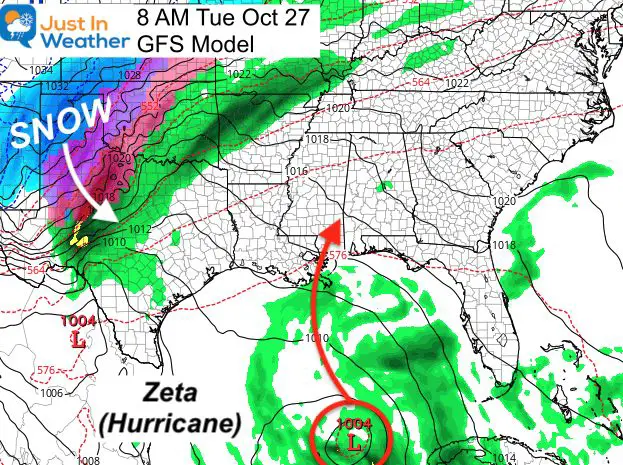 Storm Animation (GFS Model Forecast)
Track Monday morning through Friday afternoon.
This storm track is important. I believe we have set up a weakness in the atmosphere and we will repeat this through the winter.  This will test the atmospheric memory theory.
Quick Snapshot
We get a break form the rain Monday and Tuesday, with afternoon temps back to the lower 60s.  Then rain returns Wednesday with HEAVY RAIN Thursday and Friday.

YOUR INTERACTIVE WEATHER PAGES
14 Local Maryland Pages (and York PA)
We have made a page for Maryland Weather which gives you the current conditions for 14 present area locations. Many of these match up with the spots on our route.  Please use this list below are reference. I will include them daily with my articles on the kids.
NEW
Local Hourly Forecasts and Local Radar
Central Maryland
Delmarva
Pennsylvania
Maryland Weather Page
I wanted to keep it simple. Just the basics for a quick view at any time.
Please share your thoughts, best weather pics/video, or just keep in touch via social media
---
Email Updates
Please make sure you sign up (above or click here to sign up for email alerts…. ) for my newsletter. This way you will get an email to make sure you are notified of each post.
---
Also See: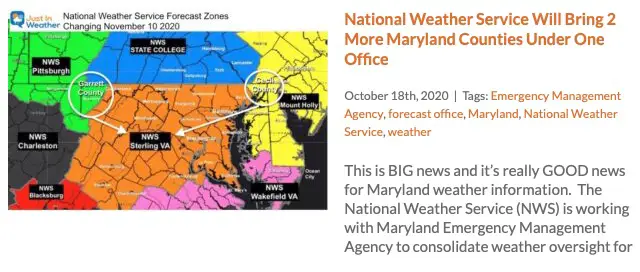 Sunflower Season: Millers Farm Photos And Info
Help Solve The Mystery
UFO, Meteor, Or Something Else Caught On Cam In Owings Mills MD This Week?
Explore More:
Autumnal Facts and Weather Stats
Record Low Tied at BWI and Frost Photos Sep 20
Typical First Frost and Freeze
Also See:
July 2020 The hottest on record. Will it hint at snow this winter?
Comet NEOWISE Viewing All July (photos/video)
Related Posts
2020 Tropical Storm and Hurricane Names and Naming History
Atlantic Tropical History: Maps of Origin Regions Every 10 Days
Other  Links:
Baltimore Weather At BWI May Not Be As Hot As Reported
Construction at the airport close to the weather station may be added artificial heat. Click here or the image for the details.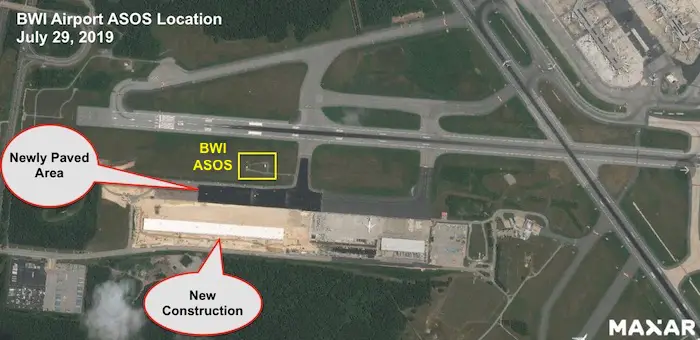 Also See:
Just In Power Kids:
Proceeds go to our programs Providing FREE holistic care for kids in cancer treatment and up to 5 years post treatment and caregivers.