Sunday Evening October 25 2020
This is the time of year for abrupt changes in weather. Baltimore was at 77ºF on Saturday (2 PM), then 24 hours later was sitting at 48ºF.  But we have something even more impressive to look at.
Developing Tropical Storm Zeta is expected to become a hurricane, and follow a path similar to what Hurricane Delta just made two weeks ago. This will get greeted by part of a snowstorm and send heavy rain our way. It may also reinforce a pattern for more storms in winter ahead.
Storm Set Up This Week
Snow and Hurricane Zeta will not completely collide, but some of the energy will merge and head our way.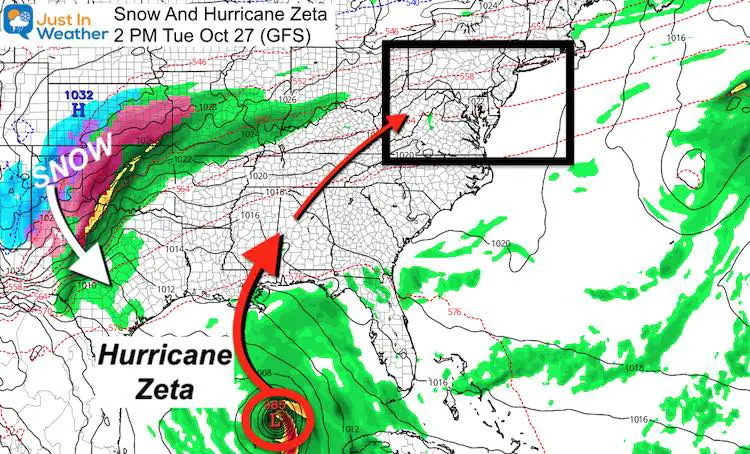 I know this may seem early to talk snow, but it is happening today and will play a role in our upcoming weather. I assure you this is not click bait. Let's take a look first at the snow, then Tropical Storm Zeta.
Sunday Evening Weather
Record Snow Cover
This morning the analysis showed 19.2% of the US covered in snow. This is a record for the date.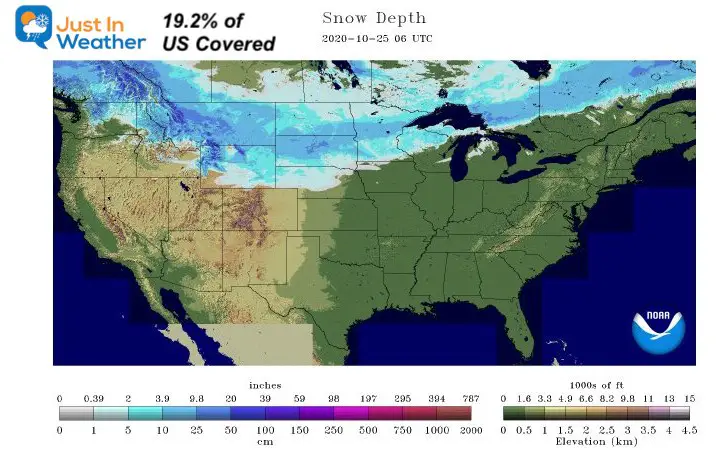 More Snow Forecast
Here is the European ECMWF Model forecast for more snow this week.
Denver was getting snow today, and the local forecast for the city was up to 8 inches of new snow.  The mountains and places to the south into the Texas Panhandle will be in the 1 to 2 foot range, expanding the snow map.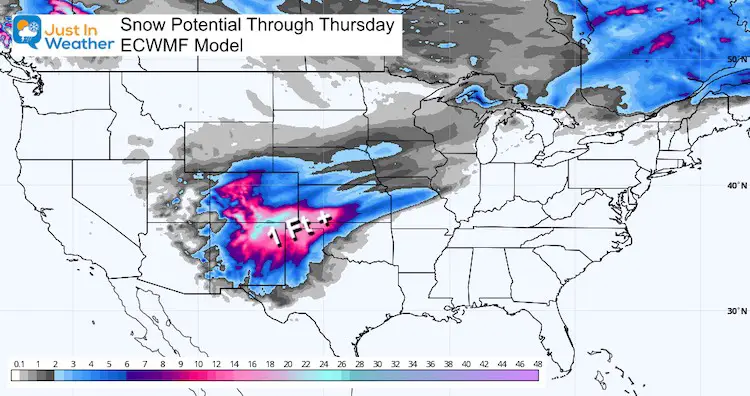 Now, Tropical Storm Zeta
If you are not familiar with the Greek Alphabet, this is only 6 letters deep. There are plenty more before we run out of room.
The winds are up to 50 mph, but this is forecast to reach hurricane intensity before reaching Mexico. A Hurricane Warning is in place for Cozumel. Sound Familiar?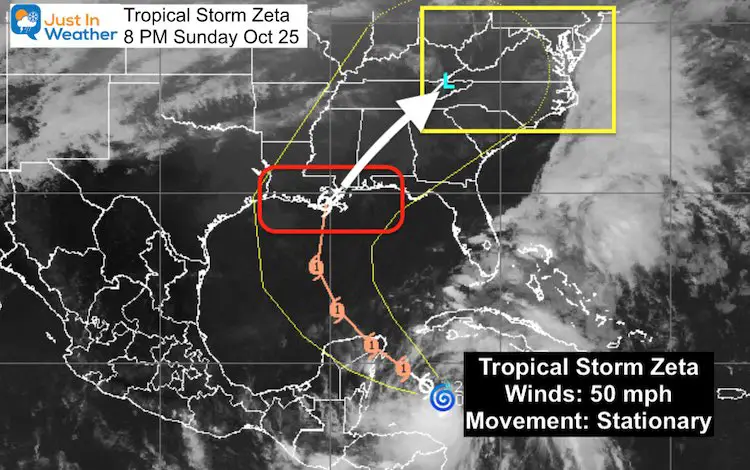 Familiar Track
This has been a year of atmospheric memory to the extreme. There have been 6 named storms that hit Louisiana, but two in particular stand out with a similar track.
Compare Hurricane Laura and Hurricane Delta's path to what is forecast for Zeta.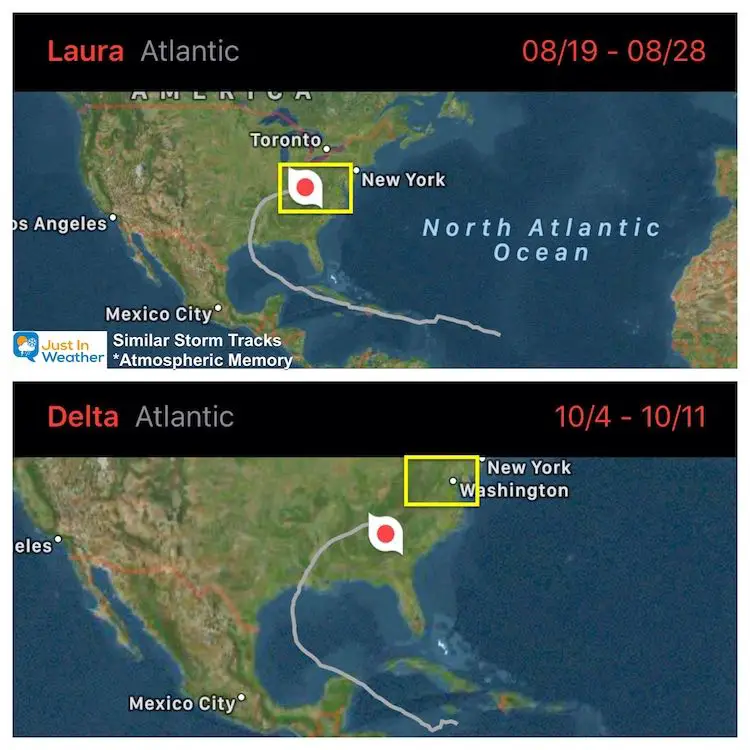 National Hurricane Center Forecast 
Landfall is expected to be by Wednesday morning. While the forecast is expected to reach hurricane intensity, it may weaken a little before landfall on the Louisiana coast. This would be the 7th named storm they have this year!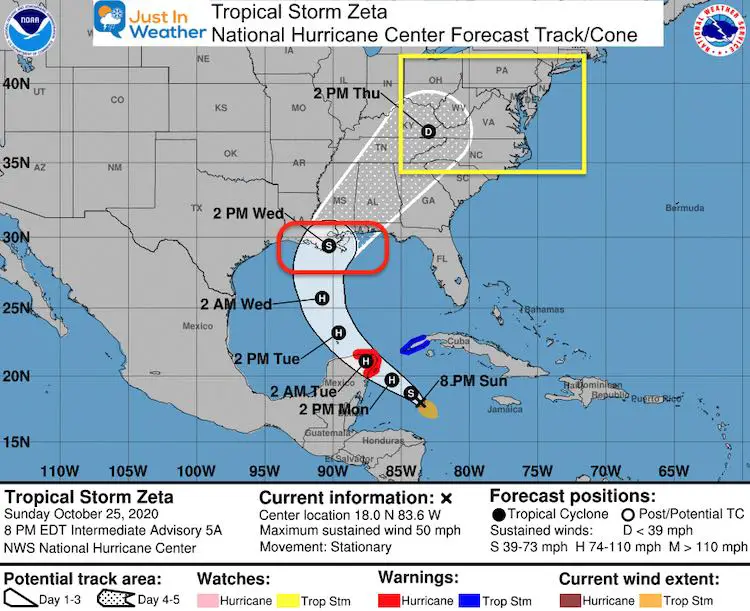 Forecast Putting This Together
The energy from the snowstorm will bring wintery weather into north central Texas. The snow will NOT combine with Zeta, but the energy will feed into the back side. This will speed up the path our way and help dump out heavy rain.
European Model —> slider
The original Low may pass to our west, and fade over Ohio/West Virginia. But a classic transfer of energy to the coast could reform a new storm there. This would happen Thursday afternoon into Friday morning to enhance our rain.
Zeta Forecast Path (reminder)
The original Low should be to our west by Thursday afternoon. We will get moderate to heavy rain by then. Now compare to the GFS Model animation below.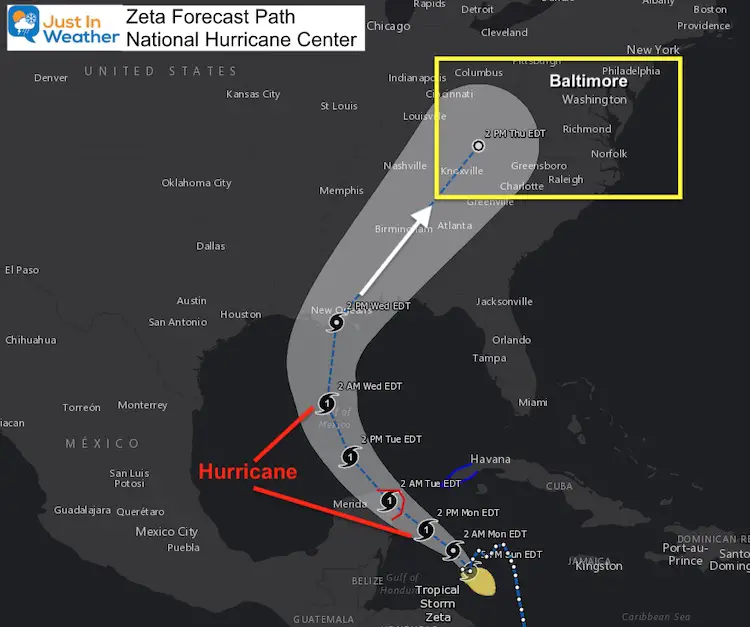 GFS Model Animation 
Watch the bottom left side of the map for the Tuesday afternoon start time. The animation shows the push of the developing storm and new coastal Low near us late Thursday and Friday.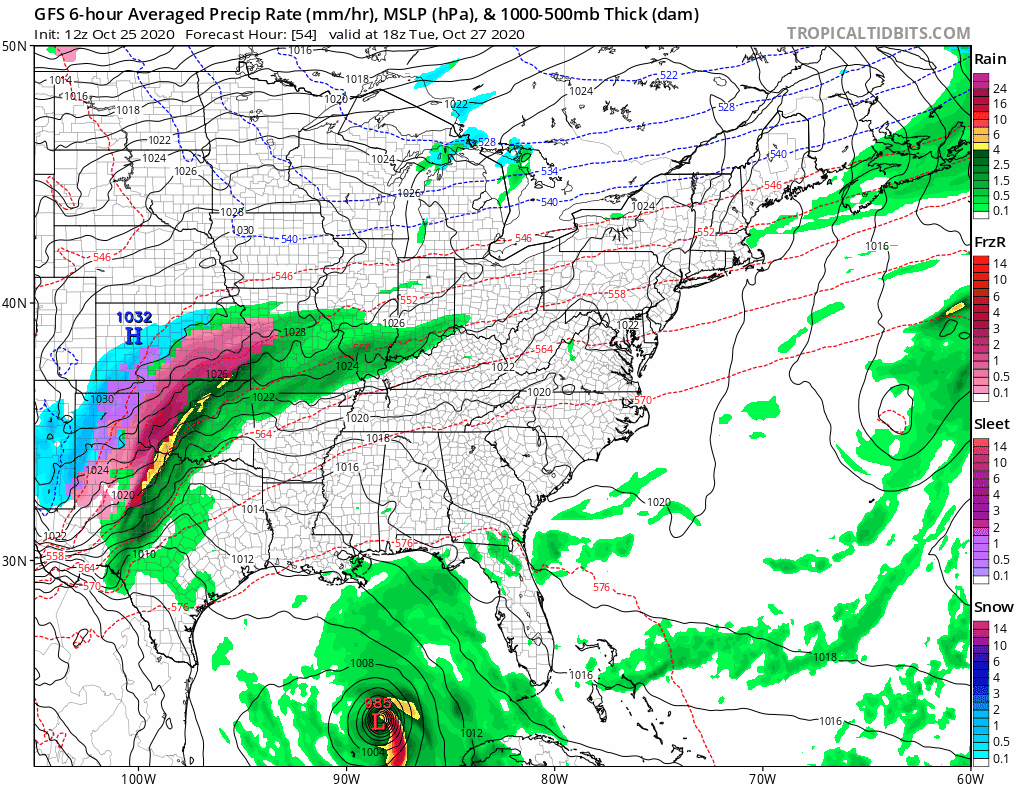 How Much Rain?
Here is a look at the ECMWF Model forecast through Friday evening.  Some of this includes rain we had today. But look for a 2 inch rain event is well within the possibility later this week.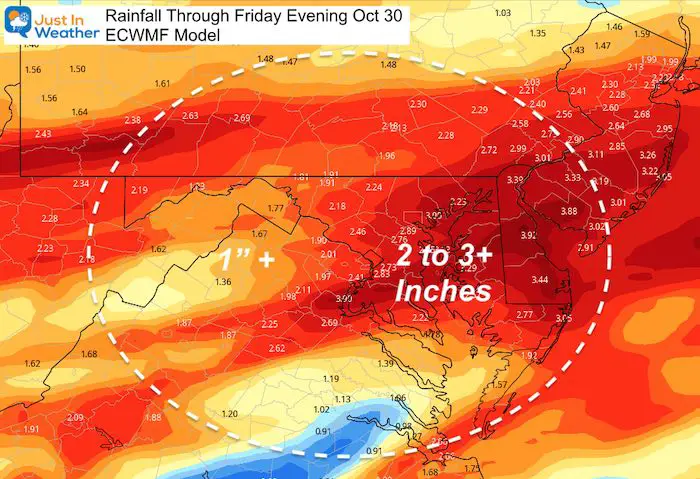 My Thoughts
I believe we already have the pattern set to deliver many storms out of the Gulf of Mexico this winter. That would be a change form last year for sure.
Will that mean more snow? It depends on the track of the Low. I will explain this further in another report.  However, it gives us an active pattern with the potential should there be cold air in place. That will be the battle between a typical, La Nina (warm) and North Atlantic Blocking (cold).
If you have Faith in the Flakes, this keeps the hope for snow alive.  But I would NEVER promise anything this early.   I will be adding this to my overall Winter Outlook to be shared with you soon.
YOUR INTERACTIVE WEATHER PAGES
14 Local Maryland Pages (and York PA)
We have made a page for Maryland Weather which gives you the current conditions for 14 present area locations. Many of these match up with the spots on our route.  Please use this list below are reference. I will include them daily with my articles on the kids.
NEW
Local Hourly Forecasts and Local Radar
Central Maryland
Delmarva
Pennsylvania
Maryland Weather Page
I wanted to keep it simple. Just the basics for a quick view at any time.
Please share your thoughts, best weather pics/video, or just keep in touch via social media
---
Email Updates
Please make sure you sign up (above or click here to sign up for email alerts…. ) for my newsletter. This way you will get an email to make sure you are notified of each post.
---
Also See: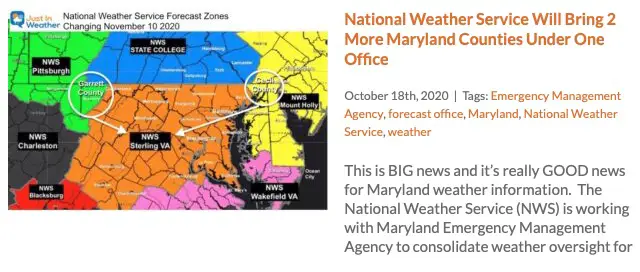 Sunflower Season: Millers Farm Photos And Info
Help Solve The Mystery
UFO, Meteor, Or Something Else Caught On Cam In Owings Mills MD This Week?
Explore More:
Autumnal Facts and Weather Stats
Record Low Tied at BWI and Frost Photos Sep 20
Typical First Frost and Freeze
Also See:
July 2020 The hottest on record. Will it hint at snow this winter?
Comet NEOWISE Viewing All July (photos/video)
Related Posts
2020 Tropical Storm and Hurricane Names and Naming History
Atlantic Tropical History: Maps of Origin Regions Every 10 Days
Other  Links:
Baltimore Weather At BWI May Not Be As Hot As Reported
Construction at the airport close to the weather station may be added artificial heat. Click here or the image for the details.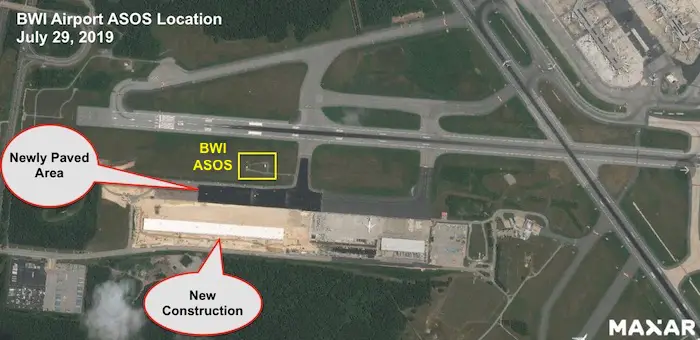 Also See:
Just In Power Kids:
Proceeds go to our programs Providing FREE holistic care for kids in cancer treatment and up to 5 years post treatment and caregivers.