Friday November 6 2020
In normal times this would be a crazy story, but it is 2020 so take this for what it is.  Last week Tropical Storm Eta was named and within 36 hours reached Category 4 intensity with 150 mph winds.  Whew! It then made landfall on Nicaragua dumping FEET of rain, but quickly faded to a Tropical Depression over the mountains as it crossed Honduras.
Eta has maintained its Tropical Depression integrity, so it never really died. Perhaps my 'Zombie' label could be challenged.
It is now back out over the Caribbean and poised to become a Tropical Storm again en route to Cuba, south Florida, and the Gulf.  Some models suggest it could become a hurricane again. Regardless, it could also send heavy rain our way next week.
Eta Storm Path History And Projection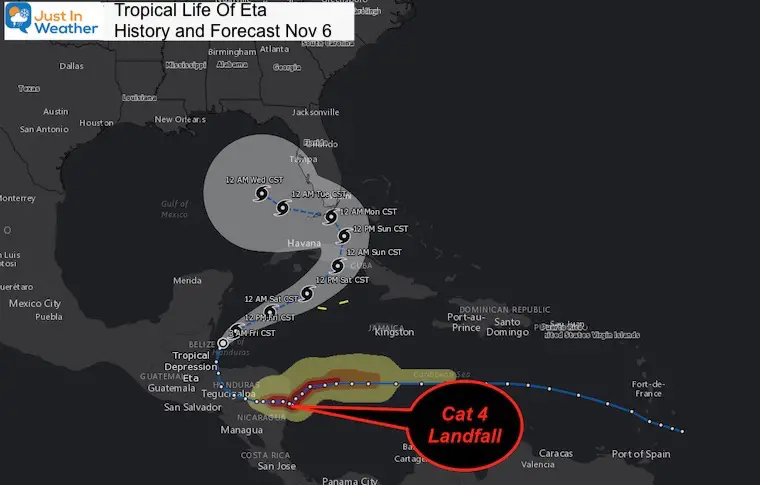 Eta Satellite
As of the time of this post, Eta was still a tropical depression, but expected to regain Tropical Storm status (wind over 9 mph)any time.
It may not look impressive here as upper level winds present sheer, but  the low level circulation is organizing with warm water to provide the energy now.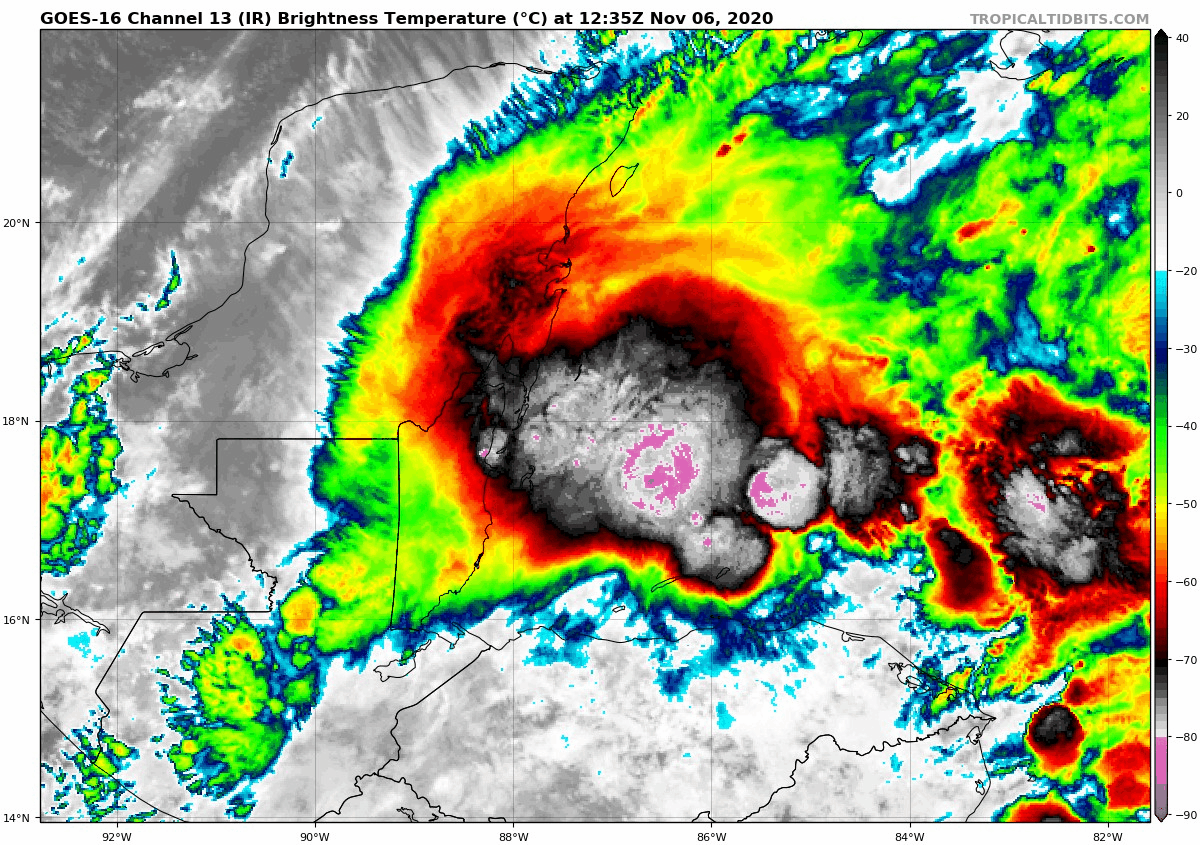 National Hurricane Center Outlook/Forecast
As of the morning update, winds were 35 mph and it was moving the North-Northeast at 7 mph.
Tropical Storm Warnings were posted for Cuba.
Look closely and tilt your head to the right. Doesn't this look like a big question mark?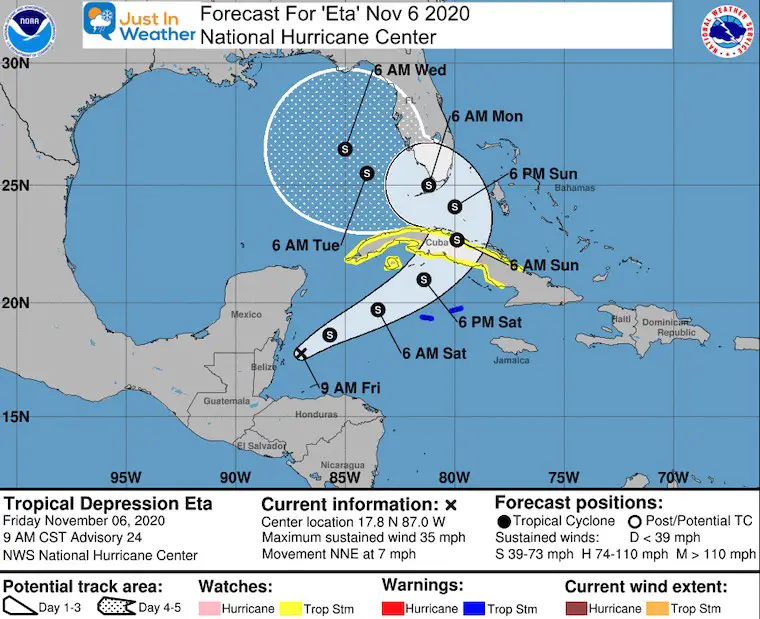 Forecast Animation
The crazy thing is that the GFS Model saw this last week, just like it showed us Zeta impacting us a week away. I have been hesitant to share that kind of long range material,  but it might be worth ding so in the future.
Here is how it portrays Eta to clip southern Florida and get into the Gulf of Mexico. It is not going to directly reach us, but the flow of moisture appears to get caught up in the upper level flow and feed the next cold front.
Rain Snapshot Next Wednesday 
Here is a close up of the GFS Model for Next Wednesday Afternoon.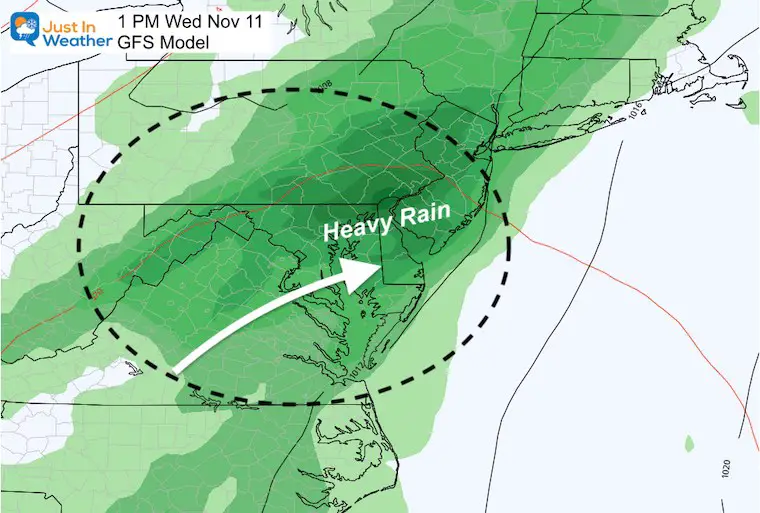 This is not alone. Compare to the European ECMWF Model. Here we see a similar result but a little slower/later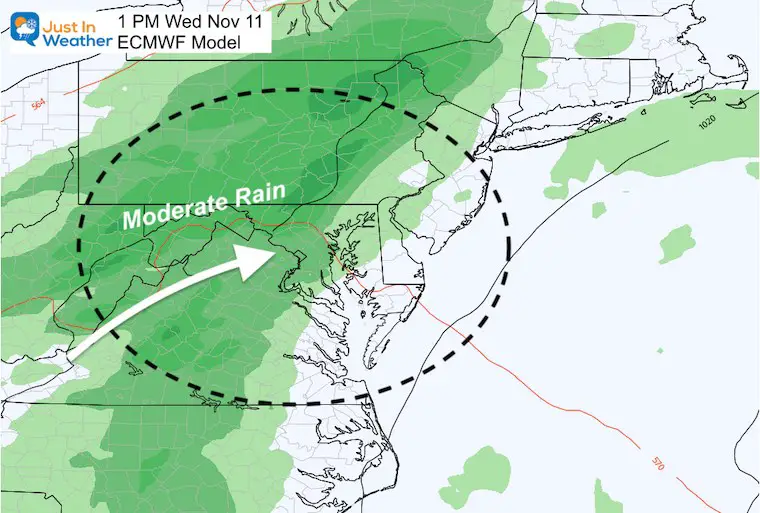 My Take
At this point, it is still a long range forecast. It's worth watching not only the track, but intensity of Eta. If this does over-achieve AGAIN and become a hurricane, it would be a more potent force.
This is also another test for:
The validity of the GFS long range forecasting skill
Tropical Storm Tracks and Atmospheric Memory to be applied to my Winter Outlook
Stay tuned
YOUR INTERACTIVE WEATHER PAGES
14 Local Maryland Pages (and York PA)
We have made a page for Maryland Weather which gives you the current conditions for 14 present area locations.
Local Hourly Forecasts and Local Radar
Central Maryland
Delmarva
Pennsylvania
Maryland Weather Page
I wanted to keep it simple. Just the basics for a quick view at any time.
Please share your thoughts, best weather pics/video, or just keep in touch via social media
---
Email Updates
Please make sure you sign up (above or click here to sign up for email alerts…. ) for my newsletter. This way you will get an email to make sure you are notified of each post.
---


Help Solve The Mystery
UFO, Meteor, Or Something Else Caught On Cam In Owings Mills MD This Week?
Explore More:
Autumnal Facts and Weather Stats
Record Low Tied at BWI and Frost Photos Sep 20
Typical First Frost and Freeze
Also See:
July 2020 The hottest on record. Will it hint at snow this winter?
Comet NEOWISE Viewing All July (photos/video)
Other  Links:
Baltimore Weather At BWI May Not Be As Hot As Reported
Construction at the airport close to the weather station may be added artificial heat. Click here or the image for the details.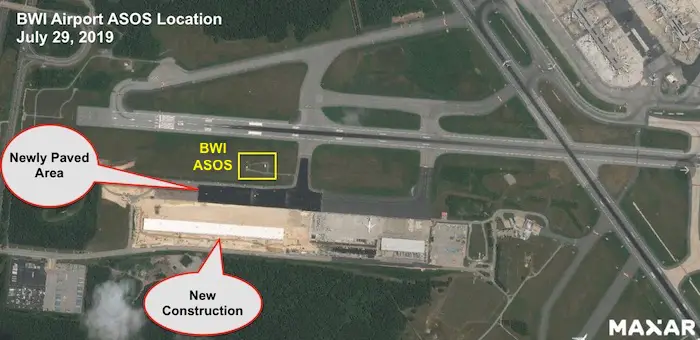 Also See:
Just In Power Kids:
Proceeds go to our programs Providing FREE holistic care for kids in cancer treatment and up to 5 years post treatment and caregivers.