Sunday November 15 2020
A strong cold front is on the way later today and what follows will be a reality check. Winds later today could take down some trees and power lines, marking the push of cold air that will bring in the first freeze of the season to Baltimore and many near the Chesapeake Bay.
Here is a look at the rain timeline, top wind gusts, and temperature forecast. Remember the 70s last week?  In the week ahead, some days may 35 degrees colder!
Sunday Morning Surface Weather
A cool start to the day, but the breeze will increase.
Warmer winds ahead of the cold front are what will move our way this afternoon.  This will swing directions and bring in the chilly air as the cold front passes. That is in Illinois this morning and will reach us this evening.
Even colder air is on the way in the next few days.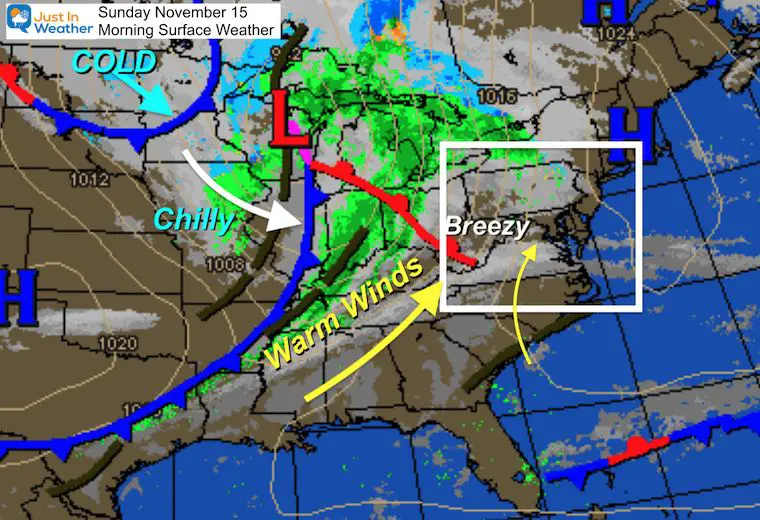 Forecast Snapshot (Central Maryland)

Rain Timeline
Do you remember a few days ago when I said today would be dry, only to change that with rain. That was all based on Tropical Storm Eta. With that out of the picture, the cold front can do its thing.
This will NOT be a washout day!  Showers are more likely in the mountains and hills first, with only a few stray spots of rain in metro areas, until the front gets closer.
The bulk of the action will be with s thin line of intense rain late afternoon and evening. This may only last 10 to 20 minutes, but can boost winds into the 40 to 50 mph range.
Radar Simulation —> slider
Temperatures 
Check out the sharp drop on the thermometers expected with the cold front.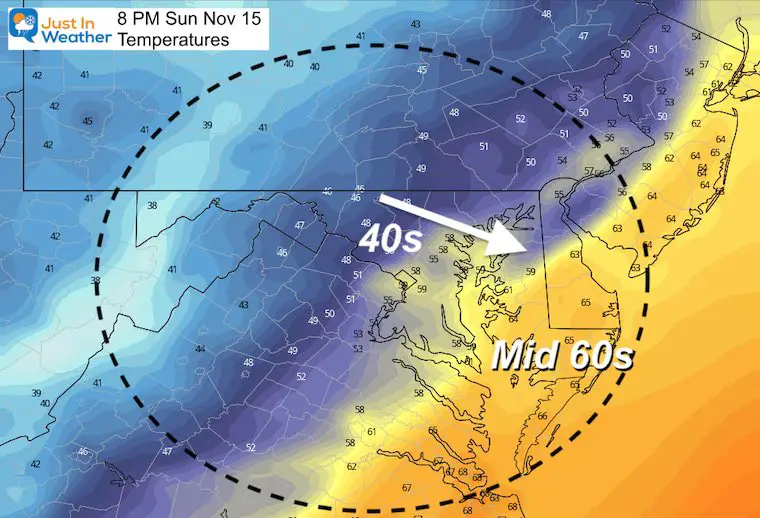 Wind Gusts
The wind will become more breezy during the afternoon. But the top winds will be with the cold front. This will match the timing above. Central Maryland gets it between 7 PM and 10 PM.  Earlier in the mountains. Later on Delmarva and the beaches.
With the strong winds, there could be a risk of trees and power lines getting knocked down. Maybe have a backup plan if this happens during the Ravens night game.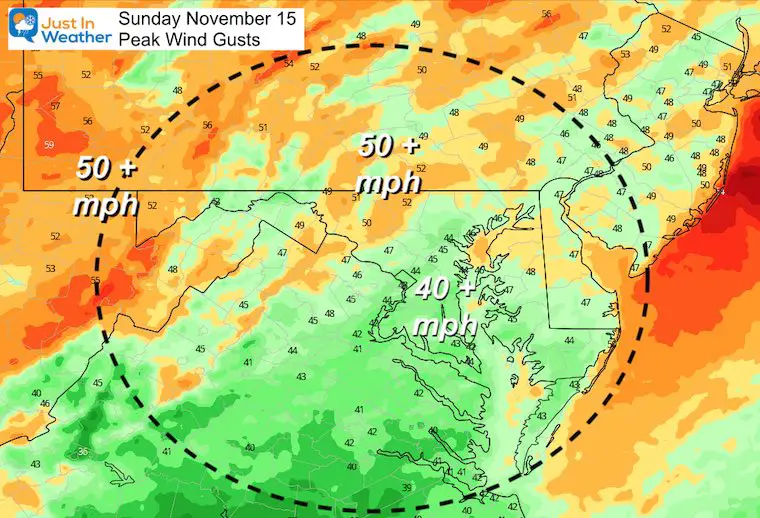 Monday Morning
The first taste of the colder air will be felt when you wake up.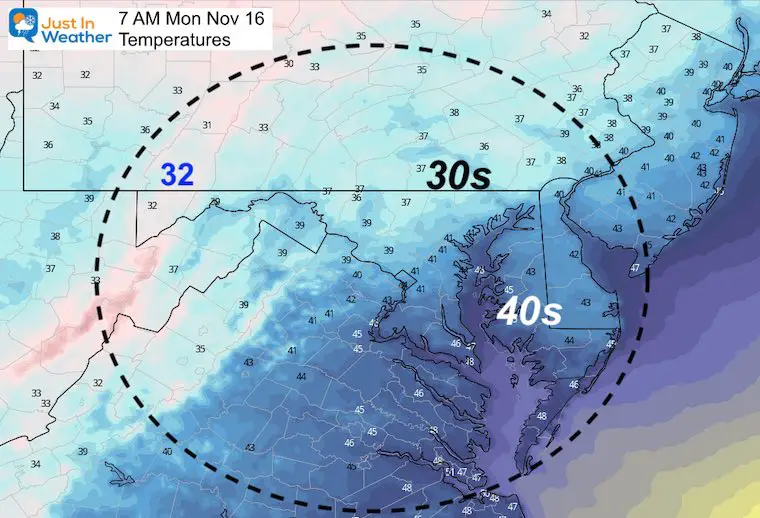 Snow In Western Maryland
It looks like maybe another dusting…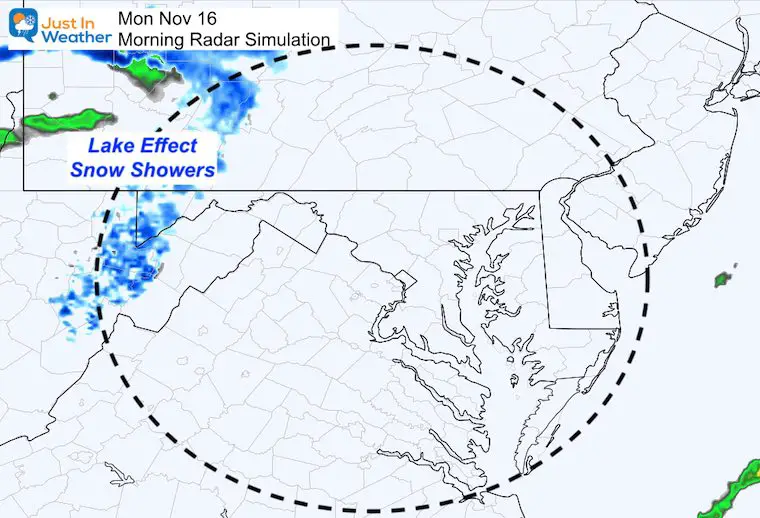 Looking Ahead
The jet stream holds all the secrets to the pattern. The cold snap (blue) is a trough that will be with us for a few days. Our temps will bottom out Wednesday and Thursday. The first FREEZer is likely in Baltimore, and highs may struggle in the 40s Wednesday.  This will give way to another ridge. That wil NOT be as strong as what we had last week… but temps will get back to the 60s next weekend.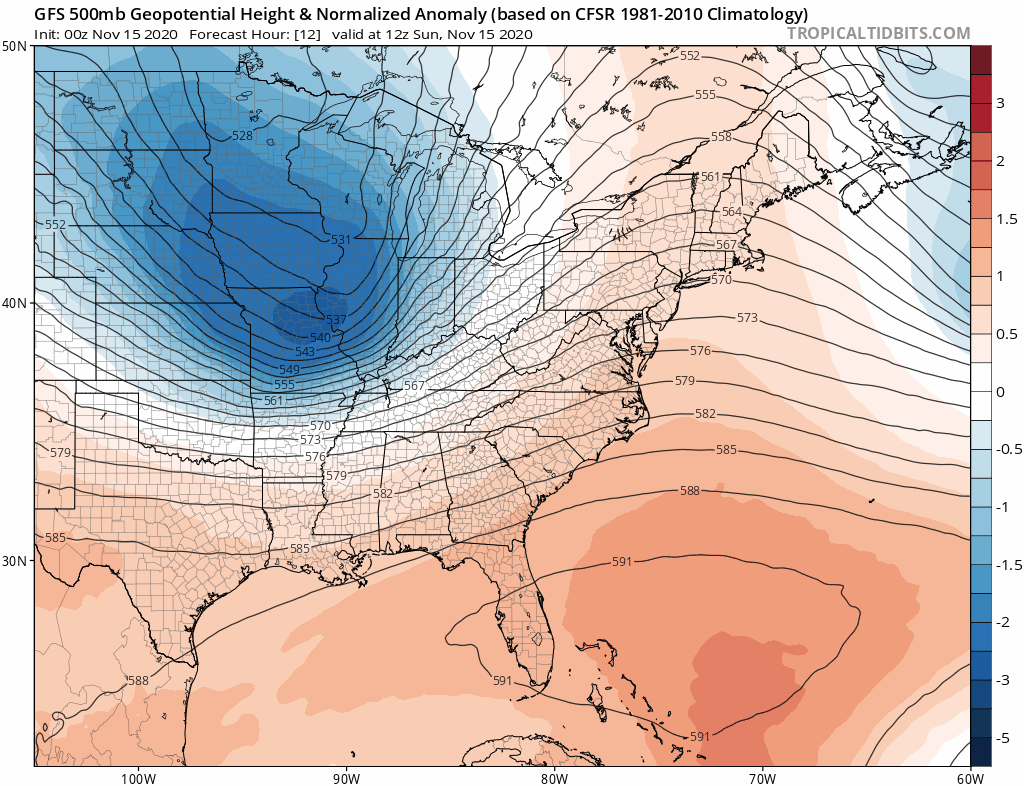 Temperature Outlook
Based on BWI:
Normal High = Upper 50s; Normal Low = Upper 30s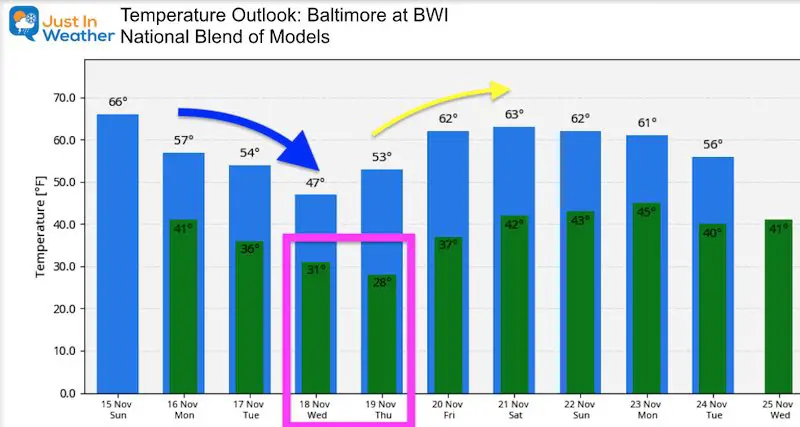 YOUR INTERACTIVE WEATHER PAGES
14 Local Maryland Pages (and York PA)
We have made a page for Maryland Weather which gives you the current conditions for 14 present area locations.
Local Hourly Forecasts and Local Radar
Central Maryland
Delmarva
Pennsylvania
Maryland Weather Page
I wanted to keep it simple. Just the basics for a quick view at any time.

Please share your thoughts, best weather pics/video, or just keep in touch via social media
---
Email Updates
Please make sure you sign up (above or click here to sign up for email alerts…. ) for my newsletter. This way you will get an email to make sure you are notified of each post.
---


Help Solve The Mystery
UFO, Meteor, Or Something Else Caught On Cam In Owings Mills MD This Week?
Explore More:
Autumnal Facts and Weather Stats
Record Low Tied at BWI and Frost Photos Sep 20
Typical First Frost and Freeze
Also See:
July 2020 The hottest on record. Will it hint at snow this winter?
Comet NEOWISE Viewing All July (photos/video)
Other  Links:
Baltimore Weather At BWI May Not Be As Hot As Reported
Construction at the airport close to the weather station may be added artificial heat. Click here or the image for the details.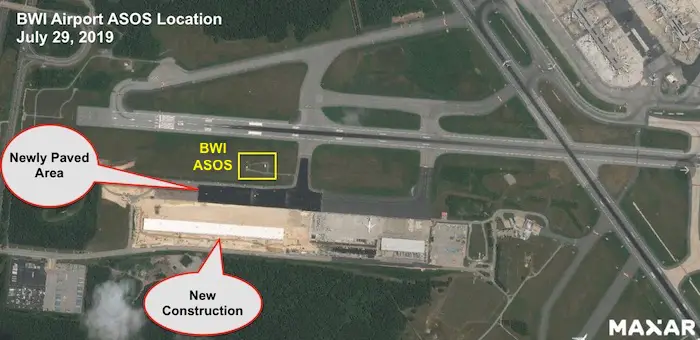 Also See:
Just In Power Kids:
Proceeds go to our programs Providing FREE holistic care for kids in cancer treatment and up to 5 years post treatment and caregivers.