Sunday November 15 2020
The winds have been increasing today and will continue to grow stronger through the evening. There have been numerous warnings with the cold front as it has passed through the mountains. As I prepared this post at 4 PM, there was no watch or warning in central Maryland, but there is a good chance more might be issued in metro areas this evening.
The peak wind gust forecast has much of the area getting close to 50 mph.  It's important to note that the line of rain is moving east at 40 mph.  Severe Thunderstorms get a warning when gusts reach 58 mph, so a little more push to get there is possible.
We will explore the rain timeline slider and live radar comparison below.
Wind Gust Forecast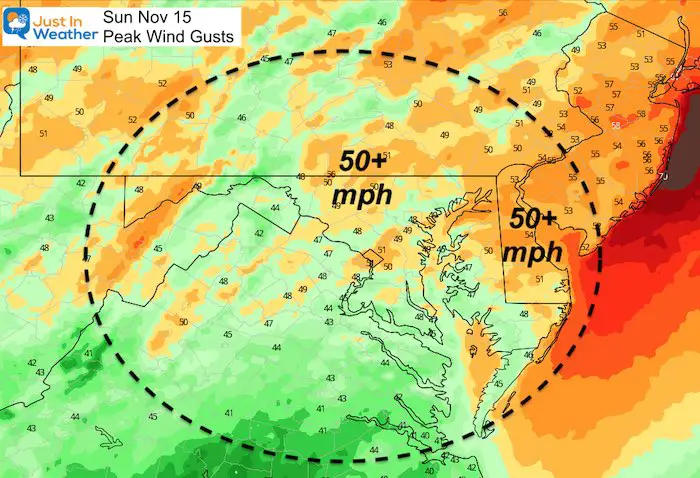 Wind Advisory
The extent of the advisory is Frederick in Maryland and York/Lancaster in PA.  But, there may be more advisories added farther east. It may be for Wind alone, or combined with the storm line as a Severe Thunderstorm.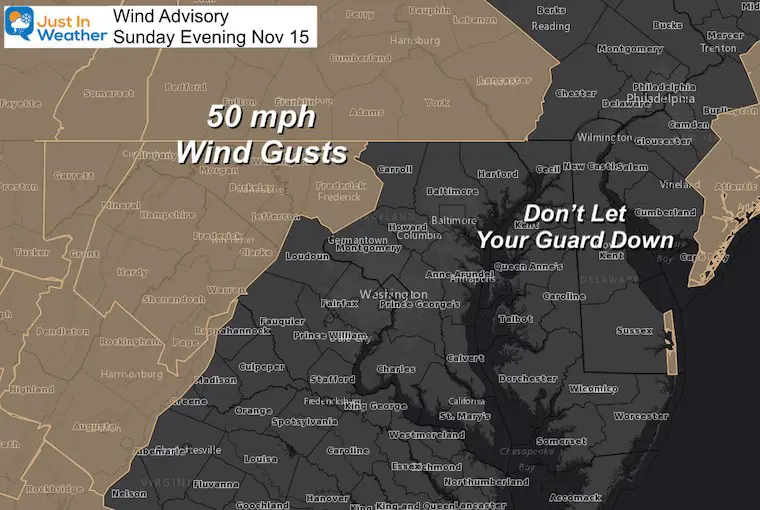 NOAA Discussion
This report from NOAA highlighted our region for the risk of:
Low Topped Storms
Widespread Winds of 50 mph or higher
Scattered 60+ mph gusts
Severe Thunderstorm Watch: 60% Chance to be issued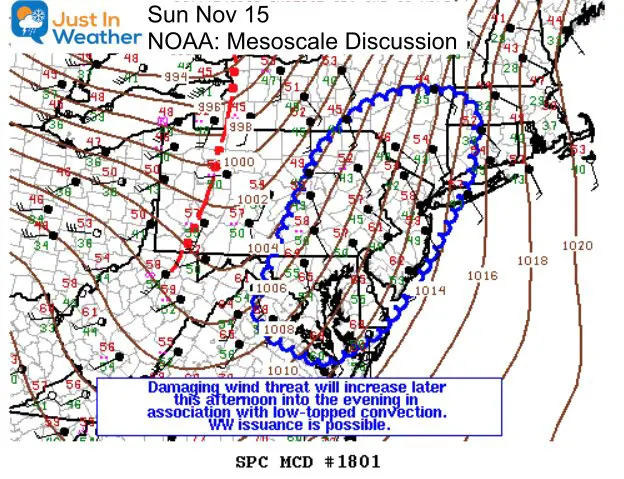 When is this possible?
The best short range model forecast has the cold front crossing metro Baltimore and Washington around 7 PM )plus or minus 30 minutes)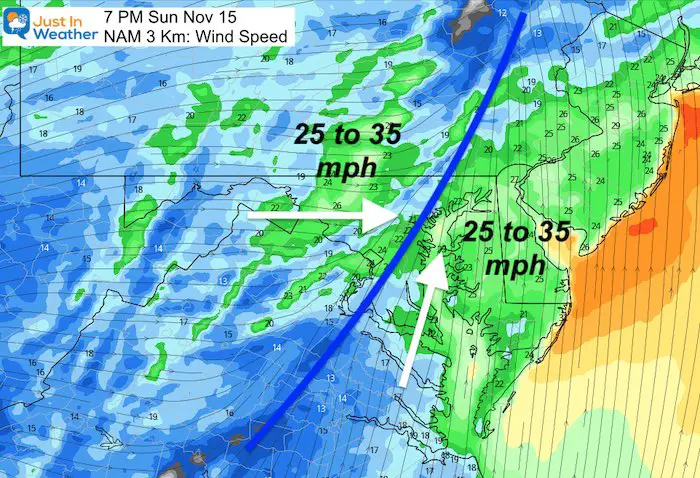 Radar Snapshot at 4 PM
At the time of this post, I grabbed the Doppler Radar image to compare to the short range modeling. This can help us assess the timing of the line of storms slower or faster than the model forecast.
Here we see the line between Cumberland and Hagerstown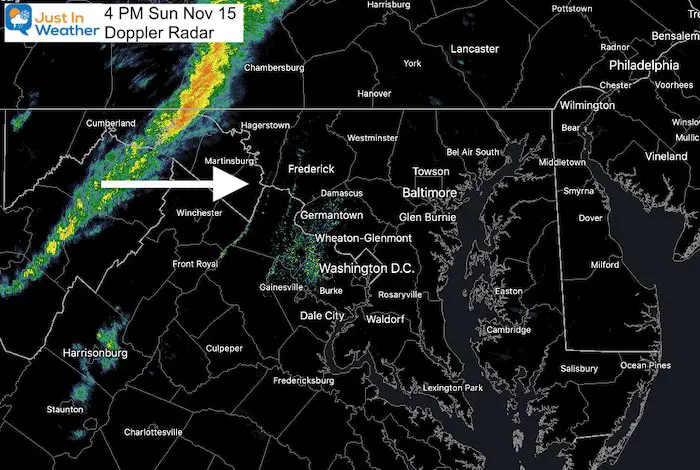 Radar Simulation —> slider 4 PM tp 11 PM
Compared to the doppler snapshot at 4 PM above, this looks on time so far.
Compare the slider timeline to the Live Radar widget below.
*The line of strong storms may only last 10 to 20 minutes as it passes by you.
Live Radar
This Is Why It Is So Windy!
A strong cold front often means strong push of cold air behind it. We will all feel that in the morning.
Monday Morning
The first taste of the colder air will be felt when you wake up.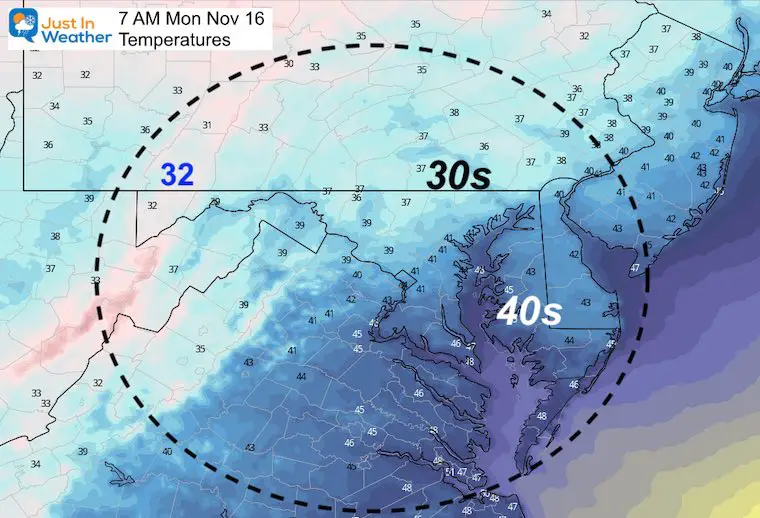 Snow In Western Maryland
It looks like maybe another dusting…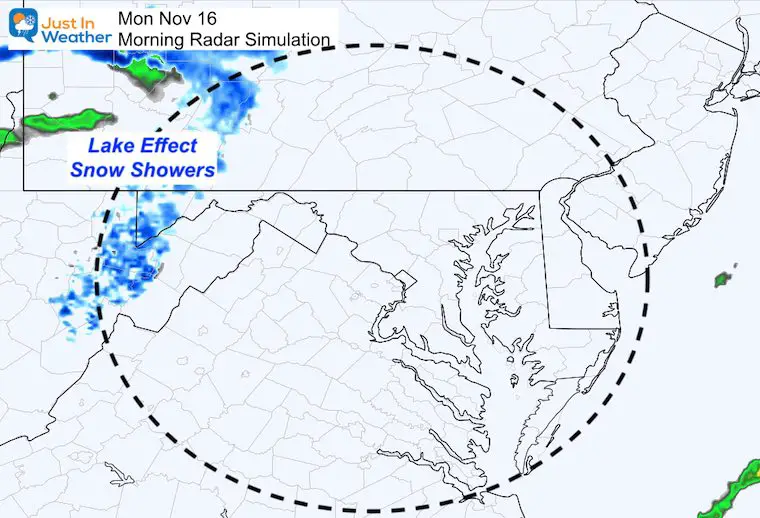 Looking Ahead
The jet stream holds all the secrets to the pattern. The cold snap (blue) is a trough that will be with us for a few days. Our temps will bottom out Wednesday and Thursday. The first FREEZer is likely in Baltimore, and highs may struggle in the 40s Wednesday.  This will give way to another ridge. That wil NOT be as strong as what we had last week… but temps will get back to the 60s next weekend.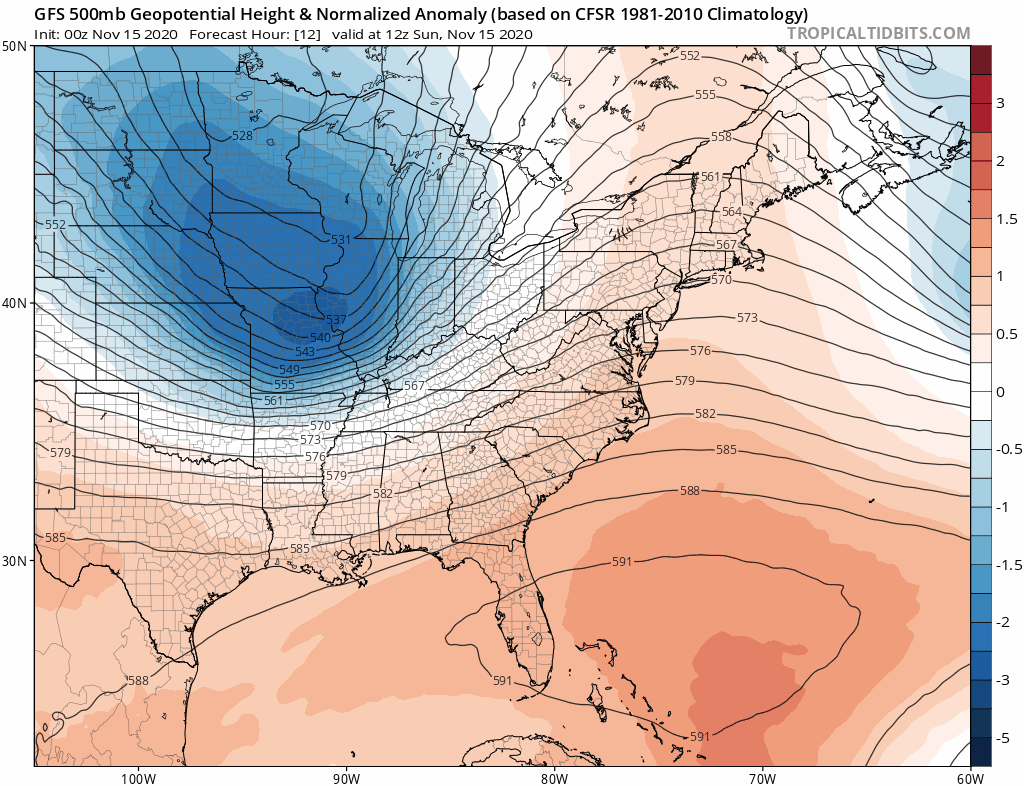 Temperature Outlook
Based on BWI:
Normal High = Upper 50s; Normal Low = Upper 30s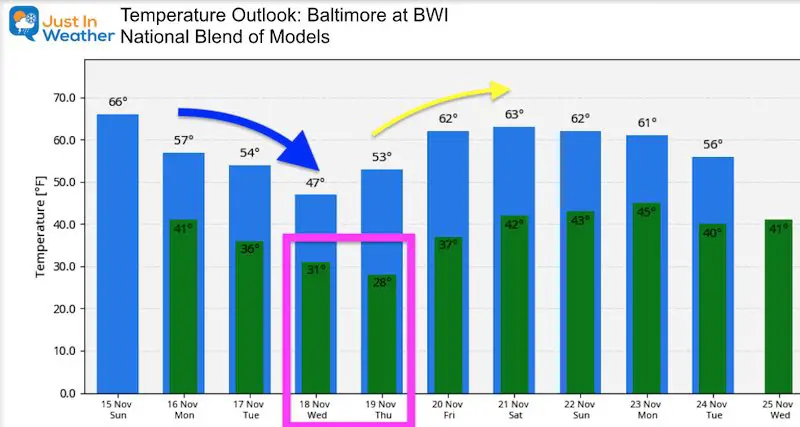 YOUR INTERACTIVE WEATHER PAGES
14 Local Maryland Pages (and York PA)
We have made a page for Maryland Weather which gives you the current conditions for 14 present area locations.
Local Hourly Forecasts and Local Radar
Central Maryland
Delmarva
Pennsylvania
Maryland Weather Page
I wanted to keep it simple. Just the basics for a quick view at any time.

Please share your thoughts, best weather pics/video, or just keep in touch via social media
---
Email Updates
Please make sure you sign up (above or click here to sign up for email alerts…. ) for my newsletter. This way you will get an email to make sure you are notified of each post.
---


Help Solve The Mystery
UFO, Meteor, Or Something Else Caught On Cam In Owings Mills MD This Week?
Explore More:
Autumnal Facts and Weather Stats
Record Low Tied at BWI and Frost Photos Sep 20
Typical First Frost and Freeze
Also See:
July 2020 The hottest on record. Will it hint at snow this winter?
Comet NEOWISE Viewing All July (photos/video)
Other  Links:
Baltimore Weather At BWI May Not Be As Hot As Reported
Construction at the airport close to the weather station may be added artificial heat. Click here or the image for the details.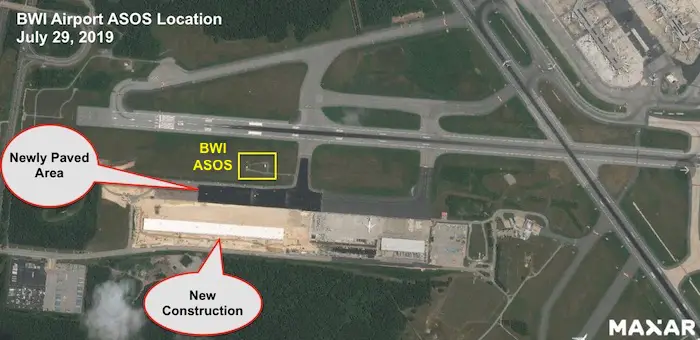 Also See:
Just In Power Kids:
Proceeds go to our programs Providing FREE holistic care for kids in cancer treatment and up to 5 years post treatment and caregivers.