November 17, 2020
To say the tropical season in the Atlantic Ocean was Blockbuster, would be an understatement.  The records include the most named storms at 30 (as of the day this was posted), 11 US landfalls, 6 of which were hurricanes tied for the most.  Louisiana was one of the hot spots with 5 landfalls. Also, the latest Category 5 with Hurricane Iota (eye-Ota) on November 16.
This seasonal summary map is quite crowded, and might not be done.  Tropical season ends on November 30 (in most years).
Named Tropical Storm and Hurricane Tracks
If viewing on a phone, turn sideways or pinch to zoom for larger view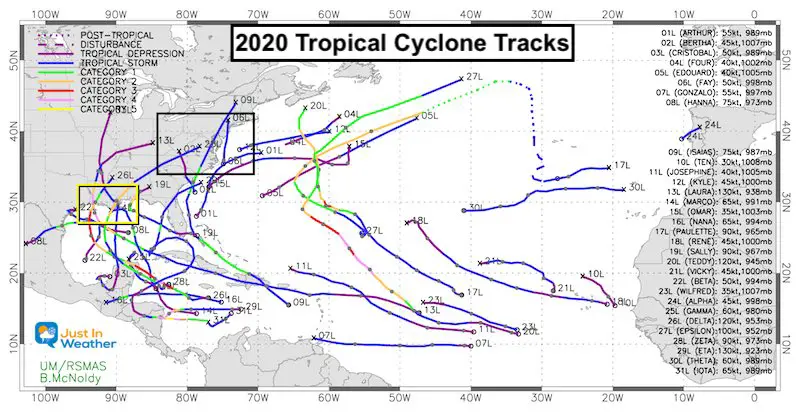 Hints From Tropics For Winter Trends
I like to explore the tropical season to see if there are signals the atmosphere is giving us for the season ahead. This falls under two aspects:
Teleconnections: When a pattern or cycle in one part of the world can impact another.  Dr. William Gray pioneered this concept with tropical outlooks in the Atlantic starting with rainfall in eastern Africa the year prior.  Eventually he noticed how El Nino in the Pacific also played a role.
Atmospheric Memory: This is a term I have been using for years in my forecasting. I see trends that repeat themselves in all seasons, and sometimes from one season to the next.  This can be common times or days of the weather for active weather. Example noticing rainy weekends, or snow mostly in early mornings.
I have also seen trends with storm tracks and frequency.  This is not an exactly replica, but can repeat months later as the ripples and waves in our atmosphere do often behave in patterns.
Clusters Of Storm Tracks
I have organized the most relevant tropical storms and hurricanes into a few slide shows below. This may help display the connection to our region and the similarity I've identified these clusters:
Atlantic Storms, Gulf/Louisiana, Yucatan, and Nicaragua
East Coast Storms –> slider
Storm List
Arthur – May 16 to 19: Cape Hatteras then offshore
Bertha – May 27 to 28: South Carolina then inland west of us.
Fay – July 9 to 11: Close Coastal
Isais – July 30 to August 5: Track Through Southern Maryland
Kyle – August 14 to 16: Cape Hatteras then offshore
Gulf Storms: The Hot Zone!
Louisiana Landfalls (5) And Gulf Storms
Image from NOLA was generated on Oct. 27 a day before Zeta made landfall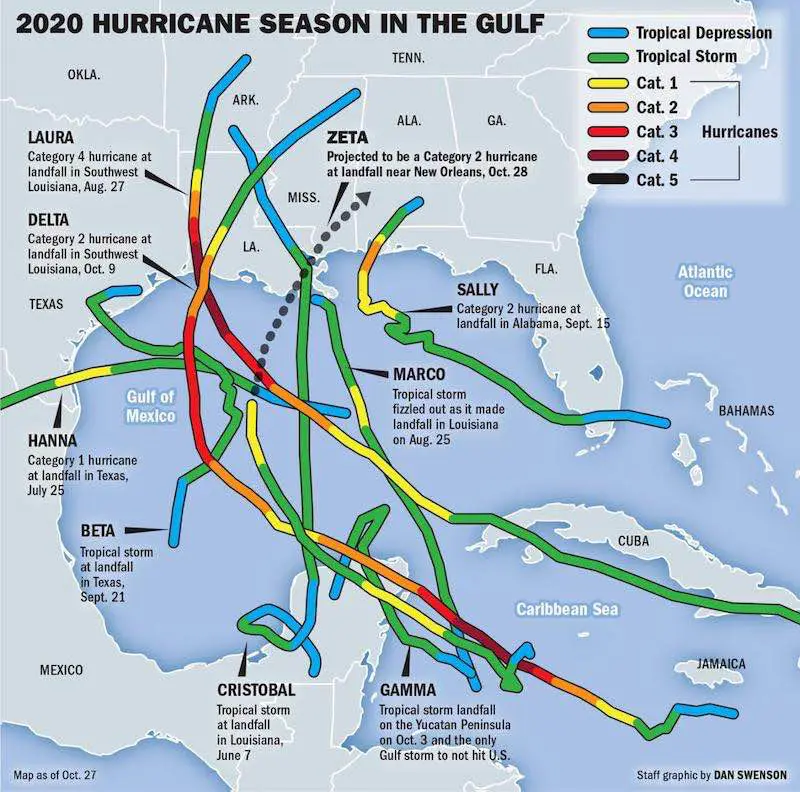 Gulf/ Louisiana Cluster —> slider
Cristobal – June 1 to June 9
Louisiana Landfall Cluster
Marco – August 20 to 25
Laura – August 20 to 29 
Sally – September 11 to 17
*Laura and Sally most similar
Beta – September 17 to 23
Delta – October 5 to 10
Yucatan Cluster —> slider
Marco – August 20 to 25
Delta – October 5 to 10
Zeta – October 24 to 29
Marco missed landfall on Mexico. This was 6 to 8 weeks prior. Delta and Zeta hit Cozumel 20 days apart.
Nicaragua Cluster —> slider
Eta – October 31 to November 13
Iota – November 8 to 17
*Both storms quickly exploded to major hurricanes in two days, then hit roughly the same area. Both within two weeks of each other.
Local Direct Impacts:
Fay: This was a Close Coastal that moved along the coast quickly and brought flooding to the region. If we have a storm like this in winter, it could be a snow producer near and west of the Bay.
Two Named Storms physically crossed Maryland (St. Mary's County), while one was downgraded and the remains reached:
Isaias – This crossed St. Mary's County to Easton then north into the Philadelphia suburbs.
Laura– This was downgraded before reaching us, but the remains crossed southern Maryland.
Zeta – This was downgraded to a 'Post' Tropical Storm before reaching us, but remains crossed southern Maryland near where Isais passed in St. Mary's County.  *This is key!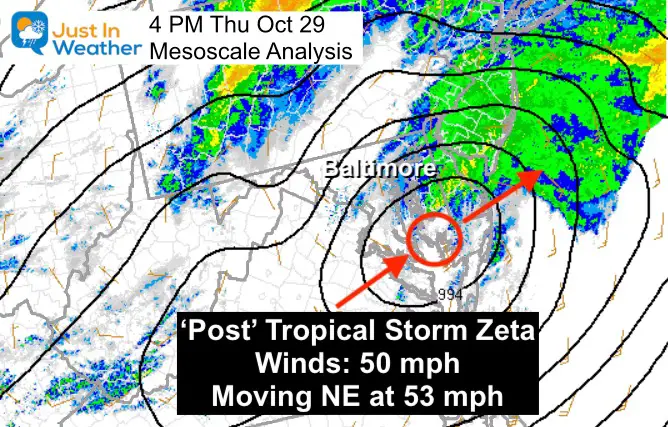 It appears that Southern Maryland including St. Mary's County is the common ground. This could present itself again this winter. If a winter storm passed this area, that could keep parts of central and western Maryland and southern PA on the cold side.
This does not promise a major snow event, but with proper cold air it would be very promising.
I also believe we have the chance for 1 or 2 coastal hugging storms at some point during the winter, similar to the track of Fay.
My Takeaway Notes
There will be periods of our winter season that will be very active. 
WHEN that happens, I expect there will be clusters of strong storms that will repeat themselves within a 2 to 3 week period.
This historically is somewhat common, clusters of storms. However the signal I see from the tropics is that it will be more pronounced this winter.
All Or Nothing: This could very well be the story of our winter!
Likely Winter 2020-2021 Tracks
I see PLENTY of storms originating near the Louisiana Coast. But not all will be the same, much like what we saw with the tropics.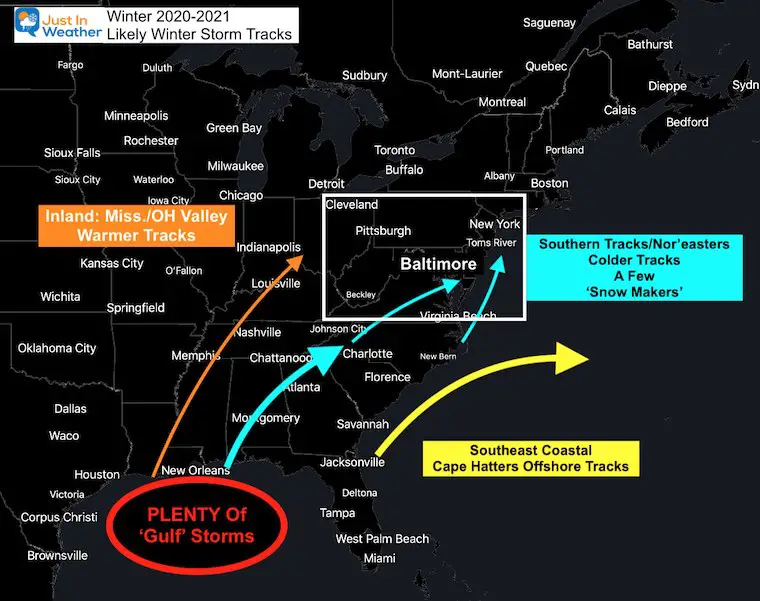 Inland Tracks
In a normal La Nina year, the track would be warmer and these would move inland (west of us in the Ohio Valley), like Christobal did.
But,
Southern Tracks
It the tropical activity was a signal, there were plenty of storms that stayed south of our region. In fact, most that hit the Gulf trended to our south either intact or when dispersing.   This pattern in winter would keep us on the colder side of storms, or out of the storm impact.
Given the few paths through southern Maryland AND the coastal (Isaias), I think there will be a few snow makers on similar tracks this winter.
It should be noted that if a winter storm tracks through Maryland, that often brings a warm part of that storm to the southern part of the state and Delmarva. This is not a snow boom season for all, but there could be one or two 'booms' with coastal Nor'easters.
Storms that originate in Florida have a tendency to move well offshore and miss us.

 

La Nina can increase the push to the east…
However, if we repeat the 'Eta' situation, then a southern storm can miss us by a lot, but still feed into a strong cold front that can dump heavy rain/ice/snow on us.
When could this all happen and how much snow could we see?
This was the final part of my Winter Outlook Series.  See the rest of the links below.
I will post my Complete Winter Outlook with expected seasonal snow this Thursday!  FITF
One more nugget to encourage snow lovers…
We are OVERDUE for a big storm!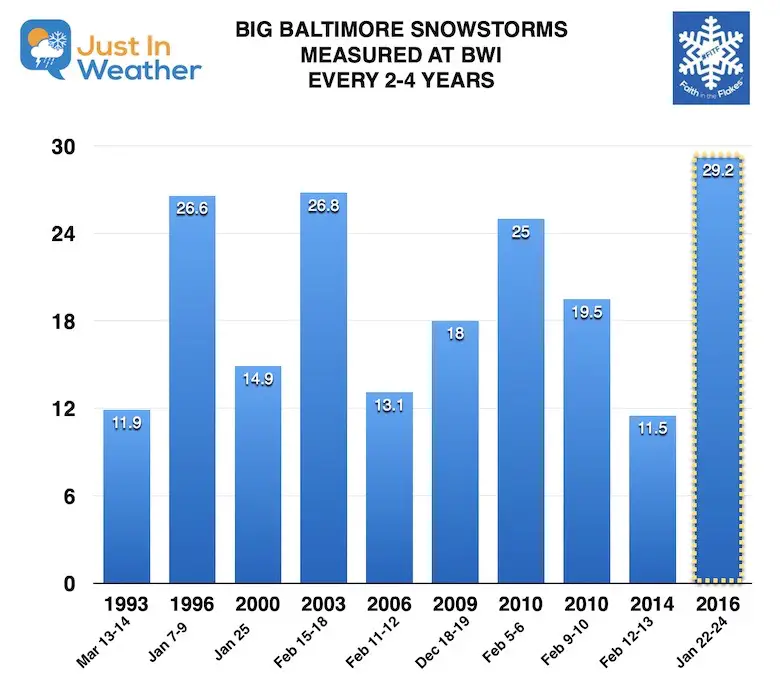 Last winter broke this pattern and hearts of many. Even thought I started this chart in 1993, the pattern of one large snowstorm every three to four years dates back to the 1970s.
There were three in the winter of 2009 to 2010.
The one storm that messed up the pattern was  January 2016 with our record 29.2″. That was our largest snow event on record and was only two years after the previous storm, shortening the time span in between (2014).
This winter will technically be 5 years since our last big storm.  If you have the feeling that it has not snowed in a long time, this might be part of the reason.
We are SOOOOOO DUE for a big snowstorm!
FAITH IN THE FLAKES STORE OPEN
My 'bonus' daughter Jaiden is showing off our popular Maryland Hoodie. Click here to see this and many other new items.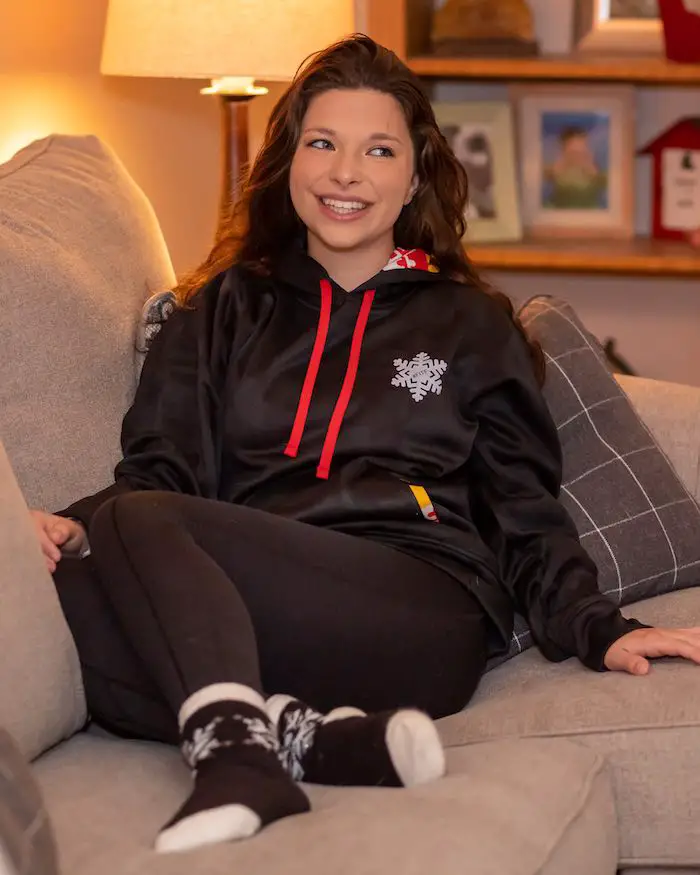 Typical First Frost and Freeze

Please share your thoughts, best weather pics/video, or just keep in touch via social media
---
Email Updates
Please make sure you sign up (above or click here to sign up for email alerts…. ) for my newsletter. This way you will get an email to make sure you are notified of each post.
---
YOUR INTERACTIVE WEATHER PAGES
14 Local Maryland Pages (and York PA)
We have made a page for Maryland Weather which gives you the current conditions for 14 present area locations.
Local Hourly Forecasts and Local Radar
Central Maryland
Delmarva
Pennsylvania
Maryland Weather Page
I wanted to keep it simple. Just the basics for a quick view at any time.
Other  Links:
Baltimore Weather At BWI May Not Be As Hot As Reported
Construction at the airport close to the weather station may be added artificial heat. Click here or the image for the details.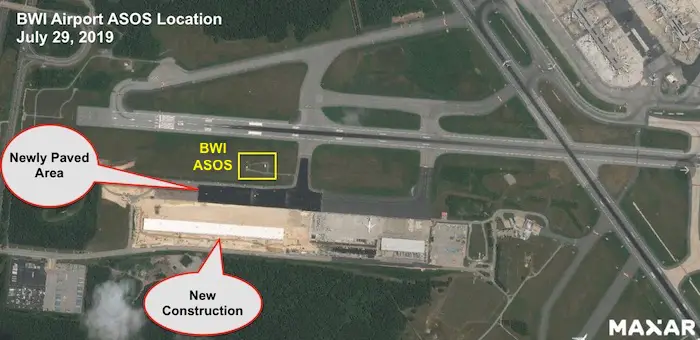 Also See:
Just In Power Kids:
Proceeds go to our programs Providing FREE holistic care for kids in cancer treatment and up to 5 years post treatment and caregivers.