Saturday November 21 2020
We have another warm day, but quick changes to follow. So I encourage you to take advantage to get outside for fun or yard work.  Yesterday Baltimore reached 66ºF, a bit warmer than expected. Today we will have more clouds, ahead of the next cold front. That should limit the warming to stay in check.
That cold front will bring in some showers later Sunday, with the bulk of rain in the dark hours Sunday night into Monday morning.
What follows will be a few chilly days, then another warm up along with rain on Thanksgiving. Yes, that is still looking wet. Then turning chilly again next weekend.
Morning Surface Weather
Morning Satellite Loop
(please be patient if this is slow to load)
Most of what we will see will be high think cirrus clouds, but they could dim the sun from time to time.
Morning Temperatures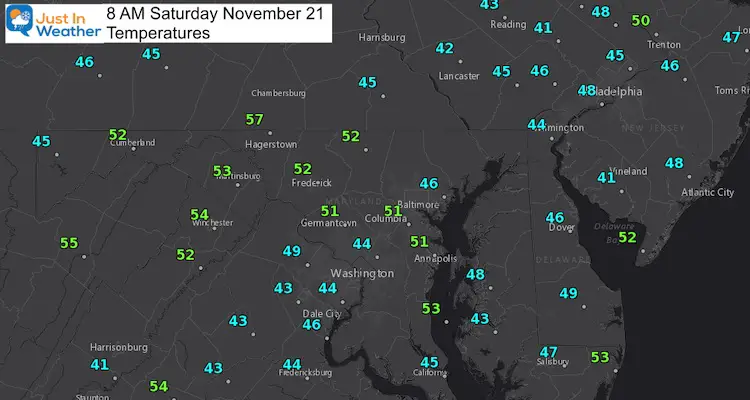 Afternoon Temperatures 
Sunset in Baltimore is 4:47 PM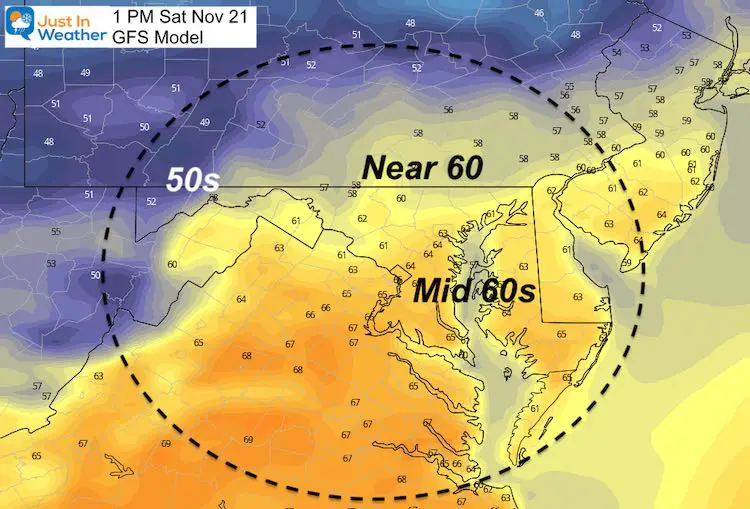 Forecast Snapshot: Central Maryland

Sunday Temperatures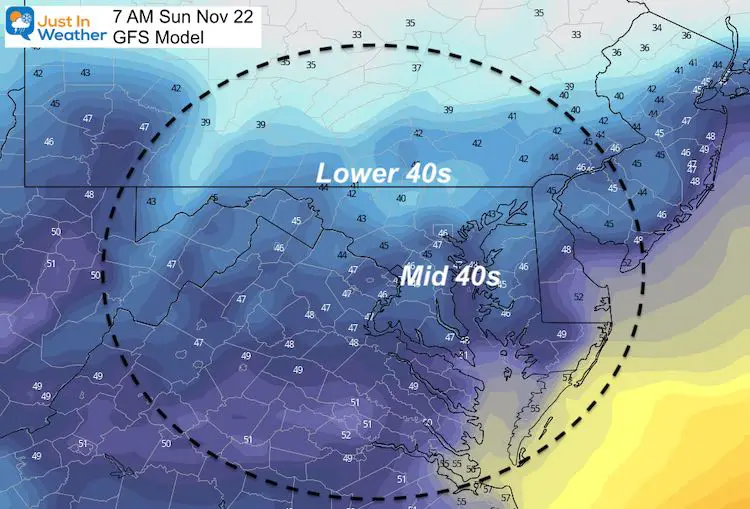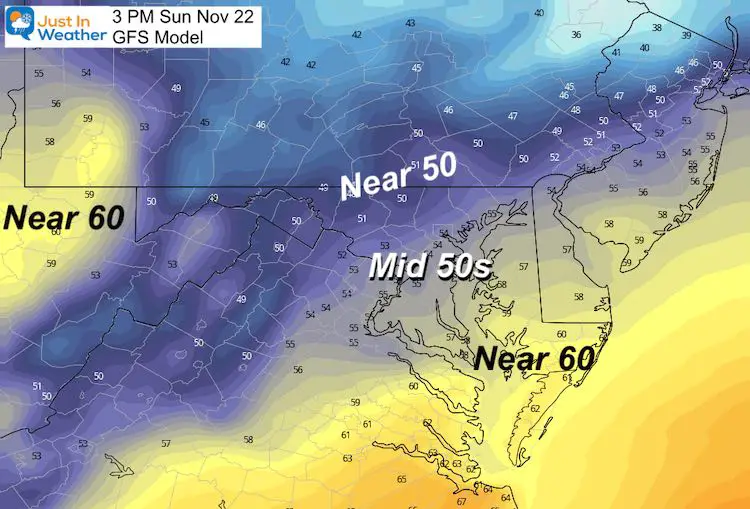 Afternoon Showers?
More moisture and a shift of winds will keep us cooler. They may bring in some afternoon showers.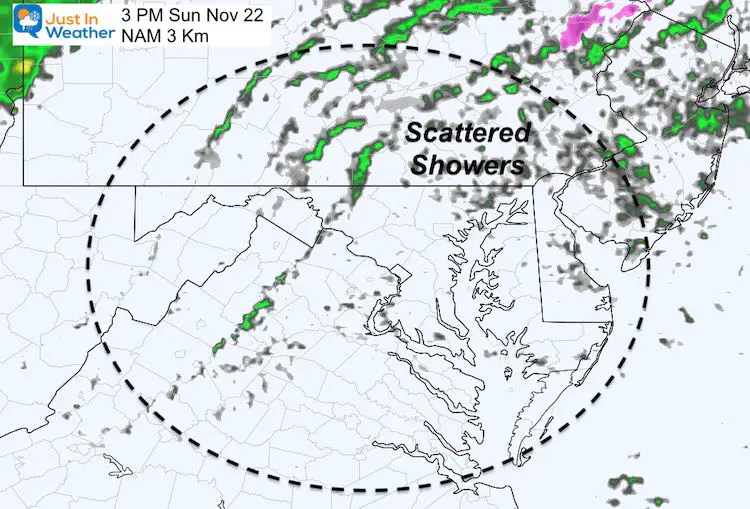 Rain More Likely Overnight And Monday Morning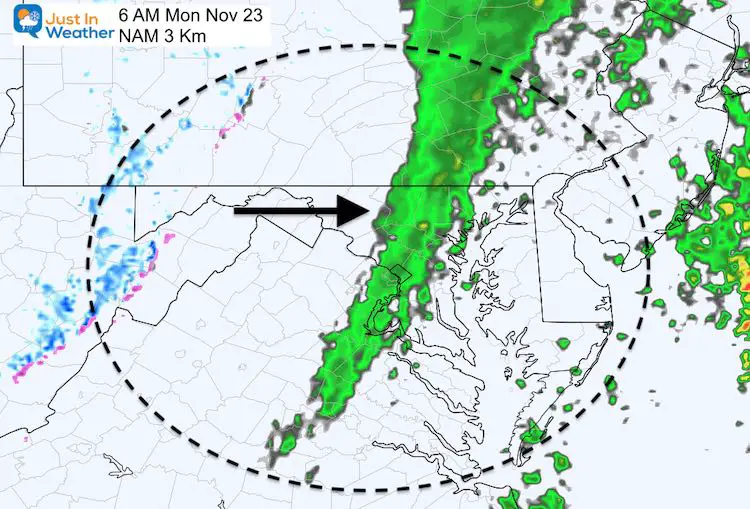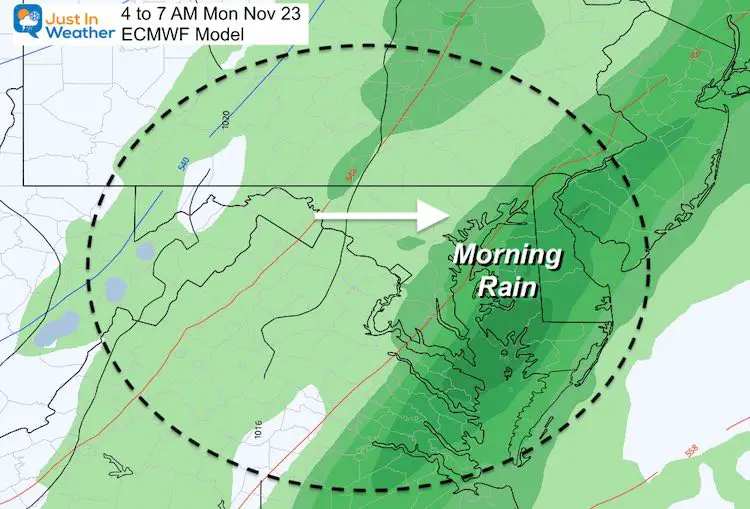 Looking Ahead
(please be patient if this is slow to load)
The next rain event will show up in the Midwest on Wednesday, and reach us Thursday. There is some debate with the models as to how long the rain will last. At this time the heaviest rain is expected in the morning.
Thanksgiving Snapshot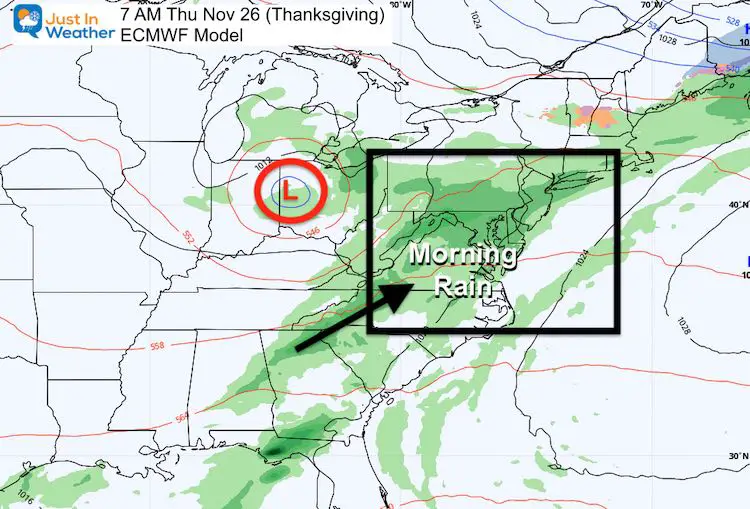 Temperature Outlook
The trend will be colder through Tuesday.
Slightly milder Wednesday into Thanksgiving, but that comes with rain on Turkey Day. This may limit your outdoor gatherings.
Colder air will follow next weekend, bringing back a traditional feel of the start of holiday season.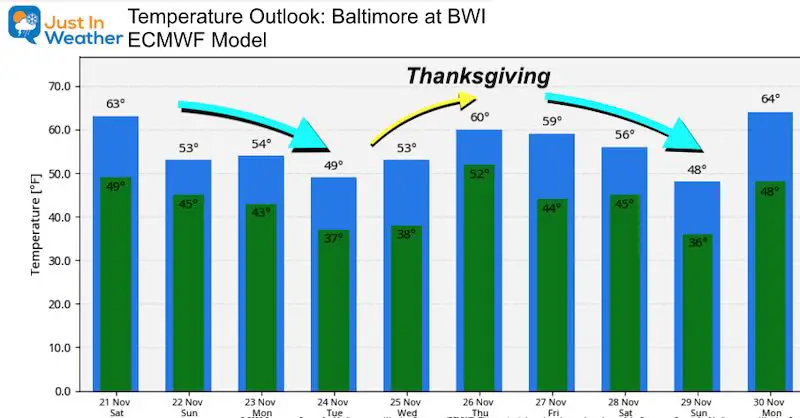 My Final Winter Outlook: Snow Forecast

FAITH IN THE FLAKES STORE OPEN
My 'bonus' daughter Jaiden is showing off our popular Maryland Hoodie. Click here to see this and many other new items.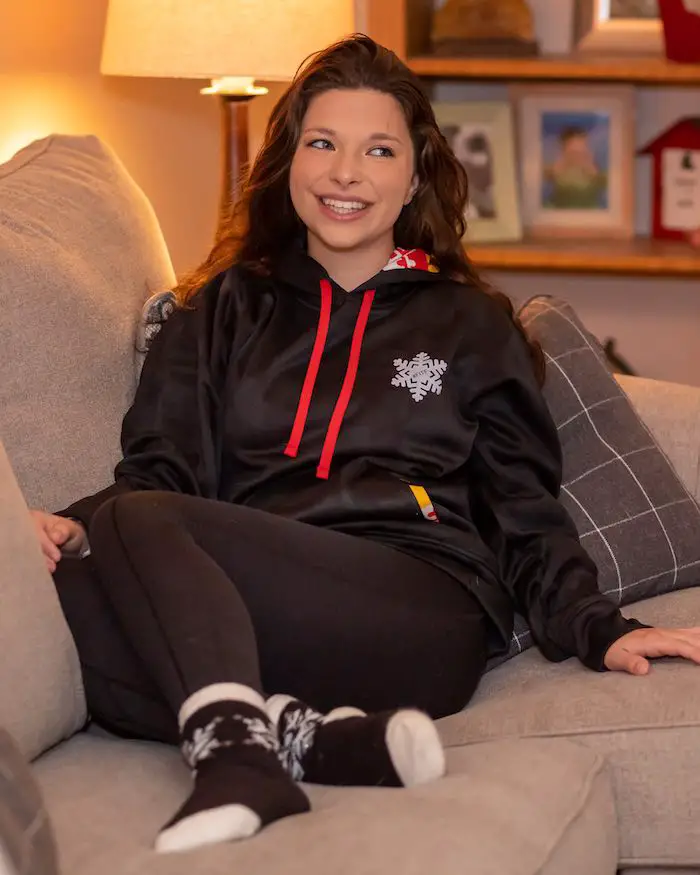 YOUR INTERACTIVE WEATHER PAGES
14 Local Maryland Pages (and York PA)
We have made a page for Maryland Weather which gives you the current conditions for 14 present area locations.
Local Hourly Forecasts and Local Radar
Central Maryland
Delmarva
Pennsylvania

Maryland Weather Page
I wanted to keep it simple. Just the basics for a quick view at any time.
Typical First Frost and Freeze
Please share your thoughts, best weather pics/video, or just keep in touch via social media
---
Email Updates
Please make sure you sign up (above or click here to sign up for email alerts…. ) for my newsletter. This way you will get an email to make sure you are notified of each post.
---
Just In Power Kids:
A portion of proceeds go to our programs Providing FREE holistic care for kids in cancer treatment and up to 5 years post treatment and caregivers.