Tuesday December 2 2020
There has been a lot of weather news recently on the corners of Maryland. This includes the first winter storm in Garrett County and a confirmed tornado in Cecil County. Ironically, radar shows snow this morning in Cecil and there could be a trace on the grass or cars along that path.
The next storm will arrive this weekend. While it will bring in warmer air, I think there is still some wiggle room with what we may expect.
Snow Report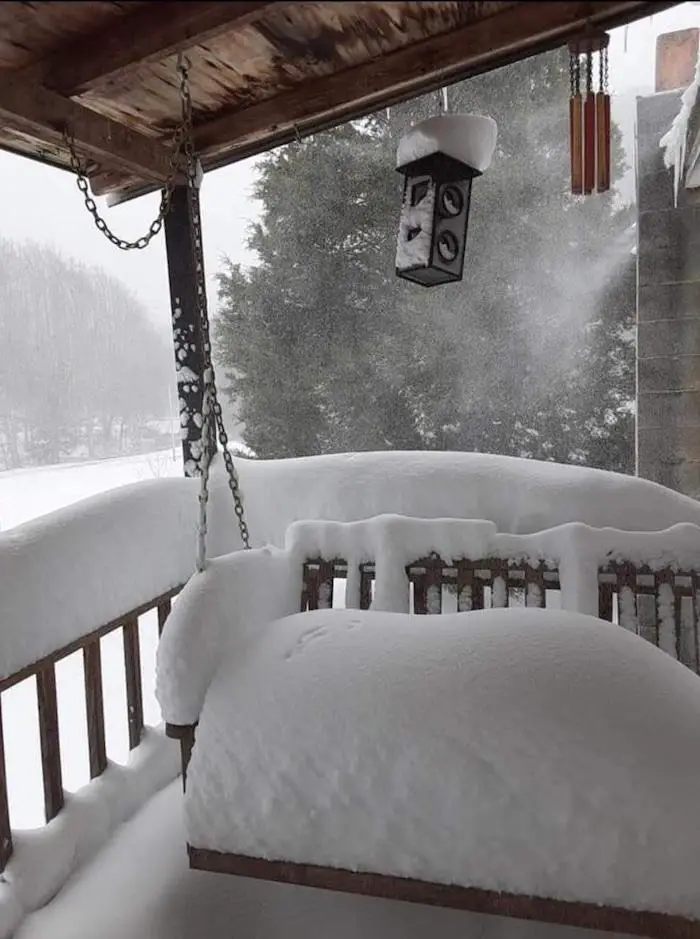 Snow Totals (from last night) By NWS Spotters
This is more than any event last year. It also brings the region to 1/10 of normal winter snow.
MARYLAND


...Garrett County...
  McHenry 1 S           10.2  850 PM 12/01  Trained Spotter
  Deer Park 6 NE         7.5  830 PM 12/01  Trained Spotter
  Accident               7.0  432 PM 12/01  Trained Spotter
  Friendsville 4 NW      6.5  515 PM 12/01  Dept of Highways
  Grantsville 5 W        4.5  450 PM 12/01  Dept of Highways
  Mountain Lake Park     4.0  500 PM 12/01  Trained Spotter
  Deer Park 5 ENE        4.0  430 PM 12/01  Public
  Frostburg 3 WNW        2.0  415 PM 12/01  Trained Spotter
  Mount Savage 4 WNW     1.5  445 PM 12/01  Trained Spotter
...Allegany County...
  Frostburg              2.0  457 PM 12/01  Co-Op Observer
  Ridgeley 1 NW          0.5  658 PM 12/01  Trained Spotter



Snow Photos by Deep Creek Lake from Kristin Skewis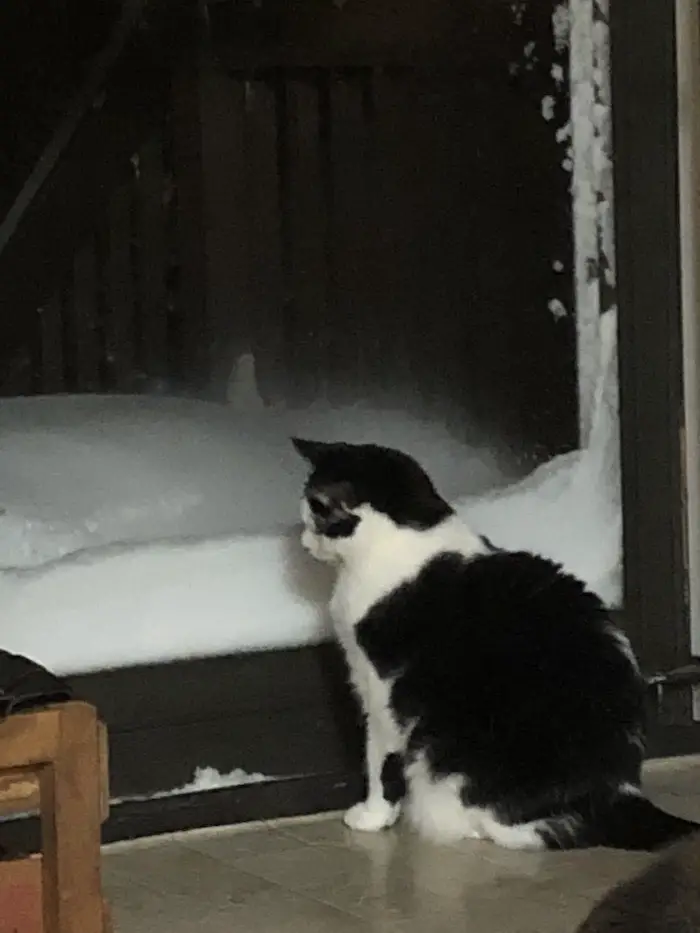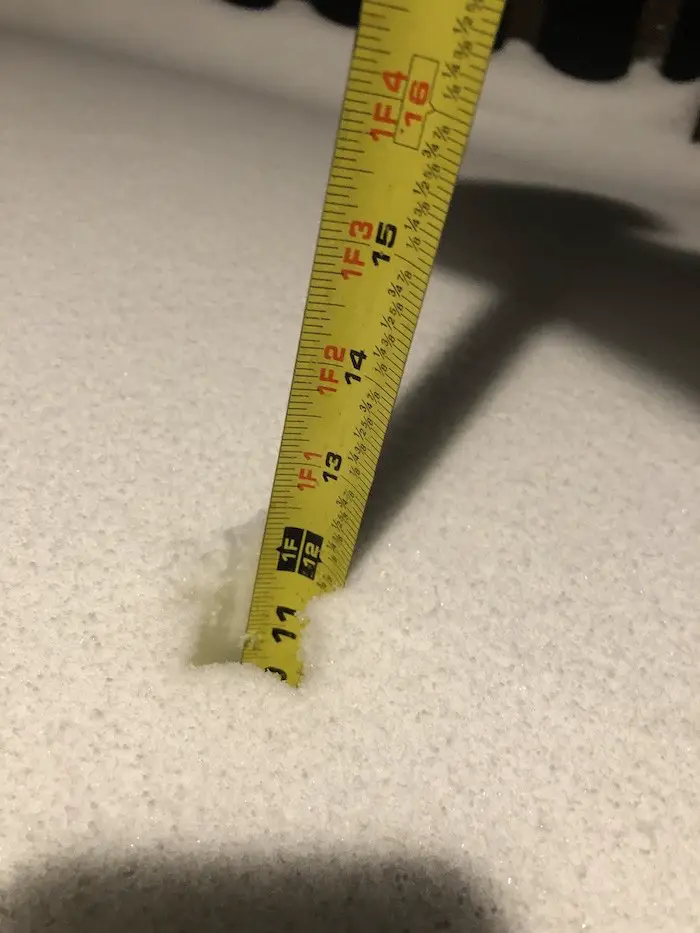 Snow Problems On I-68
Not a good situation up on I-68 tonight where #snow continues to fall heavily. Blowing and drifting snarling big rigs on on and off ramps while plow trucks try to keep up. Hold off travel until morning if you can. #mdwx @NWS_BaltWash @garrettchamber pic.twitter.com/nGWL9CpHh2

— Erik Taylor (@WeatherErik) December 2, 2020
Snow Cam 1 
Get an up-close view of live conditions at Wisp Resort!
This webcam is positioned at The Greene Turtle Deep Creek Lake and shows Wisp Resort, including a zoomed-in view of Squirrel Cage, The Face, the terrain park, Boulder, the mountain coaster, the tubing park and a shot of McHenry Cove at Deep Creek Lake!
Morning Snow
Doppler Radar showed a band of snow passing through metro Baltimore up to Cecil County. It was Port Deposit that had a confirmed EF-1 tornado on Monday. 
There may be a light dusting on the grass or cars. This moved into Kent and Queen Annes County, but will continue to fade away.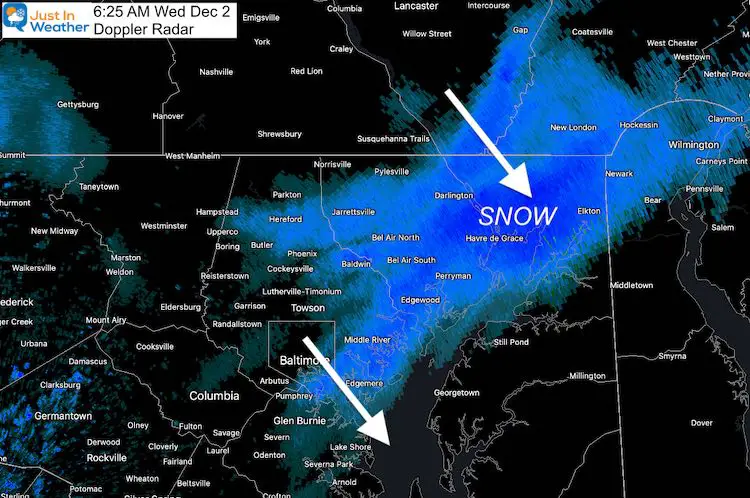 Morning Temperatures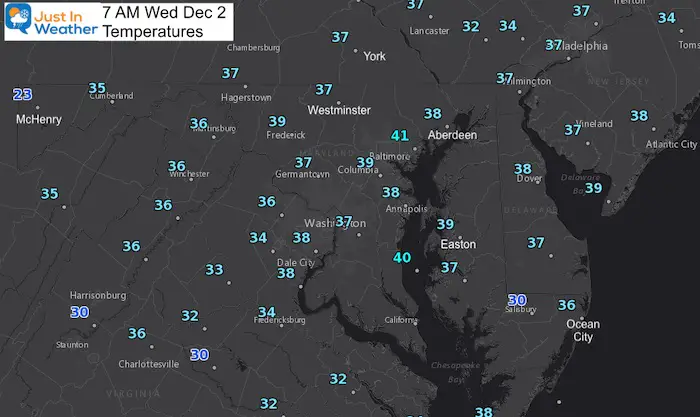 Afternoon Temperatures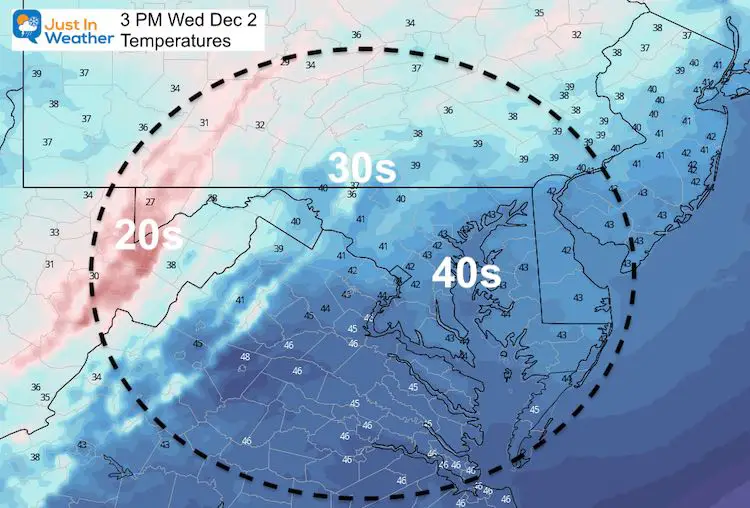 Forecast Snapshot  (central Maryland)
Afternoon: Sunny
Thursday: Mostly Sunny, with increasing clouds.
Friday: Cloudy.
Saturday: Next Storm. Rain may mix with snow at the end even though not shown here.

Saturday Storm Map
This European Model plot shows the Low passing southeast of Baltimore. But cold air is limited.
I think the snow cover in the mountains has not been factored in yet, which can influence the track and available cold air.  That is why I believe there will be more snow in the back side, and some flakes will mix in at the end of this.  Stay tuned.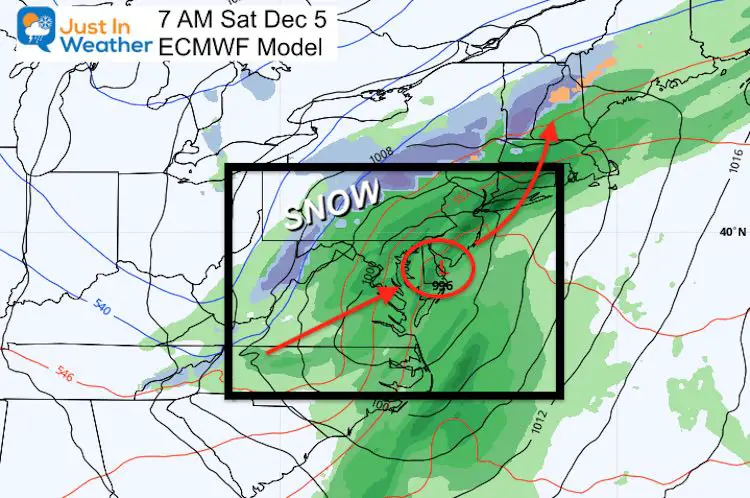 Extended Outlook
After this storm, the pattern remains below 'normal'.  There is more energy in the pipeline, and I expect we will have at least one or two winter weather events to deal with by mid moonth.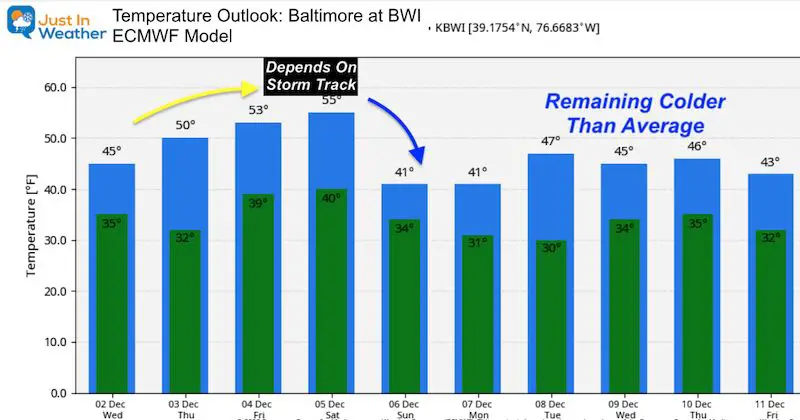 See More:
December Climate, Sun Data, Solstice, ISS Flyovers, Moon, Planets, and The Great Conjunction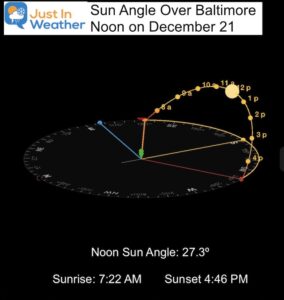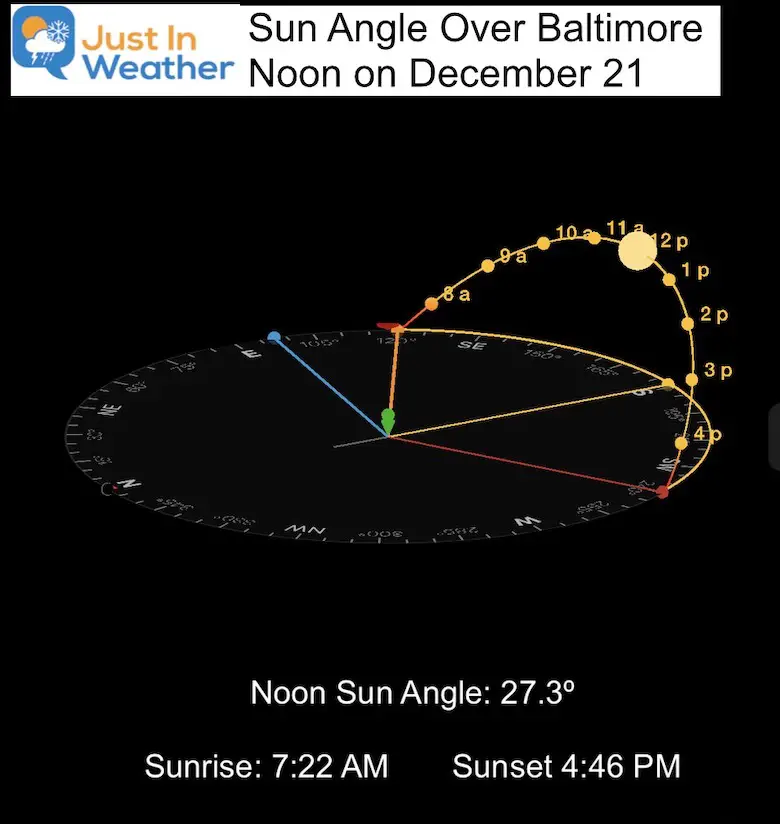 Also See:
My Final Winter Outlook: Snow Forecast

FAITH IN THE FLAKES STORE OPEN
My 'bonus' daughter Jaiden is showing off our popular Maryland Hoodie. Click here to see this and many other new items.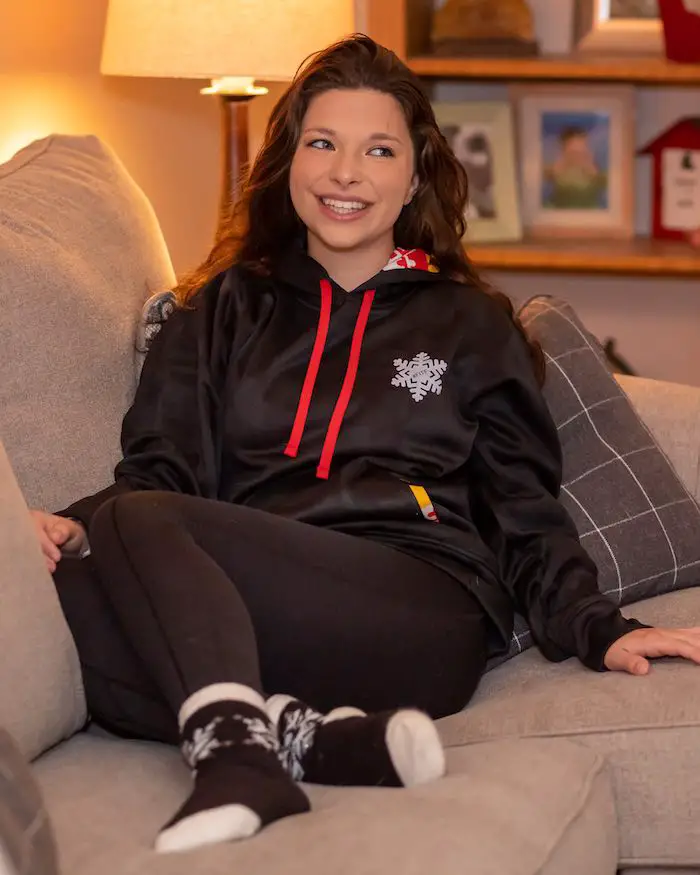 New Caps and Hats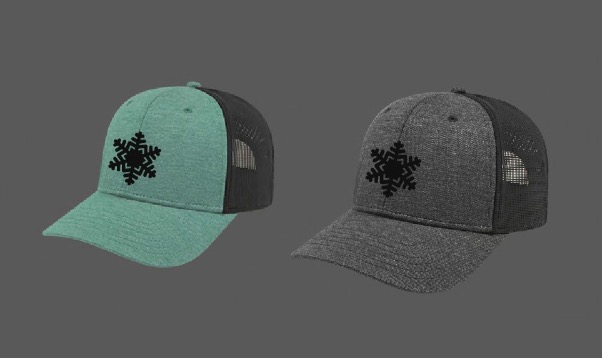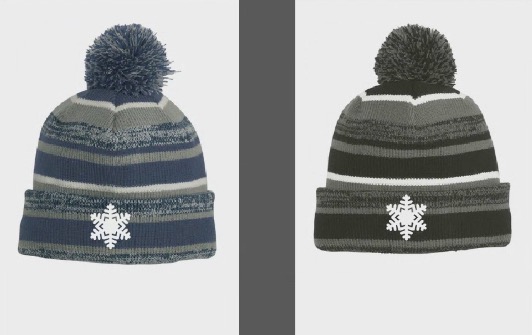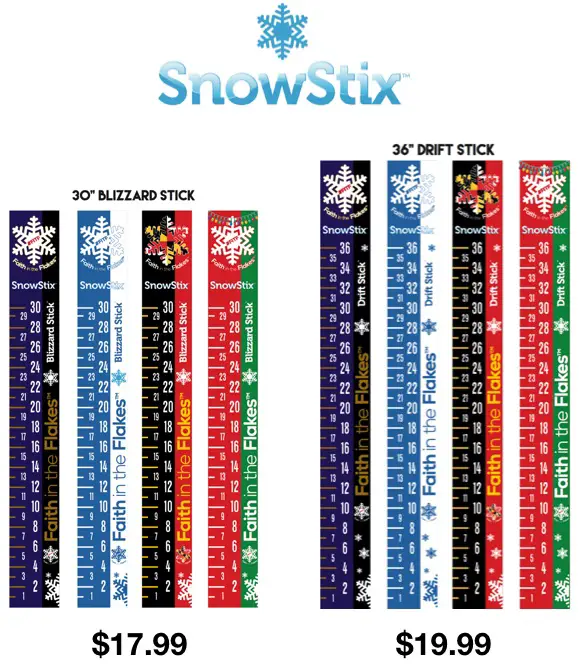 We are giving 10% of each sale to Just In Power Kids: Providing FREE holistic care for pediatric oncology patients.
YOUR INTERACTIVE WEATHER PAGES
14 Local Maryland Pages (and York PA)
We have made a page for Maryland Weather which gives you the current conditions for 14 present area locations.
Local Hourly Forecasts and Local Radar
Central Maryland
Delmarva
Pennsylvania

Maryland Weather Page
I wanted to keep it simple. Just the basics for a quick view at any time.
Typical First Frost and Freeze
Please share your thoughts, best weather pics/video, or just keep in touch via social media
---
Email Updates
Please make sure you sign up (above or click here to sign up for email alerts…. ) for my newsletter. This way you will get an email to make sure you are notified of each post.
---
Just In Power Kids:
A portion of proceeds go to our programs Providing FREE holistic care for kids in cancer treatment and up to 5 years post treatment and caregivers.