December 3 2020
The surface weather map this evening is showing the Low Pressure across coastal Louisiana which will become our Nor'easter. This is on point with the pattern I described in my Winter Outlook.  This time around, it will bring us heavy rain, followed by cold air to bring a snowstorm to New England.
The models have trended to push this track a little farther east. That adjusts the heavy rain forecast maps, but also may allow colder air to mix in on Saturday.
Will we get any snow? Could the magic of December 5th show itself again? What is that magic?  The jet stream suggests we have a chance 'after' the storm passes. I'll explain below.
Thursday Evening Weather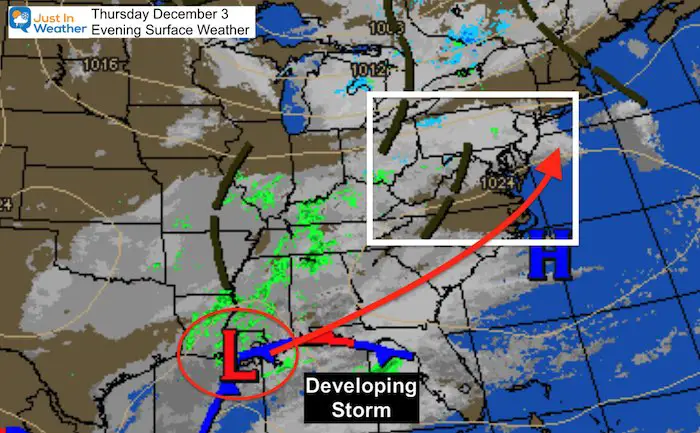 Rainfall Forecast Totals
Compare these three models for the range of potential from this storm. There may be some minor flooding in areas that get over 1 inch of rain, Depending on the storm track, the region that could get that much is most likely across parts of central Maryland, southern Maryland, and Delmarva.
GFS Model is still showing 1 inch of rain for metro areas, with the 2 inch or higher bulls eyes across lower Delmarva.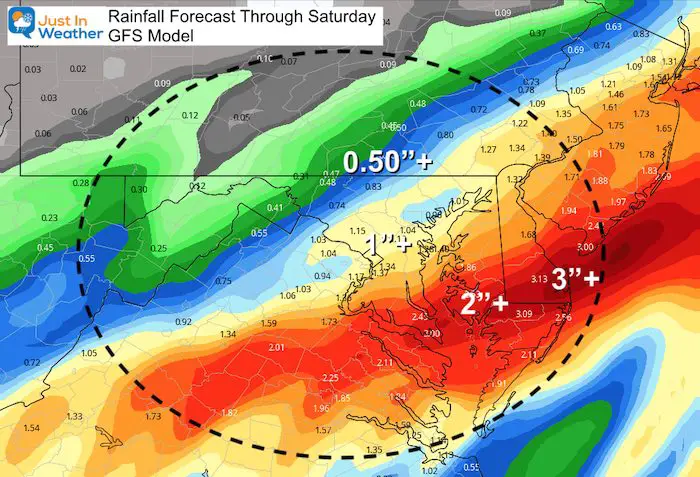 The European Model shows a little less rain:
Up to 1 inch in metro areas. The 1 to 2 inch range across southern Maryland to the beaches.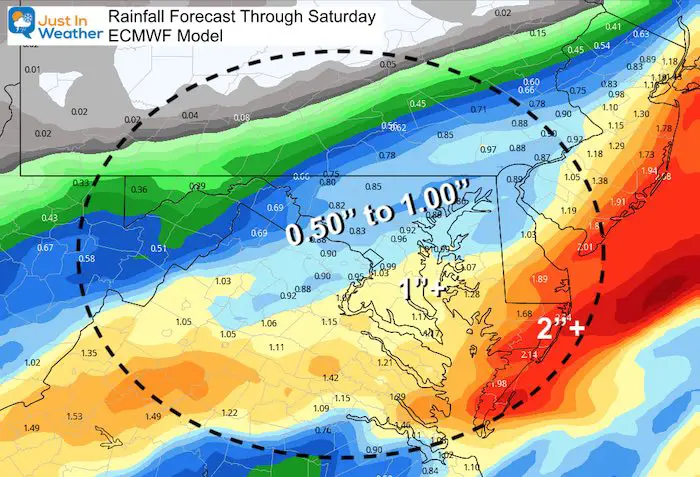 The NAM 3 Km Model is now showing the lowest amount of rain. This is the model I show in the timeline slider below.  It is faster with the storm, which also means it's the earliest for it to end.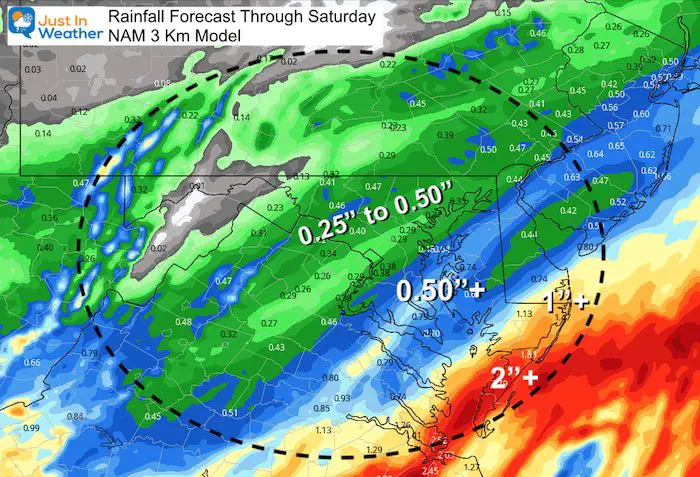 Rain Timeline
Friday will start dry for most of us, but end wet.
Showers will actually expand in the northern hills later in the morning, before steady rain fills in across the rest of the region.
The heaviest rain will be overnight.
Saturday morning, most of the storm will move off of the coast.
Saturday: Snow showers in the mountains may reach metro areas.
NAM 3Km Model —> slider
Storm Animation: GFS Model
This shows the general track of the Low Pressure, but it is missing one thing: Potential snow showers to follow.
Yes, this may look less impressive than prior model runs, but look at the vorticity maps below.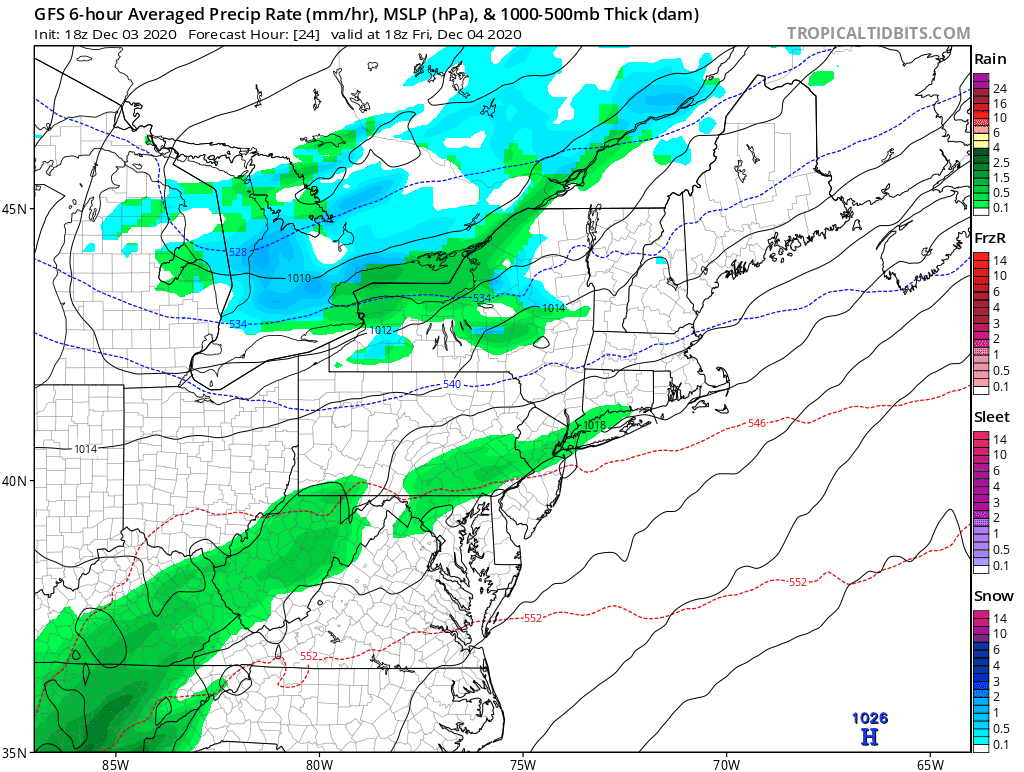 Jet Stream: Hint For Snow Showers
Here is a look at the vorticity/spin at around 18,000 Ft. aloft in the jet stream. This is what I showed to support the snow showers after the last storm. This is a favorite of mine in the winter time.
I've highlighted the Vort Max with a circle. Each one is energy that can help carry snow showers or flurries east of the mountains.
There will be a few chances for flakes to fly between Saturday afternoon and Sunday morning.
—> slider
What is that December 5th Magic?
Starting in 2002, this was the date of the first snow of the season in Baltimore almost every year for a decade.  It is also the day in 2009 that started the very first Faith in the Flakes conversation with my son. This is something us Snowhounds celebrate and I named FITF Day.  I will have more about all of this in a special report tomorrow.
If we get snow showers in Baltimore on Saturday, they will likely not amount to much. But the ambiance would bring back hope for a winter back to normal (or more).
FAITH IN THE FLAKES STORE OPEN
My 'bonus' daughter Jaiden is showing off our popular Maryland Hoodie. Click here to see this and many other new items.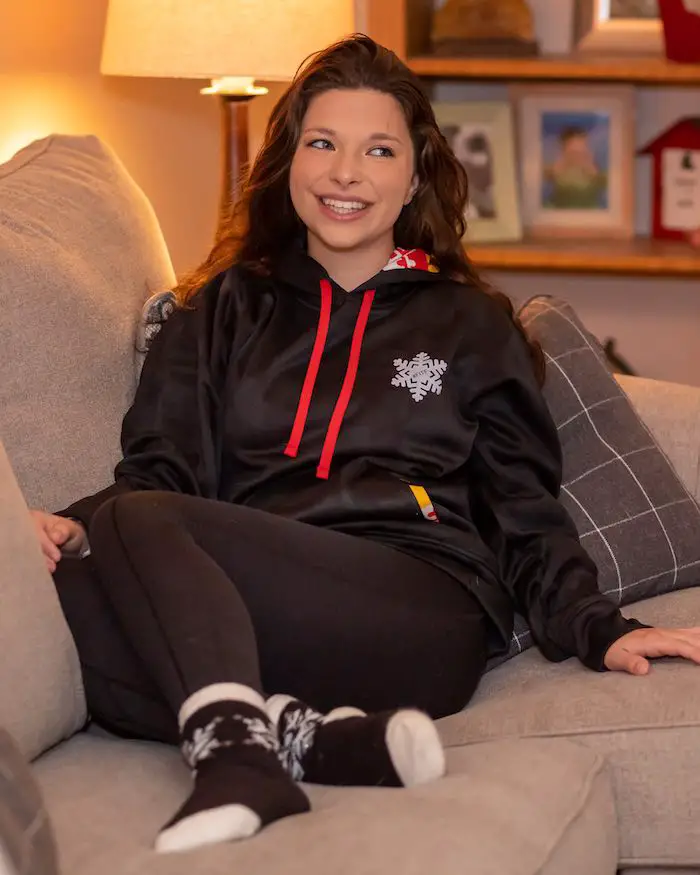 YOUR INTERACTIVE WEATHER PAGES
14 Local Maryland Pages (and York PA)
We have made a page for Maryland Weather which gives you the current conditions for 14 present area locations.
Local Hourly Forecasts and Local Radar
Central Maryland
Delmarva
Pennsylvania

Maryland Weather Page
I wanted to keep it simple. Just the basics for a quick view at any time.
Please share your thoughts, best weather pics/video, or just keep in touch via social media
---
Email Updates
Please make sure you sign up (above or click here to sign up for email alerts…. ) for my newsletter. This way you will get an email to make sure you are notified of each post.
---
Just In Power Kids:
A portion of proceeds go to our programs Providing FREE holistic care for kids in cancer treatment and up to 5 years post treatment and caregivers.