Friday December 11 2020
With all of this talk of the building chances for a coastal storm next week,  now the number 2 storm might pass closer.  One prominent model is producing snow nearby on Monday, which we will look at here. But the number 3 storm off the coast on Wednesday is our main event.
In anticipation, I had to look at the stats. It seems like it has been a while, because of our anemic winter last year.  So, when was the last decent measurable snow (in Baltimore)?
How Long Since The Last Snow at BWI
339 Days Ago: January 7, 2020 = 1.5 inches

651 Days Ago/ 1 year, 9 months, 10 days: March 1, 2019 = 2.3 inches

660 Days Ago/1 year, 9 months, 21 days: February 20, 2019 = 4.5 inches
Only 1.8″ of snow fell all of last winter ( December 2019 to March 2020)
Are you ready to measure some snow? My partners and I have a special on SnowStix below with the storm maps.
Before we get ahead of ourselves, I will NEVER give a snow amount more than 72 hours before an event.  The models show it and you can find that elsewhere. But I don't believe in long range snow storm total maps given so many variables and a history of it not verifying.
However, I do think we have a good chance of a few inches of snow if the storm plays out as it looks now.
Monday Snow (Inland) As Well?
That said, we are within 72 hours of storm number 2, with a pleasant surprise from a few computer models.  But since this is an abrupt change, I would like to see on more run to know if it is legit or bit off some bad data. If this holds, I will post snow potential in my report tonight.
The European ECMWF Model has a long spread as precipitation shifting north from prior runs. The cold air may remain in the mountains. ALSO this will be after a weekend in the 50s and 60s.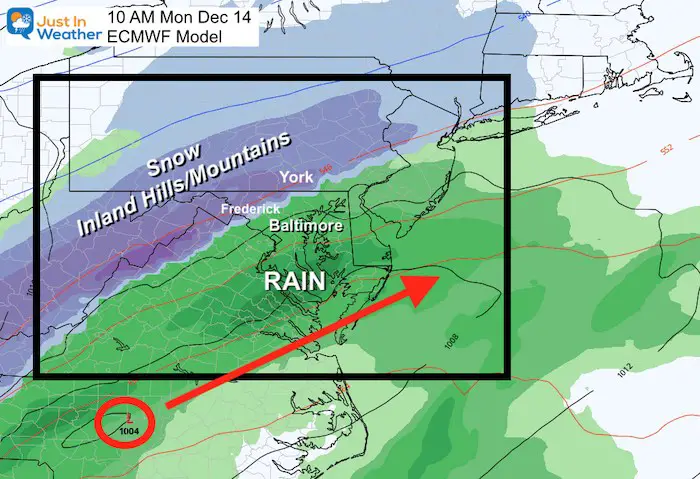 The GFS (American) Model is what I have been spending a lot of time on with the mid week coastal.  Here, the latest solution is less exciting for Monday. But there is a shift north with the precipitation, just not enough cold air.
Mid Week Coastal Storm: Winter Event
A deep tough of cold air and plenty of energy will be swinging towards the east coast. This is what will provide the enhancement for a coastal storm to develop.
Storm Animation
Watch the Low Pressure develop rapidly as that cold air aloft catches up during Wednesday.
See the slider below for a closer view.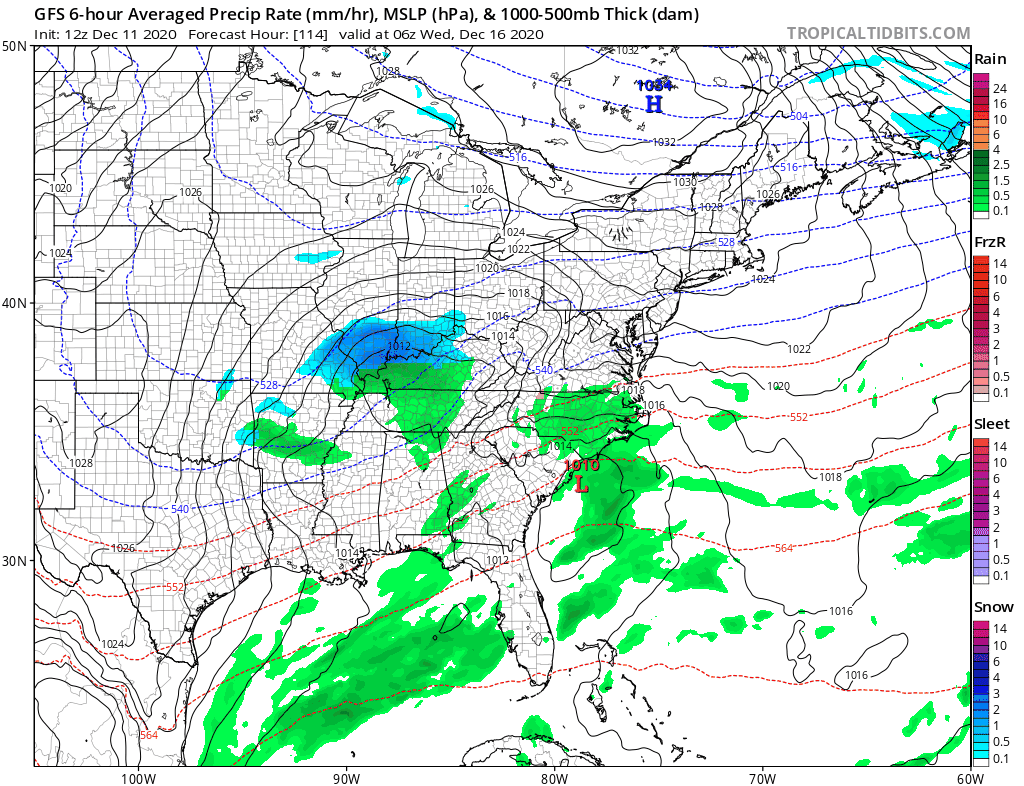 GFS Model —> slider
This projection shows an all day Wednesday winter weather event.
Other Models
European ECMWF Model:
This solution is slower with the storm.
Arrival is later, and it also keeps the Surface Low closer to the coast.
Wednesday Afternoon: Later snow and mixing in metro areas.
Overnight/Thursday morning:  Heavy snow pulls across metro areas and Chesapeake Bay.
Wednesday Afternoon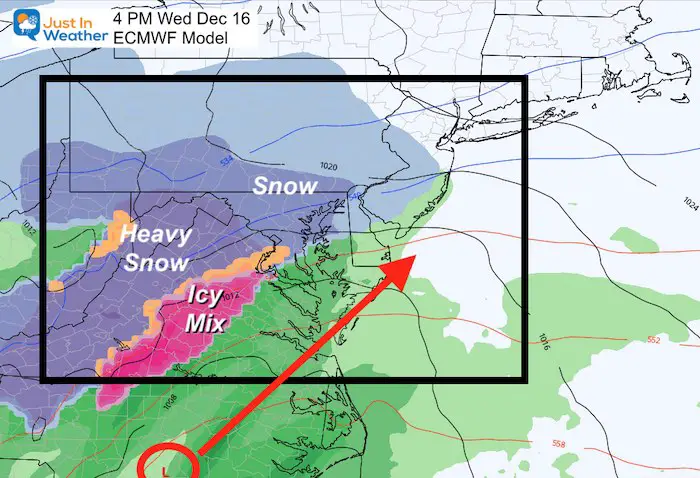 Overnight/Thursday Morning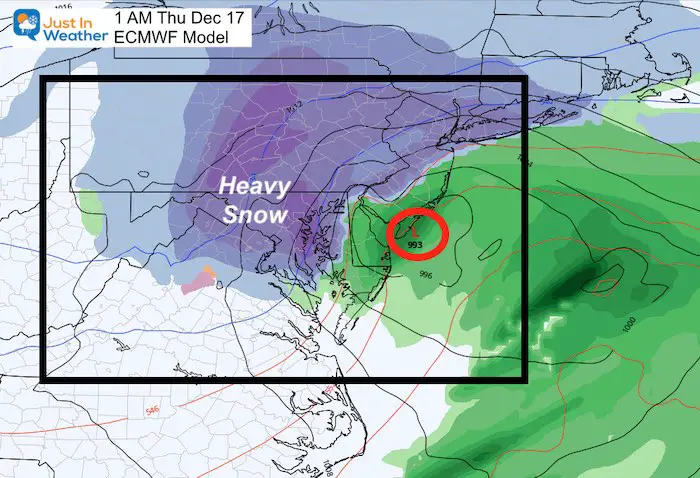 The Canadian Model has come on board fully after being absent last night.
How Much Snow?
These maps look impressive.  In addition to getting this to verify, we need to get a handle on timing and temperatures. Both which can play a role in what can stick and pile up.
I will begin to give my snow forecasts for this this event on Sunday (with 72 hours of the event).
Temperature Outlook
Winter storms are game changers. We see 'cold enough' air with the event, and even cold air to follow.  The outlook up to Christmas has been trending colder as well.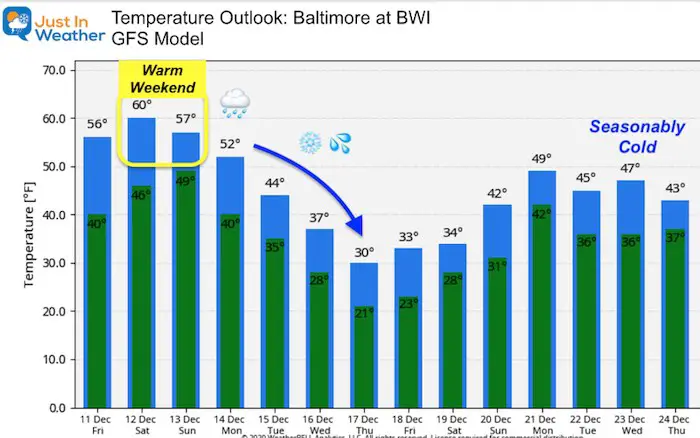 FITF Shop Open
My 'bonus' daughter Jaiden is showing off our popular Maryland Hoodie. Click here to see this and many other new items.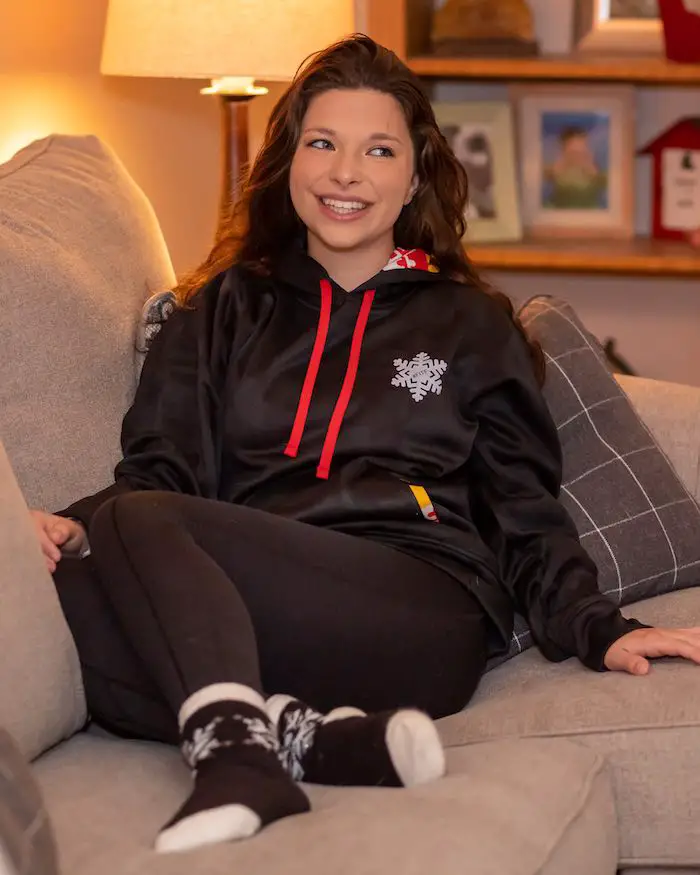 YOUR INTERACTIVE WEATHER PAGES
14 Local Maryland Pages (and York PA)
We have made a page for Maryland Weather which gives you the current conditions for 14 present area locations.
Local Hourly Forecasts and Local Radar
Central Maryland
Delmarva
Pennsylvania

Maryland Weather Page
I wanted to keep it simple. Just the basics for a quick view at any time.
Please share your thoughts, best weather pics/video, or just keep in touch via social media
---
Email Updates
Please make sure you sign up (above or click here to sign up for email alerts…. ) for my newsletter. This way you will get an email to make sure you are notified of each post.
---
Just In Power Kids:
A portion of proceeds go to our programs Providing FREE holistic care for kids in cancer treatment and up to 5 years post treatment and caregivers.
New Caps and Hats