Thursday January 14 2021
This morning there has been some fog developing with temperatures near freezing. An official Ice Fog Advisory was put in place for southern New Jersey, but the same conditions exist across Delmarva and Central Maryland without that alert.  First, there maybe thick frost to scrape off your car. But there could be some icy spots, especially on elevated surfaces.
Here's a look at two maps:  temperatures and relative humidity where fog or ice could form.
Temperatures: Notice the freezing numbers on Delmarva and central Maryland.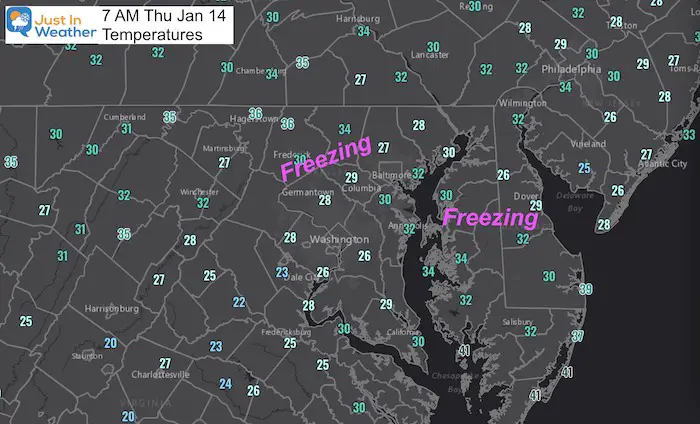 Relative Humidity: All places in the 90% to 100% have patchy fog in that region. Combine this with the colder air, and frost may be developing on more than just car windows. Watch for steps, sidewalks, and some elevated road surfaces.
IF there is ice in your area, it should thaw between 8 and 9 AM.
Morning Surface Weather:
We should have another mild afternoon near 50ºF. The cold front will reach us tomorrow. It will bring snow to the western Maryland mountains earlier in the day.  We will have a mild day, then rain by evening. That will mix with snow in the colder suburbs.
While this push of cold air will NOT be extreme, it will provide snow showers on Saturday afternoon.
I concur that this first push of arctic air is a "Swing and a Miss", but we are still in the game.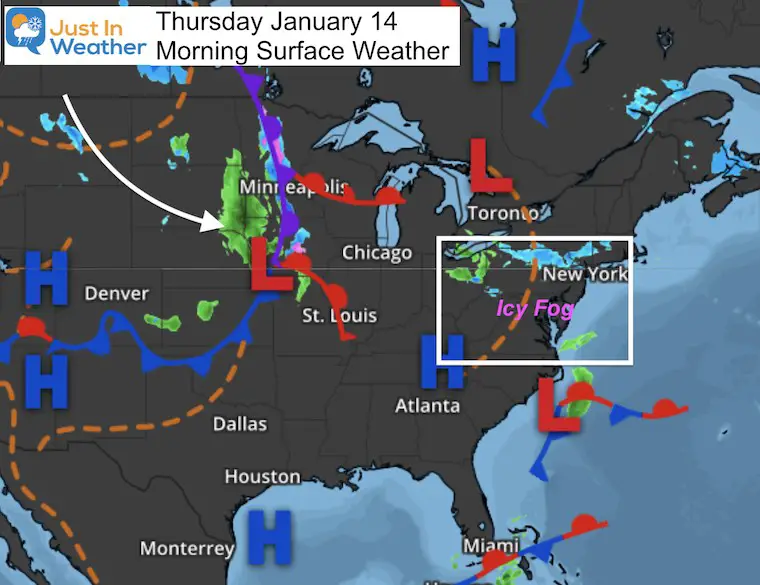 Forecast Temperatures: This Afternoon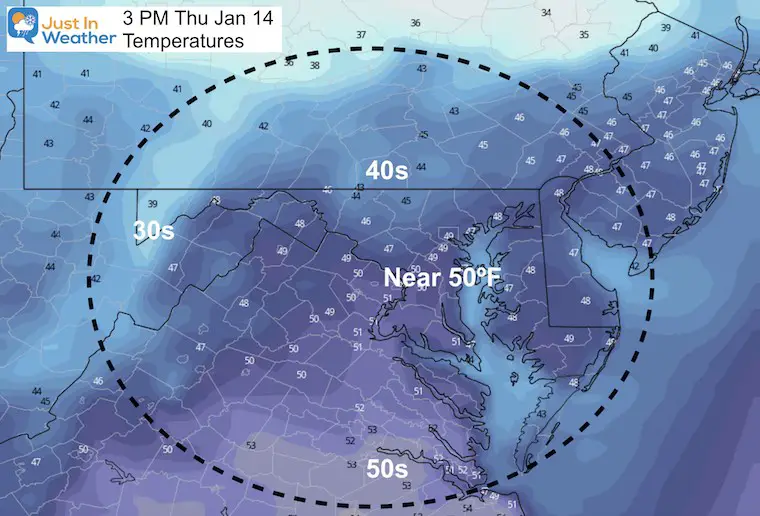 Friday Morning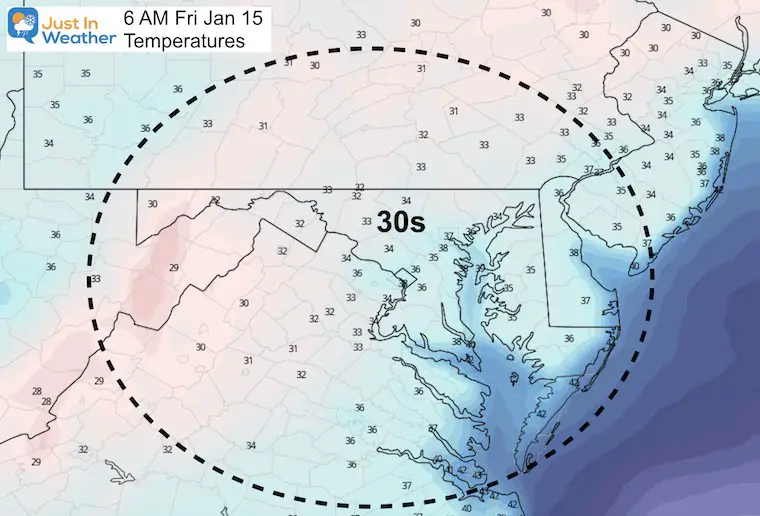 Friday Cold Front
The leading edge of the cold front should reach central Maryland with rain late afternoon Friday. By that time, the cold air will have reached the western Maryland mountains and across the Ohio Valley.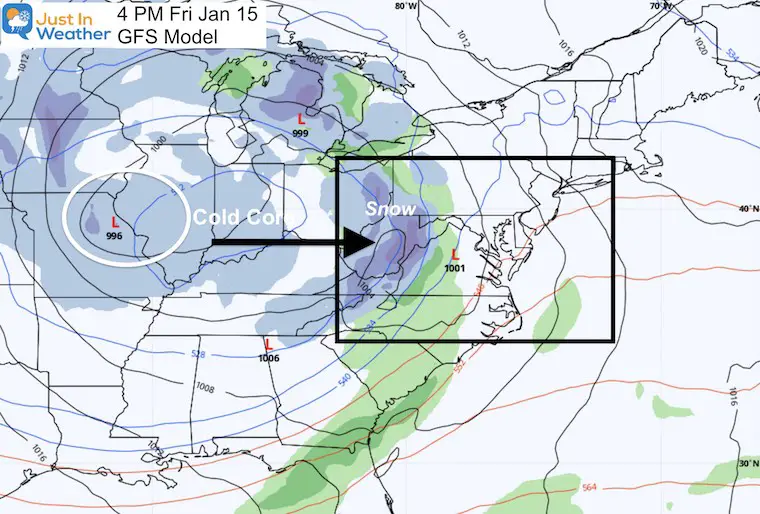 Friday Night: Closer Look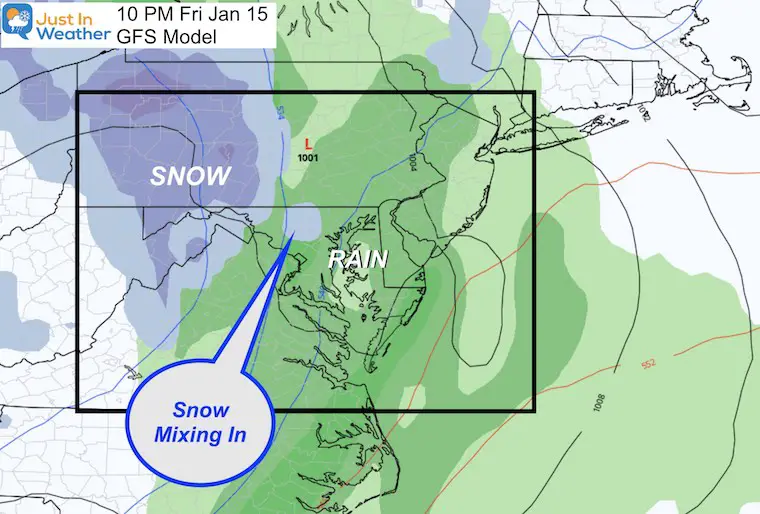 Forecast SnapShot: Central Maryland
This look at the Baltimore suburbs shows rain that will mix with snow Friday night. Then more snow showers Saturday afternoon and evening.

Saturday Weather Maps
The morning should start off dry for us as the front moves into New England.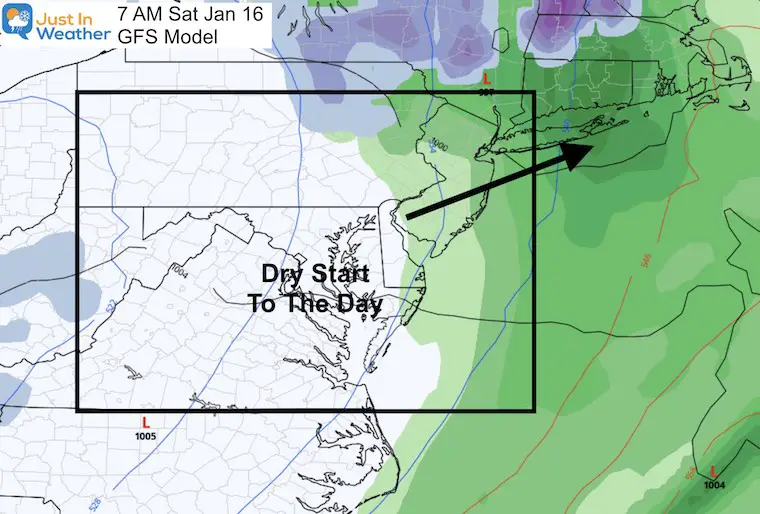 Afternoon: Here we see the influence of the colder air and the upper level energy I have been showing you.  Flurries and snow showers will break out during the afternoon and into the evening.
This is not a substantial snow event, but it will produce the first snow we have seen in weeks.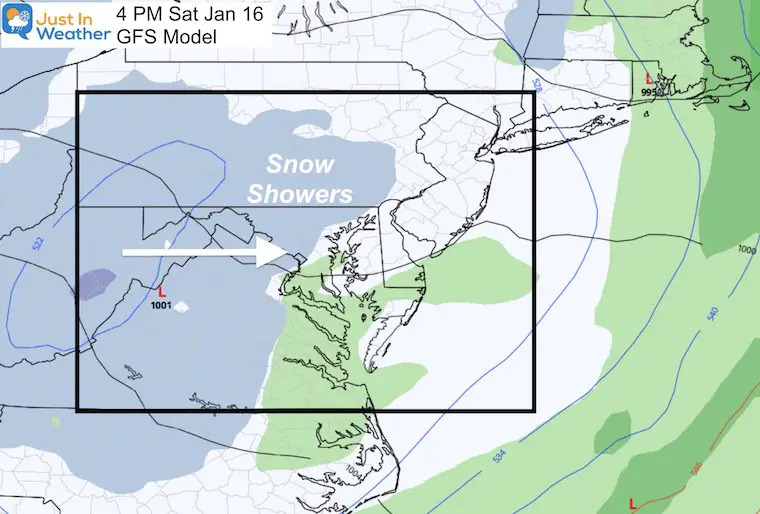 Looking Ahead:
I really hate this dangling carrot, but there is more energy in the pipeline.  I still have low confidence in modeling beyond 5 days, but there continues to be impulses with potential wintry events over the last 10 days of the month.  I will show this in my next report.
Temperature Outlook 
This first push of the Arctic Air from that disrupted Polar Vortex can easily be called a "Swing and a Miss".  You could even call is a strike out. But we are still in the game. There will be more cold air aiming to reach us this month.
This is the latest GFS Model look at that colder second push.