The winter weather is on target to move in this evening and all is working according to plan. The one update is that the set up is colder, which makes the case for a little more snow and ice.  I will explain why with info updated at 2 PM.
Here we will the temperatures and dry air. Then the profile of the air aloft which is likely to allow the weather system to produce its own cold air, that will be just a little colder.   That may add in another 1 inch or so of snow, and allow ice to linger longer tomorrow.
Winter Weather Advisory Expanded South
This now includes Washington, Annapolis and Baltimore City.
3:30 PM Update – This has been expanded further to include most of Delmava as well as far south as Salisbury.  Potential for 1-2 inches of snow and ice glazing.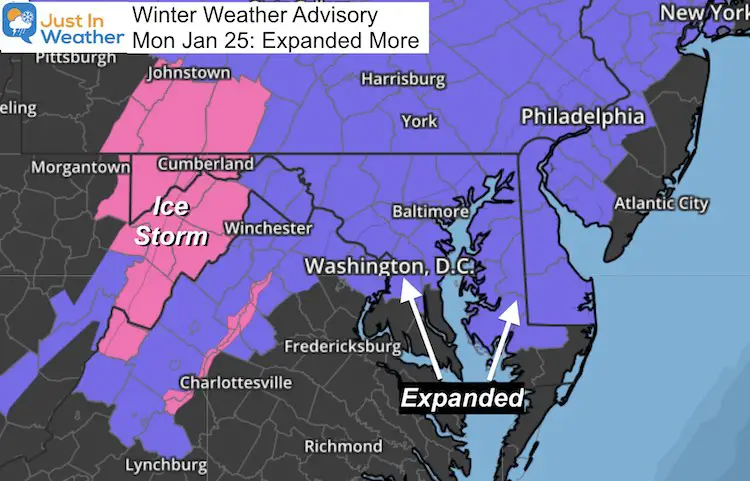 2 PM Conditions
Temperatures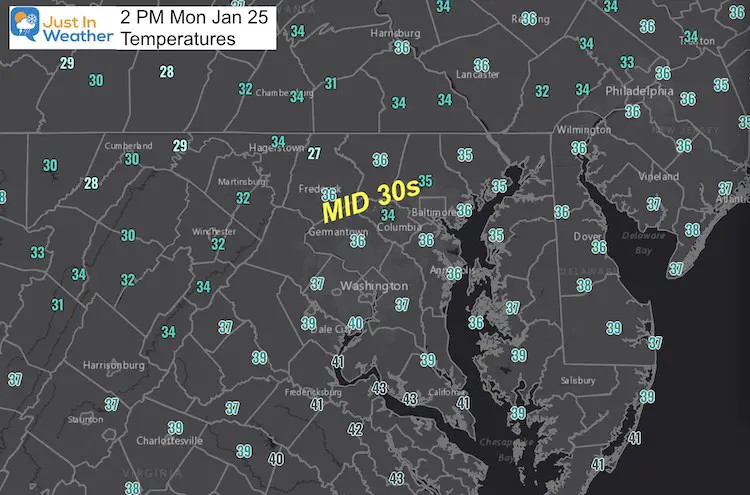 Dew Point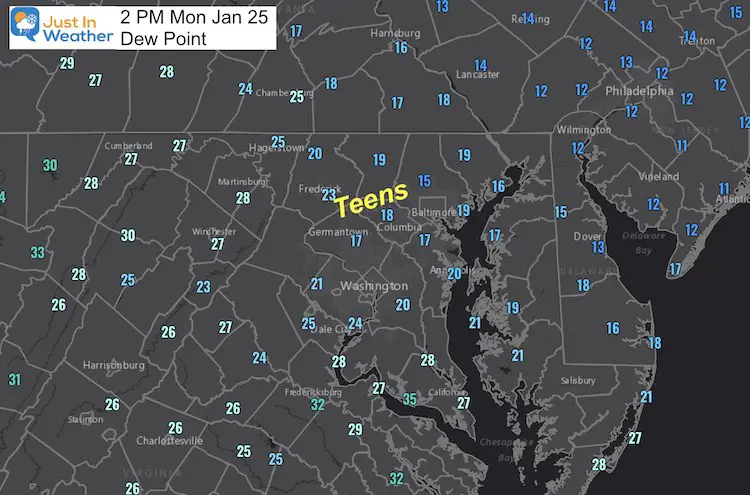 This is the measure of how much moisture is in the air.  A bigger spread will allow falling snow to sublimate/rain to evaporate. That cools the air a few degrees as the precipitation begins.
Forecast Profile Sounding
Every day around the country weather balloons are launched to analyze the conditions aloft.  This is a forecast of what that should be for Baltimore at 7 PM. See note below.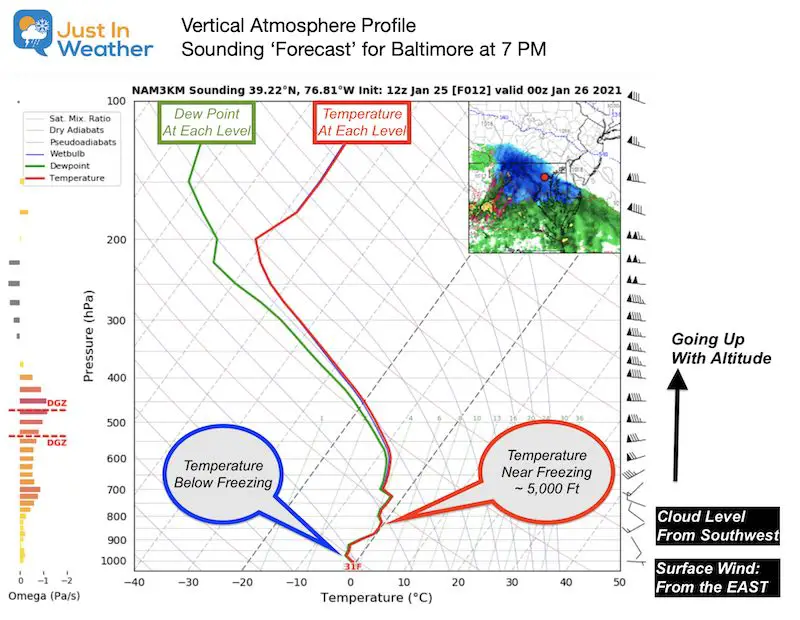 Notes:
Wind at the surface from the east, but swings to the southwest by 4,000 + feet.
Temperatures remain below the 'freezing' line. The forecast to get near freezing around 5,000 Ft, but stay below makes the difference in sleet or any mixture.
Snow or sleet falling into the dry layer at the start will saturate and cool the air column to support more snow.
Temperature Forecast —->slider
Notice the drop in temperatures after the snow and sleet begin… It will be colder at 7 PM and 10 PM
GFS Evening Radar Simulation  —-> slider
The GFS Model was on the warmer side, and now supports longer duration snow and ice this evening.
HRRR Model —-> slider
This is the rapid update high resolution model.  Here we also see enhanced snow banding and icy weather into the morning.
Icy Tuesday Morning
The Canadian GEM Shows inland areas remaining with freeing rain or drizzle through 10 AM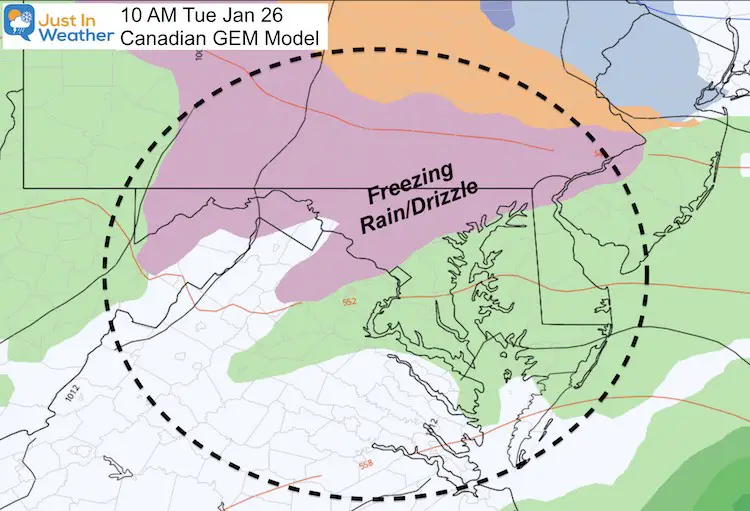 My Forecast Map: Updated
I do see the potential to overachieve with 1 or 2 more inches.  I noted that in my updated map. 
Also, the icing may last longer into the morning for metro areas.
The expanded areas on Delmarva have me a little suspicious.  I did not update Easton to Salisbury, but you may end up with up to 1 inch of snow before the change over.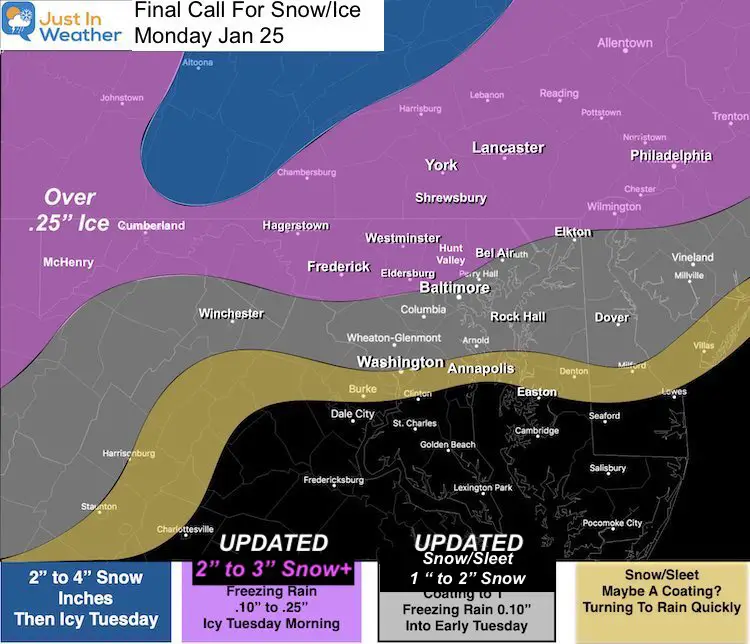 Take Away:
Travel will be mostly impacted overnight and into Tuesday morning.
Schools (in person) likely to have delays.  Any chance of a closing might be with thicker ice in the northern counties.
Also See:
What About The Thursday Storm?
I saw the latest models pushed the snow south. I am not worried about that. I expect this first storm may kick a little north, and the second one may follow, with a display on the models as this passes through.
We can address that next.
Faith in the Flakes – FITF
Please share your thoughts, best weather pics/video, or just keep in touch via social media
YOUR INTERACTIVE WEATHER PAGES
14 Local Maryland Pages (and York PA)
We have made a page for Maryland Weather which gives you the current conditions for 14 present area locations.
Local Hourly Forecasts and Local Radar
Central Maryland
Delmarva
Pennsylvania