Friday January 29 2021
It will snow Sunday. I can say that with almost certainty now two days ahead of time.  How much we get still has some complications, but I will show you what the computer models are plotting now.
I want to caution you as you read this: There is a WIDE SPREAD.  Among the three models there is a 16 inch spread from low to high snow forecast in a prime target area. I know!?! This is the stuff MEMEs are made from. 
In reality, it is some of the guidance us forecaster get to look at.
Sunday Snow (Part 1 ):
Between 3 to 6 inches during the day for most of the region. 
Snow will begin in the morning and impact a lot of the region all day.
Monday into Tuesday (Part 2):
Snow could match or surpass the total from Part 1.
There will be mixing, and then a return to all snow on Monday.  But where that mixing or rain line reaches is all based on the coastal Low taking over. Where that is and how strong will determine how much falls.  
Miller B Storm
Did you see my page on winter storm types?  How about ALL of the Winter Resource Pages?
I wanted to show you again, so you can compare to the model simulation below.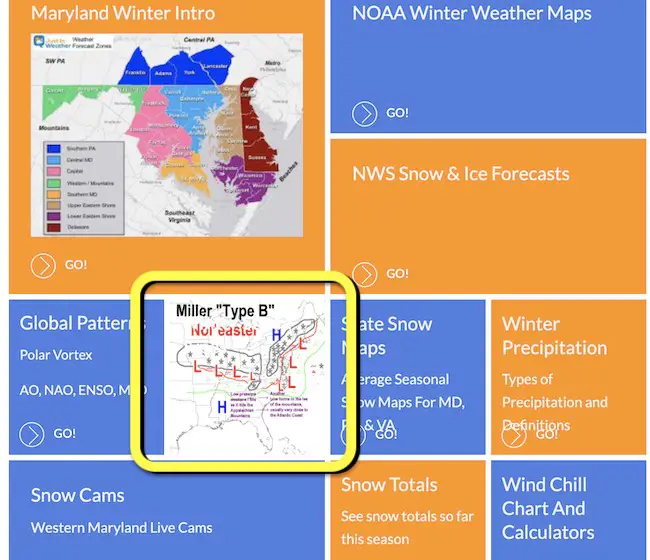 Canadian GEM Model
I agree with this model in how it portrays the initial Low and then the developing coastal Low.  T
The onset of first flakes should be Sunday morning. This will be an overrunning event as moisture moves into the cold dome air mass in place.
There will be mixing in between, and also some heavier snow banding wrapping about the coastal. Check this out, then see the snow forecast maps below.
Storm Simulation Sunday into Monday Morning
—-> slider
I've highlighted the transition of energy to the coastal Low. That will be the game definer on Monday. I support this development, but not endorsing the snow totals from this model.
Closer View Monday into Tuesday
—-> slider
The heavier snow totals are based on the Surface Low getting captured by the upper Level Low and pulled back or stalled off of the coast.  The precise location will determine what can really fall.
This set up could produce near blizzard conditions with winds on Monday between 25 and 35 mph.
How Much Snow?
PROCEED WITH CAUTION
As I mentioned above, there is a WIDE RANGE here.
Where is it?  Baltimore!
Storm Total (Model Forecast) for BWI
European = 6.1"
GFS = 12.2"
Canadian GEM = 22.5"
This is why I have not put out a TOTAL SNOW MAP yet.   But here you can compare the Sunday snow which is similar among the models.  Then compare the TOTAL SNOW, which shows how they diverge.
I support the Canadian for development, but not endorsing the snow totals from this model.  Not yet at least, but WOW!!!
SUNDAY SNOW MODEL FORECASTS
Euro: Concentration of higher snow west and south of Baltimore/Washington
GFS: Uniformly close to 6″ for  Baltimore/Washington, with more snow to the south.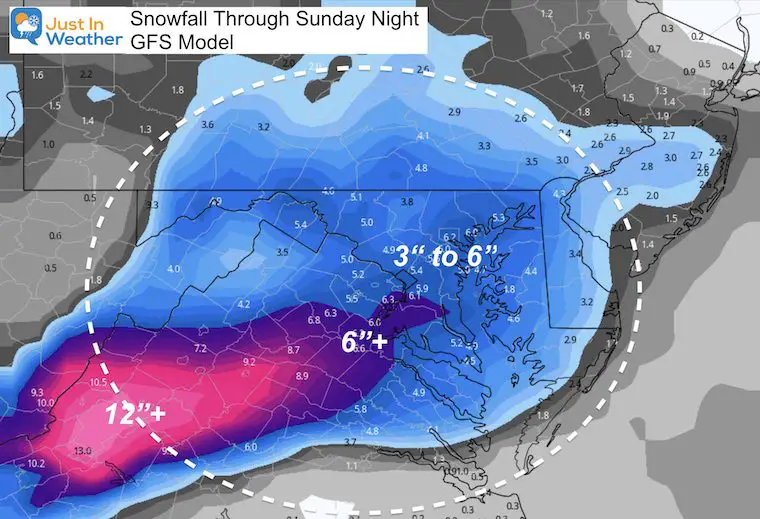 Canadian: Focused snow from Baltimore southward with less snow to the north (for Day 1 Sunday)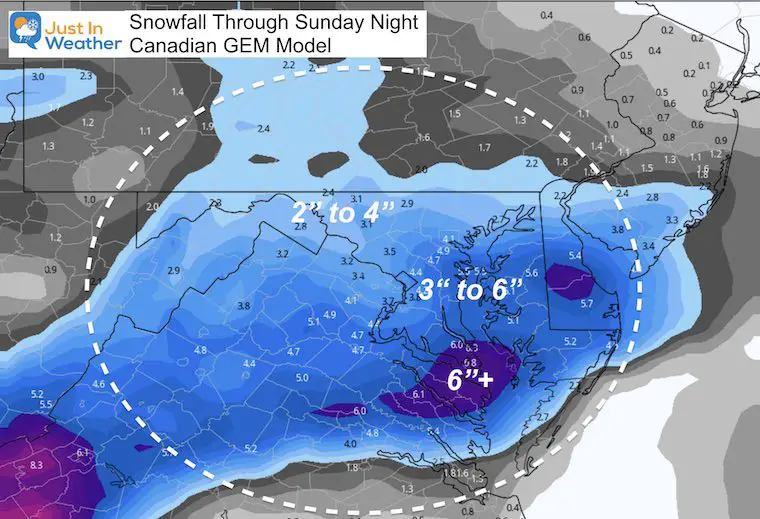 TOTAL SNOW MODEL FORECASTS
This is where it gets crazy! Low (Euro) to High (Canadian)
Lowest Forecast Snow: European
Still a robust 5 to 10 inches for central Maryland.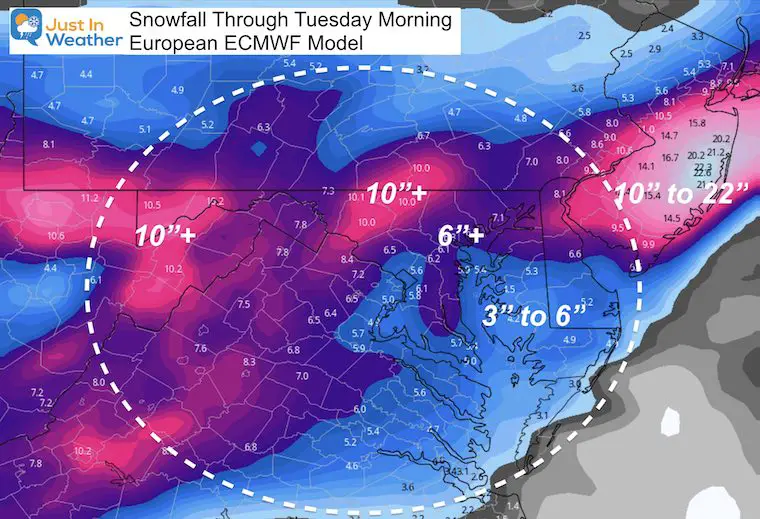 Middle Forecast Snow
The GFS Model pushes the 1 Foot + theory for Baltimore and the northern suburbs to southern PA.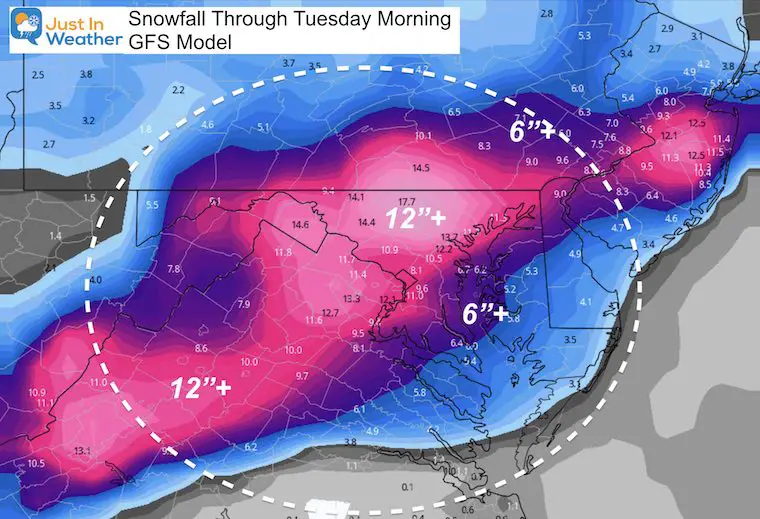 Highest Forecast Snow
The Canadian goes CRAZY!  Yes, I showed you the maps I agree with, but I CAN NOT endorse the snow totals like this at this time.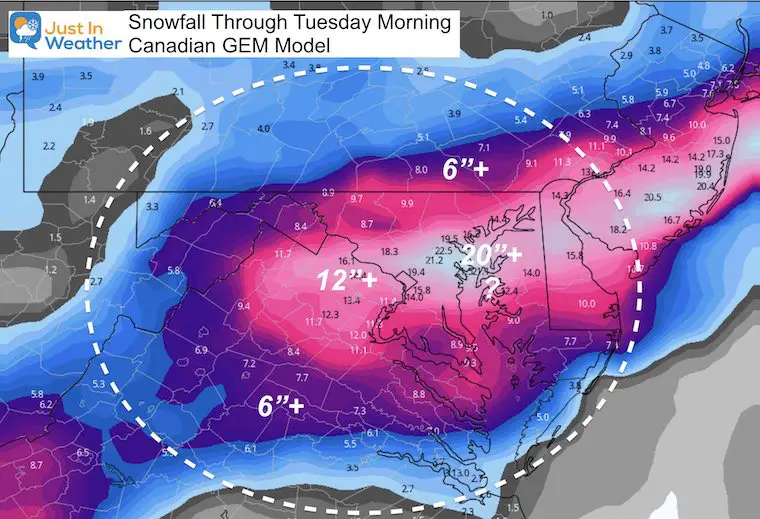 Reminder:
My First Call Expectations
Start: First Flakes Sunday between 7 AM and Noon
Much of the region will see accumulating snow on Sunday, and it could last most of the day.
How much snow depends mostly on the location of the coastal low formation, and rapid intensification. The establishes the cold air AND how much moisture comes in off of the ocean.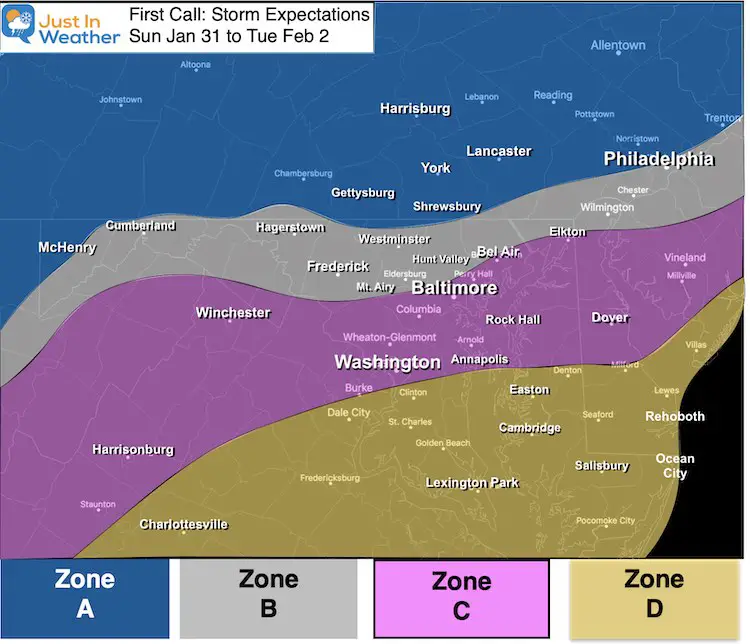 Zone A:
Mostly snow for the entire event through Tuesday morning. This should be the highest snow totals.
Zone B:
Sunday: Snow into Sunday night with moderate accumulation.
Monday: Mixing with sleet and freezing rain is likely at some point. This region may remain icy.
Monday Night into Tuesday: Back to all snow, ending by noon Tuesday. Additional accumulation likely.
Zone C:
Sunday: Mostly snow with moderate accumulation.
Sunday Night into Monday: Mixing with and changing to all rain is more likely. This would allow time to thaw roads.
Monday Night into Tuesday: Monday Night into Tuesday: Back to all snow, ending by noon Tuesday. Additional accumulation likely.
Zone D:
Sunday: Starting with snow with stickage and accumulation to impact travel. *It takes less here to do more than inland.
Sunday Night into Monday: Most likely to turn to all rain at some point.
Monday Night into Tuesday: Monday Night into Tuesday: Back to all snow, ending by noon Tuesday. Additional accumulation likely.
FITF
Please share your thoughts, best weather pics/video, or just keep in touch via social media
YOUR INTERACTIVE WEATHER PAGES
14 Local Maryland Pages (and York PA)
We have made a page for Maryland Weather which gives you the current conditions for 14 present area locations.
Local Hourly Forecasts and Local Radar
Central Maryland
Delmarva
Pennsylvania

FITF Shop Open
My 'bonus' daughter Jaiden and wife showing off our popular Maryland Hoodies. Unisex and women's items all produced in Maryland.
Click here to see this and many other new items.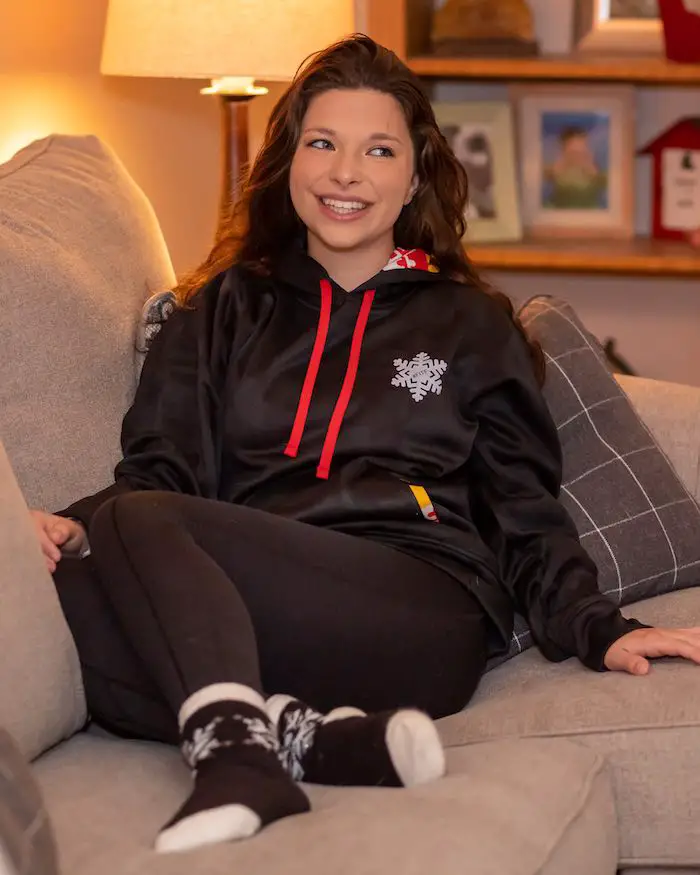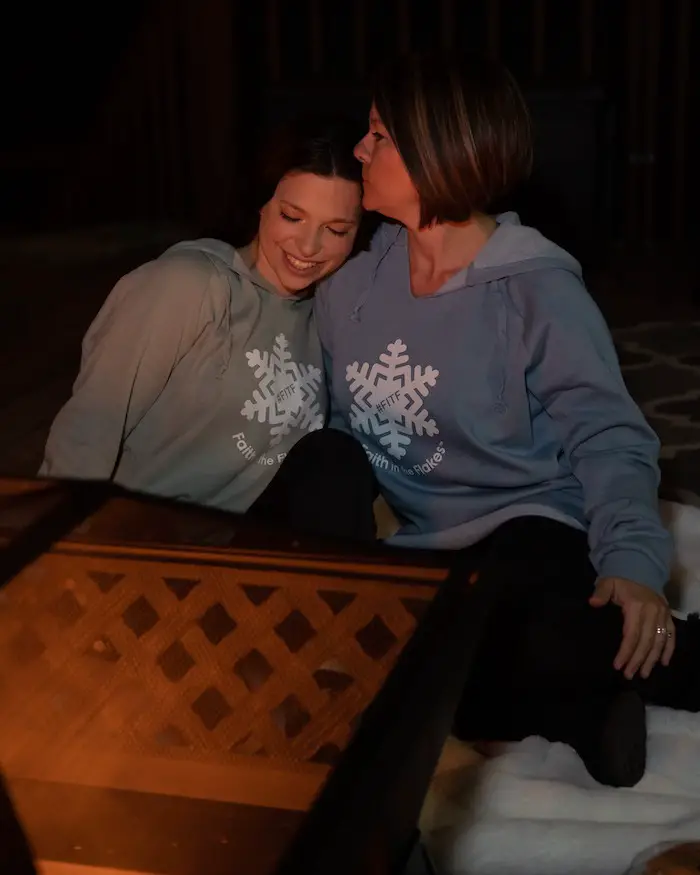 Also see:
Maryland Weather Page
I wanted to keep it simple. Just the basics for a quick view at any time.