Friday Evening January 29 2021
A Winter Storm Watch was first issued for central Maryland, however some colder counties were left out.  Those have since filled in with more agreement on the Sunday storm reaching the criteria.  This is getting more real. If you have Faith in the Flakes, this will be the biggest regional snow event in a few years.
If you felt left out, joining the party are now Carroll and Frederick Counties in Maryland and all the bordering counties in Pennsylvania. Also most of Maryland's Eastern Shore.
Here is a quick look at what that really means, what to look for next, and the simulation for the Sunday part of the storm.
UPDATE SATURDAY MORNING:
See My Call For Snowfall Map and compare to new models and NWS
Winter Storm Watch
Starting Sunday Morning- Ending Tuesday Morning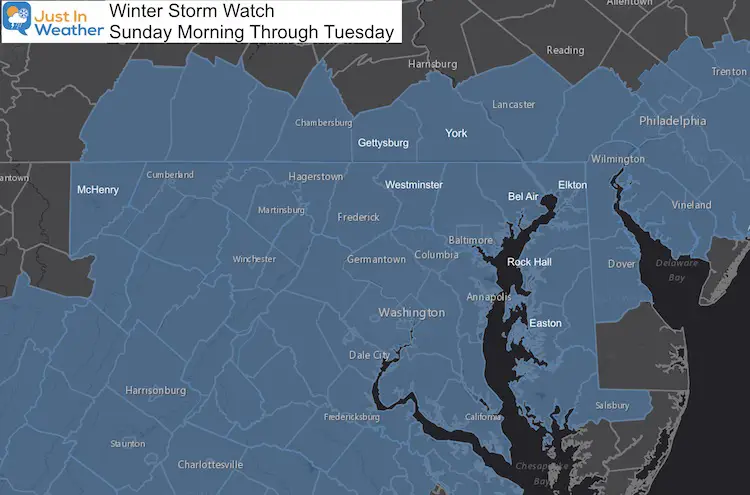 A Winter Storm Watch is issued when ice or snow is expected within 48 hours.  In Central Maryland for example, the forecast would include 5 inches or more of snow/sleet within a 12-hour period or 7 inches or more of snow/sleet within a 24-hour period. It is  little higher for the mountains.
In my prior posts, I mentioned an average of 3″ to 6″ of snow JUST FOR SUNDAY.  There will be more.
This Watch from NWS means something different depending on your location. It was issued for
PA to expect OVER 6″ of snow,
Maryland's Hills and mountains from Carroll County westward:  4″ to 8″ of snow.
Northeastern and Central MD for over 5″ of snow.
Lower Eastern Shore: 2″ to 3″ snow.
What You May See Next
These areas will be adjusted when we are within 24 hours of the storm arriving.  According to protocol, that should be issued Saturday morning.
Then there will either be a Winter Storm 'Warning' or Winter Weather Advisory.
A Winter Storm Warning will be for areas still expecting 5 inches or more of snow/sleet within a 12-hour period or 7 inches or more of snow/sleet within a 24-hour period.
A Winter Weather Advisory will be for areas expecting 2 to 4 inches of snow (alone or in combination with sleet and freezing rain), is expected to cause a significant inconvenience, but not serious enough to warrant a warning.
NWS Snow Forecast:
This is the map for the Baltimore/Washington Region.   
This is up to 7 PM Monday, but may not be the end of the storm.
Click on the map to see the full page including the high and low end maps for PA, DE, and NJ.
Radar Simulation
NAM 3 Km Animation 6 AM to 8 PM
There will still be a transition to sleet and rain for some Sunday evening. How far north that reaches is part of the complication with addition snow.  But we have high confidence on the Sunday part, then going back to all snow Monday.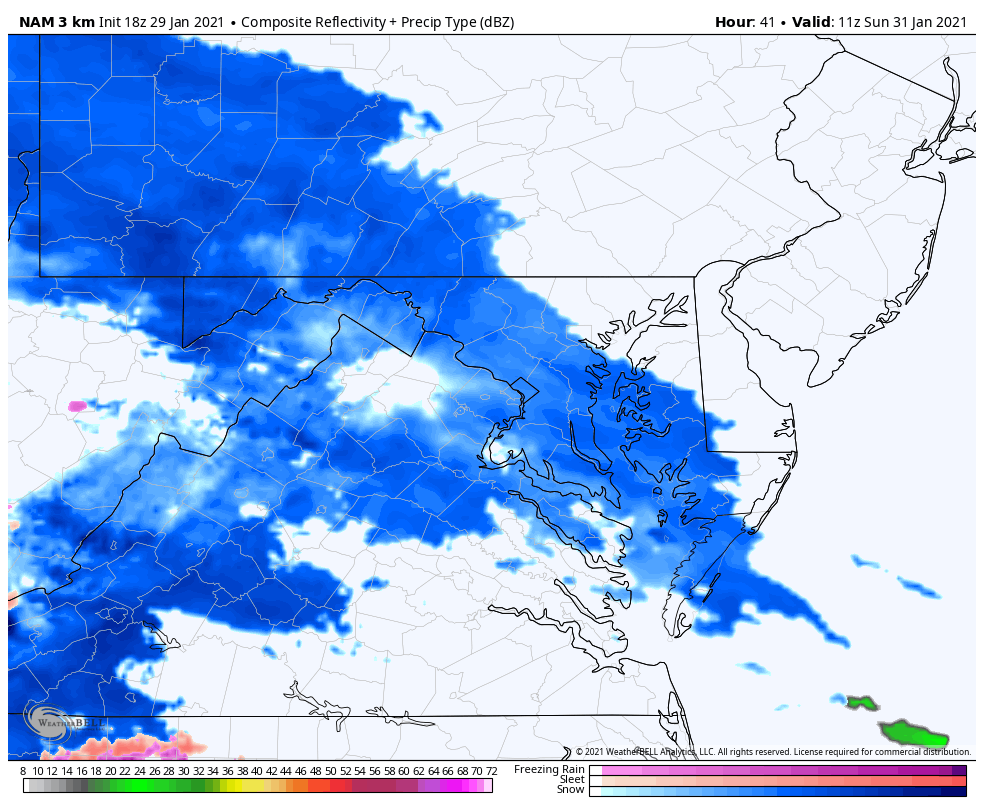 Compare this to the model forecasts and my original call for precipitation. 
I will have a new SNOW MAP in my Saturday Morning report.
FITF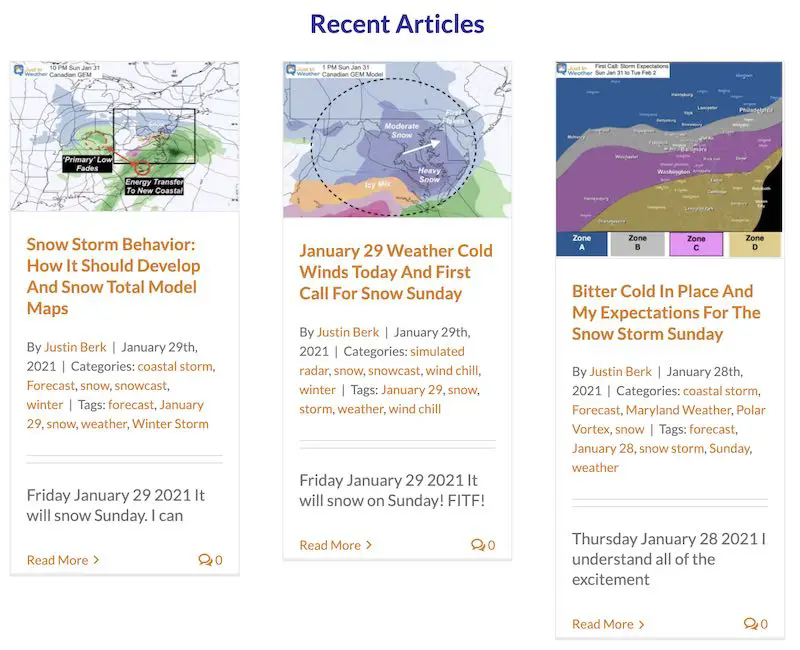 Please share your thoughts, best weather pics/video, or just keep in touch via social media
Winter Weather Resource Pages
Click here if the tiles do not appear
YOUR INTERACTIVE WEATHER PAGES
14 Local Maryland Pages (and York PA)
We have made a page for Maryland Weather which gives you the current conditions for 14 present area locations.
Local Hourly Forecasts and Local Radar
Central Maryland
Delmarva
Pennsylvania

FITF Shop Open
My 'bonus' daughter Jaiden and wife showing off our popular Maryland Hoodies. Unisex and women's items all produced in Maryland.
Click here to see this and many other new items.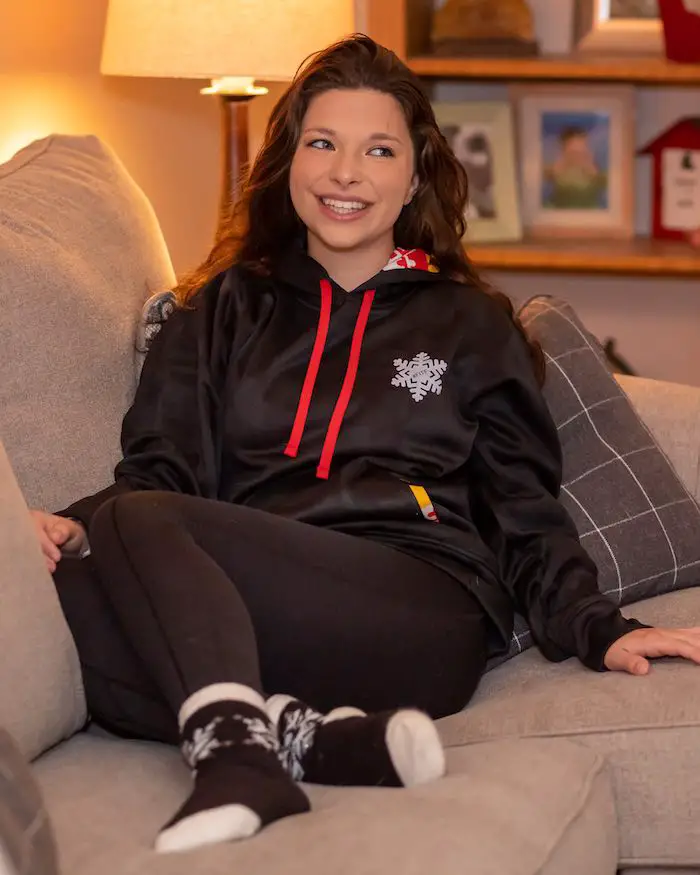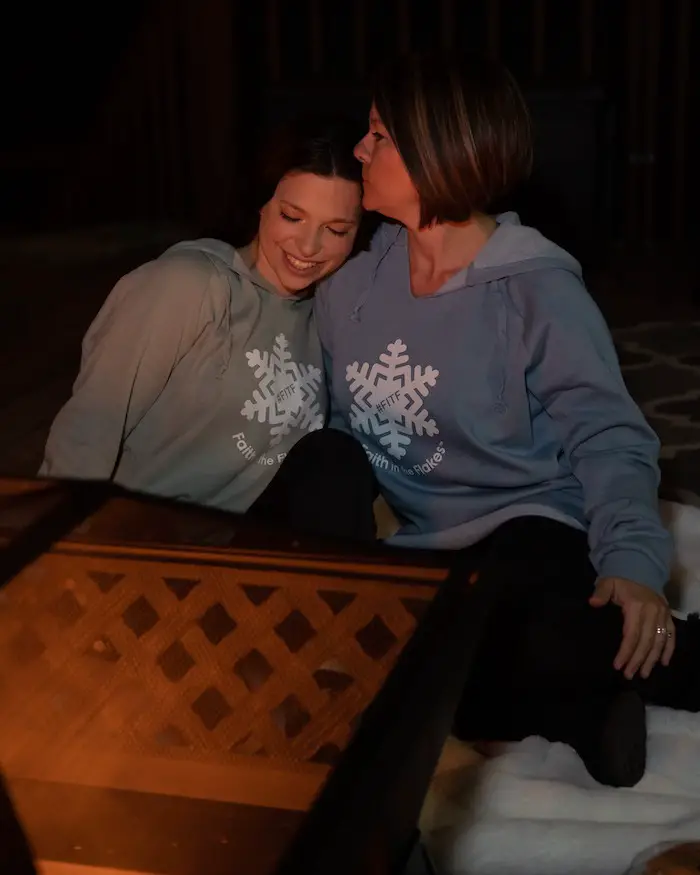 Also see:
Maryland Weather Page
I wanted to keep it simple. Just the basics for a quick view at any time.