Monday February 1 2021
We are in nowcasting mode.  There is some computer guidance support, but as we have seen there are wide ranges and low confidence they are handling this well. So I will show you some analysis and then an idea of what to expect through Tuesday.
Sleet and Freezing Rain is And Will Continue To Change To Snow
Yes, it will snow for most of our region today, with additional accumulation. It will be heavy at times, and some lucky spots may get in snow rates of 1″ to 2″ an hour. Yes! Some of that 'stuff' on the edge of the is reaching the region.
Regional Analysis
This morning was the 'Lull' we expected. I still stand by the bulk of snow measurements on Sunday reached the target Part 1 storm forecast, and all has worked out so far.
A good argument can be made for the ice today overachieving and a bust.  Here is what that happened, and why the snow is starting to come back.
Temperatures
We never got above freezing!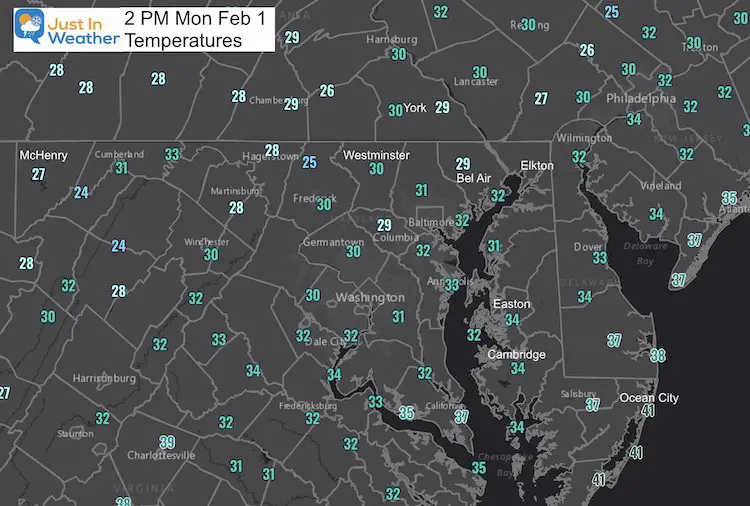 Surface Coastal Low
This is intensifying, and you may notice the winds pick up over the next few hours as a result.  This remained closer to the coast than models suggested.  We talked about this last night.
Now we watch this wrap the moderate and heavy snow bands back west and southwest… to feed into the Mid Level Low at 700mb in Virginia.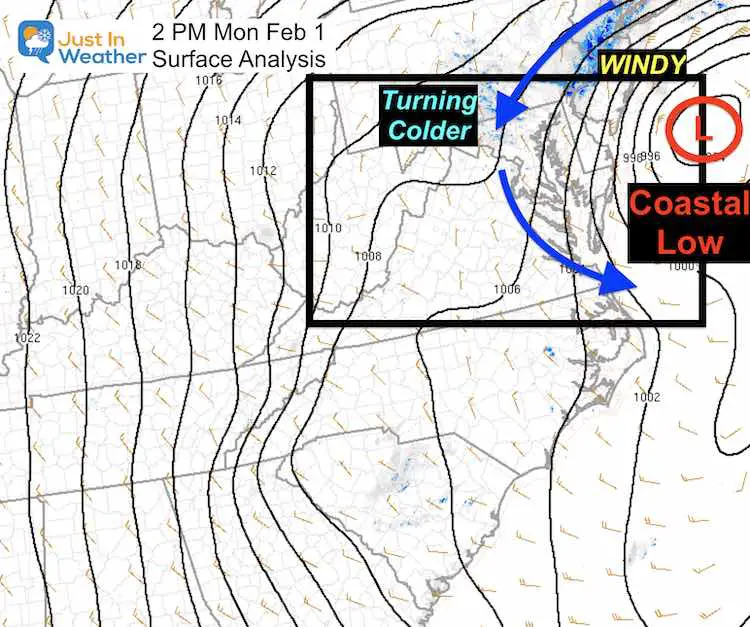 700 mb Low
This is around 10,000Ft aloft, where the circulation is often in a different location. Here we have plotted it near Dale City, VA.
Think in 3-D as the moisture from the surface Low gets pumped into this Low.  That moisture pipe then gets other forces along the way to spread the moisture.
This is slowly moving east, undercutting the Surface Low.  This is what is allowing the colder air at cloud level.
This is why there is a transition back to sleet and snow expanding east (following the Low)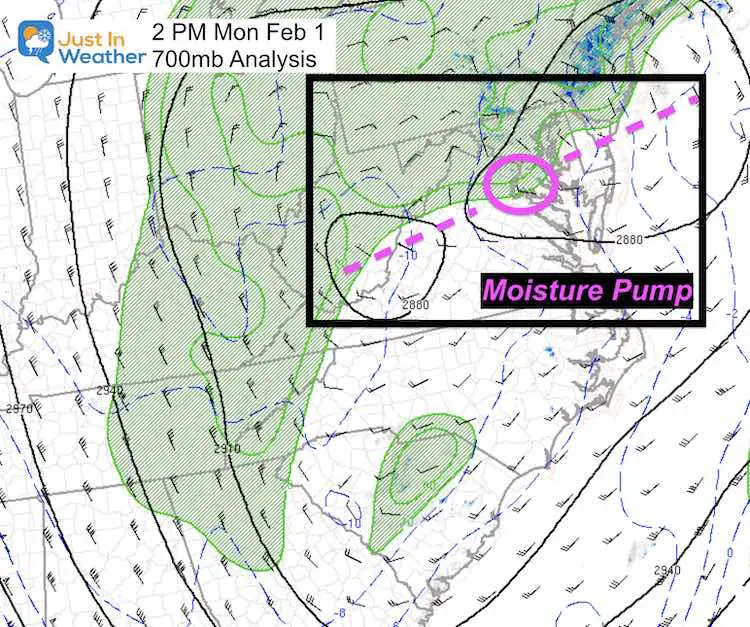 Visible Satellite Snapshot
I've annotated what to look for here. Compare to the loop below and see the 'spinning'.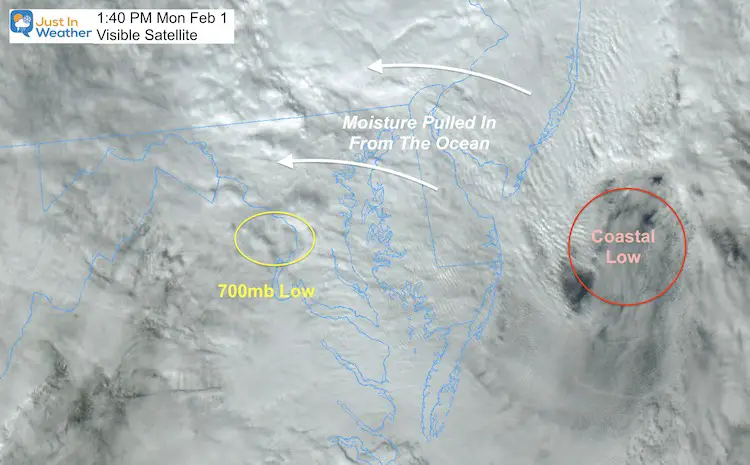 Animation
If this stops looping, reload page.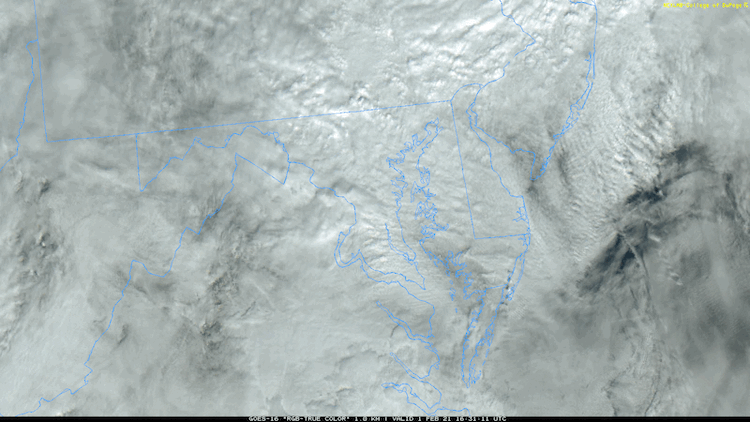 Doppler Radar
I've annotated what to look for here. Compare to the loop below and see the 'spinning'
The Pivot is when the moisture direction turns, as the colder air and coastal take over.   We are in the pivot zone.
It will be heavy at times, and some lucky spots may get in snow rates of 1″ to 2″ an hour.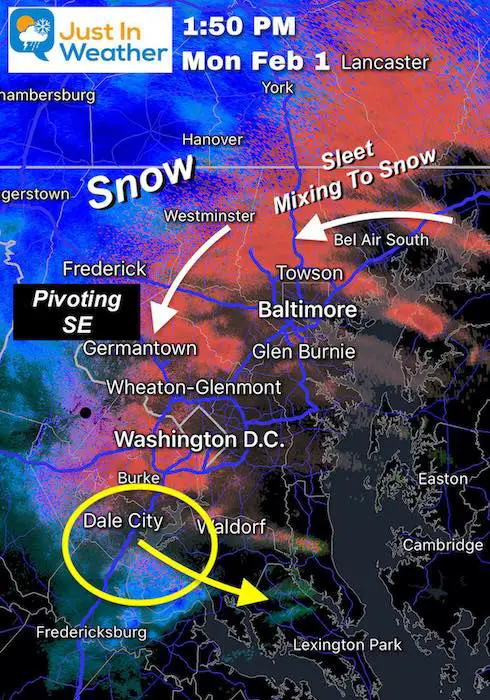 UPDATED 3:30 PM  AFTER THE RETURN TO SNOW
The transition has occurred and proving itself with heavy snow dropping south to southwest.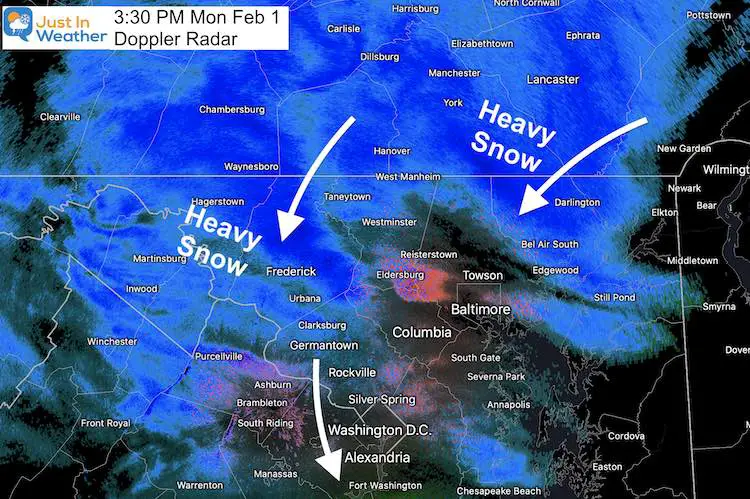 Pouring Sleet
There was heavy icing for a few hours.
My friend Meteorologist Howard Bernstein Tweeted earlier from Clarksville, MD.  It has since turned to snow.
Pouring sleet in Clarksburg, MD at noon. #WUSA9Weather #GetUpDC @TenaciousTopper @chesterlampkin @MiriWeather @ChrisClimate @AnnieYuTV @TonyPerkinsFMTV @DCAllisontv @capitalweather @NWS_BaltWash @JustinWeather pic.twitter.com/y1pXtMwFmr

— Howard Bernstein (@hbwx) February 1, 2021
Afternoon Forecast
Change Over On Schedule According To The Euro
Winds Expected to increase 15 to 25 mph with gusts to 40 mph.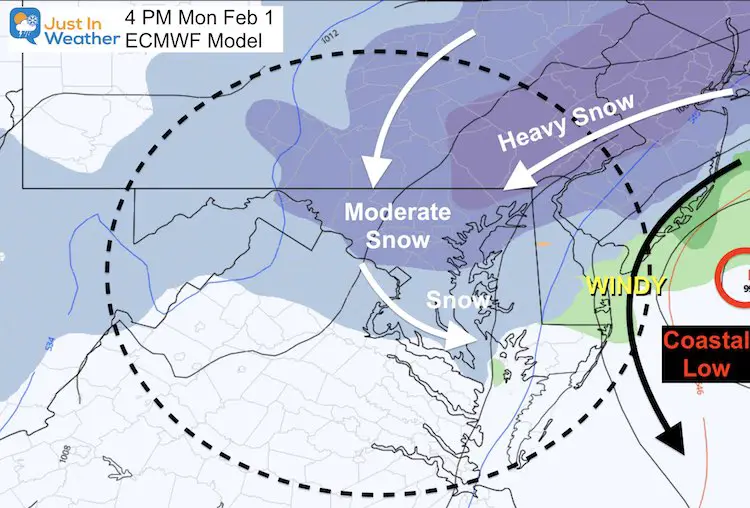 Maryland Weather Page
I wanted to keep it simple. Just the basics for a quick view at any time.
How Much ADDITIONAL Snow?
Model forecasts suggest some of the heavy snow bands reaching in to Maryland.  The 700mb Low sliding through southern Maryland will help 'pull' down the cold air and snow through this evening.
THESE MAP ARE GUIDANCE/POTENTIAL NOT MY FORECAST
ECMWF Model
GFS Model
Canadian GEM Model
This product showed the most snow, but has been the most wild and inconsistent with placement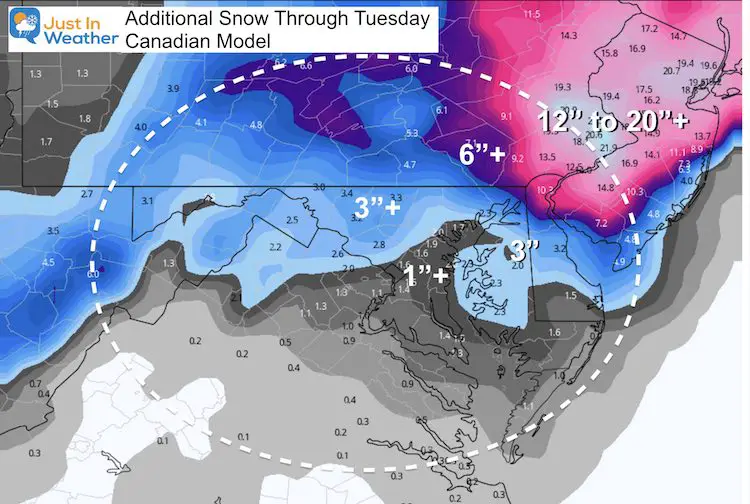 My Forecast: 
I am remaining with my call from earlier today.
Big Winners: Northeast MD and Southern PA
Harford, Cecil, and Kent County
Additional 6+ inches through Tuesday
York and Lancaster PA
Additional 6 to 10 inches through Tuesday
Central Maryland:
Additional 2 to 6 inches.  The wide range depends on the banding that sets up. Get under a few and you hit the higher mark.
Bust Potential: If we get into the 'comma head' of the snow, these amounts could double.
If you were in my Storm Total of 6" to 12" by Tuesday, there is a good chance that verifies, even if on the lower end.
Eastern Shore:
Queen Annes County To Talbot County
Additional Accumulation of 2" to 4"
Temps support icy roads Tuesday morning.
Salisbury to Dover
Additional Accumulation of 1" to 3"
Temps support icy roads Tuesday morning.
My Original Forecast Through Tuesday
I will be graded on this map when the storm ends.
Washington may not get there, but Baltimore has a chance, along with the northern zones.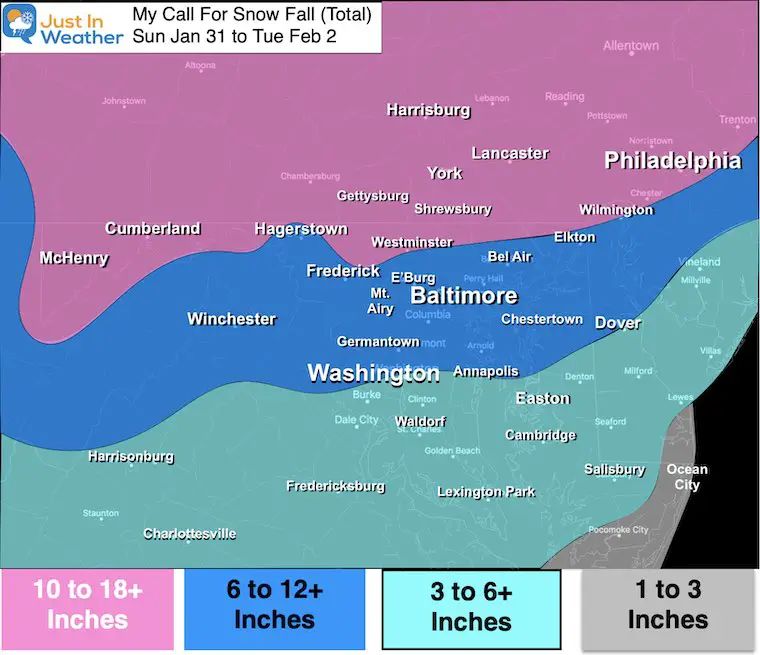 uesday Morning
Below Freezing will lead to more icy spots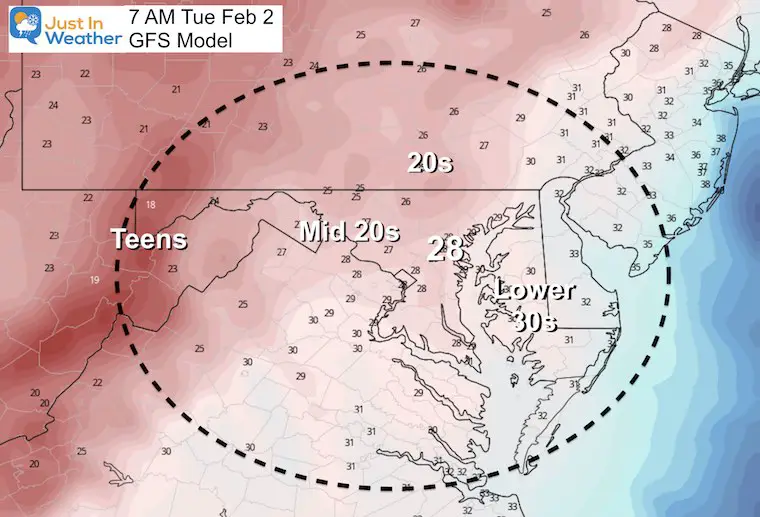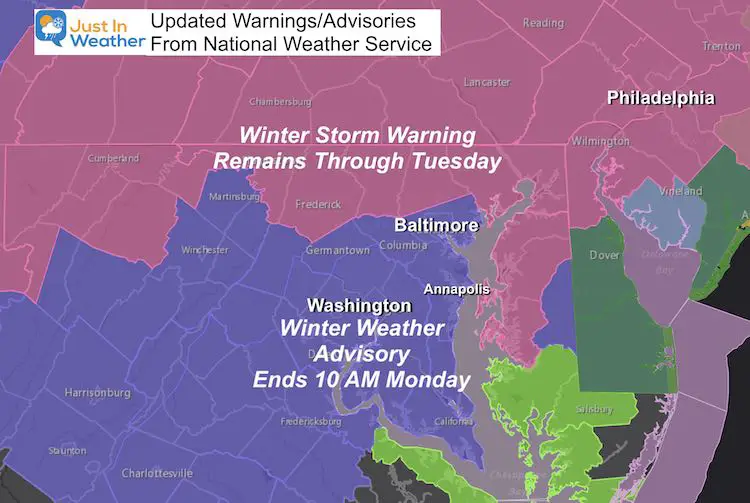 Please share your thoughts, best weather pics/video, or just keep in touch via social media
Winter Weather Resource Pages
Click Here For My Complete Winter Resource Info
YOUR INTERACTIVE WEATHER PAGES
14 Local Maryland Pages (and York PA)
We have made a page for Maryland Weather which gives you the current conditions for 14 present area locations.
Local Hourly Forecasts and Local Radar
Central Maryland
Delmarva
Pennsylvania

FITF Shop Open
My 'bonus' daughter Jaiden and wife showing off our popular Maryland Hoodies. Unisex and women's items all produced in Maryland.
Click here to see this and many other new items.