Saturday February 13 Afternoon Update
Moderate icing has already spread through southern and parts of central Maryland. This storm appears to be following the trend to speed up and enhance north.  With 0.20 to 0.30 inches of icing expected, this can take down trees and power lines.
Virginia had over 257,000 power outages as of the time of this post. More expected into Maryland with heavy icing to continue.
The National Weather Service has expanded the Ice Storm Warning to include Washington DC, Anne Arundel, Prince Georges, and Montgomery Counties in Maryland. Winter Weather Advisory now expanded north into southern PA. This is what I mentioned was possible in my morning report.
This report covers the expanded warning area, updated weather conditions, ice photos, power outage tracking links, and forecast into Sunday morning.
Ice Storm Warning
In Effect Until Sunday at 7 AM
The storm should end by then, but ice will take more time to thaw.. So this end time may be extended.
Winter Weather Advisory
Expanded into Southern Pennsylvania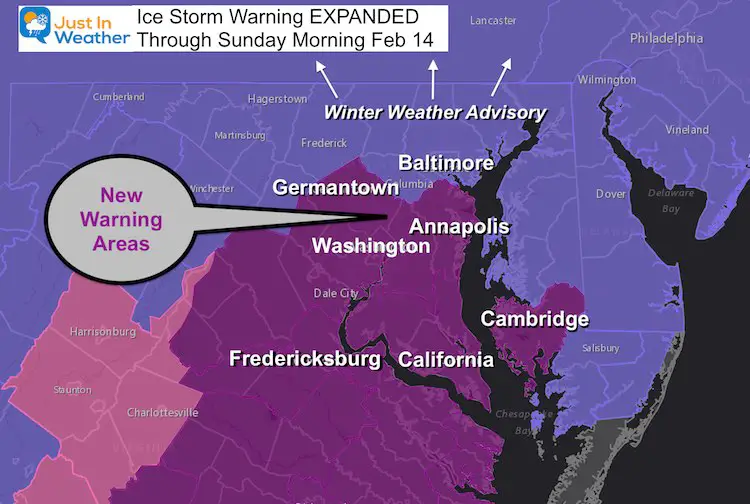 Weather Snapshots
My 'bonus' daughter didn't think the storm was too bad at first glance, but ice has been slowly accumulating all day in many areas. First impacted are elevated surfaces, car windows, trees, and power lines. Even treated roads will be more likely to ice up as it gets dark and we lose help from solar radiation. It will get worse this evening.
Road Update In Howard County MD
Sleet and Freezing Rain will only be harder to melt on roads (with salt and brine) as the sun angle gets lower this afternoon.
Sleet is accumulating fast on US 29 South near Columbia MD@WeatherErik @ttasselWBAL @TonyPannWBAL @JustinWeather @AvaWBAL @KnaptonOliver @mjv_2000 pic.twitter.com/dZHLTmnx6F

— Samiuddin (@9sami98) February 13, 2021
Doppler Radar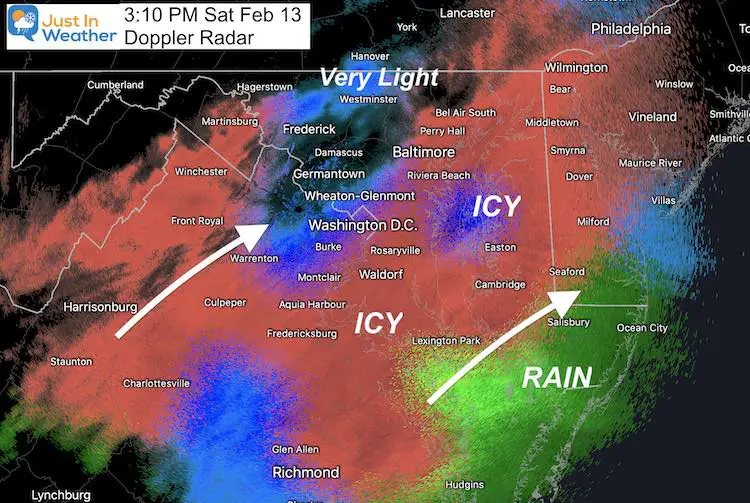 Temperatures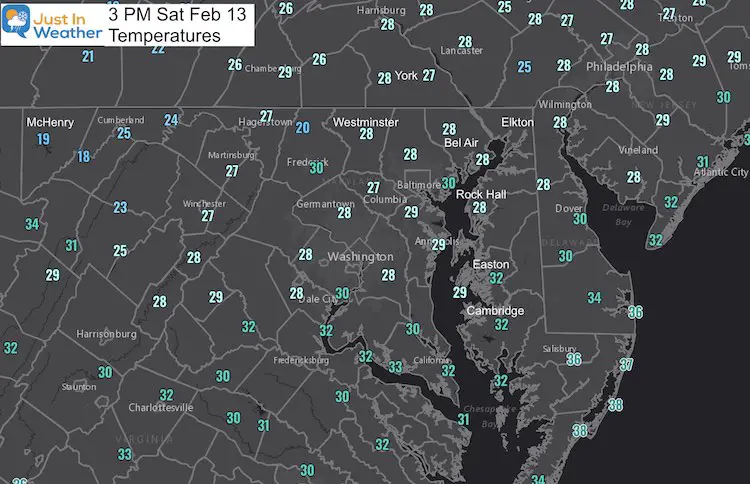 Balloon Sounding
This was the weather recorded from the morning launch at Sterling, VA
The freezing layer was around 5,000 Ft and less than 1,000 Ft thick. But warm enough to melt the snow aloft and keep it liquid until reaching the ground.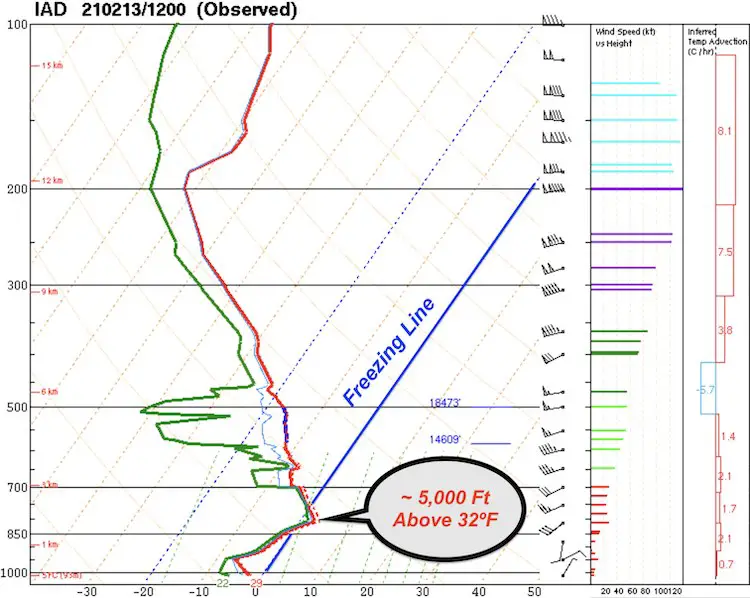 Explore More: How layers of warn and cool temps lead to different Winter Precipitation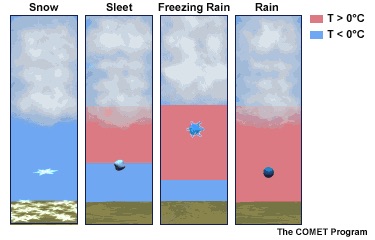 Icing Since This Morning
Earlier the morning I retweeted this photo from Annapolis. Ice has been collecting and building all day, even if you didn't notice it.
And so it begins…
Be safe in this icy day
🧊 #iceday https://t.co/TQufSYL4nB

— Justin Berk (@JustinWeather) February 13, 2021
How bad is it or could it get?
This may be a pretty scene, but gives an idea of the extensive coverage in Virginia through early afternoon.
Bent Mountain, VA as of noon. #vawx pic.twitter.com/lMicM7dMij

— Ben Gruver (@krnk_wx) February 13, 2021
Power Outages
Ice has already caused extensive problems in south central Virginia.  As of 3 PM, over 257,000 Power Outages have been reported.
Click the map to track more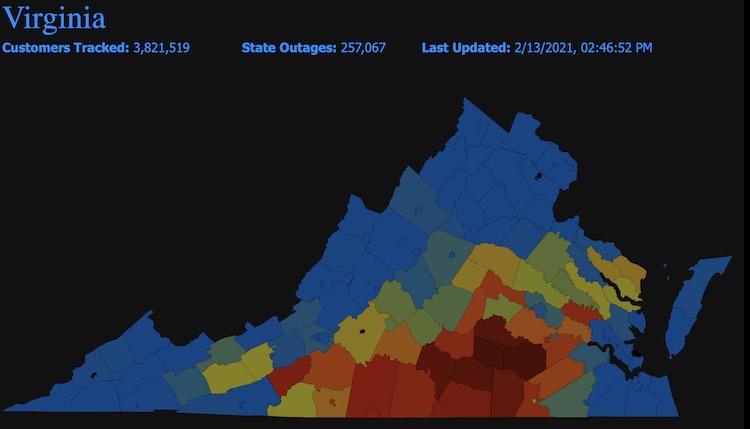 Local Power Outages
You can track the power information for our region through a page we built for you here.  Also listen to local Emergency Responders….
Forecast Animation: 3 PM Saturday to 2 AM Sunday
There may be a lull this evening, with more overnight.
This product may be missing lingering light freezing rain and drizzle into the morning.
Forecast Temperatures Sunday Morning
Ice will last longer than the storm. Advisories and Warnings might continue after the freezing rain ends…
We will have a chance to thaw during the day, even up north by noon.
–> slider
More Next Week?
Yes, we are still on for more ice. This faster pattern may bring it back in as soon as Monday afternoon or evening and last into Tuesday. Then another storm on Thursday. I will work on posting updates on that in my next report.
Please share your thoughts, best weather pics/video, or just keep in touch via social media
YOUR INTERACTIVE WEATHER PAGES
14 Local Maryland Pages (and York PA)
We have made a page for Maryland Weather which gives you the current conditions for 14 present area locations.
Local Hourly Forecasts and Local Radar
Central Maryland
Delmarva
Pennsylvania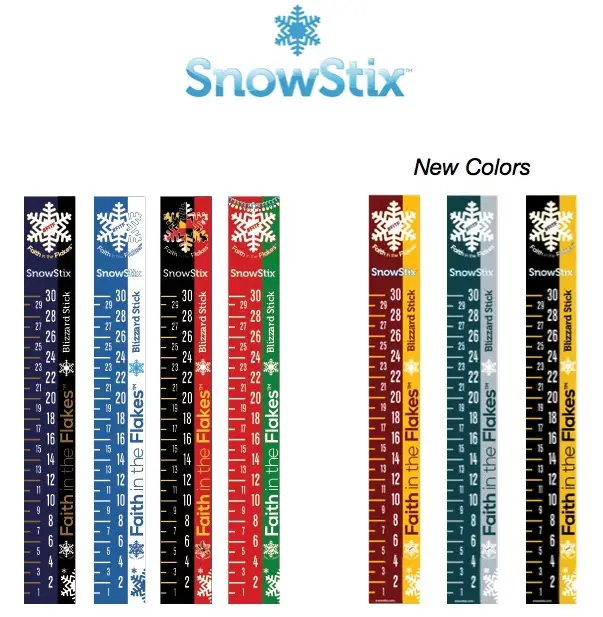 FITF Shop Open
My 'bonus' daughter Jaiden and wife showing off our popular Maryland Hoodies. Unisex and women's items all produced in Maryland.
Click here to see this and many other new items.