February 24 2021
At 3 PM this afternoon, Baltimore reached 63ºF at BWI.  I check the records for the last time this happened, and did a double take.  The last time Baltimore hit 60ºF was on Christmas Day.  I remember that day for the light,  widespread snow showers.  But it was that warm at midnight, and that goes down in the record books.
By the way, this is not even close to the record high for Feb 24, which was 79ºF in 1985.
On the map this afternoon we can see this warmth of 50s and 60s was widespread across our region. It has been quite remarkable, even by the colder Bay and in the snow packed mountains.  Even McHenry's weather station over 2,000 Ft in elevation surrounded by a few feet of snow reported 55ºF, one degree warmer than Ocean City.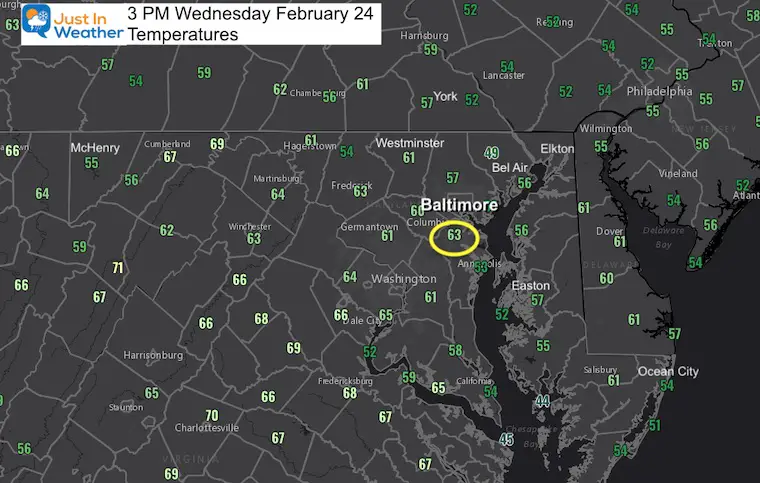 Here we are with a warm day in February, melting lots of snow. Even in place you might not expect. You might also not expect us not mention snow again so soon, but it's around the corner and I wanted to explain a little more before the rumors run wild.
Last week, we were in between ice (and snow) storms.  Today, those same hard hit areas in Virginia and West Virginia reached the 70s.  But it will be back to some reality tomorrow.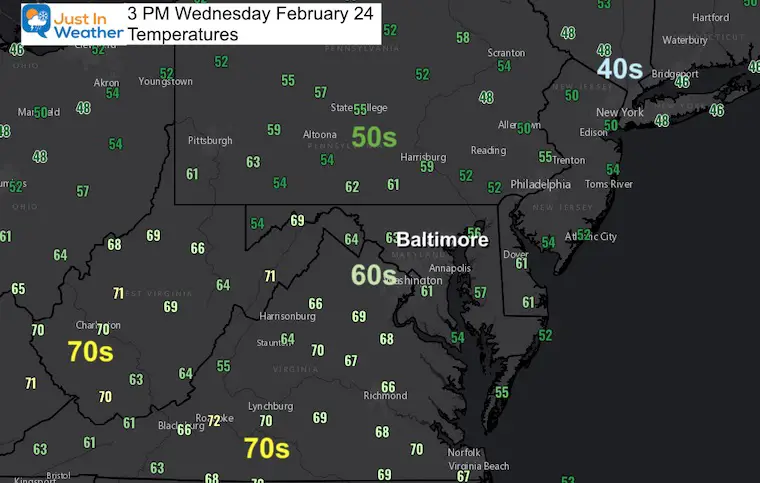 Thursday Temperatures
Morning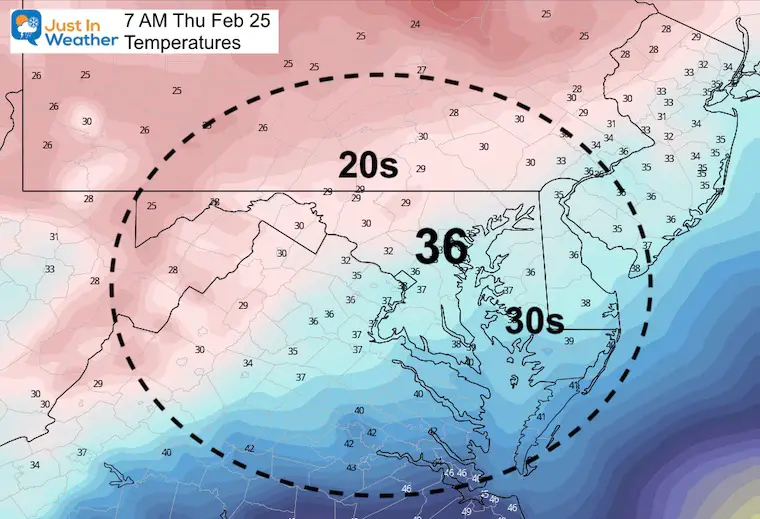 Afternoon
These numbers will be 15 to 20 degrees colder than today.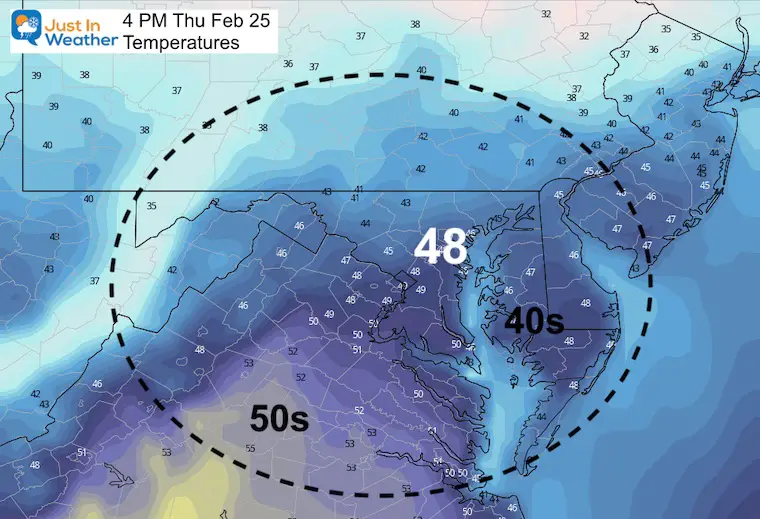 Saturday Morning Snow?
This does not have the same impact as a few hours change on Christmas Day, but the agreement on the model guidance is for snow to build in overnight. This might be along I-95 and inland, and mainly during the overnight hours.
Above Freezing
This same time frame, most of our temperatures will be above freezing in the mid 30s.  So if there is stickage, it would be on the grass.   If there is any place it may overtake the warmer roads will be well inland in higher elevations.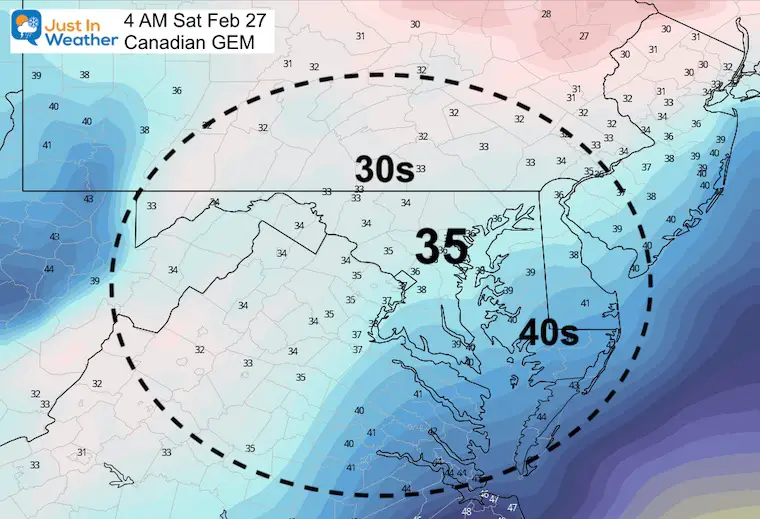 Wet Weekend
Here is the European Model Animation from 10 PM Friday to 10 PM Sunday.
While snow arrives overnight, it should change to rain Saturday morning. After an overnight lull, a second wave of just rain is expected on Sunday.
There will be more impulses early next week, but the boundary should slip just far south enough.  Something to watch, but March will start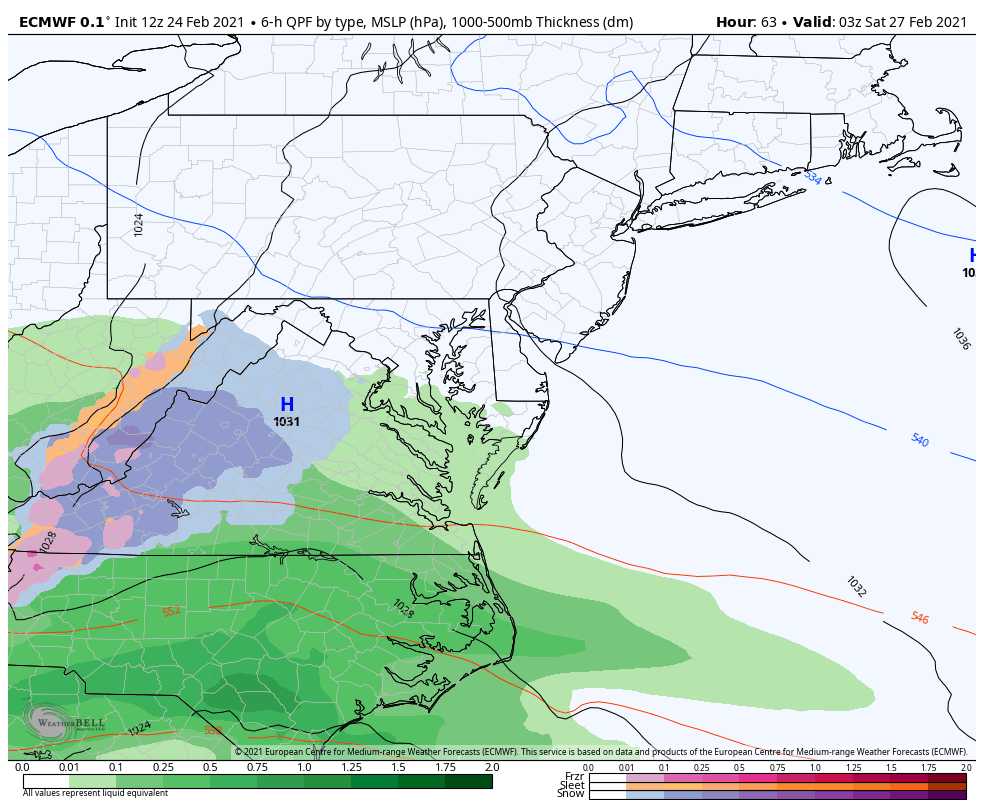 *NEW* FITF TUMBLER
READY TO SHIP THIS WEEK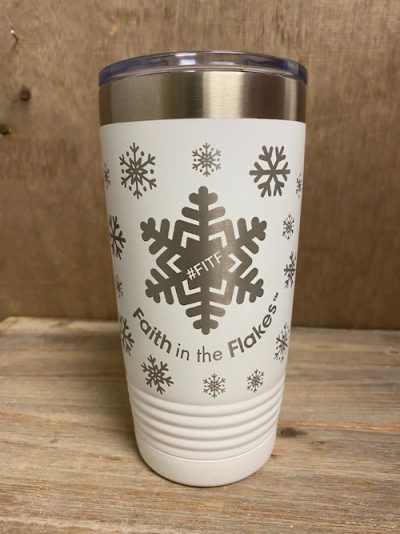 Please share your thoughts, best weather pics/video, or just keep in touch via social media
YOUR INTERACTIVE WEATHER PAGES
14 Local Maryland Pages (and York PA)
We have made a page for Maryland Weather which gives you the current conditions for 14 present area locations.
Local Hourly Forecasts and Local Radar
Central Maryland
Delmarva
Pennsylvania