Saturday February 27 2021
Last night snow and rain arrived a few hours early in the evening. This followed the winter pattern of early arrivals, but still brought wet snow on  warmer ground.
This morning , we begin just above freezing with a chilly rain and fog.  We still have a few hours of wet weather, but a dramatic shift into the afternoon as some clearing will warm us quickly into the 50s.  There is still a chance to reach 60ºF as we saw last week with warm afternoons overshooting forecast numbers.
Morning Surface Weather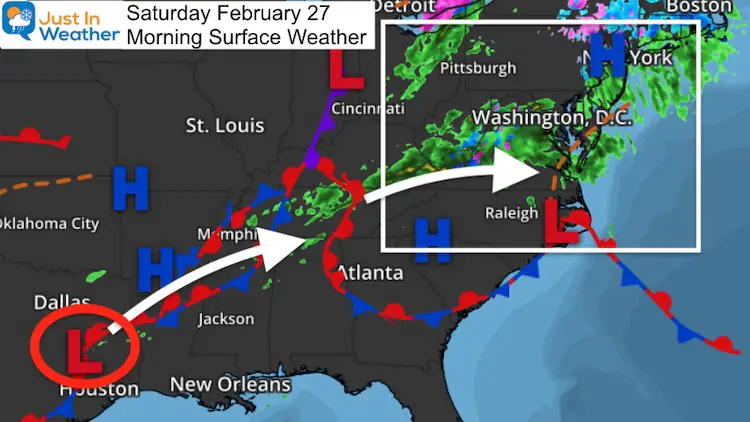 Friday Evening Snow Reports
How this started…. I posted about snow reports in southern Carroll County at 8 PM Friday.   The response of reports was quite active…
Morning Temperatures 
It is chilly, but above freezing for most of the region with the exception of a few mountain pockets
Rain Timeline Saturday —-> slider
ECMWF Model: Another band of rain for a few hours.  Rain will end by noon for most of the region, with a thin ribbon across the souther part of the Bay.
Explore More:
Click to see Live Weather And Local Weather Page
Afternoon Temperatures
In you break into sun, temps will jump into the 50s in a hurry. There is a still a chance to make a run for 60ºF near Baltimore and Washington.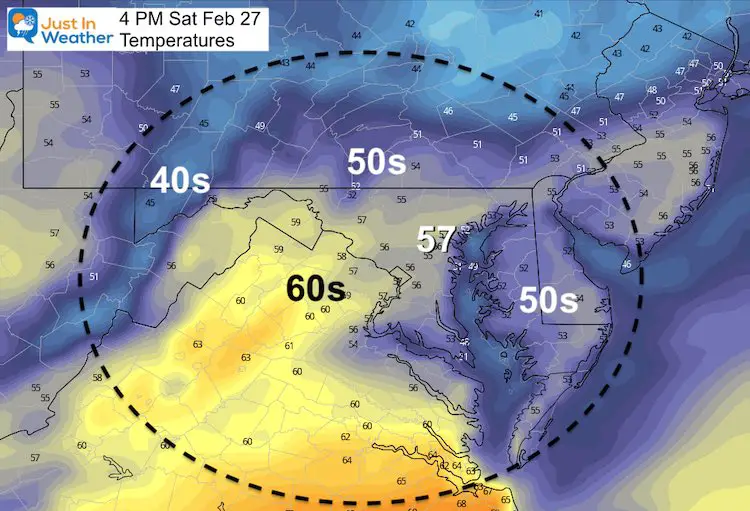 Forecast Snapshot: Central Maryland 
A few hours of dry and mild air this afternoon before more rain and chilly temps Sunday. The next clearing will be Monday afternoon.

Sunday To Monday Morning: More Rain
ECMWF Model shows steady rain, heavy at times to end the weekend, and may linger into Monday morning.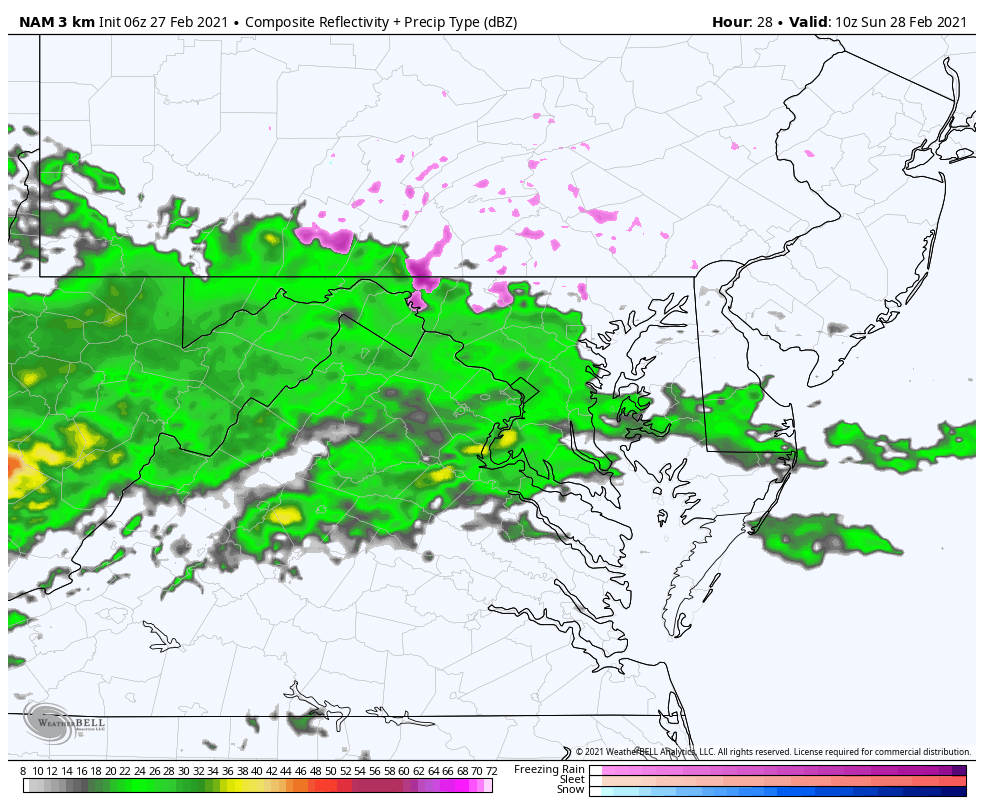 Saturday  Temperatures
This will be a cooler day remaining in the 40s.
Morning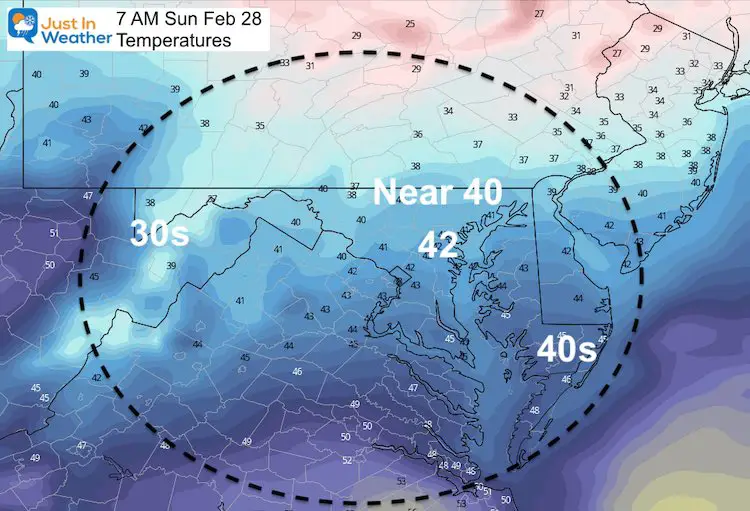 Afternoon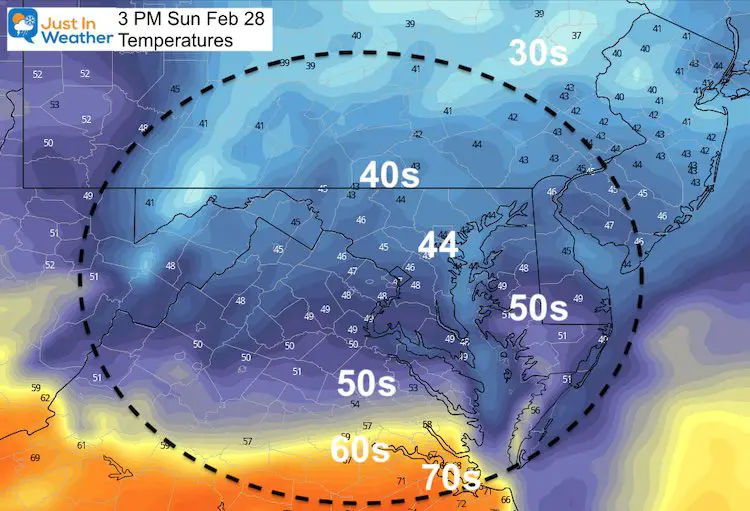 Looking Ahead:
Wednesday:
This next storm may once again bring inland ares some snow.  This model plot is not showing much, because of the timing delayed mid day.  If this follows what just happened and occurred with most of our storms this winter, it will show up earlier.  That would allow the morning hours to bring more of a slushy mix.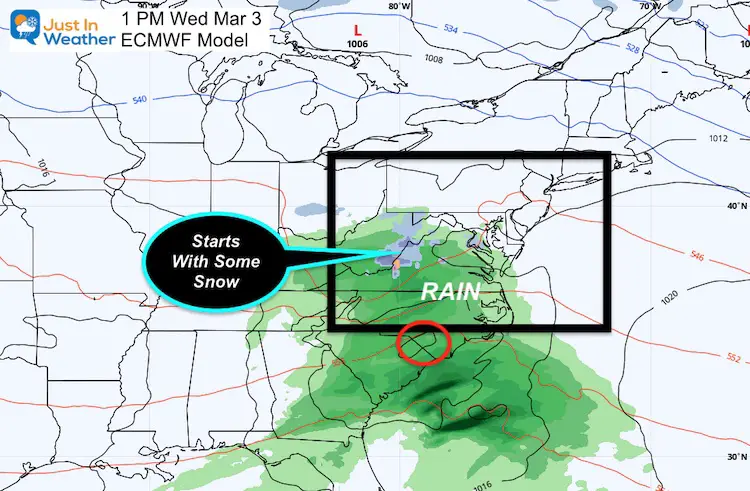 Jet Stream: Omega Block?
Here we see the core of the next cold surge on the east coast, which looks extreme.  Another pocket of chilly air in the Northwest and a big warm ridge in the middle.
This resembles the Greek Letter Omega, and is a type of blocking pattern.  We should watch and see if this remains. Some long range outlooks are suggesting a Greenland Block in the North Atlantic that would keep us cooler in the middle of March.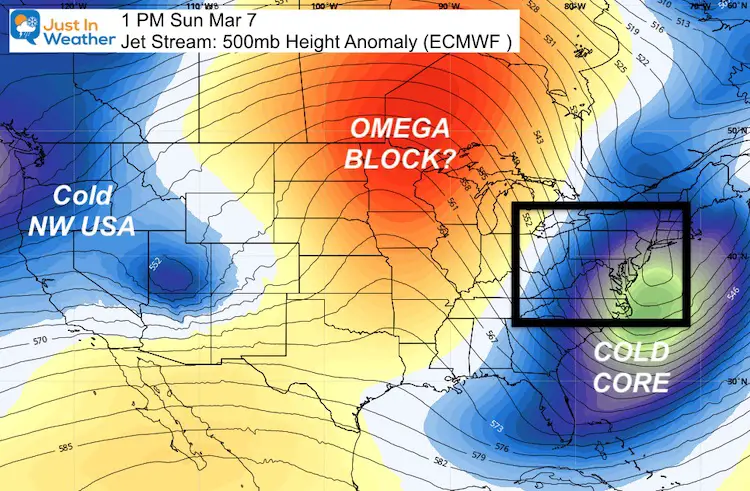 Next Weekend:
I do not buy this!  I find it vey hard to get snow on the North Carolina coast in March.  This strong storm would intensify off of the coast, out of out reach.  I will be watching this to return to earlier suggestions tracking north into our region.
This would follow the extreme Omega Blocking shown above. If the results are less extreme, that would allow this storm to track colder to us.
Temperature Outlook 
It is important to note that while we do expect some arctic air to make a return, it will be battling March sun! The impact of colder air masses this time of year are most notable in the overnight and early morning hours.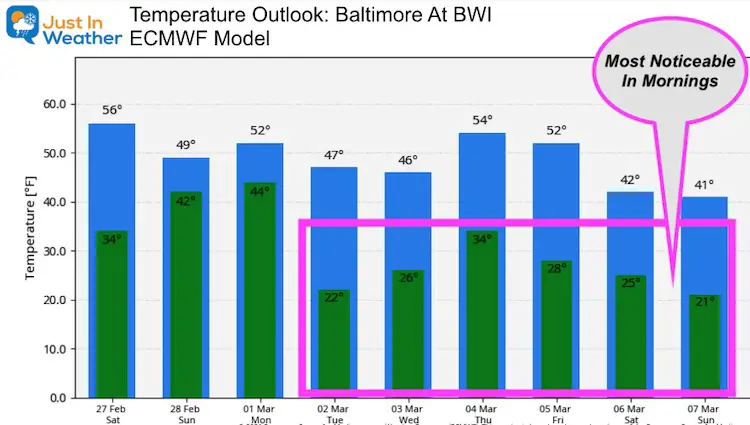 *NEW* FITF TUMBLER
READY TO SHIP THIS WEEK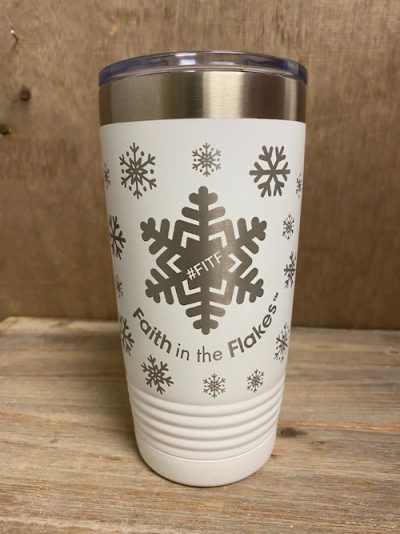 Please share your thoughts, best weather pics/video, or just keep in touch via social media
YOUR INTERACTIVE WEATHER PAGES
14 Local Maryland Pages (and York PA)
We have made a page for Maryland Weather which gives you the current conditions for 14 present area locations.
Local Hourly Forecasts and Local Radar
Central Maryland
Delmarva
Pennsylvania