Thursday April 1 2021
Snow showed up on radar this morning. It really tried to change over, and may have coated the grass in northern Frederick and Carroll Counties in Maryland. This is a signal of the cold air that will remain in place for a few days. So the calendar might suggest a day for pranks, but this is real. The joke may be on us.
Morning Doppler Radar
The radar showed snow and this was confirmed on the ground.  You may have had snow mix in as well, and there is a chance for more showers that may show it later today.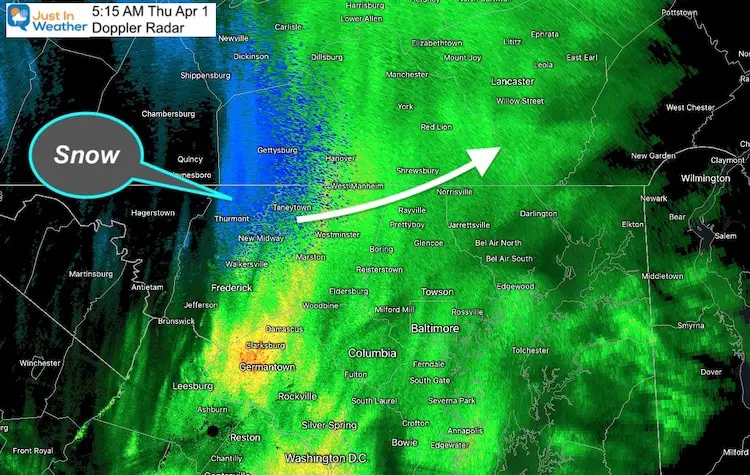 Winter Advisories
There is a Winter Weather Advisory in the mountains for 2 to 4 inches of snow.  A Freeze Warning on Delmarva where the growing season as begun. I expect there will be more of these issued over the next two days as we will see more local areas with cold mornings.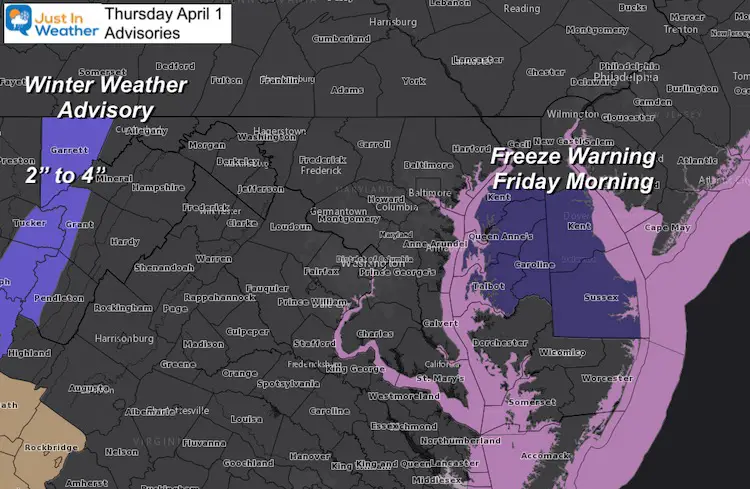 Morning Temperatures
As expected, regardless of snow falling, the temps remain just above freezing.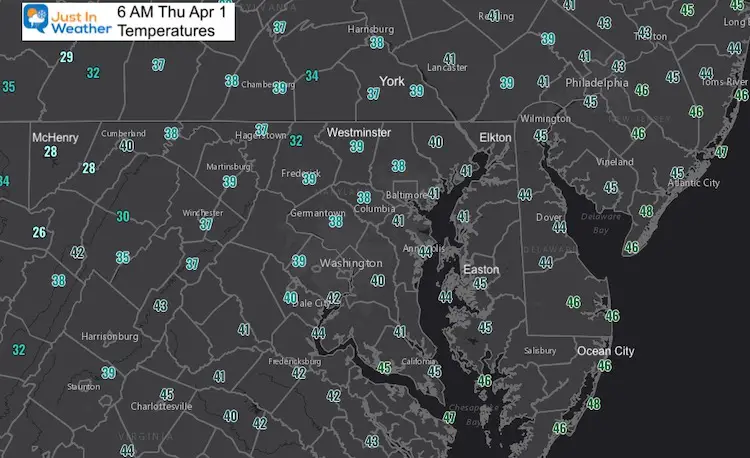 Showers Today
The atmosphere will remain unstable kicking up the winds and some showers off and on through tonight.
This morning: Cold Front takes steady rain and mixed 'stuff' away.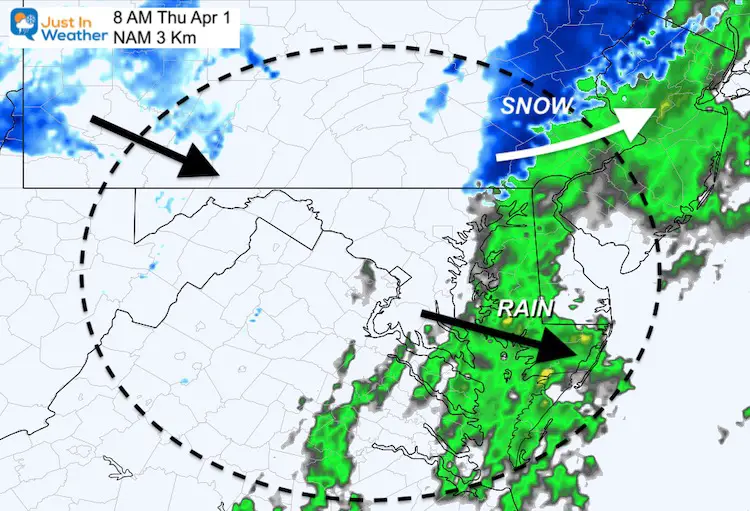 This afternoon: North winds will develop a band of showers that may have some snow mixed in.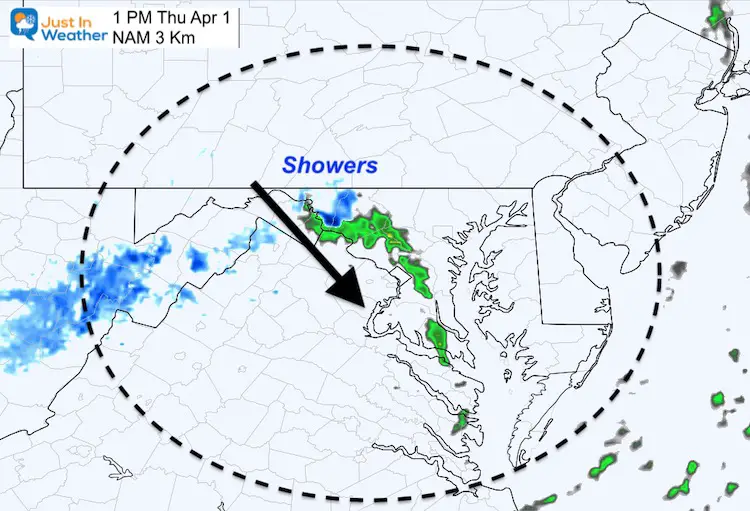 Tonight: Snow showers and flurries may still carry south from central PA.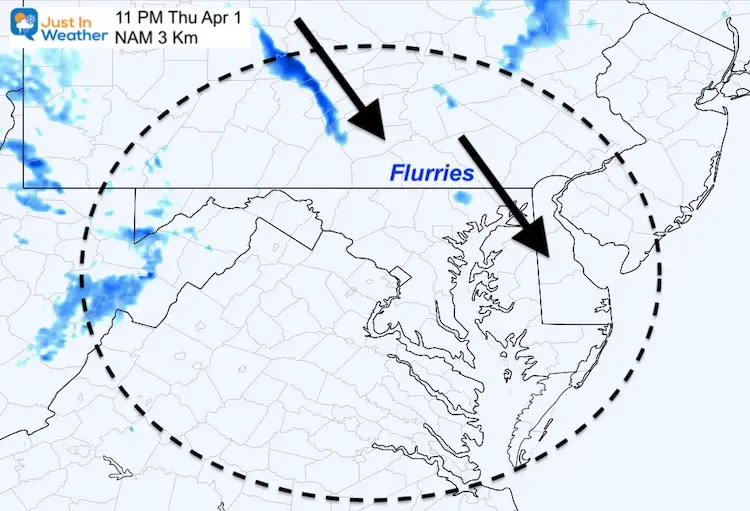 Radar Simulation Animation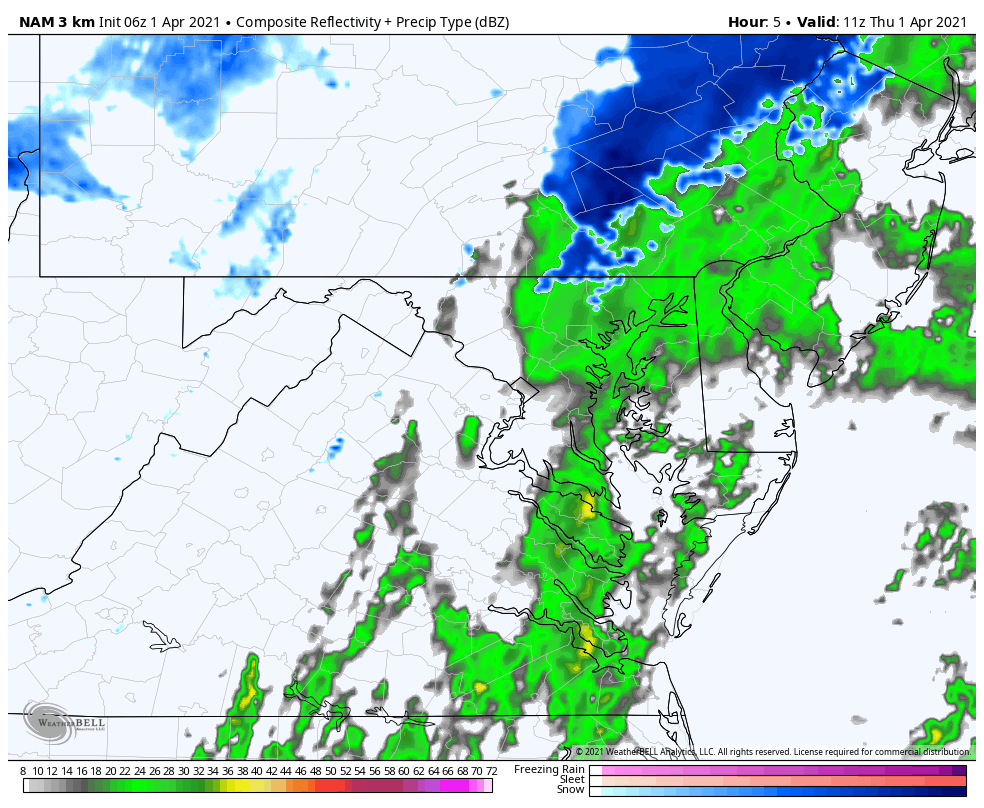 Weather Almanac
Normal Low in Baltimore: 38ºF; Record 15ºF in 1923
Normal High in Baltimore:60ºF, Record 88ºF 1978
Snow: 9.4" in 1924
Afternoon Temperature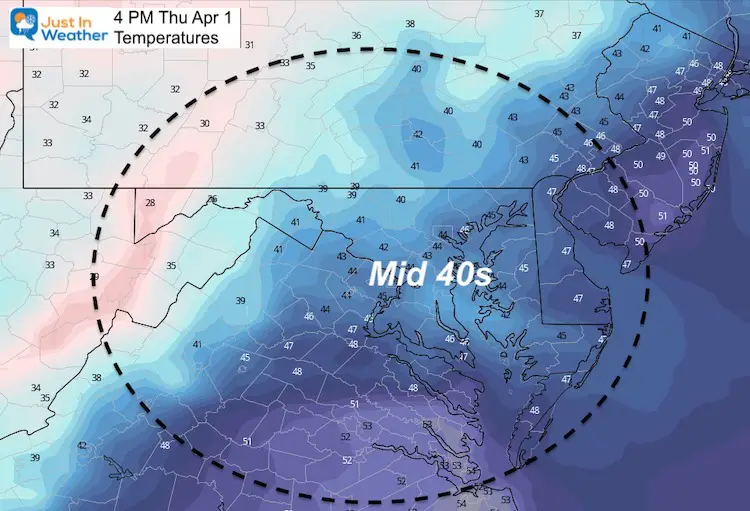 Afternoon Wind Chills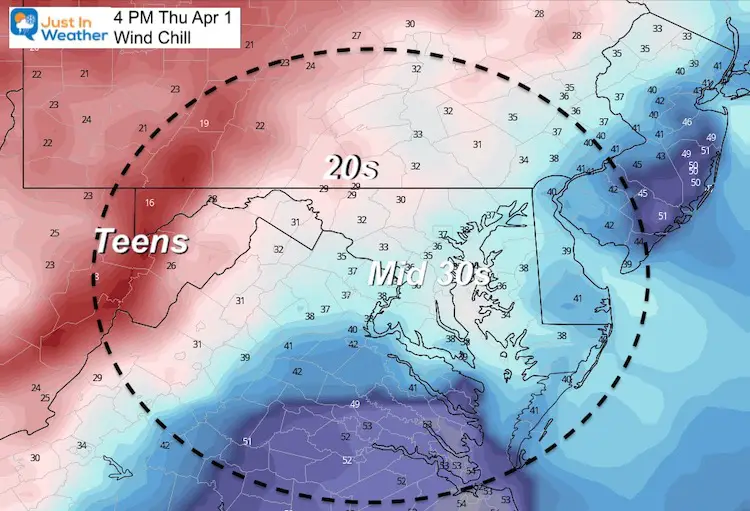 Forecast Snapshot: Central Maryland
See the rain forecast below

Friday Morning Temperatures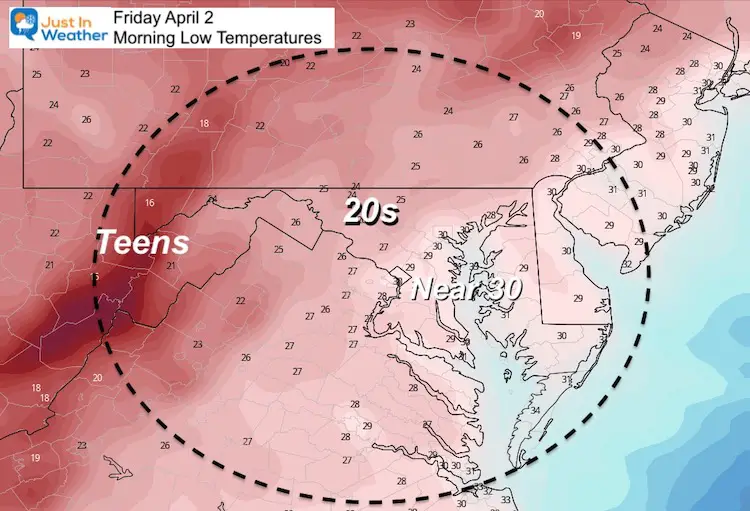 Friday Afternoon Temperatures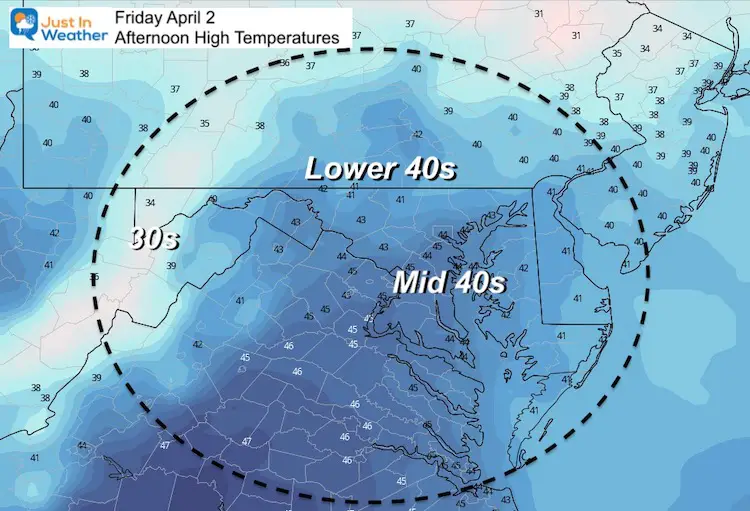 Saturday Morning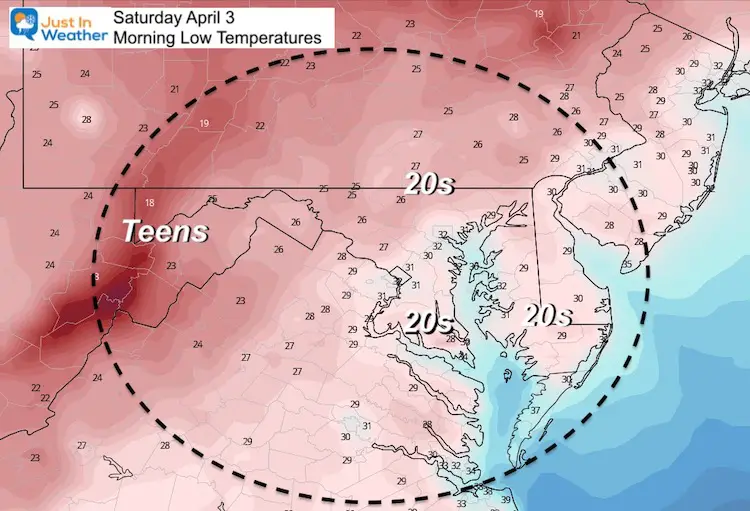 Saturday Afternoon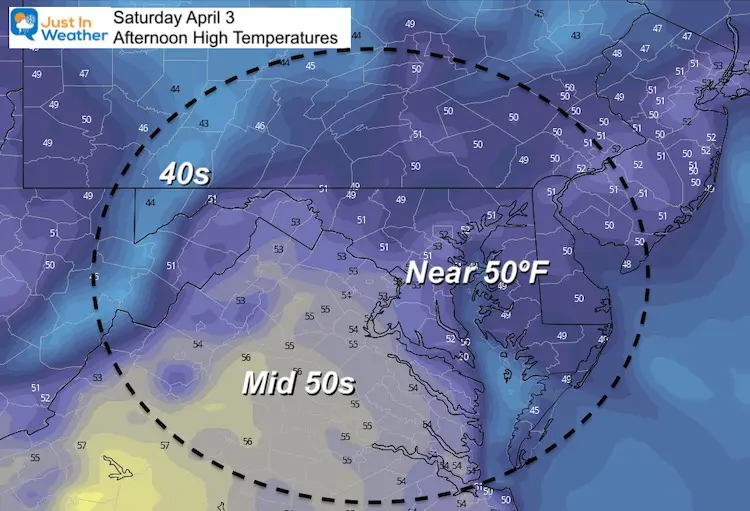 Looking Ahead:
Quiet weather expected into early next week. We may see rain showers on Wednesday, then the next storm next Friday.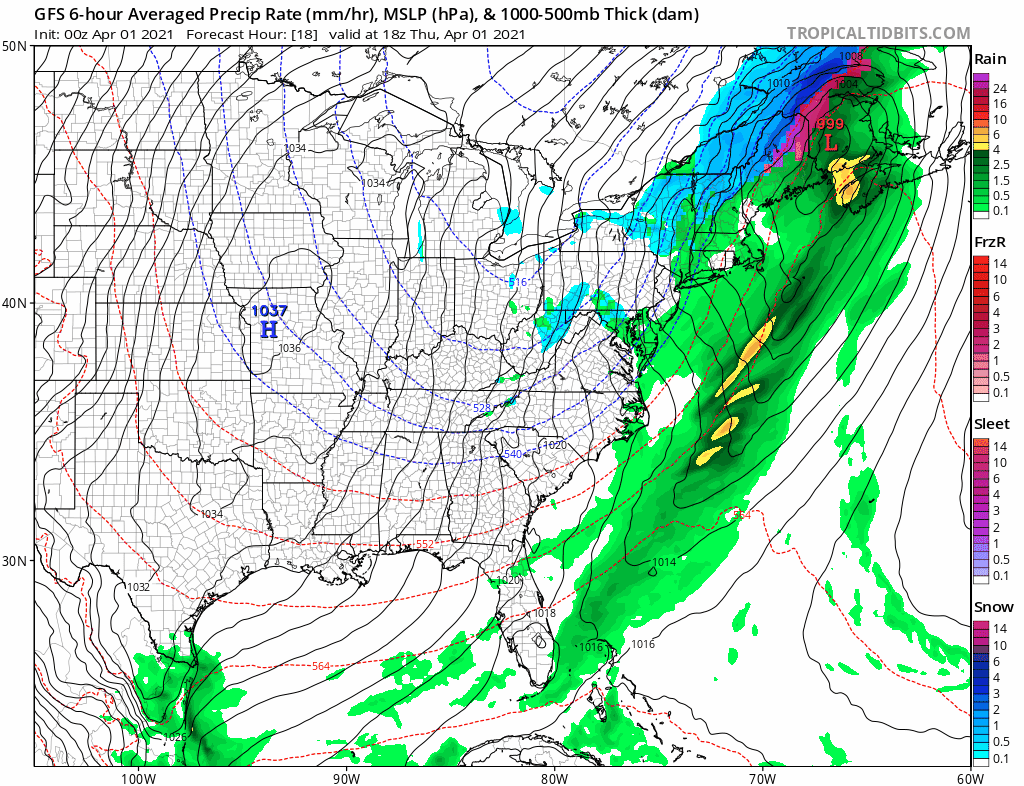 Temperature Outlook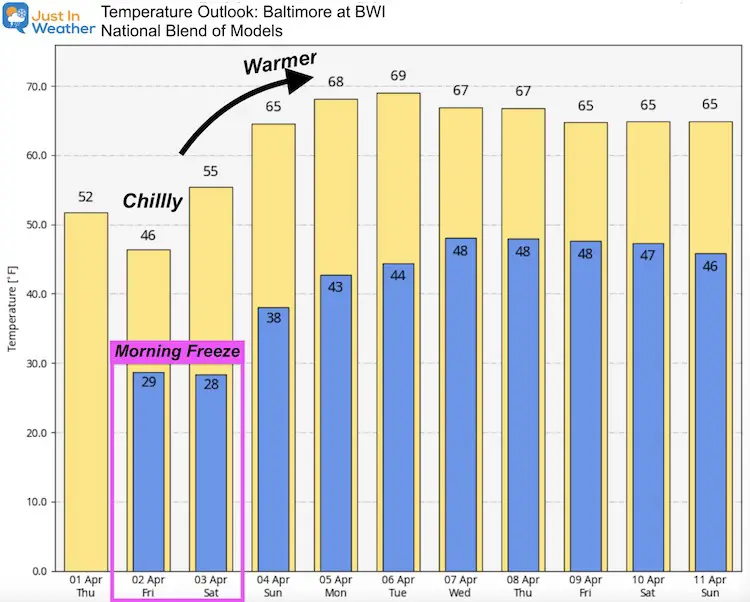 YOUR INTERACTIVE WEATHER PAGES
14 Local Maryland Pages (and York PA)
We have made a page for Maryland Weather which gives you the current conditions for 14 present area locations.
Local Hourly Forecasts and Local Radar
Central Maryland
Delmarva
Pennsylvania

Please share your thoughts, best weather pics/video, or just keep in touch via social media